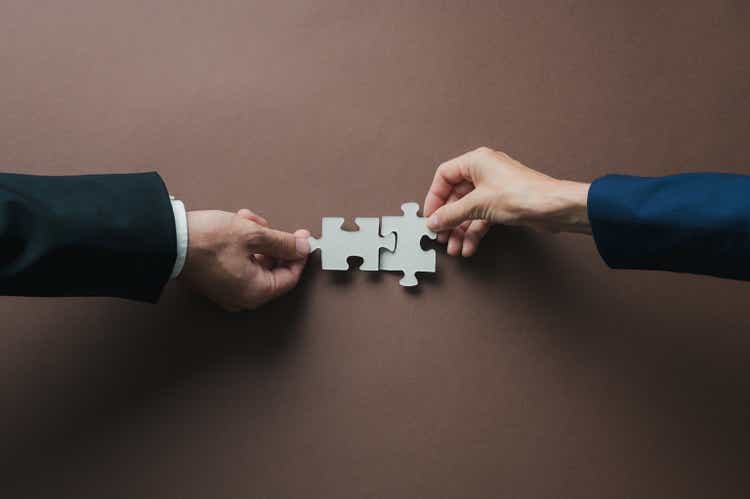 The Merger Deal
On July 25, PacWest Bancorp (NASDAQ:PACW) and Banc of California, Inc. (NYSE:BANC) announced their merger in an all-stock transaction.
This article starts with a background prior to the merger deal, unpacks key transaction terms, assesses both the tactical and strategic merits of the deal, helps readers to understand each player's point of view, and explains why this is a win-win merger deal for all involved parties.
Background
The chart below shows PACW and BANC's Price to Tangible Book Value from the beginning of 2022 to last Friday. I excluded this week to eliminate price movement noise due to the merger deal.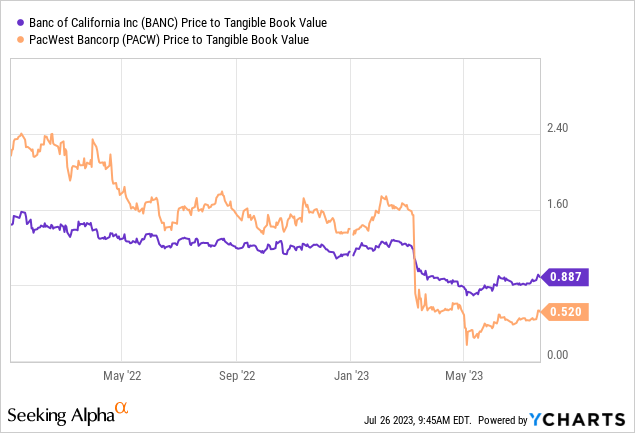 Prior to the March 2023 banking crisis, PACW and BANC were valued at ~1.5x and ~1.25x TBV, respectively.
PACW's P/TBV ratio has dropped sharply from 1.5x to 0.5x since, while BANC dropped to ~0.9x TBV (from ~1.25x), on par with the decline for the overall regional banking sector (e.g. KRE).
Any regional bank valued at 0.5x TBV is often an indication of stress and a high likelihood of severe solvency and/or liquidity risk.
This is the case for PacWest: in the 1Q23 10Q filing, it lost nearly $6B in low-cost deposits (out of a total of $34Bn as of Dec 2022), and replaced with ~$10Bn short-term borrowing via FHLB, BTFP, and various repo notes at an interest rate over 5%, to defend a looming liquidity crisis.
While the deposit withdrawal trend has significantly slowed down since then, PacWest is on a short list of banks that are perceived as most vulnerable to liquidity risks.
Key Transaction Terms
The merger deal has many moving pieces, and I will highlight some critical ones, provide my interpretation of why they did what they did, and how it unlocks value.
Structure: Banc of California will be the legal acquirer, and PacWest will be the accounting acquirer.
Balance sheet reduction: it proposes to sell $7B liquid assets (from BANC's book), pay down $13Bn high-cost borrowing (from PACW's book),
Equity Raise: It raises $400Mn from Warburg Pincus and CenterBridge.
Examine the Terms
Structure:
When 2 banks merges, the acquiree (BANC in this case) is subject to fair value accounting assessment. BANC has a smaller unrealized loss (~$0.45Bn vs PACW's ~$1.5Bn) in its Loan/HTM securities, thus less regulatory capital loss as a result of the assessment.
On the other hand, PacWest's name became a liability since the banking crisis, which explains why it chooses Banc of California as the legal acquirer so the merged entity keeps Banc of California brand and names.
Balance Sheet Reduction:
I compiled the balance sheet data from PacWest and Banc of California from its 1Q23 10Q filing. The green highlighted items are the affected reduction.
This combined view offers a clear rationale behind why the highlighted assets and liabilities are chosen for reduction.
On the Liabilities side, PACW had nearly $13B (increased from $12B in 1Q23) in short-term high-interest borrowing, $10Bn of which was raised since 4Q22, mainly from Bank Term Funding Program ($4.9B), FHLB ($5.5B) and FRB Line of Credit ($1.5B) to address the imminent liquidity risk since the banking crisis, at an average interest rate of 5.3%.
PACW has over $6B cash sitting on the asset book, to support its $13Bn borrowing paydown, it must pick another $7B asset to unload. That gets interesting.
It picks $7Bn loan book from BANC because PACW's 25.5B Loan (HFI) has over $1.4Bn unrealized loss if the bank unloads any of it, the whole portfolio needs to be re-assessed and would result in ~$1.4B accounting loss.
In the meantime, as Banc of California is the accounting acquiree, thus the mark-to-market assessment would be done on its portfolio with or without the asset sale. Therefore it becomes an obvious choice to unload BANC's $7Bn loan book.
Equity Raise: It raises $400Mn from Warburg Pincus and Centerbridge at $12.3/share. That $400Mn fills the gap between BANC's 7B loan's reporting value and fair value.
The purpose here is to offset the loss from fair value accounting, thus maintaining its regulatory capital, and corresponding ratios (CET1) at the health level.
Tactical and Strategic Aspects of the Deal
The management believes the combination unlocks earning potential as a result of balance sheet repositioning, cost saving, and enhanced scale from the merger. The chart below makes a compelling case.
It projects that total earnings will increase by $100-120Mn by the end of Y2024.
There are many moving pieces here, but whenever I hear cost-saving and synergy talking from an M&A deal, I always take it with a grain of salt. I take them as potential upside optionality, but definitely not the prize in the pocket.
Conclusion
This is a well-crafted deal.
The crown jewel of the deal is PacWest's $13B borrowings (at an average cost of 5%) paydown, supported by PacWest's $6B idle cash and Banc of California's $7Bn (3.75% average yield) liquid assets sale.
That -125bps NIM between $7Bn loan and short-term borrowing immediately saves ~$90Mn annual interest expense, with a minimum accounting loss incurred by fair value accounting assessment as a result of the merger.
The ~$400Mn fair value accounting loss, ~$200Mn transaction cost, and ~$80Mn discount to its $400Mn equity raise are well offset by PacWest's ~$2Bn tangible book value injection valued at half price.
PacWest wants the deal as it resolves its sub-optimal balance sheet issue: PacWest is forced to borrow high-cost borrowings as its hands are tied wrt its ability to sell any portion of its Loans (HFI).
Banc of California likes the deal, as it gets PacWest's tangible book value for cheap, and subsequent capital loss due to fair value accounting is compensated by equity raise at a reasonable discount (20%)
Pincus and Centerbridge like it, as it offers a well-balanced deal at an attractive price (20% discount to BANC's current price of $14.7 as of writing on 7/26).
The deal also offers some strategic upside including further operating savings from Real estate optimization, redundant technology, and pro services.
The deal also boosts confidence in regional banks' well-being and their depressed valuations. For once, we find a well-crafted merger deal that unlocks immediate value to all involved parties, offers long-term strategic upside potentials, and a vote of confidence to the depressed sector.