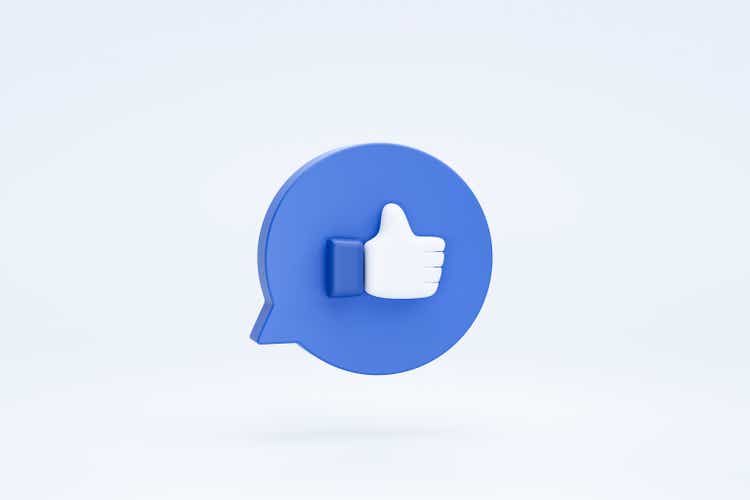 Investment Thesis
Meta Platforms (NASDAQ:META) share price jumped 7% premarket. And guess what? I believe that we'll look back in twelve months and see that paying $320 per share for Meta was a bargain.
Recall, since the start of 2023, mega-cap Meta's share price was already up more than 130% going into this earnings result. So expectations were clearly high.
This earnings result demonstrably takes Meta out of the penalty box. To summarise this earnings result into one word, it would be flawless.
Meta's Earnings Call, Just So Many Highlights
Investors' expectations going into the print were high for Meta. Meta needed to deliver something beyond rhetoric to get investors excited and for the stock not to drop back down. And they gave more than could be wished for.
It's difficult to single out one insight above the others from these results. For me, the most surprising is that its Family of Apps Daily Active Users is still in growth mode, growing 7% y/y to 3.07 billion.
Putting asides individuals that live on less than $5.50 per day, which the World Bank puts at approximately 45% or roughly $3.5 billion people, Meta's Family of Apps touches nearly everyone else. Every single day.
As expected, Meta remains committed to its Metaverse vision. CEO Mark Zuckerberg used the earnings call to describe how the Metaverse can work in parallel with its AI initiatives and the two technology are complementary.
I won't declare that Threads stole the show, but it's clearly up there as a key noteworthy highlight. The new growth opportunity. Here's a quote,
On Threads briefly, I'm quite optimistic about our trajectory here. We saw unprecedented growth out-of-the-gate. And more importantly, we're seeing more people coming back daily than I'd expected. And now we're focused on retention and improving the basics. And then after that, we'll focus on growing the community to the scale that we think is going to be possible. Only after that we are going to focus on monetization. We've run this playbook many times before with Facebook, Instagram, WhatsApp, Stories, Reels and more. And this is as good of a start as we could have hoped for.
Another impressive aspect is Meta's outlook ahead, which we'll next discuss.
Revenue Growth Rates Dramatically Pick Up
Investors have been all hyped up for months now on the expectations that AI could deliver some miracle to reignite revenue growth at companies. Frankly speaking, I could see the costs of deploying AI going up, but from the countless companies I follow, I hadn't seen too many actually showing anything substantial in terms of an uptick in revenue growth rates.
I'm not going to declare that Meta has been the only company to surprise me thus far, but it's one of a very small number.
At the high end, which we can largely presume Meta will reach, Meta's outlook for Q3 points to a solid mid-20s% CAGR. For a company that this time last year was pointing negative y/y revenue growth rates, that's an impressive turnaround.
Simply put, I believe we can declare two points. Firstly, Meta's investments in AI to increase user engagement, leading to better monetization are clearly working.
And secondly, and most critically, with these sorts of numbers, Meta can once again be viewed as a growth company. This is mighty important. Why? Because if Meta is back in growth mode, investors will be more than willing to support Meta's ambitions to continue plowing capital into their Reality Labs aspiration.
Indeed, Meta openly declares that it has no plans to curtail its capex investments into Reality Labs in 2024. On the contrary, Meta is seeking to meaningfully ramp up their capex. And guess what? The market will be more than willing to buy into that capex cycle, particularly given these sorts of growth rates coming out of Meta.
The Bottom Line
The earnings results were nothing short of flawless, exceeding investors' high expectations.
One of the most surprising highlights was the continued growth of Meta's Family of Apps Daily Active Users, reaching a staggering 3.07 billion.
The Metaverse vision remains a top priority, with CEO Mark Zuckerberg emphasizing its compatibility with AI initiatives.
The growth potential of Threads is another noteworthy highlight, showing unprecedented growth and strong user retention.
What's truly impressive is the dramatic pickup in revenue growth rates, indicating that Meta's investments in AI are paying off handsomely. The company's outlook for Q3 suggests a solid mid-20s% CAGR, a remarkable turnaround from negative growth rates just a year ago.
This performance confirms that Meta is once again a growth company, which bodes well for investors supporting their ambitious Reality Labs aspirations and capital investment plans for the future.
I believe this will allow Meta's share price to rerate higher.