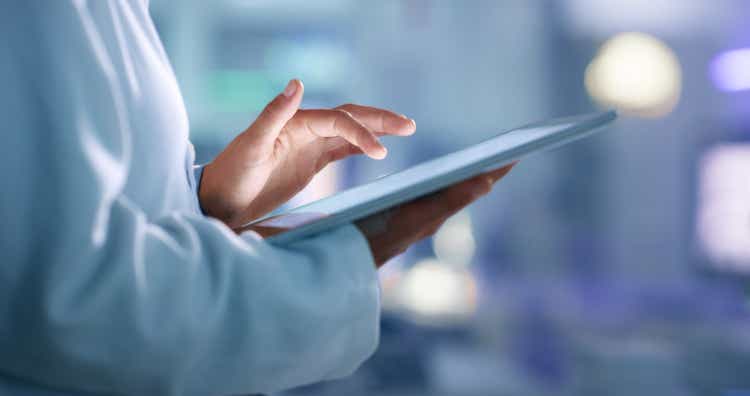 Investment action
I recommended a buy rating for Conmed (NYSE:CNMD) when I wrote about it the last time, as I was positive on the revised guidance, which reflected recovering share dynamics following the disruption early in 2023 and improvements in procedure volumes and staffing.
Based on my current outlook and analysis of CNMD, I reiterate my buy rating as I am very optimistic about management's revised outlook, and the business should be able to grow earnings at a very high rate in the medium term as gross margin expands.
Review
CNMD's results continued to impress, as the company beat expectations on the strength of rising procedure volumes and regaining market share. Across the board strength contributed to a 14.6% increase in reported sales, which totaled $317.7 million. Specifically, CNMD's four growth business units have maintained their strong performance. Despite the fact that management has decided to stop distinguishing growth for AirSeal and Buffalo, I have faith that they will maintain their previous rate of growth (20%+). The fact that fourteen states, including Ohio, Missouri, and Louisiana, have now passed anti-smoking legislation gives me hope. Because of this expansion, CNMD can now serve a larger population and a greater number of hospital beds. That's not the end of this extension, either. Management also disclosed that eight additional states, including California and Texas, are drafting similar legislation.
As the only insufflator supported by clinical data, I am also confident in AirSeal's competitive advantage. More than 6,000 patients in 33 peer-reviewed studies across 5 surgical specialties have been shown to benefit from using the AirSeal product in terms of decreased post-operative pain, length of stay, 30-day visits, emergency room visits, and ventilation metrics. These are cold hard facts that should reduce the psychological barrier to adoption by buyers. The 187 issued patents and 124 pending patents can provide protection until the late 2030s, further bolstering the company's competitive advantage. I also believe that the fact that 92% of the top 25 educational institutions are now using AirSeal, with MIS procedure utilization rates in the 75% range, is a strong testament to the quality and efficacy of the product.
Both In2Bones and Biorez were also significant contributors to organic growth, with In2Bones being the primary source and the PCR plate serving as the growth leader. The upcoming exciting catalyst is that management's attention is still fixed on advancing the clinical data from the two-year follow-up period in order to position the company for a growth inflection in 2H24/2025.
Guidance increased again
The company has once again increased its forecasts. As positive trends in procedure volumes and market share recapture appear to be strongly supporting this, I view it as a generally positive development. New guidance puts FY23 sales projections between $1.23 and $1.26 billion, with a continued FX headwind of 150-200bps baked in. From what I could gather, management was very optimistic about share recapture after the warehouse disruption, and the company is now on track to recapture the vast majority of those shares. The company also updated its EPS forecast, which now stands at a range of $3.40-$3.55 for the full year.
My opinion is that EPS improvement will come from an improvement in gross margins. Gross margin should start to expand, albeit under some pressure in 2Q23 due to strength in lower margin geographies, as it benefits from a higher mix of high growth and margin products (2Q23 earnings call). Let me remind you that CNMD has seen gross margin in the 54% range for the past few years, and I expect this figure to trend up from here to the 60% figure targeted by management in FY25.
That said, while the surgical markets have shown positive growth, there have been notable improvements in staffing dynamics. However, it is important to note that inflationary pressures are still lingering and the supply chain has not fully returned to its pre-crisis state. Management's updated guidance is contingent on stable to improving conditions in the second half of the year; hence, caution is advised as the macroeconomic environment remains uncertain and not completely free from challenges.
Valuation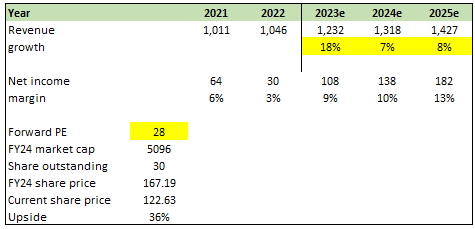 I believe CNMD can hit its FY23 guidance as management is very confident of this year's outlook, especially with the constant revision. Post-FY23, I expect CNMD to revert back to its historical growth rate of HSD% at the top line. The gem is in the net income growth, which I expect to be significantly driven by margin expansion, in particular gross margin. I modeled margin expanding from 9% in FY23 to 13% in FY25, a 400 bps increase, 100 bps lower than the expected gross margin expansion rate as not 100% gross profits translate to net profit (there will be some variable costs along the way).
For multiples, I see CNMD sustaining its 28x forward PE multiple as its expected earnings growth is much higher than the average of other median health care supply companies such as Mimedx Group, West Pharmaceutical, Resmed, Cooper Cos, etc. These peers are expected to grow earnings, at best, by 14%, while CNMD is expected to grow earnings by 40% next year and 30% the following year. This stark difference in expected earnings growth warrants a premium in valuation.
Risk and final thoughts
The problem with CNMD is its balance sheet, which carries $1 billion in net debt. This equates to a leverage ratio of 4+x net debt to FY23 EBITDA. As a large part of the upside is going to be driven by earnings growth, a high debt profile puts this at risk as an increase in rates will increase finance expenses.
I maintain my buy rating for CNMD due to the strong expected earnings growth. The company's impressive performance in procedure volumes and market share recapture supports the positive outlook. Management's revised guidance and focus on expanding gross margins further bolster my optimism. However, it is crucial to be mindful of inflationary pressures and supply chain challenges that may persist in the near term. The company's debt profile is a concern, as it could be impacted by rising interest rates. Despite these risks, I believe CNMD has the potential to meet its FY23 guidance, and its net income growth, driven by margin expansion, justifies a premium valuation compared to peers with lower earnings growth expectations.