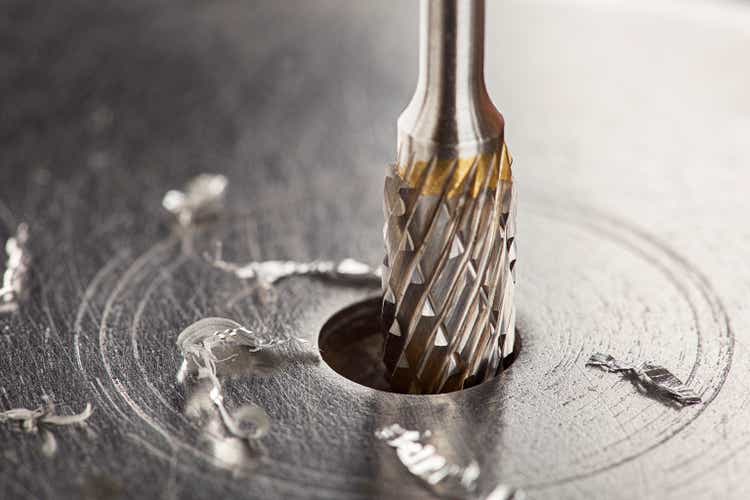 In the coming days, the management team at Kennametal (NYSE:KMT), an enterprise that's focused on the production of tooling and metal cutting products, as well as of infrastructure products like ceramic components and earth cutting tools, is expected to announce financial results covering the final quarter of the company's 2023 fiscal year. Even though shares of the company have languished over the past several months, the overall performance over the past year has comfortably exceeded the broader market. This has come in spite of mixed financial performance that has seen revenue increase year over year but profitability dip slightly as of late. This weakness on the bottom line is far from ideal. But when you consider how cheap the stock is, particularly when stacked up against similar firms, it's difficult to not be optimistic. But of course, investors would be wise to pay very close attention to what is reported on August 1st. And this is because broader economic concerns do create uncertainty and that could change the picture for the company, either for better or for worse.
A review of recent performance
Before I get into the expectations that analysts have for Kennametal, it would be helpful to look at how the company has performed over the past year. During the first nine months of the company's 2023 fiscal year, revenue came in at $1.53 billion. This represents an increase of 3.1% over the $1.48 billion the company reported one year earlier. Growth for the company occurred across both of its operating segments. Metal Cutting revenue, for instance, inched up by 2.4% from $910.8 million to $932.9 million. Even though this may not sound exciting, the picture does look a lot better when you look under the hood.
Overall organic sales growth was an impressive 10%. The only reason why this did not translate into the overall revenue for the company was because foreign currency fluctuations had a negative impact amounting to 8%. Management attributed a lot of the organic growth increase to strong aerospace revenue. With the COVID-19 pandemic essentially over and the global economy reopened, air travel has mostly recovered. This has spurred the demand for both new aircraft and maintenance and repairs for old ones. So naturally, a company like Kennametal would benefit.
Meanwhile, Infrastructure revenue for the company grew a more impressive 4.1%, climbing from $571.6 million to $595 million. This increase, management said, was driven by 9% expansion from an organic perspective. Unfortunately, foreign currency fluctuations impacted sales negatively to the tune of 4%, while a change in business days hit sales by roughly 1%. The organic growth for the company was driven largely by energy and market sales increasing because of strength in the oil and gas market here at home. General engineering and market revenue in the EMEA (Europe, Middle East, and Africa) regions for the company also improved thanks to strong demand for the company's offerings. And in the Asia-Pacific region, both earthworks projects and general engineering activities caused a demand for the company's products to grow year over year.
Even though revenue grew nicely, profitability took a step back. Net income of $82 million came in lower than the $102.9 million the company reported one year earlier. On this front, the company saw its gross profit margin shrink from 32.3% to 30.9% thanks to higher raw material costs, foreign currency fluctuations, higher wages, and all-around higher inflation. The company also saw cost increases elsewhere such as when it came to interest expense, research and development, and other factors. Other profitability metrics largely followed suit. It is true that operating cash flow grew from $93 million to $126.2 million. But if we adjust for changes in working capital, we would get a decrease from $221 million to $204.4 million. Meanwhile, EBITDA for the company declined from $267.8 million to $237.5 million.
As you can see in the chart above, financial performance for the company has remained mixed even as of the most recent quarter. During the third quarter of 2023, revenue totaled $536 million. That's up 4.6% compared to the $512.3 million reported one year earlier. At the same time, the company's profitability metrics, with the exception of regular operating cash flow, worsened year over year. This proves that the company did not have just one bad quarter. Its mixed results have been pretty consistent in recent quarters.
An eye on the final quarter
The good news for investors is that there is an opportunity for additional data to come out that could either confirm that the mixed situation for the company is continuing, or that might confirm that the business is improving. Before the market opens on August 1st, the management team at Kennametal is expected to announce financial results covering the final quarter of the 2022 fiscal year. From a revenue perspective, analysts seem optimistic. Sales are forecasted to come in at $567.8 million. That would be a whopping 7.1% increase over the $530 million the company generated one year ago. It is worth mentioning that management is also optimistic. They previously stated that overall revenue for 2023 should come in at between $2.07 billion and $2.1 billion. At the midpoint, that implies revenue for the final quarter of $557.1 million. Even though this is not as positive as with the company generated the same time last year, it would still be a nice increase.
On the bottom line, the picture is also forecasted to improve. Analysts currently expect the company to report profits per share of $0.58. That would be a nice improvement over the $0.50 per share in profits that the company generated last year. If this comes to fruition, it would bring total profits for the year up to $1.59. Management has been forecasting overall profits of between $1.50 and $1.70. That works out to about $130 million at the midpoint, which implies profits of roughly $48 million for the final quarter. If analysts are correct, then this number would be a bit lower at $47.2 million.
Analysts have not provided any guidance when it comes to other profitability metrics. But we do know that operating cash flow in the final quarter of last year was $55.2 million. On an adjusted basis, it totaled $89.2 million. Meanwhile, EBITDA was a far more modest $2.1 million. For the year as a whole, management indicated that operating cash flow will likely be about $230 million. No guidance was given when it came to EBITDA. But based on my estimates, it should be somewhere around $239.4 million for the year.
Given these numbers, it's pretty easy to value the company. As you can see in the chart above, the price to earnings multiple for the firm should be about 18. The price to adjusted operating cash flow multiple should be roughly 10.2, while the EV to EBITDA multiple should come in at 12.3. Even though these numbers are worse than with the company would be trading at using data from 2022, shares are still cheap compared to similar firms. In the table below, you can see that I compared the company to five similar enterprises. And in each case, it ended up being the cheapest of the group.
| | | | |
| --- | --- | --- | --- |
| Company | Price / Earnings | Price / Operating Cash Flow | EV / EBITDA |
| Kennametal | 18.0 | 10.2 | 12.3 |
| Barnes Group (B) | 386.6 | 18.6 | 18.8 |
| Kadant Inc. (KAI) | 22.8 | 21.2 | 13.5 |
| Helios Technologies (HLIO) | 24.6 | 18.7 | 14.3 |
| ESCO Technologies (ESE) | 30.2 | 24.5 | 16.0 |
| Mueller Water Products (MWA) | 32.4 | 86.8 | 16.3 |
Takeaway
From the data I see, the overall picture for Kennametal looks quite positive. Interestingly, if management and analysts are correct, then the final quarter could be positive for both revenue and profits relative to what the company generated the same time last year. Unfortunately, even with this, shares do look a bit more expensive than they were last year. But on an absolute basis, they don't look bad. Perhaps the worst case would be an enterprise that's more or less fairly valued. But relative to similar firms, the stock does look very cheap. All combined, this makes me feel comfortable rating the business a 'buy'.
To be perfectly transparent, my rating with history with Kennametal has been a bit mixed. Since I last wrote about the company and rated it a 'buy' back in January of this year, shares have popped up 9.3%. By comparison, the S&P 500 has jumped 13.9%. I don't necessarily count this as a win. However, since initially rating the company a 'buy' a year ago in July of 2022, shares have shot up 34.1% compared to the 20.1% increase experienced by the broader market. And as a long-term investor, it's this outperformance that allows me to remain confident in my assessment of the company now.