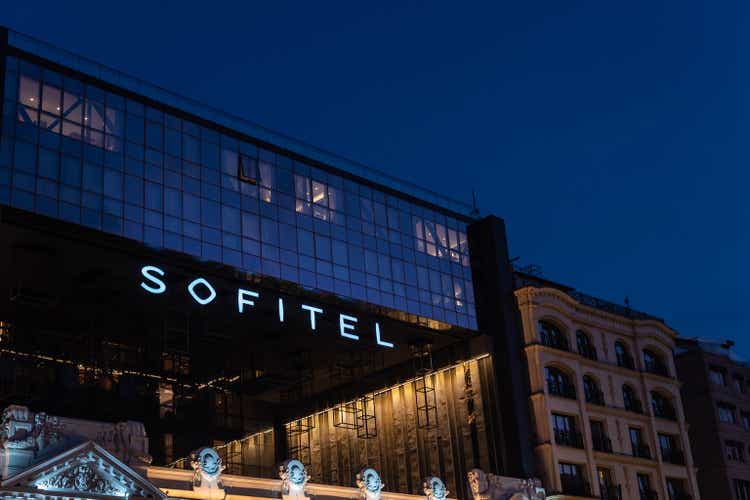 It has only been a little under four months since I last covered global hotelier Accor (OTCPK:ACRFF) (OTCPK:ACCYY), but with half a year of operating results behind us plus updated near and medium-term guidance, there have been enough developments here to warrant an update.
These shares have done well in the relatively brief interlude since that last piece, returning around 15% with dividends in local currency (and a bit higher for the USD-denominated ADRs) with meaningful outperformance versus wider European equities.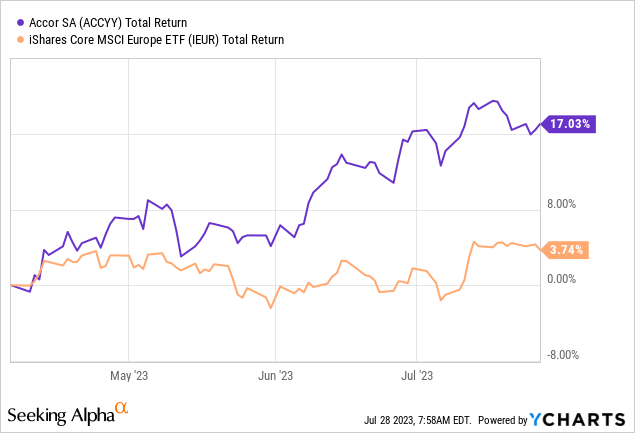 Although the short-term ups and downs of any given stock can often be chalked up to market whims, in Accor's case those returns do seem to map nicely to operating performance, with recent results containing significant upgrades vis-a-vis management's initial FY23 guidance. Medium-term targets, released during the company's recent capital markets day, likewise look solid.
While these shares have clocked double-digit returns in the relatively short space since last coverage, developments outlined above are enough to push my estimate of fair value up by a similar amount. With Accor stock also trading at a noticeable discount to global peers, I'm maintaining a Buy rating here.
Guidance Upped On Strong Trading
The fragility of the global economy headed my list of concerns last time out. Despite their increasingly asset light business models (i.e. taking a share of room revenue and hotel profit rather than being an outright owner operator), the global hotel stocks are still somewhat cyclical given that the top line is linked to hotel revenue per available room ("RevPAR"). RevPAR has typically fallen in prior economic downturns as business and leisure travelers cut back on spending.
This time is slightly different, as despite economic growth softening in Accor's key European market there has hitherto been substantial recovery potential due to COVID. With that, Q2 RevPAR was up 25% year-on-year and 27% on pre-COVID 2019 on a like-for-like basis. The broad drivers mirror that of the wider industry: occupancy levels continue to improve gradually, reaching 67.4% in Q2 at Accor, while there has simultaneously been a large increase in average daily rate ("ADR"), which in Q2 was just under 16% higher than a year ago and around 20% higher than Q2 2019. Earnings are now comfortably ahead of pre-COVID levels, with H1 2023 EBITDA of €447m up around 20% on the H1 2019 figure.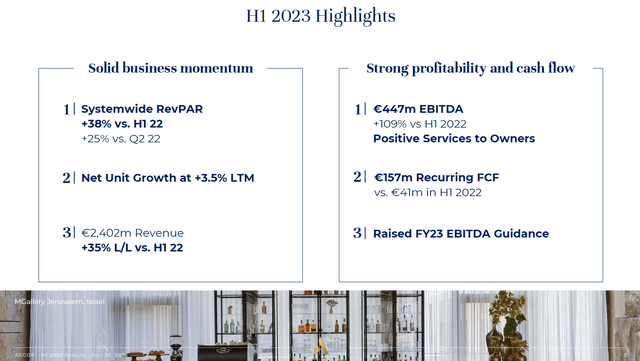 With trading stronger than expected, management has delivered a series of significant upgrades to FY23 guidance. Initially, FY23 RevPAR growth was seen in the 5-9% range. That was then upped to "double digit" growth following Q1 results, followed by the "top end of the 15-20% range" following H1 results released last week. Full year consolidated EBITDA is seen in the €930-€970m range, which would represent year-on-year growth of 40% at the mid-point.
Demand looks strong, but where I do see some risk of softening is on the pipeline side of things. Commercial real estate developers may be finding trouble financing projects given current interest rates and tightening lending criteria. That is something that may impact unit growth at Accor and is worth keeping an eye on given this forms a key plank of its growth prospects. At 217,000 rooms, the pipeline increased 2.4% year-on-year in H1, with net unit growth up 3.5% to 805,000 rooms.
Clarity On Medium-Term Ambitions Also Welcome
Shifting the room mix to higher price points was something I briefly touched on as a longer-term growth driver back in 2021, and management's recent capital markets day has crystallized this strategy with a lot more detail. Accor has first moved to split its reporting segments into two groups: Premium, Midscale & Economy ("PM&E") and Lifestyle & Luxury ("L&L"). Its plan is to shift the room mix toward the latter group as well as the "Premium" element of PM&E. This makes sense given its relative lack of exposure there: excluding the USA and China the firm is the market leader in Economy and Midscale through brands like Ibis, but it is only #4 in Premium. That would give the company scope to achieve growth from share gains and higher managed & franchised fees per room.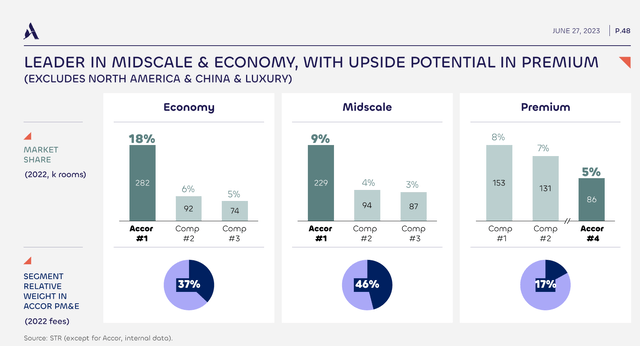 Similarly, increasing the mix of L&L rooms as a portion of its total estate would give Accor more exposure to rising wealth in the developing world. It now owns 25 L&L brands in total, the highest in its peer group, and plans to increase L&L unit count at an 8-10% CAGR between FY23 and FY27.
As a strategy it is not without risk. For one, L&L rooms are typically run on managed contracts while its Midscale & Economy rooms typically operate on franchised contracts. The difference is that management contracts also give Accor a share of hotel profit versus a straight cut of room revenue. The midscale and economy segment of the industry also tends to hold up better during downturns. Put simply, Accor is probably taking on slightly more exposure to the economic cycle, albeit this is more than offset by higher growth prospects.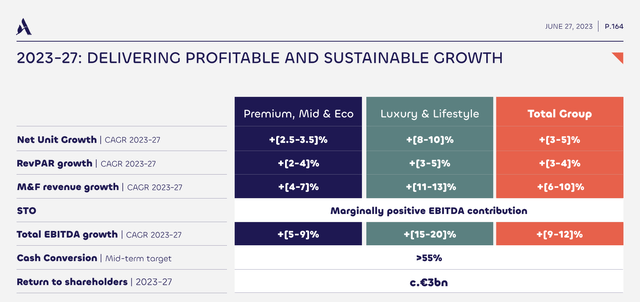 With regards group-wide growth, management is targeting FY23-27 annualized net unit and RevPAR growth of 3-5% and 3-4%, respectively, which it sees leading to an EBITDA CAGR of 9-12%. Cash conversion (i.e. EBITDA to free cash flow) is seen in excess over 55% over the period, with management planning to return around €3B to shareholders via dividend distributions (€1.3-€1.6B cumulative) and share buybacks (€1.5-€2B cumulative) in the FY23-27 period. At the low end that equates to around €10.60 per share based on the current share count, equivalent to returning 30% of the current market-cap over a five-year period.
Shares Still Offer Significant Upside Potential
Accor shares trade for €34 apiece in Paris trading at time of writing having returned around 15% since last coverage. Despite that strong performance, Accor stock trades for around 11.5x forward EBITDA while its large-cap peers trade for between 14-16x.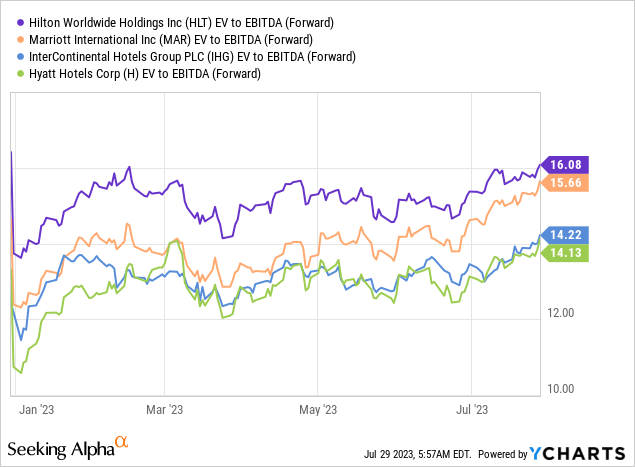 On a discounted cash flow basis, my fair value estimate is increasing by around 20% since last time, from €35 to around the €42 mark ($9.27 per ADR at current exchange rates, ticker: ACCYY). That mainly incorporates much better FY23 RevPAR performance, new medium-term guidance on EBITDA growth, plus higher FCF growth as a result of its cash conversion target, with that ultimately leading to a 16% free cash flow CAGR over the FY22-FY27 period. I use a 9% discount rate for Accor. Note that a move to the low-end of the valuation range of its peer group would bring Accor up to my fair value estimate. With that implying around 25% in price appreciation, these shares remain undervalued despite enjoying strong returns since last coverage. Buy.
Editor's Note: This article discusses one or more securities that do not trade on a major U.S. exchange. Please be aware of the risks associated with these stocks.