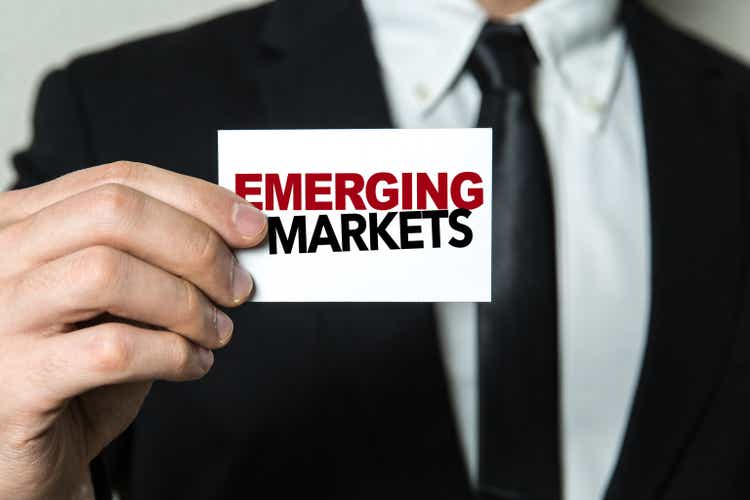 This article series aims at evaluating ETFs (exchange-traded funds) regarding past performance and portfolio metrics. Reviews with updated data are posted when necessary.
DGS strategy and portfolio
WisdomTree Emerging Markets SmallCap Dividend Fund (NYSEARCA:DGS) started investing operations on 10/30/2007 and tracks the WisdomTree Emerging Markets SmallCap Dividend Index. It has 960 holdings, a distribution yield of 4.53% and a total expense ratio of 0.58%. Distributions are paid quarterly.
As described by WisdomTree, eligible companies must:
Be investable by foreign institutions regarding corporate, industry and country rules.
Have a market capitalization of at least $200 million, an average volume of at least $200,000 per day and 250,000 shares per month for each of the six months preceding the annual index reconstitution.
Have paid at least $5 million in cash dividends on their common stock in the 12 months preceding the

annual reconstitution.

Not be in the riskier decile regarding a risk score based on profitability ratios and momentum (6 and 12 months risk-adjusted returns)
Not be simultaneously in the top 5% of the stock universe in yield and in the riskier half regarding the previous risk score.
Rank in the bottom 10% of total market capitalization of the WisdomTree Emerging Markets Dividend Index
For Chinese companies, only those that trade on the Hong Kong Stock Exchange are eligible. The index uses a modified capitalization-weighted methodology.
The two heaviest countries are Taiwan (31.4% of asset value) and China (17.1%). They weigh 48.5% together, which represents a very large exposure to regulatory and geopolitical risks. Then, come South Korea (10.2%) and South Africa (8.4%). The next chart lists the 12 countries with a weight over 2%, representing 97.5% of assets in aggregate.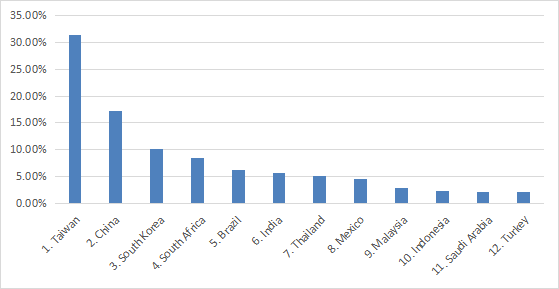 The top 3 sectors are technology (23.6%), financials (15%) and industrials (14.2%). Materials and consumer discretionary weigh between 9% and 11%. Other sectors are below 6% individually and 27% in aggregate.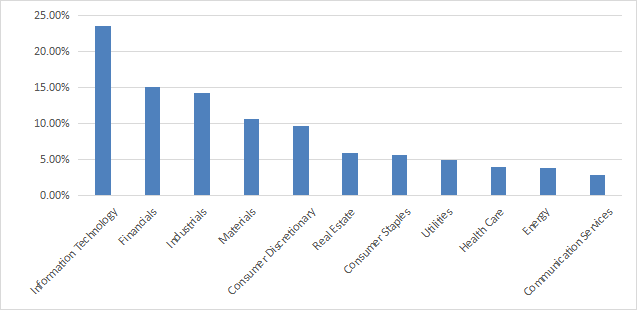 The top 10 holdings, listed below, represent 11.4% of assets. The top name is below 3%, so risks related to individual companies are low.
| | | | |
| --- | --- | --- | --- |
| Name | Ticker | Country | Weight |
| Wistron Corp | 3231 TT | TW | 2.77% |
| Gigabyte Technology Co Ltd | 2376 TT | TW | 1.53% |
| Growthpoint Properties Ltd | GRT SJ | ZA | 1.09% |
| Inventec Co Ltd | 2356 TT | TW | 0.97% |
| China Galaxy Securities Co Ltd | 6881 HK | CN | 0.90% |
| Banco Del Bajio Sa | BBAJIOO MM | MX | 0.85% |
| Transmissora Alianca de Energia Eletrica SA | TAEE11 BS | BR | 0.83% |
| King Yuan Electronics Co Ltd | 2449 TT | TW | 0.82% |
| Acer Inc | 2353 TT | TW | 0.82% |
| Powertech Technology Inc | 6239 TT | TW | 0.79% |
Aggregate valuation metrics look cheap: the P/E ratio is 8.55, and the price-to-book is close to 1. However, compared to developed countries, and especially to the U.S., emerging markets trade at large discounts because of political, social and economic risks. Unless these risks disappear, the gap has no reason to close. If they disappear in a country, it may go out of the emerging market category.
Past performance
The next chart compares total returns since inception of DGS and three emerging markets ETFs:
Vanguard Emerging Markets Stock Index Fund (VWO),
iShares MSCI Emerging Markets ETF (EEM),
SPDR Portfolio Emerging Markets ETF (SPEM).
DGS is the best performer.
DGS has also been leading the list in the last 12 months. In addition, it beats the actively managed fund Avantis Emerging Markets Value ETF (AVES), reviewed here.
DGS share price is close to flat since inception, as plotted on the next chart. In the same time, the cumulative inflation based on CPI has been about 45%, resulting for shareholders in a large decay in inflation-adjusted value.
The sum of annual distributions has increased from $1.46 to $2.35 between 2012 and 2022. The 10-year annualized dividend growth rate is 4.9%. It is a bit below a US benchmark: the SPDR S&P Dividend ETF (SDY) has an annualized dividend growth rate of 5.3% for the same period. The Vanguard Dividend Appreciation ETF (VIG) is at 7.7%.
Takeaway
WisdomTree Emerging Markets SmallCap Dividend Fund holds 960 emerging markets' dividend stocks. A risk score based on momentum and quality metrics intends to filter out yield traps. The fund is well-diversified across holdings, but it is overweight in technology (23.6% of assets). Moreover, exposure to regulatory and geopolitical risks related to China is huge: Taiwan and China represent almost half of asset value. Valuation looks attractive, with a note of caution regarding the emerging markets discount. The fund beats a number of other EM funds in total return since inception, but it has suffered a large decay in inflation-adjusted value.