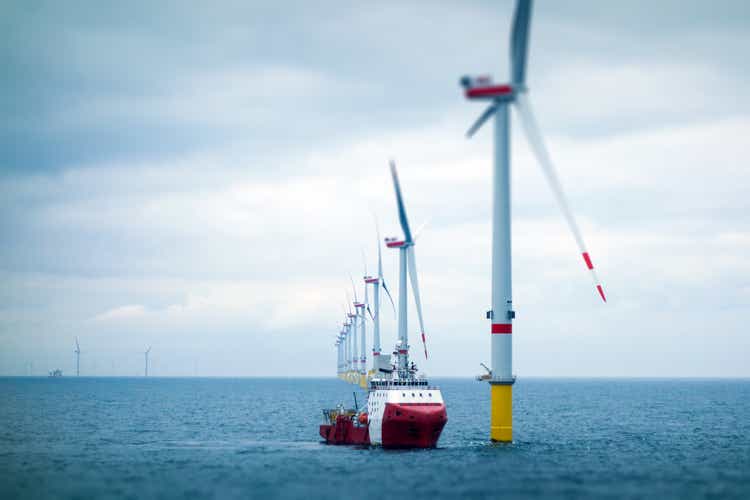 We present our note on Iberdrola (OTCPK:IBDRY), a Spanish multinational electric utility company that has been a major winner of the green transition over the last years, delivering industry-leading total shareholder returns. In this note we explore. the integrated utility business model, the winning green transition strategy, asset rotations, the company's regulatory backdrop, and the PNM Resources deal. Moreover, we provide an overview of the Q2 results, as well as our financial forecasts and valuation.
Overview
Iberdrola is Spain's largest utility company by market capitalization. There is roughly an even sales split between the two major divisions: Networks and Generation & Supply.
The Generation & Supply division consists of predominantly zero-emission clean sources, with ca. 80% of the output being produced by hydro, nuclear, solar, and wind, both on– and offshore. Iberdrola is a global leader in the latter. The remaining 20% consists mainly of gas while there is no coal. Iberdrola aims to be carbon neutral in all 3 scopes by the year 2040. The Generation & Supply business has a high degree of visibility as a considerable portion of the production is covered by long-term contracts including residential contracts, power purchase agreements, and regulated agreements with durations from 2 to 15 years.
The Networks division consists of naturally monopolistic assets that are subject to regulation. The current regulatory framework in Spain expires in 2026. The regulator determines a fixed WACC or Cost of Equity which sets the basis for the remuneration mechanism.
80%+ of group EBITDA is generated by regulated and semi-regulated activities. 40% of Iberdrola's EBITDA is generated in Spain, and 60% internationally. Iberdrola has 5 main geographic hubs: Spain, the USA, the UK, Mexico, and Brazil, while the rest is grouped under Iberdrola Energia Internacional. We note Iberdrola has a solid business and geographic mix and has steadily grown earnings and capital returns while investing ambitiously and early in green energy.
Q2 Results
Iberdrola had strong H1 results, slightly beating expectations, and raised its net profit guidance for FY 2023. Generation & Supply EBITDA was particularly strong driven by a higher market share and lower costs in Spain, and increased tariffs in the UK. The Networks division performed well too, however, there was a YoY decline due to tough comps as the US had a significant one-off impact last year. Importantly, net profit guidance was raised from mid-single digits growth to high single digits growth. Management reiterated its optimistic outlook in the PNM deal and pointed to solid Power Purchase Agreement prices of €70+ per MWh. We view the Q2 performance positively.
The Integrated Utility Model
We believe the integrated utility model is the best positioned in the space, especially given the context of highly volatile electricity prices. Iberdrola has 95% of its output secured: ca. 45% through commercial PPAs, ca. 40% through agreements with residential and SME customers, and ca. 10% as regulated capacity with high duration. Thanks to its generation capabilities, Iberdrola is able to offer customers moderate prices, shielding them from fluctuations. This model makes Iberdrola an excellent partner for its clients due to its dependability and pricing.
In addition, we like the company's move towards more active asset rotation as it allows for an earlier value crystallization, more portfolio diversification, and agility to look for the best returns. We especially like minority stake sale deals that allow the company to maintain control over the assets, and have cash flow visibility while extracting cash that can be allocated to growth.
Regulation
The Networks division is subject to regulation. We believe there is significant visibility regarding Networks and see little downside risk. We expect the review taking place in Spain in 2026 to be neutral or slightly positive for the company as it could recognize inflation. In the US and Brazil, the reviews taking place currently, have so far not resulted in any meaningful surprises and have been in line with expectations.
However, over the last couple of years, the unregulated side of the business which operates in the liberalized electricity markets is becoming scrutinized from a regulatory standpoint as well, at times resulting in market interventions by the government such as in Spain. We are wary of such regulatory changes but as electricity prices have tamed, we expect less scrutiny and market interventions.
PNM Resources Deal
Avangrid, an entity owned 82% by Iberdrola, has made a bid for PNM Resources, an electric utility company operating in New Mexico and Texas. PNM is fully regulated and serves approximately 500k customers. Avangrid will pay ca. €9 billion for the acquisition and invest a further €2 billion in the following years. This makes PNM a key element of Iberdrola's €27 billion Strategic Plan. The deal was agreed by both parties in October 2020. After receiving the approval of many agencies, the deal has been rejected by the New Mexico Public Regulatory Commission. The decision has been appealed. The Supreme Court of New Mexico has scheduled oral arguments for September 2023, and both Avangrid and PNM have agreed to extend the merger agreement, until the end of 2023. Given the legal complexity, we have a neutral view on the closing of the deal, and while we like it strategically, we think Iberdrola is paying a full price for it.
Valuation and Capital Returns
Iberdrola has announced its 2025e targets in its Strategic Plan 2023-2025. It forecast a ca. 9% EBITDA CAGR in the Networks division and an EBITDA in the range of €8.25 – 8.5 billion. Iberdrola forecast ca. 8% EBITDA CAGR in the Generation & Supply division and an EBITDA in the range of €8.25 – 8.5 billion. The range for group EBITDA is €16.5 – 17 billion, implying a CAGR of around 8% at midpoint. We forecast numbers at the lower end of guidance and do not include PNM in our perimeter, while we take into account the recent asset rotation in Mexico. Growth is driven by US and UK in Networks, and by the commissioning of various large-scale renewable assets, mostly offshore, in the Generation & Supply division.
We value Networks at 7x EBITDA 2024e, and Generation and Supply at 9x EBITDA 2024e, and add pipelines and the non-energy business to that, and we arrive at an enterprise value of €150 billion. Subtracting net debt and making other EV adjustments including hybrids we arrive at an equity value of €92 billion. After removing €9+ billion of minorities, we get an equity value of €81 billion, and a share price of €12.7 or $14 per share, implying 11% upside.
We forecast an EPS of €0.77 per share in FY 2024 which is low single digits % higher than consensus. The current stock price implies a valuation of 15x forward EPS, while our target share price implies a valuation of 16.5x. Over the last decade, Iberdrola has been trading at a range of 11x PE to 21x PE, while being most of the time below our target multiple. This valuation multiple is also consistent with, although a tad higher than major peers like Endesa (OTCPK:ELEZF), EDP (OTCPK:EDPFY), etc.
Iberdrola has steadily grown its dividends over the years, showing dependability and consistency, with a payout ratio mostly above 70%. In its Strategic Plan announcement, Iberdrola has set a payout ratio of 65-75% consistent with its history, and a floor of €0.5 dividend per share in FY 2024. A €0.5 per share dividend in 2024 implies a yield of 4.4%.
Risks
Risks include but are not limited to a decline in power prices, tougher than expected regulation, obtrusive market interventions by state governments or the European Union, political risk leading to higher taxation and one-off windfall taxation, foreign exchange risk, hedging risks, operational risks, delays in the commissioning of renewable assets, value destructive M&A, suboptimal capital allocation in low IRR green projects, etc.
Conclusion
We like multiple features of Iberdrola, including the high visibility coming from regulated, semi-regulated, and contracting activities, the regulatory certainty in Spain for the 3 following years, the exposure to the green trends & value crystallization, and the capital returns policy. However, we think Iberdrola is close to being fully valued and we see little upside in the stock. There is not enough undervaluation for us to make a Buy recommendation, hence we issue a "Hold" rating on Iberdrola. In any major pullback, Iberdrola would be a good candidate for our Longs basket.
Editor's Note: This article discusses one or more securities that do not trade on a major U.S. exchange. Please be aware of the risks associated with these stocks.