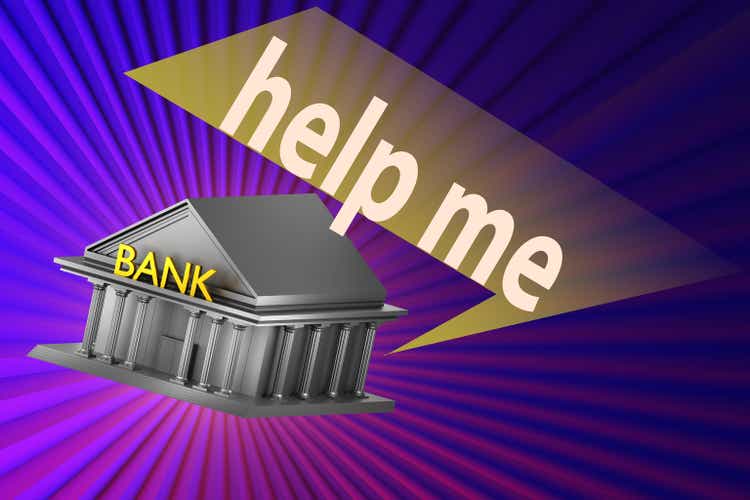 Shares of Republic First Bancorp (NASDAQ:FRBK) have soared almost 33% since early trading on July 24. Are traders being rational or is this typical meme penny stock trading? Most likely a combination of both. FRBK is a "lottery ticket" trade that could pay off nicely if interest rates decline significantly but could also become worthless if the FDIC eventually seizes the bank. FRBK has massive unrealized losses in their securities portfolios because most of their holdings have long-term maturities that were negatively impacted as interest rates soared over the last 18 months. Their loan portfolio is also mostly long-term mortgages which compounds their very weak financial position.
[Do not confuse Republic First Bancorp with First Republic Bank (OTCPK:FRCB)]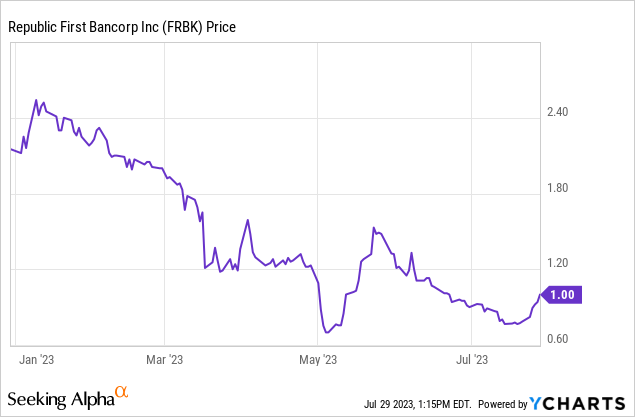 Massive Unrealized Losses in Securities Portfolios
Republic First Bancorp owns Republic Bank that has 32 offices in the Philadelphia area and western New Jersey. Plus, 2 offices in Manhattan. With total assets of almost $6.2 billion it is a little surprising that the FRBK equity market value is only $64 million, especially since their tangible equity value is $3.08 per share. Actually, to some it is surprising that their equity value is not $0.00 because of their massive unrealized losses in securities portfolios and the fair value of the mortgages they hold is significantly less than their balance sheet figures.
Their hold to maturity – HTM securities $1.63 billion portfolio had an unrealized loss of $253.4 million as of March 31, 2023. If you subtract that unrealized loss from their $196.8 million tangible equity value, you get a negative $(0.89) per share figure instead of $3.08. This does not even reflect that they have huge "paper losses" on the value of their mortgage loans they carry on their balance sheet. Their $154.3 million unrealized loss in their available for sale – AFS securities portfolio is already reflected in their tangible equity value on their balance sheet, but not on their income statement. The combined HTM and AFS unrealized losses as March 31 were a staggering $6.39 per share. Some wonder why the bank has not already been seized by the FDIC.
I often see comments made by readers that HTM losses don't really mean that much, especially since they can borrow under the Bank Term Funding Program using the securities at par and not at market price. The problem for FRBK is that many of their securities are not "qualified" securities. For example, mortgage-backed securities that are not backed by the U.S. government are not qualified securities and neither are corporate and municipal bonds.
Back in the late 1960s when I first started to look at bank stocks as potential investments there was very little detailed information contained in their financial reports. They showed securities held on their balance sheet at cost as one item. There were no AFS and HTM reported numbers, and no maturity length of their portfolio securities. There was also no accumulated other comprehensive income – AOCI requirement for showing unrealized AFS losses in the shareholder area of a balance sheet. Without this current AOCI requirement, for example, FRBK would have shareholder equity as of March 31 of $333.4 million or about $5.22 per share. That is a major difference from the $3.08.
Look at Other Metrics
One metric I did have back in the 1960s and I still use today is the gross loans to total deposit ratio. As of March 31, 2023, FRBK had 64.4% gross loans to deposits, which was up sharply from 48.2% as of March 31, 2022. This yellow flag alone keeps me in my "bleacher seat" instead of going on the playing field and taking a FRBK position.
Another metric we had decades ago was nonperforming assets as a percentage of total assets. FRBK has very respectable numbers. The problem, in my opinion, is this metric is going to get worse over the next year partially because it often reflects lagging business activity.
The July 25 Philadelphia Federal Reserve Bank numbers from a monthly survey that was conducted from July 10 to July 20 showed improvement in the current situation and outlook for the Philadelphia region, but they still remain at a rather weak level.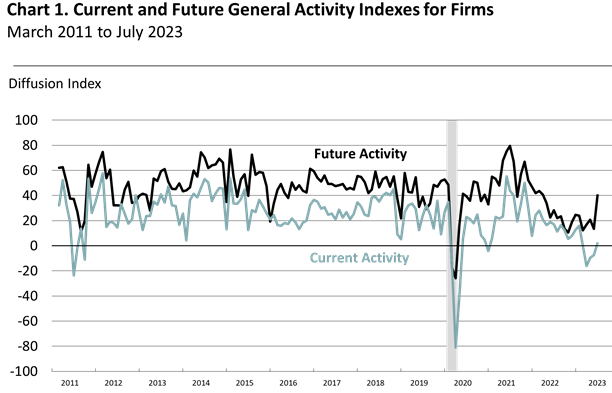 Residential Mortgages Growth Became a Huge Problem
The growth in their residential mortgage business has been dramatic. At the end of 2016 FRBK had less than $1 million of residential mortgages on their balance sheet and by March 31, 2022 that number grew to over $590 million residential mortgages. The March 31, 2023 showed a continued dramatic increase to over $992 million worth of residential mortgages on their balance sheet. While this growth seems very impressive it has actually been a disaster for them, and they stated earlier this year that they were getting out of the mortgage origination business. As interest rates soared over the last 18 months the market value for those mortgage loans on their books dropped sharply. We don't have the actual mortgage value estimates because FRBK latest 10-Q was for 3Q 2022, which was finally filed on March 15, 2023, and they have not yet filed a required 10-K for 2022. In a July 17 presentation, they stated that they expect to finally file the 10-K on August 15 for the year ending December 31, 2022.
U.S. Treasuries Yields
The longer end of the yield curve did decline at the end of 1Q 2023 from the end of 2022 because there was a flight to quality during the March banking crisis and the market assumed the FED might become less aggressive in raising interest rates. This allowed for a modest improvement in the bank's AFS securities portfolio losses of $17.8 million and an improvement in their HTM portfolio of $26.1 million. Since interest rates are currently higher than both March 31 and at the end of 2022, their current unrealized losses could be much worse, but we have to wait to see the actual future filings.
The regulatory metrics for Republic First Bancorp, Inc are fairly weak as of March 31. I worry that if interest rates continue to move higher, which I am expecting, they could be even worse and become very serious problems for FRBK.
Capital Metrics as of March 31, 2023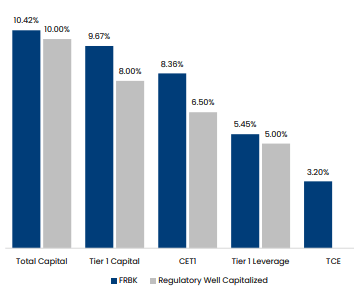 Bankruptcy Clarification
I am getting way ahead of myself, but in the event that the FDIC does eventually seize Republic Bank the results for FRBK shareholders most likely will be more akin to SVB Financial Group (OTCPK:SIVBQ) instead of First Republic Bank because Republic First Bancorp, Inc. owns Republic Bank. The FDIC seized Silicon Valley Bank, which was owned by SVB Financial Group. SVB Financial Group then filed for Ch.11 bankruptcy. SIVBQ shareholders are included in that bankruptcy process in the New York Bankruptcy Court. First Republic Bank itself was placed into FDIC receivership – First Republic Bank is not in Ch.11 bankruptcy. Since the FDIC operates independently, FRCB shareholders are not at all involved indirectly or directly in the receivership process.
Proxy Fight
It seems that the Driver Group, which controls 6,311,613 FRBK shares or 9.9%, is going to continue their proxy fight in an attempt to win seats on the board of directors at the October 5 shareholder meeting according to their July 24 proxy filing with the SEC. There have been many management changes since they started this proxy fight in January 2022 and I am not sure what they actually plan to accomplish. It will cause an increase in voting solicitation expenses FRBK will have to pay because of higher legal/professional fees. As most readers know I place a lot of emphasis on which judge presides over a bankruptcy case and I also place a lot of emphasis on which proxy solicitation firm leads the efforts to gain votes from shareholders during proxy fights. If Driver Group again retains Saratoga Proxy Consulting, which they retained in January 2022, I have serious doubts about their success in winning because Saratoga was the same proxy solicitor that Digital World Acquisition Corp. (DWAC) had to replace last year. DWAC then used a larger more experienced firm, Alliance Advisors, to gain shareholder support to extend the time to merge with Trump's media company. I assume management is still using Morrow Sodali, which is a very large established proxy firm.
In the same July 17 letter from management that officially announced the termination of the deal to raise up to $125 million in new equity, they tried to present encouraging information in a presentation and to solicit proxies for management. Updated additional proxy material is expected to be filed in the near future.
Conclusion
For those expecting a significant decline in interest rates for the rest of this year into next year and no recession, Republic First Bancorp might be an interesting lottery ticket trade because FRBK might be able to avoid being seized by the FDIC and might be able to recover to operate as a "normal" bank. FRBK offers more "bang for the buck" than most other banks because of its extremely low price.
The reality, however, is that interest rates most likely will not significantly decline this year and we could be headed into a recession. This would be terrible for FRBK. At this point, I am rating FRBK stock neutral/hold.
Editor's Note: This article covers one or more microcap stocks. Please be aware of the risks associated with these stocks.