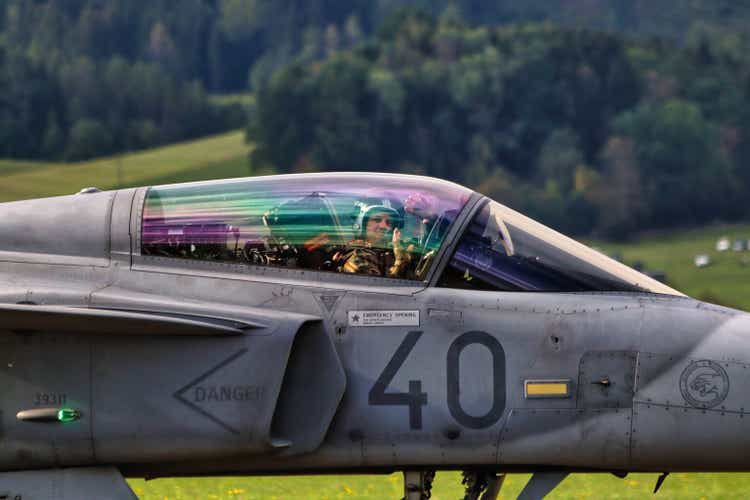 Dear readers/followers,
I haven't actually covered SAAB (OTCPK:SAABF) (OTCPK:SAABY) for you before on Seeking Alpha. This was not an intentional oversight, but the fact is that I've never owned the stock. With the war in Ukraine, every European military or semi-military company saw an increase in sentiment and also potentially their share price. So did SAAB. The company has gone from being actually undervalued – though I, unfortunately, did not buy them at the time – to being significantly and very clearly overvalued at this time.
Despite increased demand and NATO membership, I do not believe that Sweden's premier military company makes for a great investment at this time.
Nonetheless, due to reader requests, I'm happy to make the journey to Stockholm – figuratively speaking – to give you my view on SAAB and where it's going.
What does SAAB do?
SAAB, which stands for Svenska Aeroplan Aktiebolaget is a Swedish military-industrial company – a defense contractor with an international profile.
Its original founding was as a manufacturer of planes back in 1937 in conjunction with Bofors AB. This was done at the instruction of the Swedish government, to safeguard local production of competitive fighter planes. Many Swedish industrial "profiles" at the time were part of this, including the Wallenbergs, The Wenner-Grens, and the Wingqvists. The company quickly absorbed local competition, and during the period after the second world war, the company became a massive contributor to the increase in Swedish defense spending.
The company developed the SAAB 29 Tunnan (The "Barrel"), the SAAB 32 Lansen (The "Lance"), And the SAAB 35 Draken (The "Dragon"), the last one that flew its inaugural flight in 1955. SAAB quickly established itself as a quality manufacturer, with Tunnan beating several world records during the first years, and the first SAAB prototype flying in 1948.
The company expanded and changed throughout the cold war, and after the cold war as well. One of the major changes was made in the year 2000, when SAAB was merged with Celsius, including ex-Bofors, which saw all Swedish aerospace, robotics, and flight robotics (military) development/manufacturing all gathered under SAAB. The Bofors artillery segment was moved to BAE Systems (OTCPK:BAESY), with the remaining going into SAAB Bofors Dynamics.
SAAB today is perhaps most known for the SAAB 39 Gripen (The "Griffin") is a light, single-engine supersonic multi-role fighter plane with a first flight in 1988, introduction in 1996, and currently in use by Sweden, Brazil, South Africa, Czech Republic, Thailand, and Hungary. The plane replaces the Dragon and the "Bolt" aircraft.
Overall the SAAB 39 competes with the Dassault Aviation Rafaele, The F-21, the F/A-18, and the Eurofighter Typhoon. You'll see the Gripen in operation by smaller countries with smaller defense budgets because that's what they were built for. Compared to the F-16, the fighter is much more cost-effective in operation and has better avionics and sensor capabilities. The F-16 meanwhile, excels at agility and maneuverability. The Gripen is often compared to the F-35 Lightning II, but this is a moot comparison because the F-35 is a fifth-generation fighter – Gripen is only fourth, and would in most cases lose given the better sensors and sights of the F-35 – and the old fighter adage "Lose the sight, lose the fight" applies here.
SAAB actually dropped the ball with its fifth generation in my opinion, being a much smaller business than Lockheed (LMT) or Airbus (OTCPK:EADSY), and its current fifth-generation fighter is still in prototyping. The project is known as "Flygsystem 2020", or FS2020, and the target is to develop a low-observable fighter jet within the next 12 years. So we'll see what happens here.
I would characterize the Gripen as a failure, despite the fact that it is not a bad aircraft. The product has failed to garner interest from buyers, and the countries that have declined are far more than the countries that operate it. Interest in the Gripen came from Argentina, Ecuador, Estonia, Kenya, Latvia, Lithuania, Malaysia, Mexico, Namibia, Peru, Serbia, Slovenia, Vietnam, and Ireland. None of these operate Gripen today, and I would imagine that the interest to receive bids from a 4th-generation fighter at this stage is limited.
Failed bids are also recorded in Bulgaria, Canada, Croatia, Denmark, Finland, India, Indonesia, Netherlands, Norway, Poland, Slovakia, Switzerland, Belgium, Oman, Romania, Pakistan, and Chile. We can't even interest our own neighbors in the product – again, not because it's a bad product, but because most nations seem liable to choose F-35s or F-16s or a mix of them instead. Finland, for instance, chose the F-35.
Are we starting to get the picture?
If SAAB wants to remain competitive, they need to get serious not just in planes, but in other areas as well.
Back to the high level
The company SAAB is owned, not majority, but over 30%, by the Wallenbergs through Investor AB (OTCPK:IVSXF) and their foundation. This makes Investor AB a great choice for passive investing in SAAB, which is what I have done. Same with Ericsson (ERIC). I don't want direct exposure to either, so I go with Sweden's largest investment company.
The largest foreign ownership stake in SAAB is AllianceBernstein with almost 5%, after that, it's mostly other large institutions at 2-3%.
The company trades under the native SAAB-B ticker in Stockholm. It has an extremely meager yield of less than 1%. It also doesn't have a credit rating, but I would argue given its ownership structure and how it works, it does not need a credit rating. Cash availability or debt isn't the company's problem.
Nor is profitability. On a high level, SAAB is well worth a look on a comp basis. The company manages above-average operating margins of around 9% for a defense contractor, with a net margin of over 6% and an ROIC of 6.21%. Its debt/EBITDA is less than 2.5x. And despite my long outlay on aerospace, it's actually not SAAB's largest segment. The company is mainly a surveillance business, with the following segments.
Kockums is the submarine segment – and here I would argue, lies some of the company's grandest value. Sweden, and specifically SAAB and Kockums, makes some of the best submarines on earth, and with NATO entry, NATO now has access to this. Sweden operates a number of Gotland-class submarines, which became famous in 2005 after sinking a US aircraft carrier in a training exercise.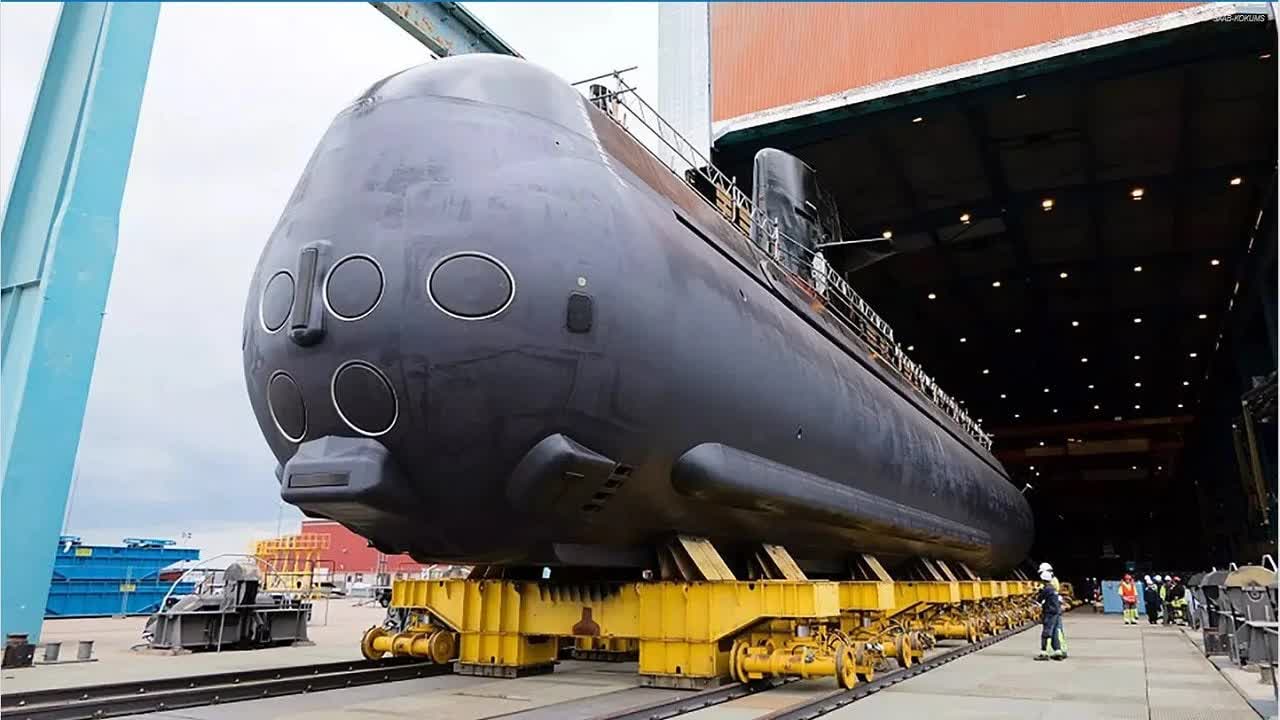 Sweden currently operates three such submarines, and it's these that, leased to the US Navy, "sank" the USS Ronald Reagan (CVN-76) – and the sinking wasn't a single feat. It actually managed to sink the carrier several times without the Nimitz-class carrier being able to be defended. In the words of naval analyst Norman Polmar, cited in a business insider article:
The naval analyst Norman Polmar said the Gotland "ran rings" around the American carrier task force. Another source claimed US antisubmarine specialists were "demoralized" by the experience.

(Source: Business Insider)
And this was a "cheap diesel-powered sub" with less than 1,700 tons of displacement that, on the whole of it, costs less than a single F-35 stealth fighter managing to sink a billion-dollar carrier.
SAAB is already building the successors, with the Blekinge A26-class sub currently laid out, citing improved communications, even more, silent operation, and possibilities for UUVs. The love for Swedish subs is clear, with only a few days ago the company submitted a bid to replace the Netherlands submarine fleet with SAAB-built new products.
Remember, Sweden as a nation requires defense not as much on land (primarily, excepting northern Sweden), but mostly on the water and in the air – our military is built – or was – built for this.
For SAAB, this means changing for the times. That means increased defense spending.
Obviously, Swedish defense budget sizes are growing as well.
Here are some of the major programs currently relevant for SAAB.
I don't have an issue with the notion that increased spending means increased attractiveness and earnings for SAAB. I would agree with that notion overall. I would also say the company has a fair share of appeal on an international basis, with clear growth targets now that NATO is on the horizon.
The company has set new targets with the introduction of NATO and the Ukraine war. The company now expects 10% annual organic sales growth, and operating income higher than the sales growth, with a 70% or above cash conversion, cumulative over the coming 5 years. SAAB USA is obviously a big part of that, and thankfully the exposure to the American market is significant.
Examples include the AT4 anti-armor weapon, with over 700,000 units sold in the US market alone, SAAB surface-based radars on six classes of US Navy ships, and a $200M+ backlog in undersea systems. The world is growing a lot less safe, and nations are arming up – China included. The USA and other nations, including Sweden, need to do the same, and SAAB is a huge part of this for our nation.
SAAB can be summarized much like the Gripen plane, which was one of the reasons I mentioned the product as much as I did in the initial part of the company. "It's a good product/company, but…."
In this case, the "but" refers to the massive valuation increase we've seen over the past year and more. SAAB is a great business at the right price, and it has earnings stability as well as dividend stability over time. It will never be a high yielder or even a sector-competitive yielder, that's how I see it.
But by buying at the right price, the company can deliver safety and stability coupled with the typical bursts of growth you see associated with increased defense spending.
This is how I invest in defense contractors. I've done so with General Dynamics (GD), Lockheed Martin, RTX (RTX), L3Harris (LHX), and Huntington Ingalls (HII). I've invested in all of them and sold all of them during overvaluation. In the case of LMT, I sold my final shares at $450. I may regret this going forward, but I also want to remind you that these companies are actually fairly volatile, having the potential to go up and down, and then stay below 13x P/E for more than 5-7 years during "bad times". I recently started buying back RTX.
SAAB is the same way, only it's even more volatile.
Take a look at the valuation.
SAAB Valuation – not much to like.
While the overall long-term trajectory is a positive one, it's a very tall order to claim that one could have even remotely foreseen the recent increase, and your position could have been negative for over 5 years if you held it at the "wrong" times.
I believe buying SAAB and similar smaller contractors is very tricky – and paying what currently amounts to a normalized P/E of almost 33x, is not a good way to do this, despite the growth prospects. The company is already down from its ultimate highs of over 630 SEK for the native shares.
Given its safety, over time I would be willing to forecast SAAB at around 17-18x P/E. This comes to a current share price of just 400 SEK for the 2023 year, and that's with a 35% adjusted EPS increase. Of course, the analysts following the company forecast an 18-20% EPS increase for both 2024 and 2025 – but just how likely is that based on historical accuracy statistics?
I don't often say "Nah" but… nah, not in my opinion.
Those aren't stats I'd be willing to hang my hat on, even less invest money in. There are many defense contractors today trading at far more attractive multiples and upsides while providing much better yields. Check RTX, for one.
Given the lack of transparency and certainty in this sector, I would caution anyone from buying SAAB above a 400-450 SEK price. The company now trades at 547 SEK native. S&P Global analysts give the company a range starting at 605 SEK and going all the way up to 735 SEK. I'm the odd man out here, going as low as the range of 400-450 SEK. Still, only 4 analysts follow the company, and only 50% of those have a "BUY" rating on the company, despite a supposed 21.8% upside to an average share price of 667 SEK/share. So that seems to me to indicate a lack of conviction despite these lofty prices and official expectations.
To find more rational expectations, we can put the company in an international context of Tangible book, FCF projections, P/S numbers, Graham, and DCF modeling. A conservative-based earnings-based DCF with a double-digit discount comes to 272-354 SEK, depending on your growth rate assumptions. A P/S comparison to the sector puts the company just below 400 SEK, at around 380 SEK. No matter what comparison you make, you tend to find yourself at the 350-420 SEK mark, or thereabouts – and that's also why I'm putting my price target at 420 SEK/share – no more.
I fully realize that the market may continue to assign SAAB a high multiple related to the current trends in defense. Further backlog and orders may increase this further. But this is all too shaky a foundation for me to build a long-term position upon.
I won't pay above 20-22x P/E for this company – not ever. What I have instead tried doing is to see if through the strategic use of buy-write CCs, I could garner double-digit RoR on the level that I am looking for – in layman's terms, going long SAAB and selling longer-expiration, deep ITM puts and trying to garner returns from the extrinsic value. For such plays – or for the reverse, being CSPs, I usually demand between an 11-15% annualized RoR, at the minimum.
As of yet, I have been unable to find such plays working, but I continue to look for them as I move into the market. As I've said, I would be perfectly willing to own the company at 420 – so if I can find CCs that correspond to that and where I'm being paid a decent premium for my risk, I'd be willing to go there.
But straight buying at 500+ SEK?
No, that's not something I'm willing to do.
I remain indirectly invested in SAAB through Investor AB, one of my largest Swedish individual positions of over 4%, and I have no plans to do anything with this position.
But direct investments in SAAB should come only if you get the company at a good price, which I do not view as possible at this time.
I'll let you know if and when this changes.
Here's my current thesis for SAAB.
Thesis
SAAB is Sweden's largest defense contractor, and a storied part of our history, constructing some of the best military products Sweden offers. I view it as an excellent company with a great upside – if you buy it at the right price.
The right price, in my opinion, is somewhere along the 380-420 SEK mark, with a maximum acceptable PT of around 420 SEK – and the company is currently far from this. There are methods for investing where we could go into SAAB, but these methods, such as buy-writes, do not currently offer the sort of annualized return profile that would set them apart from lower-risk investments with better yields.
For that reason, I consider SAAB to be a weak prospect here, and I would say that it warrants no more than a "HOLD" here.
Remember, I'm all about:
Buying undervalued – even if that undervaluation is slight and not mind-numbingly massive – companies at a discount, allowing them to normalize over time and harvesting capital gains and dividends in the meantime.
If the company goes well beyond normalization and goes into overvaluation, I harvest gains and rotate my position into other undervalued stocks, repeating #1.
If the company doesn't go into overvaluation but hovers within a fair value, or goes back down to undervaluation, I buy more as time allows.
I reinvest proceeds from dividends, savings from work, or other cash inflows as specified in #1.
Here are my criteria and how the company fulfills them (italicized).
This company is overall qualitative.
This company is fundamentally safe/conservative & well-run.
This company pays a well-covered dividend.
This company is currently cheap.
This company has a realistic upside that is high enough, based on earnings growth or multiple expansion/reversion.
Neither cheap or with an upside, I consider the company currently one to avoid, and assign it a "HOLD" rating here.
Editor's Note: This article discusses one or more securities that do not trade on a major U.S. exchange. Please be aware of the risks associated with these stocks.