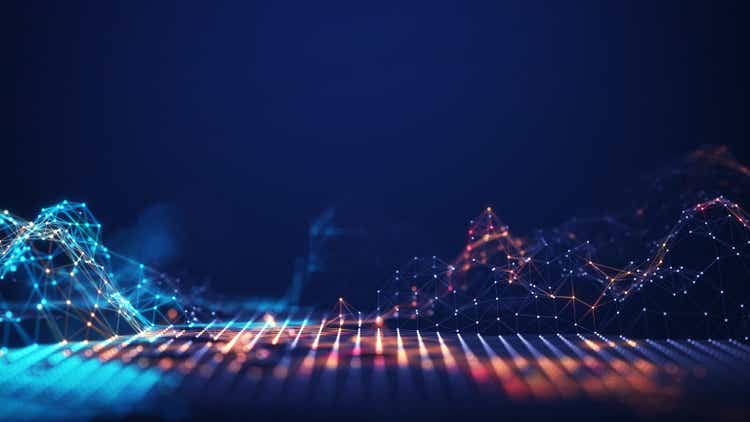 Investment action
I recommended a buy rating for Juniper Networks (NYSE:JNPR) when I wrote about it the last time, as I expected order growth to come in strong in the coming quarters and FY24. The decrease in orders was primarily due to tough competition in the previous period. Based on my current outlook and analysis of JNPR, I recommend a hold rating. My previous view of how orders would come in strong in the quarters did not play out, and the visibility to FY24 revenue is low. Because of these factors, I expect the stock to remain rangebound in the near term.
Basic Recap
JNPR serves ISPs and other telecom companies with network infrastructure products and services.
Review
The Enterprise segment's $646 million in revenue was the primary contributor to JNPR's top-line growth in 2Q23, which totaled $1.43 billion, at the high end of the guided range of $1.39 to -$1.45 billion. Revenues from Service Providers totaled $474 million, while Cloud revenues totaled $311 million. Finally, EBIT margin came in at 19% and EPS at $0.58, which is higher than the consensus estimate of $0.50.
Although I am pleased that JNPR was able to surpass consensus estimates for EPS, I am dissatisfied with the outcome of orders (my own calculation based on the shift in backlog and revenue). My speculation is that customers delaying project implementation to protect their balance sheets and a shift in IT spending toward other IT investments like AI infrastructure contributed to the year-over-year decline in orders. The sequential increase in orders is consistent with management's expectation that annual order declines will moderate and with its reiteration of the possibility of annual order growth in 4Q23. This has caused management to drastically reduce their forecast for FY23 revenue growth from 9% to 5-6%. But management has also restated its expectation for double-digit % EPS growth, suggesting that cost cutting will play a significant role in hitting this target.
While overall order growth has slowed compared to this time last year, I take heart from the fact that JNPR Enterprise's revenue has increased by 38% year over year, up from 29% in 1Q23. More importantly, despite a challenging comparison to last year, when orders increased by over 20%, orders for all customer solutions increased. This is supportive of JNPR's long-term growth runway, as the performance continued to remain strong even in the current tough environment. I would expect performance to be even better during the good times. On the other hand, while I mentioned earlier that AI is capturing revenue opportunities from JNPR's main business, it was good to see JNPR reaping some benefit from it as well. Mist AI's growth of nearly 100% year over year is just one example of how the push to adopt AI has benefited JNPR's AI-Driven Enterprise division.
Taking everything into account, it's not easy to predict what will happen in the short term (the rest of FY23). The enterprise division of JNPR is still booming. If the overall economy improves, the sector should thrive even more. However, Cloud demand remains weak in 2Q23 as a result of the system's need to process excess inventory.
Valuation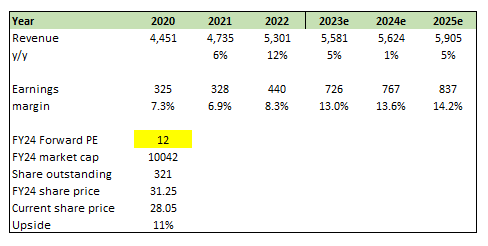 I believe JNPR will achieve $5.6 billion in revenue in FY2023, calculated by annualizing the 9M23 revenues (3Q23 based on management guidance). As for FY24, I am taking a conservative approach by modeling very low growth as there is a lack of visibility (the backlog is low). As the economy turns for the better, orders and revenue should start flowing back to JNPR, driving growth back to the business in FY25 (mid-single digit, similar range as the past). With a higher revenue base, I would expect net margin to surpass historical levels as well, albeit gradually as cost inflation (especially labor) eases.
Given the weak near-term outlook and lower expected growth relative to peers, I don't see any reason for the market to rerate JNPR's valuation upwards from the current 12x forward PE. I acknowledge that the current multiple is cheap on a historical basis (-1stdev currently), and I believe it will stay at these levels until investors get a better sense of the FY24 growth outlook and also positive y/y order growth.

Risk and final thoughts
I am downgrading JNPR from a buy rating to a hold rating. The recent decrease in orders due to tough comps last year and lower visibility for FY24 revenue due to a lower backlog are likely to make the stock price rangebound in the near term. I don't foresee a rerating of JNPR's valuation upwards until there is a better understanding of the FY24 outlook and positive year-over-year order growth.