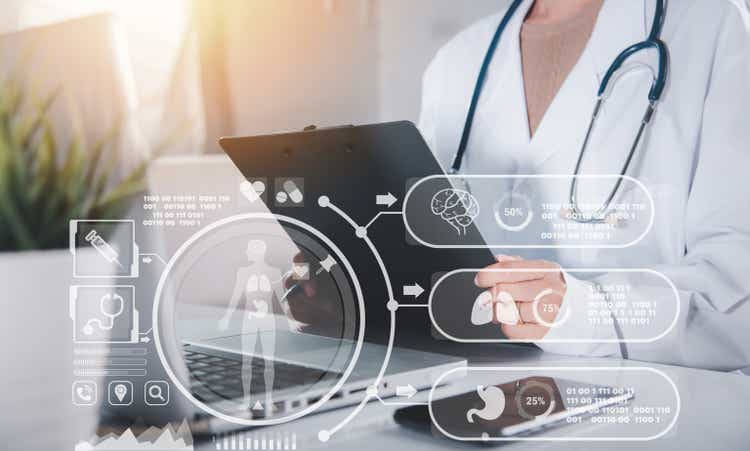 OSI Systems, Inc. (NASDAQ:OSIS) has solid paths to growth in all three of the company's business segments, which include security systems, optoelectronics, and healthcare monitoring devices. However, despite key strategic advantages – and bright prospects for gaining market share and growing profitably – the stock looks fairly priced at the moment. That said, current shareholders should hold onto the stock while keeping an eye on the company's operating profit margins, especially the healthcare division, which will be decisive for long-term value.
Company & Market
OSI is a vertically-integrated global manufacturer of specialized electronic systems for critical applications in homeland security, defense, and healthcare. The company, founded in 1987, is headquartered in California with 6,300 employees in sites and offices across the Americas, Europe, the Middle East, and Asia Pacific.
OSI is essentially three companies in one. In its 2022 fiscal year, ending June 30th, OSI delivered $1.18 billion in revenue across three segments: Security, which accounted for 56% of sales, followed by Optoelectronics (27%), and Healthcare (17%). Over 50% of revenue was generated from customers based in the Americas, 28% from the Europe/Middle East region, and the remainder derived from the Asia Pacific.
Security
OSI is considered an industry leader in production of screening and inspection equipment, including metal detectors and x-ray machines. In addition to airports, OSI's security solutions are used for customs and border protection, event security, critical infrastructure, and law enforcement.
OSI has installed more than 100,000 security screening systems to customers in over 170 countries. The company scored a huge win before the recent quarter ended when it landed a $600mln contract to provide systems to the Mexican government for inspecting vehicles at border checkpoints. OSI also expects to support civil works, training, and high-margin follow-on maintenance as part of the contract.
The company is excited about its new CertScan software-as-a-service (SaaS) platform, which helps streamline and automate the inspection process. OSI said the service represents a strong – and profitable – top-line growth opportunity.
The security screening systems market, estimated to be around $7 billion, is projected to grow at a CAGR of around 6.6% from now until 2028, according to Mordor Intelligence.
OSI sees as its major competitors Smith Detections, Leidos, CEIA, Nuctech, Gilardoni, VOTI Detection, Garrett Technologies, and Astrophysics. Smith, the apparent market leader, recorded detection systems revenue of $700mln in 2022 versus OSI's $600mln. The takeaway is that OSI is a leader in an industry that still has plenty of market share out there for the taking.
Optoelectronics
OSI is also a contract manufacturer of custom optoelectronics solutions such as photodetectors, laser diodes, imaging and medical sensors, semiconductor fabrications, flexible circuits, and other electronics. Customers include aerospace giants like Raytheon and Northrup Grumman, along with other industrial and medical industry accounts.
And once customers sign up, they rarely leave: about 80% of optoelectronics sales come from recurring or repeat business.
The optoelectronics division is also heavily engaged in "next-gen" technology projects, such as miniaturization, wearables, and critical space mission electronics.
The company said its international manufacturing footprint allows OSI to take advantage of competitive labor rates in order to be a low-cost producer. It has positioned itself as a less risky option to OEMs who traditionally source from China.
The total market is valued at $6.5 billion and is expected to grow by a healthy 12.5% until 2032, according to Precedence Research.
Global competitors in the optoelectronic devices and electronics manufacturing services market include Hamamatsu Photonics, First Sensor and Excelitas Technologies. The company's primary domestic competitors include Flextronics, Benchmark Electronics, Plexus, Jabil, Qual Pro, ESC and Express Manufacturing Inc.
Healthcare
The healthcare business unit, under the Spacelabs brand name, designs and manufactures advanced patient monitoring and diagnostic cardiology devices. This is a massive market the company is keen on penetrating further in light of the higher gross margins.
OSI has opportunities to grow in a large, fragmented market both organically and via acquisition. A recent example is the February acquisition of PeraHealth – a company that develops predictive software to alert doctors and staff to patient deterioration, which includes a visual dashboard of the patient's condition in real-time.
OSI has intense R&D programs focused on developing new products in patient monitoring and cardiology and remote monitoring that align with the market trend for enhanced digital connectivity that enables hospital-to-home patient care.
In its most recent earnings call, the company struck a very upbeat tone about the future of the healthcare segment, although it may take a couple of years to fully realize the fruits of the R&D investments.
The market, sized at about $35 billion, is expected to grow by a CAGR of 8.36% from 2023, according to ReportLinker. OSI's chief competitors in this area include Philips Healthcare, GE Healthcare, Nihon Kohden, Mindray Medical, Hill-Rom, and Dräger Medical.
Performance & Outlook
OSI annual sales rose over the past decade by a CAGR of 4%, going from $800mln to nearly $1.18bln, and grew 2.68% in the last five years. In 2022, OSI ended the year with a record $1.2 billion order backlog.
In Q323, OSI's most recent quarter, sales were up y-o-y 4%, operating profit 8%, and EPS 4%. OSI finished the quarter with an operating margin over 11.5%, bringing the trailing twelve months to 10.8%, in line with a five year historical average.
The healthcare segment, despite robust gross margins, is weighing down the company's operating profits, posting a mere 4% EBIT margin in the most recent 9 months ending in March. At the same time, the other two divisions both recorded 13% operating margins. The companywide EBIT % ended up at 9% after adding corporate expenses and backing out inter-company transfers.
Analysts, meanwhile, are projecting strong growth in the next couple years. According to consensus estimates, after growing sales by 5% in fiscal year 2023, OSI revenue is expected to grow 10% in both fiscal years 2024 and 2025 (ending in June).
Valuation
EBIT margin turned out to be the decisive factor in determining whether or not the stock was undervalued. I mulled the following data as part of the decision:
OSI's 5-year historical EBIT margin average = 10%
Median EBIT margin of OSI's top 10 direct competitors = 11%
Electronics industry total aggregated EBIT margin = 11% (138 companies)
The firm can definitely break through to 12% or even 13% if and when the healthcare division realizes its profit potential. But I figured OSI will have a hard time maintaining that for a 10-year period, hence I went with an 11% ten-year average, which I think is a reasonable balance between its past record and future upside potential.
A discount rate of 9.3% was derived using the Capital Asset Pricing Model. Sales growth rate was based on a combination of analyst consensus forecasts (for the first 2 years), industry research, and company historical averages, before lowering toward the long-term growth rate of the economy.
The stock at a price of $118.92/share looks undervalued by only 2.6%, based on the DCF calculation, a summary of which is provided below. A sensitivity analysis shows that the stock would be overvalued by 8.3% based on an EBIT margin of 10% and undervalued by 11.6% if a 12% operating profit margin were employed.
Risks
Security
In 2022, about 25% of OSI's revenue derived from U.S. government contracts. Although it could be a solid source of repeatable business once a company gets its foot in the door, it also comes with its own unique set of risks.
For example, delays and disruptions in U.S. Congress approving budgets could reduce government spending, including with respect to purchases of security systems.
And when there is a government shutdown or delay in payments, companies like OSI are often obligated to continue delivering, which causes a delay in cash flows.
Not to mention, startup of new systems installations often requires going through lengthy certification and regulatory processes. During approval periods, OSI has warned, the company expends significant financial resources in anticipation of future revenues that may not occur.
Optoelectronics
The optoelectronics segment faces the "too much of a good thing" risk, along with the possibility of downside if the sky-high repeat business ebbs.
This business segment will constantly be under pressure to innovate and develop products swiftly for fast-growing markets or lose market share.
Although this division excels in repeat business, finding new customers in custom manufacturing could make for a lengthy and unpredictable sales cycle.
Healthcare
OSI's healthcare segment faces potential structural market headwinds as well as internal challenges.
The healthcare industry has been consolidating, boosting the purchasing power of larger customers, which could end up causing downward pressure on product pricing for monitoring devices.
There is also the possibility that OSI's research and development spending may not see the R.O.I. expected, which means EBIT margins could flatline or even regress.
Conclusion
OSI Systems, a vertically-integrated provider of specialized electronic equipment, is well-positioned for solid growth in the next couple years in three business segments: security, optoelectronics, and healthcare.
OSI is an industry leader in the security systems market and is ready to boost the top-line with a new $600mln contract with the Mexican government and the rollout of a new SaaS inspection platform. The company has a good opportunity to enhance its share of the fast-growing optoelectronics market, including by positioning itself as a safe low-cost option for contract manufacturing.
The largest opportunity might be the monitoring device market, where the company is prepared to grow by developing and enhancing new technologies and buying other companies that do.
However, despite the fact OSI has solid growth paths in all three business segments, the stock looks fairly priced at the moment. That said, I recommend that current shareholders hold onto the stock and continue keeping an eye on the company's bottom line, especially the healthcare division's EBIT margins – the key to its long-term value.