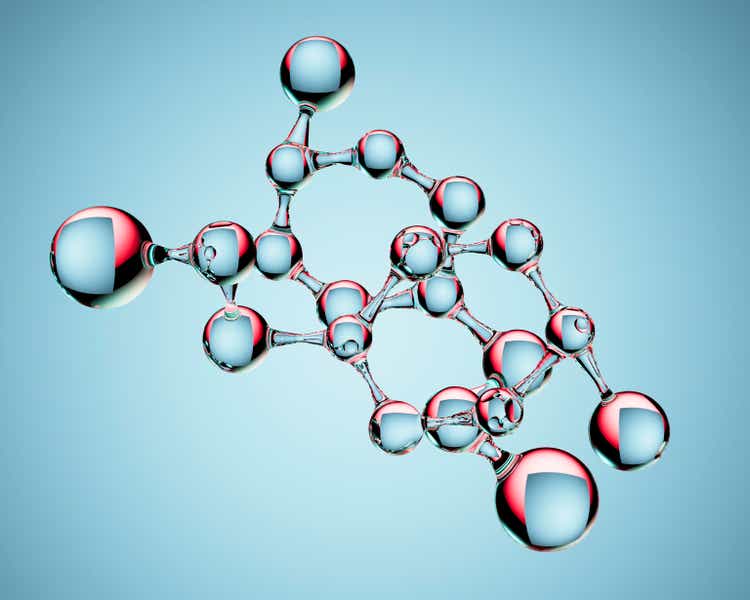 Timing is everything. – Molly Sims.
The BlackRock Science and Technology Term Trust (NYSE:BSTZ) commenced operations with a focus on equity securities issued by U.S. and non-U.S. science and technology companies across all market capitalization ranges. These companies are selected for their potential for rapid and sustainable growth, driven by the development, advancement, and use of science and technology.
The Trust also employs a strategy of writing (selling) covered call options on a portion of the common stocks in its portfolio. This approach is designed to generate additional returns, but it's important to note that as BSTZ writes call options over more of its portfolio, its ability to benefit from capital appreciation becomes more limited.
I actually like covered call strategies here given what I suspect will be high volatility in the months ahead. This is a good closed-end fund, or CEF, with the right mix, but the timing is questionable here overall.
Top Holdings
BSTZ's portfolio is dominated by a mix of well-known tech giants and lesser-known private companies, collectively forming around 30% of its total portfolio. The top holdings include:
Project Debussy: 5.40%
Project Picasso: 3.49%
Project Bond: 3.06%
Synopsys Inc: 2.91%
Project Salinger: 2.84%
Project Sibelius: 2.83%
NVIDIA Corporation: 2.76%
Tesla Inc: 2.60%
Project Gaugamela: 2.44%
Lattice Semiconductor Corporation: 2.42%
The projects referred to by code names are private investments, illustrating BSTZ's distinctive approach of investing in private companies not publicly traded.
Portfolio Characteristics
The average market capitalization of the securities in BSTZ's portfolio amounts to $70,901.7 million. The Trust has overwritten approximately 26.53% of its portfolio, implying that it has sold call options against about one-fourth of the common stocks in its portfolio.
Sector and Geographic Exposure
BSTZ's portfolio is primarily allocated towards the software and services sector, followed by allocations to semiconductors and semiconductor equipment. The Trust also has a significant exposure to media and entertainment, technology hardware, and other sectors.
In terms of geographic exposure, the Trust primarily invests in the U.S., with a smaller allocation towards Emerging Markets, Europe, and Asia Pacific.
Distribution History
BSTZ declared a monthly dividend of $0.16 per share in March 2023, signifying a 16% decrease from its previous payout. This translates to an annualized yield of 10.36%. Over the last 12 months, BSTZ has paid out a total of $0.9196 from return of capital (ROC) distributions. This represents around 40.45% of total distributions of $2.2733 over the same time period.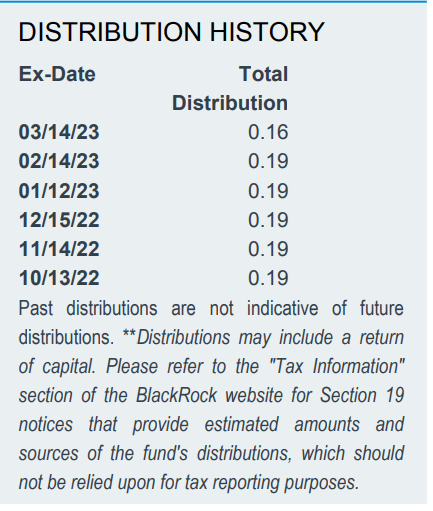 Valuations
As of March 2023, BSTZ traded at a significant discount of -18.25% to its NAV. This discount is considerably larger than its three-year average of -8.56%. It's still trading at a steep discount to NAV currently.
Conclusion
Investing in BlackRock Science and Technology Term Trust offers exposure to a diverse array of science and technology companies and the potential for significant returns. However, the current macroeconomic risks, including the prospect of rising interest rates, could pose challenges. In my opinion, while BSTZ is a good fund, the elevated macro risks make it a risky proposition at the present time. This is definitely one to keep an eye on though.

Anticipate Crashes, Corrections, and Bear Markets
Are you tired of being a passive investor and ready to take control of your financial future? Introducing The Lead-Lag Report, an award-winning research tool designed to give you a competitive edge.
The Lead-Lag Report is your daily source for identifying risk triggers, uncovering high yield ideas, and gaining valuable macro observations. Stay ahead of the game with crucial insights into leaders, laggards, and everything in between.
Go from risk-on to risk-off with ease and confidence. Subscribe to The Lead-Lag Report today.
Click here to gain access and try the Lead-Lag Report FREE for 14 days.