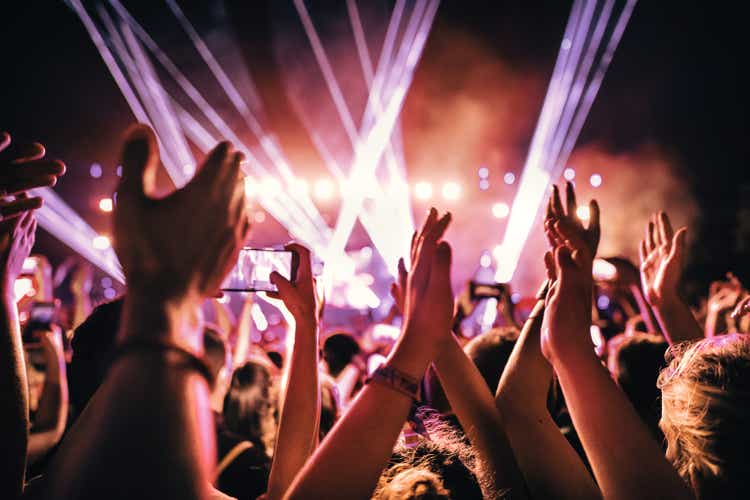 Investment Thesis
Live Nation Entertainment (NYSE:LYV) was up over 40% year-to-date (YTD) before dropping 15% from July 28 to August 3. I am taking this opportunity to suggest buying shares of the company now. In the mid-80s range, specifically at $86.50, I see a very attractive 11.6x risk-to-reward ratio based on my bull case scenario. My base case still has LYV shares trading at a 24% discount to fair value at $106.92, based on my own calculations from analyst estimates.
Live Nation has a monopoly-like hold over the live music industry, and their moat will only get wider. The merger with Ticketmaster in 2010 drew a lot of attention from regulators, but it has turned Live Nation into a powerhouse entertainment company. "Ticketmaster is the world's largest ticket seller, processing 500 million tickets each year in more than 30 countries. This ticketing business is paired with Live Nation's 338 concert venues, 670 million fans, 43,600 yearly events, and presence in 48 different countries as of 2022. In 2022, the company promoted shows for over 7,600 artist and managed more than 410 artist artists, including Beyoncé, Drake, Luke Bryan, Post Malone, and many more.
I believe that LYV is a buy at current prices and a strong buy under $82. The company has a dominant market position, a growing customer base, and a strong track record of profitability. I expect LYV to continue to grow in the years to come, and I believe that the stock is currently undervalued.
The global live music market was worth $10.6 Billion in 2022 and is expected to grow at a 5.4% compound annual growth rate (CAGR) to $15.3 billion in 2029. Live Nation Entertainment is the market share leader in two categories, owning 70% of the ticketing and live event venues market and 28.4% of the Concert & Event Promotion industry. They have no competition, unmatched assets, and demand and profitability are only increasing, with sales and operating income up 40% and 53%, respectively, 6 months into 2023, based on the company's Q2 earnings report. While valuations are high and regulators are once again scrutinizing the company, I would be adding shares at prices in the mid-80s or lower.
Company Overview
Live Nation Entertainment operates in multiple main industries within the live entertainment business. They are dominant because of their wide umbrella of offerings, which include hosting live music events, owning and operating music venues, providing management and other services to artists and athletes, offering ticketing services, and running sponsorship and advertising. They essentially run the live music business, from your favorite artist's music tour to massive weekend festivals across the country. Live Nation is the host and owner of festivals like Lollapalooza, Hard Summer, and EDC.
Since COVID-19, live events and concerts have seen demand rocketing back to levels never seen before. In 2019, Live Nation reported total sales of $11.55 billion. In 2020, sales dropped 83.8% to $1.86 billion, as people were not leaving their homes and especially not going to concerts filled with thousands of people. The company was hit hard, with the stock price dropping 72% from $75 to $21. The price has since rallied as we have moved past the beginning of COVID-19, and sales are back on track if not better than ever. In 2022, total sales were $16.68 billion, up 44% from 2019 highs, and analysts expect sales to grow another 20.5% this year to $20.09 billion. Management has been creative and resourceful, and now people cannot get enough of these experiences. The growing demand and love for these events tells me that this is a company with a strong product that I want to own.
Why The Stock Should Move Higher
Steady Industry Growth
Live Nation reported Q2 earnings on July 27, where we saw continued high double-digit growth. As mentioned before, sales are up 40% year-to-date (YTD), and analysts expect 20.5% total sales growth this year and 8% sales growth in the following years. President and CEO Michael Rapino said at the end of Q2:
Live music is bigger than ever, with global demand driving the industry to record levels. There's a more diverse pipeline of artists breaking from all corners of the world, and at the same time tours are going to more markets – particularly in Latin America and Asia. This was our strongest second quarter ever, with 2023 on pace to be a record year, and early indicators for 2024 giving us confidence in continued growth.
Nobody has better insight and knowledge into the industry than Rapino, CEO. Demand is strong, and management is executing on its goals, which include investing in product improvement, expanding concert platforms, growing revenue per share, selling more tickets, and growing sponsorships and advertising partnerships. We know that sales are up, and cash flow has been improving too. Adjusted free cash flow (FCF) for the first 6 months of 2023 is up 27% from the same period in 2022. With management executing and demand staying high even in tougher economic conditions, it indicates the resiliency of the stock and that opportunity may lie ahead.
Product Diversification Growth
Live Nation Entertainment reports revenue through four segments: Concerts, Ticketing, Sponsorship & Advertising, and Other. Concerts is the biggest segment, accounting for 80.9% of sales in 2022 and 78.9% of sales so far in 2023. Although concerts revenue growth is still growing at a fast rate, I believe a lot of the company's growth will come from its Sponsorship & Advertising business, which is up 25% YTD. It accounts for only 5% of sales 6 months into the year, but offers the company so much potential.
By controlling over 235 concert venues in almost 50 different countries, Live Nation offers a unique platform for advertisers looking to market to younger consumers who like to attend concerts and festivals. LYV is in a unique situation where they are one of few players in this business, leading to massive amounts of opportunity for advertising revenue from different companies and industries spending money advertising within LYV's venues and festivals. Beverage and food companies, apparel brands, cannabis growers, anyone could bid for advertising or land space within LYV events. LYV hosts thousands of events yearly worldwide with millions of tickets sold and people attending. Smart advertisers and managers would be foolish not to take advantage of the large gatherings that occur for Live Nation events, and LYV's pricing power will only get stronger.
Price Target
My current fair value price target for the stock is $106.92. Morningstar investment platform has the stock's fair value at $105. I based my price target on the company's and analyst estimates for sales and earnings, as well as current and historic valuations. I used a price target scenario table to get my price target, along with a bullish and bearish case scenario, which you can see below. I then used the bullish/bearish case to set up a risk-to-reward system, which is where we got our 11.6x risk-to-reward ratio while the stock is at $86 per share. With the stock trading at a 24% discount from our base case scenario, I am excited to start and build a position in LYV, as I have been waiting for the right opportunity-a healthy pullback.
LYV has a lot of resistance at the $99-$100 range, and tends to consolidate between $74-$82. After the recent price drop, I will be watching LYV closely and dollar-cost averaging (DCA) into the stock. I will continue to buy shares as the stock trades in this lower price range. Once the stock breaks out, which for me, my price target is \$90, I will stop buying shares and let the position I have created ride up with the stock's momentum. Discipline is a key trait when trading a volatile stock like Live Nation, which has a 1.31x beta. That being said, as the stock continues to sit at $86-$87, I suggest investors buy in now because the next time the stock tries to break $100, we could see a new 52-week high and a momentum shift.
Risk
The main risk to focus on right now is the intensified regulatory scrutiny from the Department of Justice (DOJ). On July 28, 2022, a report was released that the DOJ may file an antitrust lawsuit against Live Nation and its Ticketmaster unit by the end of the year. In 2010, regulators were worried of Live Nation and Ticketmaster would be anti-competitive, as the two companies competed head-to-head in ticket sales. However, the merger was ultimately approved. Now, 13 years later, the DOJ is accusing Live Nation of abusing its pricing power because of its monopoly on the segment. This is concerning, as the Biden administration has been very anti-competitive and has strictly reviewed mergers and acquisitions. However, with an upcoming election year, it is possible that the DOJ will ease up on its scrutiny of mergers & acquisitions. If this happens, Live Nation will likely be able to continue operating normally.
The second risk to consider is the stock's valuation. The stock currently trades around 77x forward price-to-earnings (P/E), which is well above the sector median. However, the company's sales grew 166% in 2022, and another 25-30% sales growth is expected this year. The bottom line, meaning earnings per share (EPS), is where the real growth is expected for Live Nation. Analyst are estimating 75% EPS growth in 2023, followed by 51% and 26% growth in 2024 and 2025, respectively. Eventually, the multiple will come down, but for now, with high bottom-line growth expected and steady top-line growth, the stock may trade at a premium to others. Valuation will be something to watch, as sales will have to slow eventually.
The last risk that needs to be noted is the possibility of another pandemic. If another COVID variant or disease were to shut down society again, Live Nation could drop, and it could drop fast. LYV relies on its fans and social interaction, and something like that again could cut the stock in half. However, this is a big "if," and this time, investors can take steps to be prepared. They can actively manage their positions by watching the stock daily, use options to hedge, or simply bear the risk. This is just a risk that needed to be noted given how recent the last anomaly was.
Conclusion
Live Nation's assets give it a moat that would take years for competitors to replicate or even come close to competing with. The company's venues, artist, and festival brand equity give it an irreplaceable edge that generates increasing cash. Live Nation is a global company, and people's love for live events is only growing. Its hold on the youth will be everlasting, as they continue to age, more and more people will be reached by Live Nation's offerings. The company is cleaning house and executing on all cylinders in order to see rapid bottom-line growth. Cash on hand has only been increasing, now sitting at $7.13 billion. Live Nation's market cap is $19.6 billion, but I believe the company is worth a lot more. A $106 price target would put the company at a $24 billion market cap, which would still be 15% below its all-time high.
In the end, what I'm trying to say is take advantage of this industry-leading stock while it's on sale. Yes, the valuation is still high, but look at any industry-leading stock. They are all going to trade at a premium compared to their peers. Live Nation has plenty of growth ahead of it in the coming years, and the leaked story about the DOJ is only another buying opportunity.