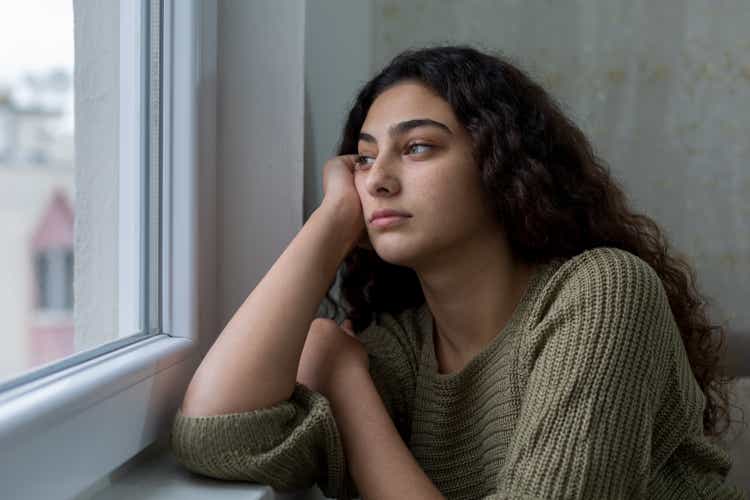 Introduction
Sage Therapeutics (NASDAQ:SAGE) is a biopharmaceutical company with a specialization in brain health medications. They focus on treating disorders such as depression, neurology, and neuropsychiatry by targeting the central nervous system's GABA and NMDA receptor systems. With products like Zulresso (intravenous brexanolone) for postpartum depression, Sage continues to advance in the field by working on novel compounds, including zuranolone, to address major depressive disorders. Collaborations with firms like Biogen (BIIB) and Shionogi allow Sage to extend its reach and emphasize its commitment to developing and commercializing various licensed healthcare products.
Recent developments: The US FDA approved Sage Therapeutics' and Biogen's Zurzuvae for postpartum depression [PPD] but denied it for major depressive disorder [MDD].
The following article analyzes Sage Therapeutics' recent developments, including FDA approvals and rejections, Q1 2023 earnings, balance sheet status, growth, stock momentum, and market potential for PPD treatment. It concludes with a "Strong Sell" recommendation.
Q1 2023 Earnings
Sage's Q1 2023 earnings report shows a decline in cash to $1.1 billion from $1.3 billion in 2022. Zulresso sales increased to $3.3 million, but expenses also rose, with R&D at $92.8 million and SG&A at $65.7 million, largely due to hiring and infrastructure costs. Reimbursement from Biogen dropped to $17.3 million, while net loss for the quarter reached $146.8 million. Despite increased expenses and loss, Sage expects current assets and potential revenue, including $225.0 million from Biogen, to sustain operations into 2025, with more spending anticipated for the launch of zuranolone and other studies.
Sage reports Q2 earnings on Monday, August 7. Investors should keep a close eye on Zulresso revenue and total expenses. Furthermore, the company is expected to comment on the path forward in MDD following FDA rejection.
Balance Sheet
Sage's balance sheet shows signs of stability and concern. As of March 31, 2023, the company's current assets include $206.56 million in cash and cash equivalents, and $923.03 million in marketable securities, totaling around $1.13 billion. From December 2022 to March 2023, the company's total assets decreased from $1.36 billion to $1.22 billion, a reduction mainly in marketable securities. The net cash used in operating activities was $153.68 million in the first quarter of 2023, resulting in a cash burn rate of approximately $51.23 million per month. Considering the current cash and cash equivalents, the cash runway is roughly four months without considering marketable securities. If the marketable securities are included, the runway extends significantly. With continuous operational losses, Sage may need to explore additional financing or cost-cutting measures to maintain liquidity.
Valuation, Growth, and Stock Momentum
Looking at Seeking Alpha data, Sage's financial figures reveal mixed signals. The valuation is marked as poor with standard metrics like P/E and EV/EBITDA being non-meaningful due to negative earnings. However, impressive sales growth of over 2000% in 2023, followed by consistent increases through 2025, denotes a strong upward trend in revenue. However, I believe the revenue estimates are optimistic to a fault. This is discussed in detail below. Moving on, growth has earned a 'B' rating, although profitability remains a concern with negative net income margins and returns on equity and assets. The earnings per share [EPS] also displays volatility with negative figures but some year-over-year improvement. Momentum is rated 'C,' showing a decline over 3 and 6 months but a slight positive turn in 9 months, underperforming the SP500.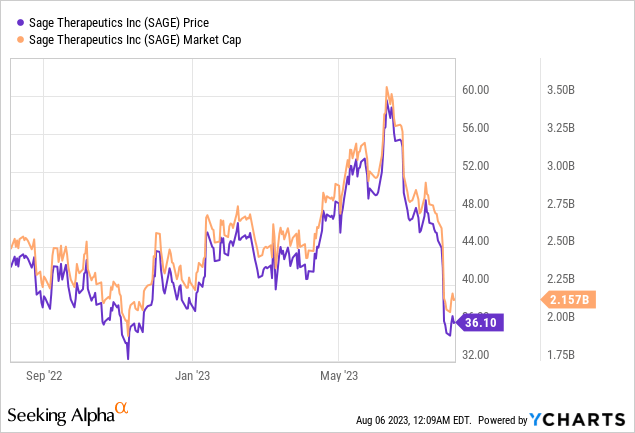 FDA Approves Zurzuvae for PPD, Rejects for MDD
Sage and Biogen have revealed that the FDA has granted approval for Zurzuvae (zuranolone) 50 mg, a treatment for adults suffering from PPD. This drug is distinguished as the inaugural oral medication that can be taken once daily for 14 days, providing rapid relief from the symptoms of depression in women afflicted with PPD. It is anticipated to hit the market commercially in the last quarter of 2023, following its categorization as a controlled substance by the U.S. Drug Enforcement Administration. Conversely, the FDA provided a Complete Response Letter [CRL] for zuranolone when intended for MDD, referring to a lack of compelling evidence and calling for additional investigation. Both Sage and Biogen are considering their next steps.
The FDA's recent green light for Zurzuvae in the treatment of PPD might initiate milestone payments from Biogen to Sage, according to their agreement. Since Zurzuvae marks the beginning of commercial sales for zuranolone in PPD, it could play a part in achieving the $225 million earmarked for milestones connected to zuranolone in both MDD and PPD within the U.S. Nevertheless, the refusal of zuranolone for MDD may affect the complete fulfillment of these milestones, contingent on the conditions specified in their agreement.
Zurzuvae's Market Potential for PPD Treatment: Opportunities and Challenges
The market for treating PPD is gradually advancing, and the introduction of Zurzuvae marks a significant step forward. It is the first oral, once-daily, 14-day treatment approved specifically for PPD and boasts a unique profile as a neuroactive steroid gamma-aminobutyric acid [GABA] A receptor positive modulator. This might enable it to integrate well into the existing treatment options, offering a new avenue for those in search of quick improvements.
Despite its innovation, Zurzuvae's market potential may be hindered by various aspects of the drug's label:
Warning Regarding Driving Impairment: Zurzuvae's label explicitly cautions about impaired driving ability and the potential to engage in hazardous activities due to its central nervous system [CNS] depressant effects. This could be a concern for those with daily driving duties or jobs needing full cognitive alertness.

CNS Depressant Effects: Healthcare providers might hesitate to prescribe Zurzuvae because of its potential to cause CNS depressant effects like confusion and drowsiness, especially in patients who are more susceptible to these impacts.

Concerns About Suicidal Thoughts and Behaviors: Though not uncommon with antidepressants, the mention of possible suicidal thoughts and actions in the warnings might create reluctance among healthcare providers and patients alike.

Embryo-fetal Toxicity: Warnings about potential harm to the fetus and advice on effective contraception could hinder prescriptions to women planning a pregnancy after their PPD treatment.

Adverse Reactions: Common side effects such as dizziness, diarrhea, and fatigue could contribute to anxiety among potential users.

Federal Controlled Substance Classification (C-XX): Zurzuvae's status may restrict its market reach due to stricter prescribing and distribution guidelines. This could limit its availability, and healthcare providers and patients might face obstacles in prescribing and obtaining the medication, respectively. The classification may also create a stigma associating the drug with substances that can be abused or cause dependency. Potential insurance and affordability issues, along with the need for robust monitoring, add complexity to the prescribing process and might hinder acceptance among providers and patients.
My Analysis & Recommendation
In conclusion, Sage Therapeutics stands at a crossroads, with remarkable opportunities overshadowed by significant barriers. The approval of Zurzuvae for treating PPD marks a promising stride, putting Sage at the forefront of innovation in the mental health field. The growth in revenue and collaborations with industry giants like Biogen and Shionogi add to the optimism.
Yet, challenges loom large. The rejection of zuranolone for MDD casts a shadow on the company's future prospects. Even assuming a successful retrial for MDD, the market viability of the drug, in my view, seems limited due to its stringent label warnings and classification as a controlled substance. These include cautionary notes about driving impairment, CNS effects, and potential suicidal tendencies, all of which could deter both healthcare providers and patients. Furthermore, financial instability, highlighted by diminishing cash reserves and continued operational losses, raises concerns about Sage's sustainability.
Investors must be vigilant in the coming months, monitoring how Sage addresses these obstacles and gauges market reception of its new product for PPD. The combination of financial uncertainties and potential market reluctance makes Sage's future far from certain.
In light of these factors, I would recommend a "Strong Sell" for Sage Therapeutics. The confluence of challenges, ranging from regulatory hurdles to financial strain (significant and ongoing net losses), and the questionable market potential of its flagship drug, leads me to conclude that the risks may well outweigh the rewards in the present investment landscape.
Risks to Thesis
When the facts change, I change my mind.
While my analysis and the subsequent "Strong Sell" recommendation for Sage Therapeutics are based on the available information and my interpretation of the company's current standing, there are risks associated with this recommendation that should be considered.
Firstly, Sage's collaboration with industry leaders and the approval of Zurzuvae for PPD might lead to unexpected success in the market, thereby improving the company's financial health. Secondly, the company may find ways to overcome the regulatory hurdles, including the FDA's denial for MDD, and the concerns associated with the drug's label warnings. These accomplishments could enhance Sage's market position.
It's also worth noting that the future is inherently unpredictable, and factors beyond the current scope may come into play. Market dynamics, regulatory changes, or unforeseen advancements in Sage's R&D could alter the course.
Editor's note: This article was submitted based on Friday's FDA news, but prior to Sage's earnings report from the morning of 8/7/2023.