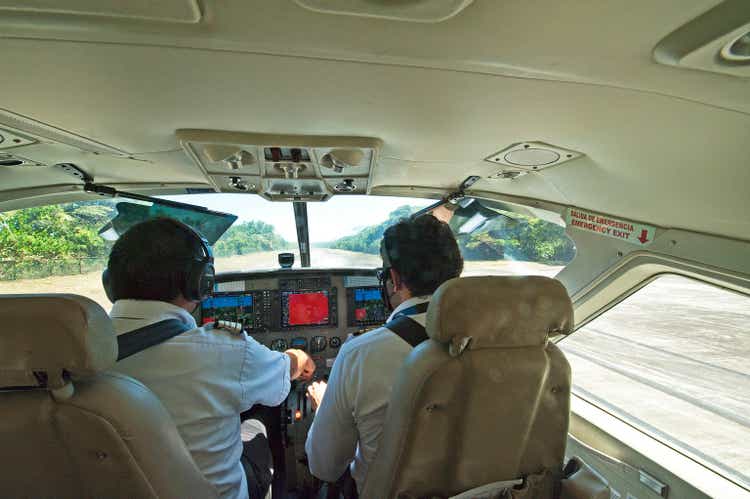 Surf Air (NYSE:SRFM) has acquired Southern Airways and direct listed on the NYSE last week. This is a big gamble for a company with low cash levels and negative earnings. It's also a big gamble for a retail investor like myself, which is why I'm passing on this until we see a healthier balance sheet and traction on their aircraft conversion.
Originally targeting a share price of $20, the stock opened at $1.40 on August 7th, after only a few days on the market. Surf Air had already abandoned plans for a reverse IPO at the end of 2022.
Company History
Surf Air originally launched in 2011 with the intent to offer short-range air services through flight memberships in small aircraft. At first, the company operated its own aircraft, but ceased flight operations in 2017, turning to outsourced aircraft operators. The company expanded to Europe in 2017, but its European operations entered liquidation shortly after in 2018, supposedly costing consumers $272,000 in deposits and membership fees.
They go on to purchase technology company, Blackbird, in 2020 despite its ongoing battles with the FAA. At the time, Surf Air was on a payment plan with the IRS for unpaid Federal Excise taxes and was sued by its flight operator partner, Encompass. Originally focusing on all-you-can-fly memberships, Surf Air was then transitioning to the world of private charter flights and private pay-by-the-seat operations.
It wasn't until 2021 that the firm announced its next disruptive foray into aviation: hybrid-powered Cessna Caravans operating regional flight routes.
Go To Market Strategy
Southern Airways, which was acquired pre-listing in June, is reported to be the largest commuter airline (not to be confused with traditional airliners) and largest operator of Cessna Caravans in US, booking slightly under $23 million in topline revenue in 2022. According to aviation databases from ARGUS, Southern is currently operating 37 Cessna Caravans ranging in age from 1981 to 2014.
According to the prospectus, the long-term plan is to revolutionize short-range flying with a fleet of hybrid-powered Cessna Caravans. With Surf Air's technology and marketing whiz, and Southern Airway's significant commuter and Caravan experience, they can expand services to underserved communities and lower operating cost with a hybrid aircraft platform.
Surf attempted to acquire aviation engineering firm, Ampaire, in 2021 to electrify a planned fleet of 150 Cessna caravans, but the deal was scuttled in April 2022 for unknown reasons. It does not appear the two firms are currently collaborating since the failed acquisition, but Ampaire did complete a successful test flight of its hybrid aircraft in November of 2022 and expects to be the first hybrid aircraft to enter commercial service in 2024. Surf Air has other partnerships in place to complete the conversion of the aircraft.
While the concept of modifying an existing aircraft platform to be more efficient and closer to carbon-neutral is a decent idea, it is still a concept. The prospectus states, "we, as well as our development and supply chain partners, have limited experience to date in the development and manufacturing of hybrid-electric and fully-electric powertrains and integrating those newly developed powertrains into existing certified airframes."
However, adding a hybrid powertrain to an existing aircraft certified by the FAA is a much faster process than full certification of an aircraft like many eVTOL firms are currently pursuing, so the concept has merit.
Earnings
While waiting for design and approvals on hybrid-aircraft and its future business model to kick off, Surf will need to improve its commuter and private charter operations to improve earnings. At current rates, however, the losses are continuing to widen, particularly at Southern Airways, which is the primary platform for the future business model.
| | | | |
| --- | --- | --- | --- |
| Operating Losses* | Mar 31, 2023 (QTR) | Dec 31, 2022 (YR) | 2023 Annualized |
| Surf Air | -$12.048 | -$50.904 | -$48.192 |
| Southern Airways | -$1.868 | -$4.012 | -$7.472 |
| Total | -$13.916 | -$54.916 | -$55.664 |
*In Thousands (Consolidated Statements of Operations Data, Pg 22)
Based on comments in the prospectus, we may see this gap widen even further in the next reporting period as Southern cites: "Southern incurred greater than expected operating losses and negative cash flows from operating activities during the second quarter of 2023 due to inefficient aircraft utilization, primarily caused by an underutilization of pilots and a shortage of maintenance personnel and critical aircraft components, which, in the aggregate, have challenged Southern's ability to serve its customers as desired."
Dangerous Cash Position
While previous year financials were audited, the 2023 quarterly results for Surf and Southern are unaudited. The auditor notes on 2021 and 2022 results that there is "Substantial Doubt about the Company's Ability to Continue as a Going Concern…the Company has incurred losses from operations, negative cash flows from operating activities and has a working capital deficit that raise substantial doubt about its ability to continue as a going concern."
In the latest 8-K, the company noted it had $34.7 million of cash on hand as of July 27th, 2023. In initial filings, the company had listed $93.7 million in cash as of March 31st, a significant decline over a short period.
After digging deep into the appendix, statements of cash flows are presented separately for Surf and Southern.
As of March 31, 2023:
| | | |
| --- | --- | --- |
| | Surf | Southern |
| Cash flows from Operations | -$28.037 Million | -$479 Thousand |
| Cash flows from Investing | -$298 Thousand | -$204 Thousand |
| Cash flows from Financing | $27.637 Million | $720 Thousand |
Most of the financing activities were related to adding more debt and repayment of interest, which can only be sustained for so long. Based on operating and investing cash flows alone, the firm burned $29 million in the first quarter, which makes the $34.7 million on hand at the end of July particularly concerning.
Possible Upside:
GEM Asset Management holds a share subscription facility that could potentially alter Surf's cash position, but only if they reach certain market targets. GEM had estimated a potential market cap of $1.2 billion or $20 share price, but at SRFM's share price of $1.35 as of this writing, the market is valuing the company at less than $100 million. The firm also has an $450 million agreement for aircraft financing in place, which will reduce the cash need for aircraft.
Price Target/Valuation
It's important to note the quarterly financials available are unaudited and as a direct listing, no underwriting was required to list. The company contends that once the integration of the businesses are complete, they will achieve synergies to increase margins.
In the filings, there are multiple mentions about the accuracy of financial information provided by the company (both Surf Air and Southern Airways): "material weaknesses existed in our internal control over financial reporting….there is a reasonable possibility that a material misstatement of our annual or interim financial statements will not be prevented or detected on a timely basis."
The combination of negative earnings, dangerously low cash levels, and a history of legal proceedings and outstanding financial obligations make this a Strong Sell in my book.
Liquidation Value
Because of the past negative earnings of both Surf Air and Southern Airways in the business combination, as well as the lack of a proof of concept aircraft, I am using liquidation value as a proxy for target market value. Any future earnings and DCF analysis is premature until they get past this cash crunch, and show the ability to continue to operate.
I'm being extremely liberal on the liquidation value by assuming all assets are fully recoverable (with the exception of Goodwill which can be heavily impaired, as we've recently seen with other air operators) since this price assumes a company that is a going concern.
As of March 31st, 2023 – Consolidated Balance Sheet:
Total Assets, Less $91.678 million in Goodwill: $245,468 million
Current & Long-term Liabilities: -$216.564 million
Estimated Liquidation Value*: $28.904 million / 49 million Shares
Target Share Price: $0.59
*With no liquidation impairments which assumes all essential air routes can be sold to others at face value, all aircraft will sell in an orderly fashion at the book value, and so on.
Takeaways
The concept of a hybrid-powered short-range airline is a fantastic idea. It's more realistic to lower aircraft emissions on flights over 100 miles and will likely be faster to market than many eVTOL concepts like BLADE, JOBY and the like. Hybrid aircraft solve a lot of the issues facing eVTOL builders like extended range/payload, charging infrastructure in rural facilities, or urban electric grids that are already overloaded. Personally, I'd like to see more aircraft operators and designers pivoting to this approach, since we don't have the battery technology currently to support significant distances.
The upside potential: If Surf can somehow skate through their current cash issues, get to a current ratio over 1 at minimum, and manage to met significant milestones for an in-service hybrid-aircraft, I will reconsider my investment thesis.
Editor's Note: This article covers one or more microcap stocks. Please be aware of the risks associated with these stocks.