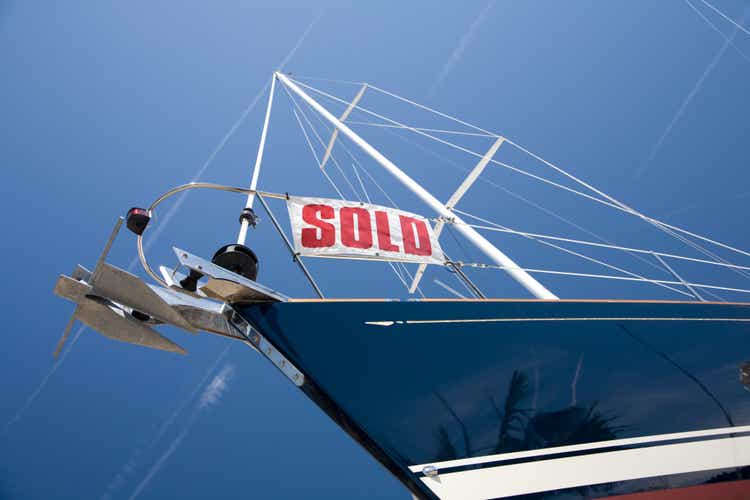 Introduction
As margins are close to have returned to normal levels after a significant surge in demand from 2020 until early 2022, the valuations of MarineMax (NYSE:HZO) have undergone a substantial contraction. This has created an attractive margin of safety, indicating potential undervaluation. Despite the market's overly pessimistic outlook, I believe the company's earnings decline may be exaggerated. The management's efforts to stabilize margins have already shown positive signs, evident in their recent earnings beat.
For investors seeking opportunities in companies with a proven track record of annual growth exceeding 10%, MarineMax warrants a closer look.
Fundamentals
MarineMax's revenue has displayed remarkable consistency, even though the company's profits are known to be volatile. The key factor driving this growth has been their steady strategy of consistently acquiring other businesses. Over the past decade, they have achieved an impressive annual revenue growth rate of approximately 16%. What sets this growth apart is that it was attained through reinvestments and leverage, rather than the issuance of shares.
MarineMax's profit margin tends to fluctuate due to its sensitivity to market up- and downturns. Under normal circumstances, the company maintains a stable profit margin of approximately 2.9%. However, following the surge in demand after the lifting of lockdowns, their profitability experienced a significant increase. It is anticipated that over time, the current profit margin will revert to pre-Covid19 levels, as indicated in the graph below.
One counterargument against the expectation of margins returning to historical levels is the management's strategy of acquiring high-margin businesses. Their recent significant acquisition of Island Global Yachting (IGY) for $480 million is one of the largest in maritime history and could potentially sustain or elevate the profit margin beyond previous levels.
During the Q3 2023 earnings call, CEO William McGill expressed the following remarks:
we continue to be opportunistic in identifying businesses that have the potential to advance our operational and financial priorities, including our higher-margin focused strategy.
Acquisitions like the one of IGY serve as robust catalysts for achieving higher valuations. They are expected to enhance the company's resilience during economic downturns, resulting in reduced volatility in profitability. This objective is already being realized, as management attributed the IGY acquisition as the primary reason why margins have not reverted to historical levels.
MarineMax has experienced rapid revenue growth without issuing new shares, complemented by steady and, in recent years, improving profit margins. As a result, the annual net income has doubled multiple times over the past decade. However, the current decline in profit margin, after a period of above-average performance, is impacting net income. Nevertheless, it is expected to stabilize soon. During this period, MarineMax remains committed to reinvesting earnings according to a straightforward capital allocation strategy.
Capital Allocation
MarineMax is operating as a true growth company, allocating all earnings towards reinvestment. No cash is being used for dividend payments, and only cash for maintaining a steady number of outstanding shares from share-based rewards is utilized. This approach has proven prudent, as reinvesting has generated better returns than paying dividends or conducting share repurchases would have.
Looking at historical data, excluding the financial crisis crash and the temporary lockdown-induced boom, MarineMax has maintained an average return on equity of around 10%. The lockdown-induced boom is now starting to fade, with the ROE nearing average levels.
Despite achieving approximately 15% ROE with the inclusion of the recently released quarterly results, it might be overly optimistic to expect this trend to continue. A more conservative estimate would suggest a forward ROE closer to 10%, which aligns with the historical average. The most recent ROE numbers might still be above this estimate, but they are declining on a quarterly basis due to customer destocking and headwinds from inflation.
Valuation
Despite experiencing strong growth from 2015 until 2022, the P/E of the company has not been particularly high. This is likely because the market perceives the growth as unsustainable. I share this view, as a significant portion of the growth resulted from the company's recovery after the financial crisis and higher-than-normal margins in recent years. A correction in earnings, as currently being observed, was expected, making a low single-digit P/E ratio for 2022 earnings appropriate.
However, I believe the current P/E ratio of only ~6.37 is too low, considering that earnings are likely to stabilize. Even if we assume a decline in return on equity to its average of around 10%, resulting in approximately $0.09 billion in annual net income, the P/E would still be low at 9.33. This is far below the standard multiple of ~15 typically assigned to profitable slow to medium-growing businesses and below its average P/E as well.
As a result, a good margin of safety exists, even if profitability continues to decline, despite management's efforts to stabilize it through acquisitions.
Stock Chart
Quick disclaimer: A technical analysis in itself is not a good enough reason to buy a stock, but combined with the company's fundamentals, it can greatly narrow your price target range when investing.
After breaking out from a declining resistance line, MarineMax's stock has commenced its recent upward trend. As a turnaround pattern, sustaining this positive movement would require strong financial performance. The recent earnings report, surpassing expectations in all aspects, provided a promising start. However, to maintain this trajectory, future quarters of earnings will need to exhibit a similar performance.
If the company can closely align with analysts' expectations for full-year 2023, projecting an adjusted EPS of 5.25, it is likely to experience a climb towards higher valuations. Consistently meeting or exceeding these projections will be crucial in sustaining the positive momentum in the stock's upward movement.
Final Thoughts
MarineMax operates in a cyclical industry, and despite management's diligent efforts to stabilize the profit margin through acquiring higher-margin companies, a decline continues to occur. This decline became evident in their previous earnings report, which showed a YoY net income decrease of -37.14%, even though revenues experienced a slight uptick. However, the earnings report surpassed analysts' expectations significantly, with management attributing this success primarily to the recently acquired IGY businesses.
Over the past decade, the company has demonstrated consistent ability to reinvest at a minimum annual rate of around 10%. Even if the return on equity were to decline to its historical level of approximately 10%, despite management's best efforts to improve margins, there still remains a substantial margin of safety. This is because a company growing at an annual rate of around 10% is unlikely to be valued at a mere 6.37 P/E for an extended period of time.
Considering these factors, MarineMax's growth potential and its history of reinvestments, there are reasonable grounds to expect the company to offer attractive investment opportunities despite the current challenges with declining profit margins.
A Buy rating with a price target of $70 is therefore given.