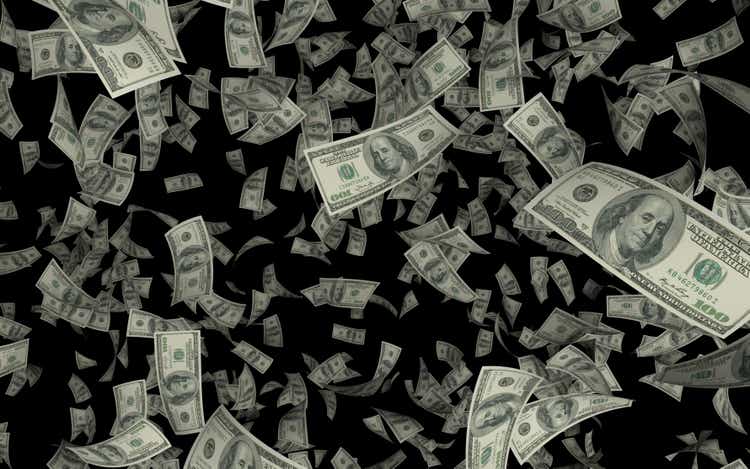 I'm busy with behind-the-scenes research for the next two weeks, so I need to do shorter articles with fewer deep dives.
So, per the request of several members, here is a short update on Autodesk, Inc. (ADSK) and Adobe Inc. (ADBE).
Adobe has been red hot this year, beating even the unstoppable NASDAQ 100-Index (NDX). Meanwhile, Autodesk has seen just 50% of the returns of the S&P 500 (SP500).
So is it time to sell Adobe? Lock in those profits? Is it time to buy more Autodesk? Or has the rally in both hyper-growth Ultra SWANs been sanctified by the righteousness of fundamentals, and they both have more room to run?
Read on to find out.
Adobe: Why Wall Street Is In Love With This Hyper-Growth Legend
Further Reading
Why Adobe Is A Potentially Good Buy Today
Adobe has come to dominate in content creation software with its iconic Photoshop and Illustrator solutions, both now part of the broader Creative Cloud." – Morningstar.
Adobe is the world leader in its industry and is harnessing AI to further cement its wide moat based on recurring subscription revenue that Wall Street loves.
42% free cash flow margins are what ADBE has achieved after switching to an all-subscription model. Here is what that actually means.
After paying all salaries, benefits, taxes, R&D, growth capex, and everything else needed to run the business, 42 cents of every dollar in sales drops straight to the bottom line.
That free cash flow ("FCF") margin is in the top 5% of all companies. And here is what analysts expect in the future:
2023: 40% FCF margin
2024: 41% FCF margin
2025: 39% FCF margin.
Adobe's growth rate of the last few years, about 30% annually, was driven by both strong sales growth and margin expansion. The one-time benefit of becoming a leaner subscription-based business is over, and now Adobe has "only" its solid 15.5% organic growth rate to look forward to.
This is a growth rate 2X that of the S&P and from one of the safest companies on earth.
Adobe is one of the world's strongest companies, with a fortress A-rated balance sheet.
Adobe Credit Ratings
| | | | |
| --- | --- | --- | --- |
| Rating Agency | Credit Rating | 30-Year Default/Bankruptcy Risk | Chance of Losing 100% Of Your Investment 1 In |
| S&P | A+ stable | 0.60% | 166.7 |
| Moody's | A2 (A equivalent) stable | 0.66% | 151.5 |
| Consensus | A+ stable | 0.63% | 158.7 |
(Source: S&P, Moody's.)
Adobe has twice as much cash as debt and is generating $9 billion in annual free cash flow, expected to be almost $13 billion by 2026.
It has $11.6 billion in liquidity right now and will have $20 billion within a year if it lets its cash pile up.
High rates? Recession? Adobe doesn't care because it's a free cash-flow minting machine.
Fundamental Summary
DK quality score: 99% very low risk 13/13 Ultra SWAN hyper-growth
DK safety score: 99% very safe (A+ stable credit rating, 0.6% 30-year bankruptcy risk)
Historical fair value:

$588.62

Current price:

$529.73

Discount to fair value: 10%
DK rating: potential good buy
Yield: 0%
Long-term growth consensus: 15.5%
Consensus long-term return potential: 15.5%.
You might not be too excited by Adobe's 25% upside potential through 2025, and indeed much of the juice is out of this orange now.
S&P just 11% fundamentally justified upside through the end of 2025
Adobe's superior growth and valuation mean that what the S&P can fundamentally deliver within 1.5 years, it can deliver in one.
And the long term, it offers about 50% better annual return potential than the broader market. All from a wide moat, A-rated Ultra SWAN tech leader.
Autodesk: A Coiled Spring Growth Legend Ready To Soar
Further Reading
Why Autodesk Is A Potentially Great Buy Today
Autodesk is considered the global industry standard computer-aided design software. Millions of industry professionals rely on Autodesk software to design and model buildings, manufactured products, animated films, and video games. We think Autodesk will remain the industry standard, as its switching costs and network effect continue to reinforce one another and Autodesk stays at the forefront of industry trends." – Morningstar.
Like Adobe, ADSK is the industry leader in productivity software, the one-stop shop for engineers, architects, and video game designers. Anyone who needs computer-aided design, or CAD, trusts Autodesk.
This is a 95% subscription business, much like Adobe, which is why its margins are high and stable, and Wall Street has given it a much-deserved premium multiple that is unlikely to erode unless ADSK's moat does.
Like Adobe, 40% free cash flow margins are not quite as stable.
2023: 41% FCF margin
2024: 22%
2025: 28%
2026: 32%.
The opportunity with Adobe is with its incredible growth potential.
ADSK has twice the consensus growth potential of Adobe and is also historically more undervalued.
21X forward cash-adjusted earnings vs. 27% growth consensus
PEG ratio 0.78 = growth at a reasonable price.
Why are analysts so bullish on ADSK's long-term growth prospects?
Because infrastructure requires CAD, and here is the potential growth opportunity in infrastructure over the next 30 years, according to Brookfield Asset Management (BAM).
The growth opportunities in all manner of infrastructure in the coming decades create the mother of all tailwinds for any infrastructure stock, and the global leader in CAD certainly qualifies.
Fundamental Summary
DK quality score: 95% very low risk 13/13 Ultra SWAN hypergrowth
DK safety score: 98% very safe (BBB+ stable credit rating, 5% 30-year bankruptcy risk)
Historical fair value:

$286.37

Current price:

$203.72

Discount to fair value: 29%
DK rating: potential very strong buy
Yield: 0%
Long-term growth consensus: 27.1%
Consensus long-term return potential: 27.1%.
ADSK is one of the rate hypergrowth Ultra SWAN tech stocks remaining with Buffett-like return potential after this year's massive tech rally.
A rally it has yet to participate in.
Bottom Line: Adobe and Autodesk Are 2 Red-Hot Growth Legends With Room To Run
Some ask, "Why is Dividend Sensei even covering non-dividend stocks."
If You Want Maximum Long-Term Income, You Must Combine Yield And Growth
Here are the historical returns for ADSK, ADBE, TRP, and BTI since 1988.
Life changingly more wealth over time when combining high yield with hypergrowth.
The average rolling 15-year return is 2X as high as the market's when combining these specific high-yield and hyper-growth blue-chips.
BTI and TRP combined for 14% annual income growth over the last 33 years, turning a 4.9% yield into a 337% yield on cost.
$1000 invested in 1988 now paying $3400 per year in dividends.
Combine high yield with hyper-growth, and you can achieve 20% annual income growth turning a 3.2% yield into a 10585% yield on cost.
$1,000 invested in 1988, now paying $11,585 per year in dividends
3X more than BTI and TRP alone
and that's every year and growing exponentially more over time.
Today ADSK, BTI, TRP, and ADBE yield a very conservative 4.1%, with 18% long-term return potential and 15% to 20% long-term income growth potential.
Show me a 4% yielding ETF with that kind of growth made up of 100% Ultra SWAN quality companies.
It doesn't exist, but we just built one in seconds.
So that's why I cover the world's best ultra swan growth stocks. They are the dividend growth legends of tomorrow and can help you maximize long-term income growth today.
Today, ADSK and ADBE remain excellent long-term choices for income growth investors looking to find reasonable or even attractively valued growth in a dangerously overvalued market.
Nasdaq is 35% historically overvalued.