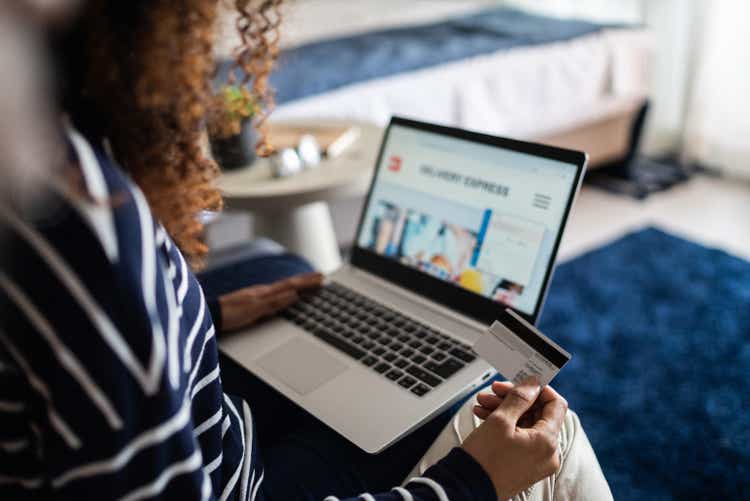 E-Commerce software platform provider BigCommerce (NASDAQ:BIGC) presented strong second-quarter earnings last week that showed strong gross margins, double digit revenue growth and, most importantly, narrowing losses. The firm widely beat EPS expectations for the second-quarter and BigCommerce still has a long growth runway in the e-Commerce market. With profitability just around the corner and AI representing a tailwind, BigCommerce has upside revaluation potential.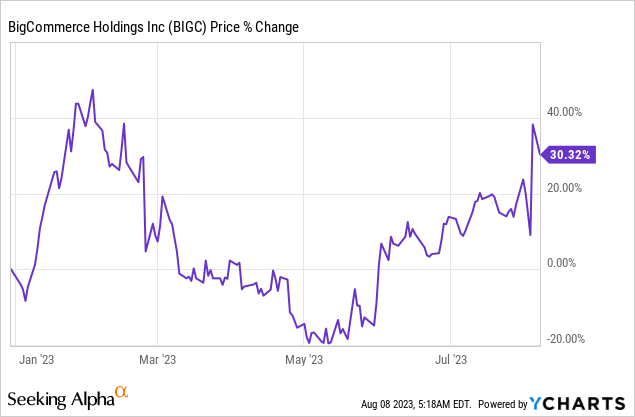 Rating upgrade and Q2 results
I previously rated the e-Commerce company as a buy because BigCommerce continued to achieve double-digit top line growth in the fast-growing e-Commerce market. In the second-quarter, BigCommerce saw a drastic narrowing of its losses, driven by cost savings, and I believe shares deserve an upgrade after strong Q2 results.
BigCommerce easily beat expectations for its second fiscal quarter last week as well: the e-Commerce company generated $75.44M in revenues and EPS of $(0.02).

Continual revenue momentum
BigCommerce is a rival to Shopify which is the dominant e-Commerce player in the industry. Like Shopify, BigCommerce helps merchants build an online presence to sell products and services. BigCommerce has developed a core focus on the enterprise market in the past, meaning professional businesses are responsible for the majority of the firm's revenues (71% of annual recurring revenues came from the enterprise segment in Q2'23). With powerful e-Commerce growth tailwinds on its side and growing e-Commerce adoption, BigCommerce is set for many years of revenue expansion.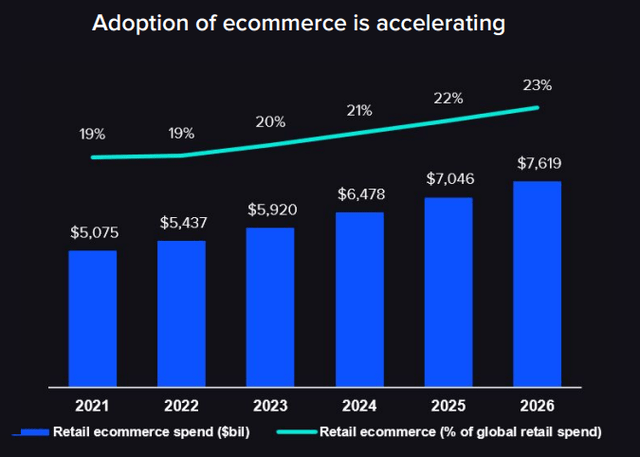 In the second-quarter, BigCommerce generated $331M in total annual recurring revenue from its online store business, showing 12% year over year growth. Enterprise annual recurring revenues increased even faster, at a 14% Y/Y rate, as the company continues to make inroads into the market for large brands. Enterprise customers are those that achieve $1M or more annually in gross merchandise value.
As you can see below, BigCommerce's revenue growth has decelerated in recent quarters, which is a reflection of a normalization of growth in the e-Commerce industry after the pandemic. However, the company continues to grow at double-digits.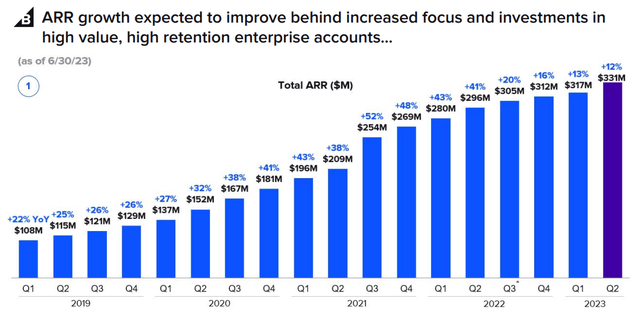 High gross profit potential
As a software SaaS company, BigCommerce has the potential to generate strong gross profit growth going forward. On $75.4M in revenues, in Q2'23, BigCommerce achieved $58M in gross profits which calculates to a gross profit margin of 77%. Since BigCommerce is expected to grow its annual revenues to approximately $400M within three years, the firm could achieve ~$300M in gross profits annually by FY 2025.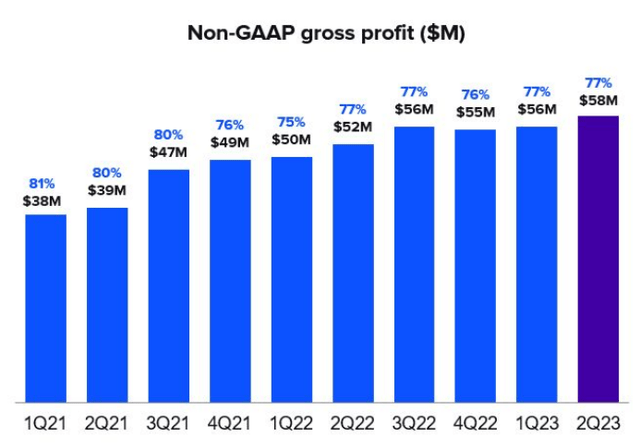 AI integration potential
Like Shopify, BigCommerce has a huge opportunity to capitalize on the integration of artificial intelligence solutions in the e-Commerce industry.
In July, BigCommerce announced that it was leveraging Google Cloud's AI technologies and offering merchants access to new AI capabilities. These capabilities include the use of artificial intelligence to generate high-quality, high-converting product descriptions. Further applications include AI-powered analytics insights as well as AI-driven customization options that could lead to higher average order values. Like Shopify, BigCommerce has huge potential to integrate artificial intelligence into its product suite which would translate to better-performing stores for merchants and likely improve retention and upsell potential for BigCommerce… a win-win situation.
BigCommerce is nearing an inflection point
BigCommerce is not yet profitable and has guided for non-GAAP operating losses of $10.2-15.2M in FY 2023. However, losses are narrowing due to strict cost discipline and the e-Commerce company has had some success in lowering its operating expenses. Still, its operating margin was negative 4.5% in the second-quarter, so BigCommerce still has some work to do, but the overall trend is positive. If BigCommerce continues this cost improvement trend, I can see the firm achieve a positive operating margin next year.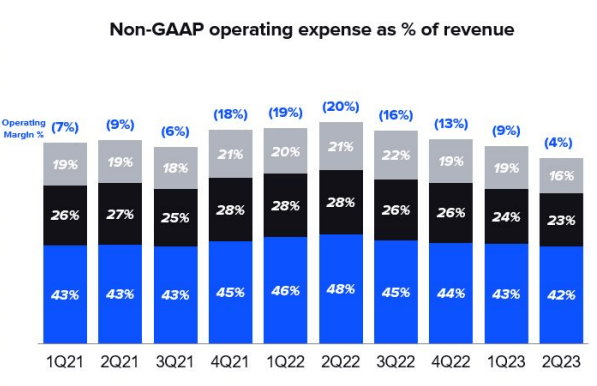 According to consensus estimates provided by Seeking Alpha, BigCommerce is expected to report positive EPS for the first time in the company's history in FY 2024. The EPS estimate trend has also improved lately and the strong Q2 earnings report could lead to a new round of EPS upside revisions in the short term.

BigCommerce valuation vs. Shopify
BigCommerce is trailing Shopify in terms of revenues and Shopify has a clear size advantage over other online e-Commerce software platform providers. However, this does not mean that BigCommerce is not an attractive bet on the e-Commerce market.
BigCommerce is currently trading at a price-to-revenue ratio of 2.5X which compares to a forward P/S ratio of 9.0X for Shopify. BigCommerce is expected to generate $348M in revenues in FY 2024, implying 13% growth while Shopify is projected to achieve 18% top line growth.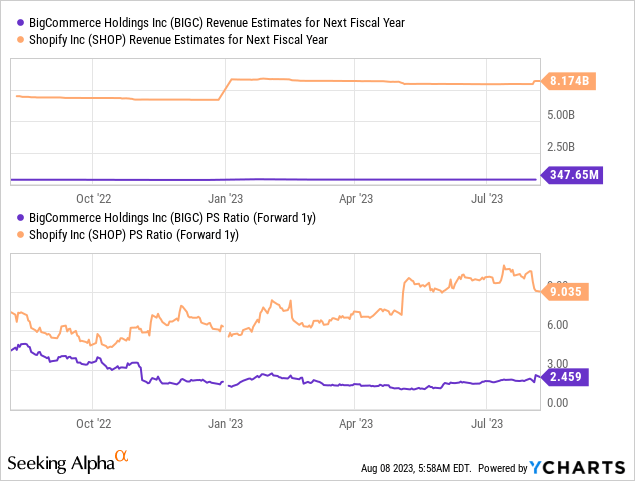 Shopify is obviously a much larger company than BigCommerce regarding revenues, but the smaller size of BigCommerce is actually a reason why I like the e-Commerce SaaS platform: BigCommerce, given its sub-$700M market cap has a much longer growth runway than Shopify and has the opportunity to grow into a much larger valuation over time. Considering the strength in the enterprise market, I can definitely see a scenario in which BigCommerce gets acquired going forward (possibly by Shopify).
Risks with BigCommerce
I see two major risks with BigCommerce. The first one is that the e-Commerce company is seeing decelerating top line growth and the second one is that the company has an overly aggressive focus on the enterprise market which unnecessarily limits the company's growth, in my opinion. What would change my mind about BigCommerce is if the company saw a reversion of its cost improvement trend and larger operating losses.
Closing thoughts
BigCommerce's shares soared more than 20% after the company presented second-quarter earnings which were better than expected. While the firm continues to see double digit revenue momentum, especially in the enterprise market, I believe the inflection point for BigCommerce going forward will be the achievement of positive operating income, which we could see as early as FY 2024. What I really like about BigCommerce is the company's attractive valuation relative to Shopify which, in my opinion, makes BigCommerce a potential acquisition candidate. Considering that BigCommerce creates new AI-based service offerings and that the firm is seeing cost trends pointing in the right direction, I am upgrading shares of BigCommerce to strong buy.