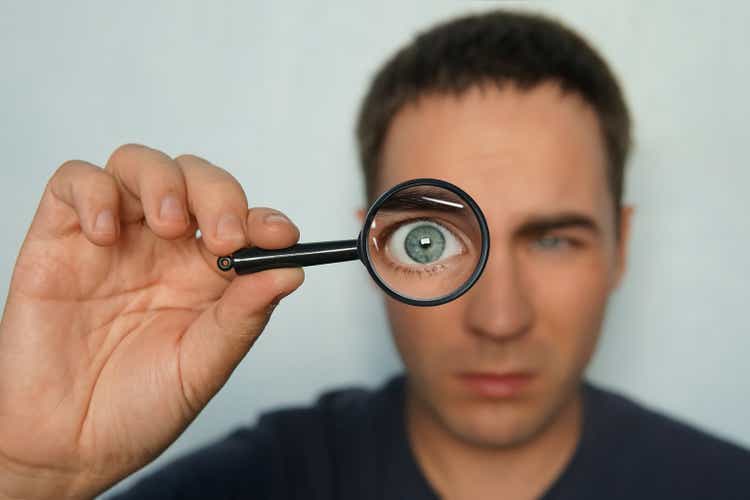 Introduction and investment thesis
Dynatrace (NYSE:DT) reported FY24 Q1 earnings recently which has been a mixed bag for investors. On the one hand, new logo acquisition has been seasonally strong, margins stayed at elevated levels, the partnership with Microsoft has been expanded, and of course, new AI-related features have been announced.
However, on the other hand, macro related pressures didn't cease to exist, which had a dampening effect on growth from existing customers. This showed that the eagerly awaited turnaround (ARR growth reacceleration) could take somewhat longer, which led to disappointment among investors sending shares down 13% on the day of the release.
I believe that the post-earnings sell-off is exaggerated, as there has been no material change in the company's fundamental outlook. Besides the global transition to the cloud there are several company specific growth drivers that could support the reacceleration of topline growth in the close future. Among others these are the company's Application Security and Log Analytics solutions, which are only at the beginning of their adoption cycle, or the recently launched DPS platform, the new cross-sell engine of the company. And now, these have been expanded by a hypermodal AI observability offering.
Based on these trends, I think DT should be still a Rule of 50-60 SaaS company through the upcoming years (25%+ FCF margin and 25-35% ARR growth). This is coupled with a conservative forward P/S multiple of 10, which makes me stick to my Strong Buy rating for the shares.
Topline growth turnaround postponed
Dynatrace reached revenues of $333 million in its FY24 Q1 quarter, beating the average analyst estimate by a thin margin. What's more important, ARR came in at $1,291 million, growing 25% yoy in constant currency. This has been a slight slowdown after 28% growth in the FY23 Q3 and Q4 quarters: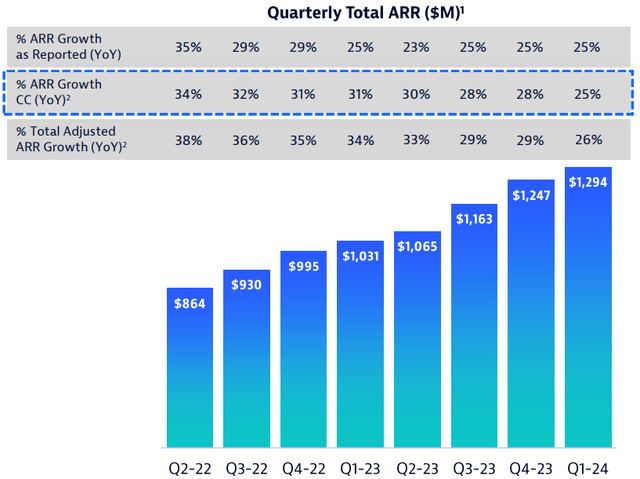 Current RPO, a good indicator for future revenue growth, grew 24% yoy, also a 3%-point slowdown from previous quarter's 27%. These numbers caused disappointment among those investors who hoped for a reacceleration of topline growth already this quarter, which led to the strong post-earnings sell-off in my opinion.
Management explained this by the ongoing macro weakness, which hasn't changed over the course of the quarter: "The macro environment is, I would say, very — it's been very consistent to be frank the last three quarters. And so it's not better, it's not worse. I'd say it's consistent. But consistent means it is definitely deals are taking longer to go through approval cycles. Deal sizes kind of are shrinking as they kind of go, especially for expansions." – Jim Benson, CFO on Q1 earnings call
Based on these comments, the slowing growth from existing customers has been the major drag during the Q1 quarter, which can be evidenced in the following two charts. The first one, breaks down ARR growth by new logo lands and expansion deals for the Q1 quarter: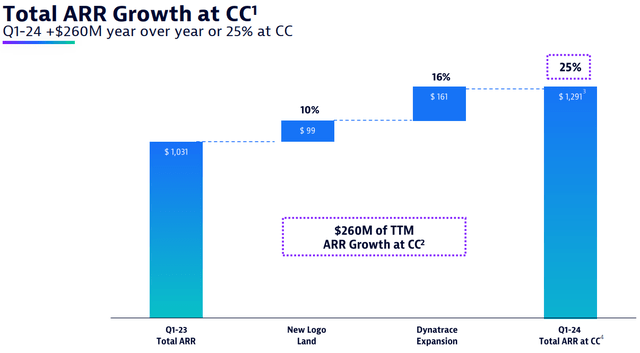 It shows, that 38% of TTM ARR growth came from new logo lands, while 62% from expansion deals. If we go back one quarter, the picture looks as follows: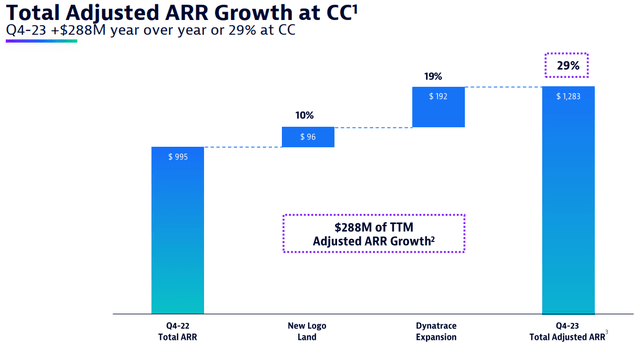 In this case, only 33% of TTM ARR growth came from new logo lands, while 67% from expansion deals. Even after stripping out the effect of $13 million early renewals in Q4, the trend would be the same. This shows that growth from new logo lands seems to be stable ($99 million in Q1 vs $96 million in Q2), while expansion deals continued to soften slightly.
Taking a deeper look into new logo activity we can see, that seasonally the 155 new adds count as a strong figure with yoy growth of 15%: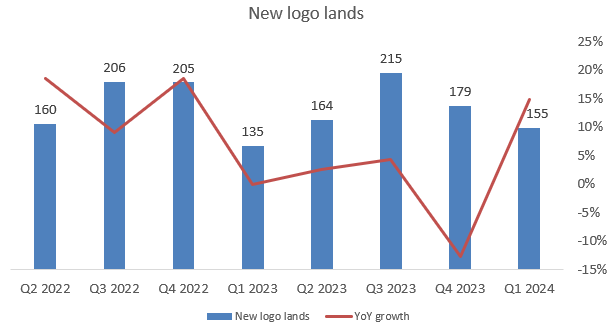 Based on management comments, the average deal size stayed around $130,000 on a TTM basis, showing no sign of a slowdown. Furthermore, management also noted that the pipeline for further customer acquisitions seems still strong, which is a good sign for the health of the business.
Although expansion deals continue to get downsized and pushed out in time, I believe Dynatrace is well positioned for reaccelerating ARR growth. On the top of normalizing macro conditions, the two main drivers for this in the close future could be their Application Security and Log Analytics solutions. Management expects $100 million in AppSec ARR for FY25 and estimates a 10% ARR uplift from the solution for an average customer. The Log Analytics solution is expected to reach also $100 million in revenues soon, even a bit faster than the security solution.
And last but not least, Dynatrace introduced its Hypermodal AI concept, which extends its existing AI-related capabilities by the use of generative AI. Rick McConnell, CEO summarized this concept in the following way:
"Hypermodal AI is the combination of three different AI techniques delivered by Dynatrace, each having a unique value but with a whole much greater than the sum of the parts. Predictive AI uses models to recommend future actions based on data from the past. Causal AI analyzes dependencies across massive datasets while retaining an accurate context to deliver fact-based precise answers and automation.
And generative AI provides recommendations on how to solve specific tasks through prompts enriched with automated context of a customer's environment uniquely provided by Dynatrace." – Q1 earnings call
Dynatrace has been a pioneer of AI in the observability space for a long time, and current developments show that they intend to keep this position. Management believes that the Hypermodal AI solution will be a significant catalyst for customer expansion, while also having a beneficial effect on retention. The solution will be generally available for customers later in 2023, so it should take some time until these beneficial effects could materially impact fundamentals.
Finally, the solution that brings all these interesting products together is the Dynatrace Platform Subscription (DPS). This recently introduced subscription model enables customers to access every service with a single spending commitment, leaving the option to them, which solution they use and to what extent. This should encourage customers to try new services, leading to better exploitation of cross-sell opportunities.
I believe that the product roadmap I've outlined above positions Dynatrace well for the foreseeable future, and topline growth should re-accelerate rather sooner than later this year. This could be further supported by easier comparisons going into the second half of the year, where macro related pressures began to impact growth in 2022.
Margins continue to impress
Looking at the company's margin profile, there have been no material changes, which is welcoming news. Non-GAAP gross profit margin stayed at 84%, even as services gross margin declined slightly: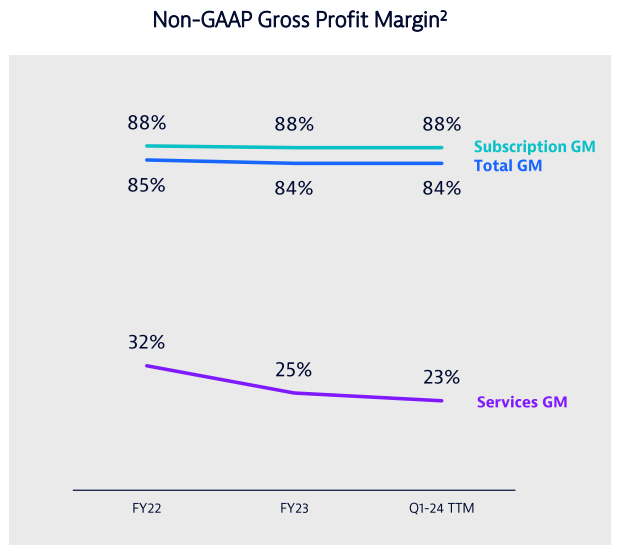 This resulted in non-GAAP operating and FCF margins of 26-26%, which counts as a very strong figure among SaaS companies: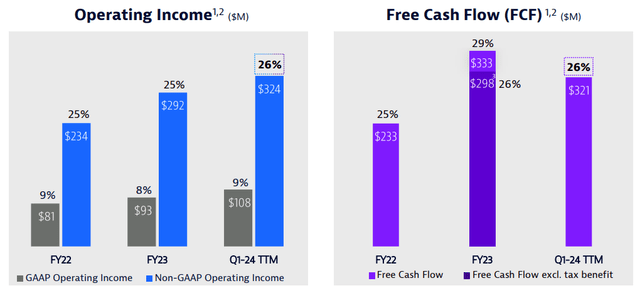 An important happening this quarter from a margin perspective has been the expansion of the company's relationship to Microsoft. Dynatrace is stepping up its commitment to the Azure platform for a multiyear period, which will result in decreasing cloud related costs on a unit cost basis. On the top of that, the two companies will increase their joint sales efforts, which should also have a beneficial effect on topline growth.
Dynatrace has been a rare exception among SaaS companies for a long time by putting more emphasis on the balance of growth and profitability. This mentality continues to prevail making the company's shares a less volatile investment in the SaaS space in my opinion.
Valuation
Dynatrace is expected to reach revenues of $1.41 billion for FY24, while trading at a market cap of ~$13.8 billion. Considering its cash level of $700 million combined with zero long-term debt, this results in a forward Enterprise Value/Sales multiple of 9.3.
Looking at a very recent acquisition in the observability space, we could witness that competitor New Relic (NEWR) has been taken private by TPG and Francisco partners for a purchase price of $6.5 billion (all-cash deal). With FY24 expected revenues of $1.03 billion, cash and cash equivalents of $240 million and $30 million of long-term debt, this results in a purchase price of 6.1x EV/Sales.
For the first sight, this could suggest that Dynatrace shares are valued too aggressively, but if look into the details we can see that New Relic grew revenues "only" 12% yoy in its most recent quarter (vs 25% at Dynatrace) with a non-GAAP operating margin of 15% (vs 26% at Dynatrace). So, this takeout price shouldn't suggest that Dynatrace should trade at an EV/Sales multiple closer to 6.
Looking simply at the forward Price/Sales ratio, shares trade currently at a multiple of 10. If we assume 30% topline growth for the upcoming 3 years and a net margin of 25% the hypothetical forward P/E ratio would be around 18. This would be lower than the current forward P/E of 19 of the S&P500, which suggests to me that there is ample room for multiple expansion.
Conclusion
Dynatrace reported FY24 Q1 earnings which have been somewhat softer than expected, resulting in a post-earning sell-off. Meanwhile, the company's innovative product roadmap still supports stronger topline growth for the upcoming years, which is coupled with a rather conservative valuation in my opinion. Based on this, I believe that the post-earnings sell-off is overdone and it provides a good long-term entry opportunity for investors.