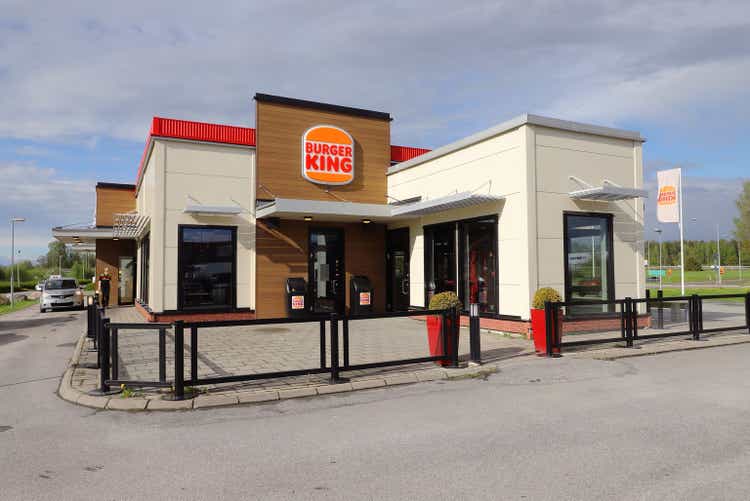 Carrols Restaurant Group (NASDAQ:TAST) which is known as the franchise operator of more than 1,000 Burger King locations and several Popeyes locations in East Coast announced its results for the last quarter on August 10th. The company's results showed a lot of encouraging signs that its turnaround might be in progress, but I would be cautious, since it takes more than one good quarter for a troubled company to show a full turnaround.
The company posted a surprise profit of 27 cents per share for the quarter, which beat analyst estimates by a large margin, since analysts were looking for a much smaller profit of 2 cents per share. Total revenues were up 9.8% year-over-year to $485 million, which also beat analyst estimates by a smaller margin of $10 million. Comparable same-store sales were up 10.4% for Burger King and 11.6% for Popeyes restaurants. The company's adjusted EBITDA came at $44.3 million for the quarter, but some investors may consider it "too adjusted" since it accounts for several items, which we will get to later in this article.
One thing I found impressive in the company's earnings report was its cost controls. Year over year, the company's revenues were up almost 10% but its cost of goods (food, beverage and packaging) was actually down from $140 million to $136 million. This is impressive considering the high inflation we've seen in the economy last year. Employee wage costs were up from $149 million to $155 million, which is an increase of only 4%, well below the inflation rate in the last 12 months. The company was able to keep its wage costs down during one of the tightest labor markets in American history and labor costs were eating away profits of many restaurants across the board (from fast food to fancy fine dining restaurants). Rent spend was up only 3% even though most of the company's restaurants are located in East Coast cities with high rent inflation. On a negative note, general & administration expenses were up by 18% year over year, which is more than double the rate of inflation. A small part of this was stock based compensation, but it wasn't large enough to move the needle that much (about $1 million).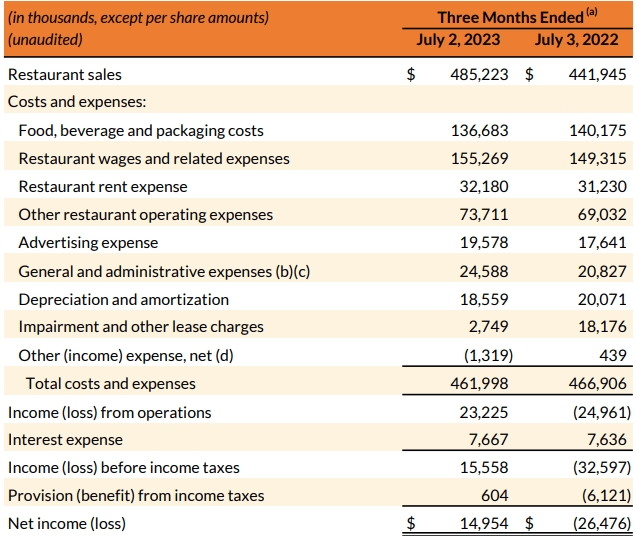 The company's "Adjusted EBITDA" came at $67 million, which is almost triple the company's net income. It seems to exclude General & Administrative expenses as well as Depreciation and Amortization from income calculations, which I found a bit odd. This is why some people might consider the company's adjusted EBITDA as "too adjusted". Basically, the company's adjusted earnings look at what their profits would be if they didn't have a corporate office and its restaurants were managed independently. Basically, this metric should only be used to see profitability of its individual restaurants combined than the company itself.
Since the company's margins are improving, we are now seeing better cash flow numbers from it. In the last 3 months, operating cash flow came at $44 million and total cash flow came at $38 million. Basically, the company's quarterly operating cash flow was only 13.3% of its market cap, giving it a price to operating cash flow ratio of 7.5 just for the quarter. If the company can keep this up, its shares will appear very cheap. One thing for sure, the company's operating cash flow numbers are closer to its adjusted EBITDA than its net income is.
In the past, the company suffered from high debt levels and leverage. In the last quarter the company paid off $12.5 million of revolver debt that was due in 2026 and reduced its Term B Loans (due in 2026) by $2 million, but it didn't make much of a dent on its bigger debt of $300 million which is due in 2029. Since the company doesn't have any debt that's maturing anytime soon, this might not be too worrisome. Also, the company's leverage ratio dropped significantly during the quarter, but this is not because it paid off a bunch of debt but because its cash position got better as a result of the healthy cash flow it generated this quarter.
After a couple bad years where the company posted large losses, things seem to be finally turning around. The company seems to have gotten some of its costs under control and its debt levels are becoming more manageable with its recent cash flow generation. Still, it's too early to call a full turnaround yet. These types of turnarounds take a long time.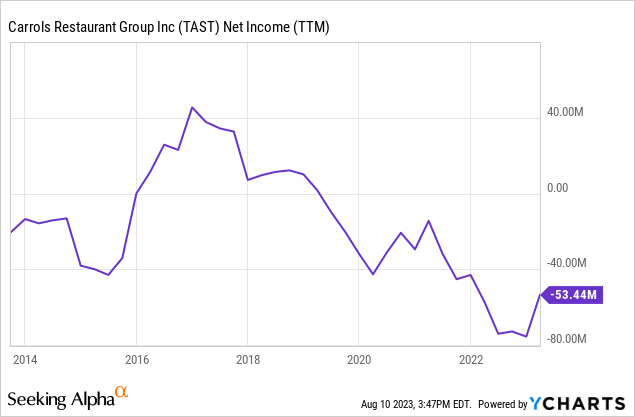 To be honest, many investors were already expecting a turnaround from Carrols considering that the company's share price appreciated by 193% in the last 52 weeks. Still, the stock rallied another 14% after it announced its results and the stock still doesn't appear too expensive based on cash flow generation, but it's too early to tell if last quarter's success can be repeated in the long run.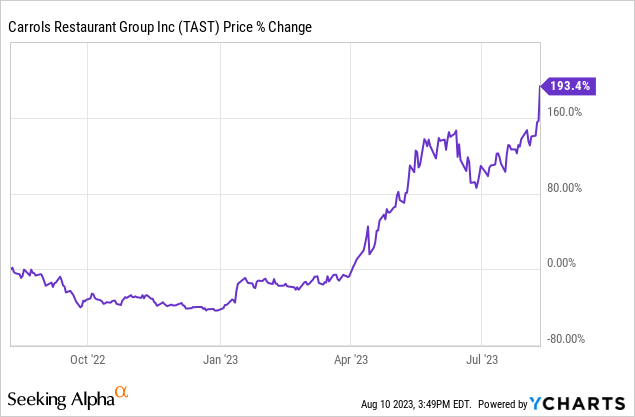 The stock's valuation can look either cheap or expensive, depending on which metric you use to calculate its valuation. It's cheap based on cash flows and adjusted EBITDA, but it is a bit pricey based in net income (considering the net income is still negative for the last 12 months combined). I will keep an eye on this company over the next several quarters to see how its turnaround progresses, as this may be an interesting story. My one worry is that by the time the turnaround is close to complete, it may be fully priced in already because the market seems to price in things way before things actually happen.