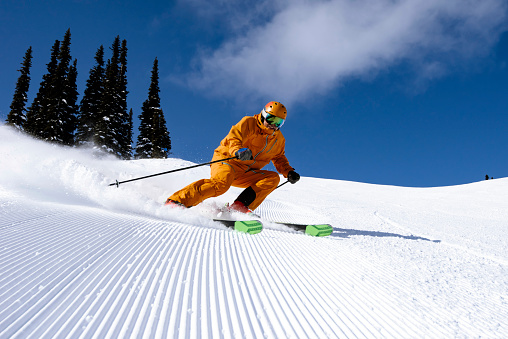 Some investment opportunities tend to pay off rather quickly. Others, unfortunately, often require patience. It seems as though more companies fit into the latter category, but I digress. One firm that does fit in this latter category, in my opinion, is none other than Vail Resorts (NYSE:MTN), an owner and operator of resorts largely centered around skiing that has operations throughout the US, Canada, and Australia. Shares have, unfortunately, not exactly kept pace with the broader market this year. Some of that is likely attributable to wider economic uncertainty. However, it's also likely that some of it can be chalked up to some mixed financial performance. But when you really look at the company from a fundamental perspective and you see exactly how it has grown in recent years, it becomes clear that the prospect should be a rather solid one for long term investors who want a quality company at a decent price.
More reasons than not to be optimistic
The past several months have not been particularly pleasant for Vail Resorts and its shareholders. As an example, we need only look at how the firm has performed since early December of last year when I last rated it a 'buy'. My optimism at that time was based on how shares were priced and the fact that revenue was continuing to grow. Unfortunately, since that article was published, shares have seen downside of 3.7% compared to the 13.6% upside the and S&P 500 reported.
As I mentioned, some of the pain was likely due to broader economic uncertainty. There's no doubt in my mind that a good portion of the market would imagine that a company that engages in a rather costly pastime would not do well should the macroeconomic picture worsen. But I would also argue that some of the shortfall was due to some mixed financial performance. To see what I mean, we should first look at how the company performed during the first nine months of its 2023 fiscal year.
During that time, revenue came in at $2.62 billion. That's 16% above the $2.26 billion management reported only one year earlier. Most of the revenue the company generates comes from its Mountain operating segment. During that window of time, revenue jumped 16.3%, climbing from $2.03 billion to $2.36 billion. Dining revenue was the most impressive, skyrocketing 41.4%, while ski school revenue soared 29.4%. Regardless of the category, much of the increase in sales on a year over year basis was driven by the fact that, in the year prior, some areas were still impacted by COVID-19 restrictions. Favorable weather conditions, such as in the Australian market, aided the company significantly.
Even though revenue increased, net profits decreased, falling from $456.6 million to $396.7 million. The biggest pain for the company on this front involved its labor and labor related benefits category of expenses. This shot up 33.9% from $468.8 million to $627.9 million. That increase, management said, was largely due to higher wages and salaries for employees in North America, as well as an increase in head count aimed at normalizing operations and its results. Periodic closings associated with its operations in Australia, driven by unfavorable weather the year prior, also helped keep costs down.
Most other profitability metrics followed a similar trajectory. Operating cash flow, for instance, went from $773 million down to $726.9 million. Even if we adjust for changes in working capital, it inched down from $825.8 million to $825.2 million. The only profitability metric to show an increase year over year was EBITDA. It managed to grow from $897.2 million to $921.1 million. The same drivers behind these mixed results for the first nine months were also the same drivers that impacted results during the most recent quarter, the third quarter of the 2023 fiscal year. These results can be seen in the chart above.
In the near term, management does seem confident that bottom line weakness will persist for at least the rest of the 2023 fiscal year. I say this because they are guiding for net income of between $251 million and $283 million for the year. That's down from the $347.9 million reported one year earlier. But just as was the case with the first nine months, EBITDA is forecasted to grow, climbing from $833 million in 2022 to $844 million this year. I took out interest expense and taxes to get implied operating cash flow of $788 million. Using these figures, you can see how shares are priced on a forward basis and how they are priced relative to data from 2022, in the chart above. I then compared to the company to the five firms that I believe are most similar to it, with those results shown in the table below. Using the price to earnings approach, four of the five companies were cheaper than it. But when it comes to the price to operating cash flow approach and the EV to EBITDA approach, only two of the five companies were cheaper than our target.
| | | | |
| --- | --- | --- | --- |
| Company | Price / Earnings | Price / Operating Cash Flow | EV / EBITDA |
| Vail Resorts | 33.3 | 11.3 | 13.2 |
| Planet Fitness (PLNT) | 41.3 | 18.1 | 16.3 |
| Six Flags Entertainment (SIX) | 18.1 | 7.0 | 10.4 |
| Cedar Fair (FUN) | 8.7 | 7.7 | 7.0 |
| Hilton Worldwide Holdings (HLT) | 32.3 | 21.5 | 20.2 |
| Marriott International (MAR) | 23.5 | 23.0 | 16.8 |
Pricing aside, I do think that these short-term pains will give way to positive long-term performance. I say this based on some other data that management has provided. In the chart below, you can see the number of skier visits for the relevant windows of time and you can also see what management refers to as ETP, or effective ticket price. This is the price paid per skier. The first thing that I noticed when looking at this data is that the number of skier visits utilizing the company's properties has increased nicely. For the first nine months of 2023, this number was 13.9% higher than it was the same time last year. And the data shows that the company has easily surpassed the number of skier visits that it experienced in 2019, which was the last year before the COVID-19 pandemic struck. In fact, in 2022, visits were up 15.3% compared to that time.
Another interesting piece of data involves pricing. The company boasted pricing that was higher than what it experienced in each of the past four years. In fact, it was 9.9% above what the company saw in 2019. But when you look at 2023 compared to 2022, pricing ended up falling. For the first nine months, it was 4.4% lower than what it was the same time of 2022. And for the third quarter alone, it ended up being 6.5% lower. This suggests that the company might not be charging enough, especially when you consider that this lower pricing coincides with attendance numbers that are at an all-time high. But the data isn't quite that simple. You see, one thing that the firm has really championed is the sale of season passes. These lock in revenue for the company and encourage repeat visitation. Repeat visitation allows the company to generate additional revenue like dining revenue and ski school revenue.
In the most recent quarter, for instance, ETP that excluded season passes and its Andermatt-Sedrun resort, was actually 13% higher than what it was during the same quarter of last year. If we include the aforementioned resort, it is still up 8.8%. What this suggests is that, while the company is seeing higher pricing, this is being more than offset by the lower pricing associated with season passes. Given the high attendance numbers, there might be some opportunity for the company to raise prices further across the board, in an attempt to bring effective season prices up to what regular pricing would be while causing regular pricing to rise even more. Each additional increase of $1 would, using data from 2022, result in an extra $17.3 million in revenue per year. And that should, in theory, be all profit before factoring in taxes.
Takeaway
At this point in time, Vail Resorts strikes me as an interesting prospect that has potential for long term investors. Shares are not the cheapest out there, but they also aren't expensive. Mixed financial performance has negatively affected the company in recent months. But with record high attendance and pricing for its services lower than it was last year, there could be an opportunity for management to create additional value just by hiking prices to some degree. I see this as a catalyst for the company. But even if that catalyst does not come into play, the stock is appealing enough to warrant a 'buy' at this time.