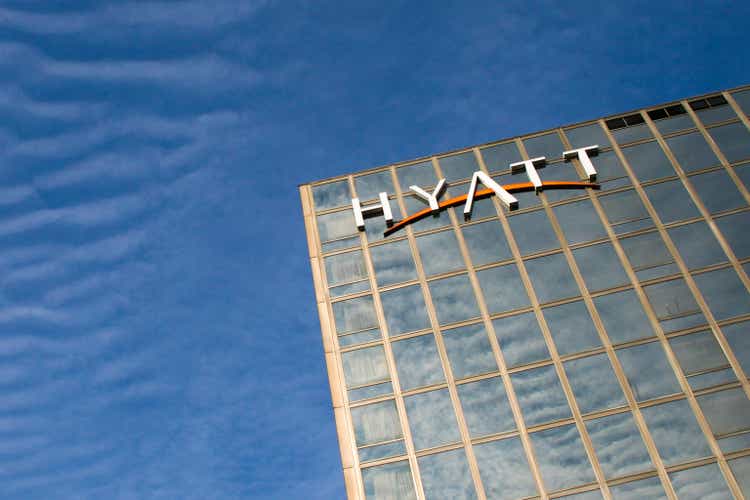 Investment thesis
Our current investment thesis is:
Hyatt is an attractively positioned business, owing to its transition to an asset-light business model, focus on the luxury segment, scope for margin improvement, and strong growth.
We expect capex commitments

to decline and shareholder distributions to increase, making Hyatt a compelling investment in the coming years.

From a financial perspective, Hyatt looks satisfactory relative to its peers, but when combined with its commercial factors, we think it is attractive.
Hyatt's share price has increased significantly in the last year, likely reducing any near-term upside.
Company description
Hyatt Hotels Corporation (NYSE:H) is a global hospitality company that owns, manages, and franchises a portfolio of hotels, resorts, and residential and vacation properties worldwide. Headquartered in Chicago, Illinois, Hyatt operates under various brands, including Hyatt Regency, Grand Hyatt, Park Hyatt, Andaz, and Hyatt Place, among others. The company is committed to providing exceptional guest experiences and offers a range of services and amenities tailored to different market segments.
Share price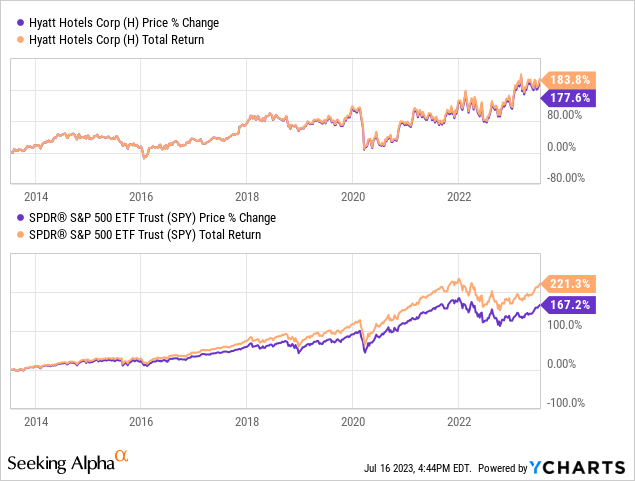 Hyatt's share price has performed well in the last decade, generating similar returns to the wider market. This is a reflection of incremental financial improvement.
Financial analysis
Presented above is Hyatt's financial performance for the last decade.
Revenue & Commercial Factors
Hyatt's top-line revenue has grown at a CAGR of 3%, although this understates the trajectory of the business. This is due to a strategy of franchising, with properties taken off-balance sheet. As the following data illustrates, Hyatt has consistently achieved growth in rooms, as well as RevPAR, allowing the business to achieve healthy consistent growth.
Business Model
Hyatt owns and operates a significant number of hotels, generating revenue through room bookings, food and beverage sales, and other ancillary services. The company also enters into management agreements with third-party hotel owners, earning fees for operating and managing their properties. With these locations, Hyatt bares the traditional risk profile with the operations of a location, although in the case of managed locations, does not have the assets on its balance sheet.
Hyatt has good diversification in the profile of its rooms, targeting both Leisure and Business, although has a clear weighting toward higher-income individuals. This is a price-drive segment, as opposed to volume, with a focus on the quality of the service and location, rather than price.
Hyatt expands its presence through franchise agreements, allowing independent hotel owners to operate under the Hyatt brand. Franchisees pay royalties and fees to Hyatt in exchange for brand recognition, reservation systems, and support services. This is a highly lucrative strategy to run alongside the traditional operational model, as it de-risks the business, while improving the growth strategy by exporting the capex requirements.
The majority of Hyatt's locations are franchised or managed, a specific transition Management has focused on. This asset-light approach has allowed the business to reduce its capex requirements, improve growth in rooms, and create greater certainty over revenue. As the following illustrates, 75% of earnings are from its "asset-light" segment.
Management is expected to continue this strategy, with asset-light earnings increasing to over 80% in FY25. This involves the continued rationalization of real estate, alongside the acquisition of additional asset-light platforms. Thus far, the transactions have been accretive for the business, with proceeds received and paid matching, while earnings gained are noticeably higher.
Based on this, Management is estimating a remaining real estate value of $2.6b-$3.2b to be realized over the coming years.
In conjunction with the traditional operating dynamics, Hyatt has invested in technological development in order to improve its revenue profile. The World of Hyatt loyalty program incentivizes guests to stay at Hyatt properties, driving customer loyalty and repeat business. Members can earn points, enjoy exclusive benefits, and redeem rewards across the global Hyatt portfolio. Further, this provides the business with critical insight into customer spending, allowing the business to tailor its marketing.
Hyatt has taken this approach further with the development of the "Ultimate Vacation Club", targeting high-wealth individuals with a large network of luxury all-inclusive properties. This membership provides similar perks to a traditional loyalty program while providing greater convenience and access for its users. Growth in the number of members has been strong, implying a compelling offering from Hyatt. With over 10% of rooms already occupied by members, the risk profile of operating in the luxury segment is significantly reduced.
This is part of the wider strategy to focus on the luxury segment, with the following illustrating a widening gap to its peers, allowing the business to further capture market share.
This gap is even wider in the all-inclusive segment, which is currently targeted by the "Ultimate Vacation Club" offering. Subscription
Our view is that the luxury segment will continue to outperform in the coming years. The discretionary spending resilience from the high-income segment during the current difficult economic conditions reflects this, with wealth and incomes in this bracket increasing substantially. Further, as emerging markets continue to see economic development and a rise in the middle class, the target market will only continue to grow.
In conjunction with the growth of its existing locations, Hyatt is also expanding the number of rooms. The company currently has a deep pipeline of properties, representing over 30% of its current rooms. This is a proportion higher than its comparable peers, implying an improved future growth trajectory. This is diversified among segments and geographies.
In addition to this, as we have mentioned previously, the business is also active with conducting M&A. Hyatt has focused on acquiring similar businesses to its own, seeking to expand its exposure to its key demographic, as well as expanding its reach and asset-light earnings.
Competitive Positioning
Hyatt's competitive advantage in the market revolves around the following factors:
Strong Brand Portfolio. Hyatt's diverse brand portfolio caters to different market segments. This is critical to success in the Hotel industry, as even in specific segments such as Luxury, it is vital to have several distinct brands due to diverse preferences and needs.
Experience Provided. Through its long history, Hyatt has developed the capabilities to provide an exceptional guest experience, with a good understanding of client needs to ensure it maintains this standard.
Global Presence. With a global footprint spanning major international markets, Hyatt is able to maintain a loyal client base by providing a reliable/consistent service.
Hotel Industry
Hyatt Hotels operates in a highly competitive industry, facing competition from various players, including Marriott International (MAR), Hilton (HLT), Accor (OTCPK:ACRFF), and InterContinental (IHG).
The overhang from the pandemic continues to drag on performance, meaning the financial results in the LTM are somewhat depressed relative to the go-forward. This said, we are seeing a rapid recovery in tourism QoQ. In the short-term, we believe performance has scope for improvement, driven by the end of the zero-covid policy in China, finally allowing tourism to improve.
Hyatt's strategic focus on luxury leisure should support any weakness in business travel. With a change in the work landscape, as businesses allow for remote workers, there is a risk that business travel will begin to decline.
Finally, the rise of Airbnb (ABNB) and related services present a key threat to the hotel industry. We believe Hyatt has also responded to this well, acquiring businesses that provide a similar service, as well as expanding its comparable offerings.
Economic & External Consideration
The current economic conditions characterized by high inflation and elevated interest rates have the potential to negatively impact demand, as discretionary incomes decline. Our belief in the last 2 years has been that the luxury segments across products and services will perform well, as wealthy individuals are significantly better placed to navigate a downturn.
In the most recent quarter, RevPAR and Occupancy growth has been strong, contributing to a continued acceleration in the business. Even when considering QoQ growth, Hyatt's trajectory remains positive.
This has been driven by healthy improvement across all key segments, although particularly impressive growth in Owned and Leased Hotels (which was up over 50% in Q1).
Further, the luxury brands are seeing strong occupancy relative to the upscale brands, illustrating the financial resilience of Hyatt's core demographic.
The slight concern, and the reason for the share price response, is the slowdown in Q2 relative to Q1. Growth has slowed but we see this is as a gradual softening of its extremely rapid trajectory, as expected. This will continue to normalized QoQ.
Margins
Hyatt has attractive margins, with an EBITDA-M of 25% and a NIM of 17%. Given the business continues on an upward trajectory, it is likely further improvement is possible. Enhancing this improvement is a continued transition toward an asset-light business model and its focus on luxury experiences (ALG resorts).
Outlook
Presented above is Management's outlook for the coming year. Adjusted EBITDA is expected to materially improve to c.$1b, with driven by occupancy, new rooms, and importantly, RevPAR in excess of 10%. Management sees healthy advancements in the market.
Beyond this, RevPAR is expected to normalize at MSDs, with net room growth slightly above this. At these levels, the current growth trajectory looks sustainable.
Industry analysis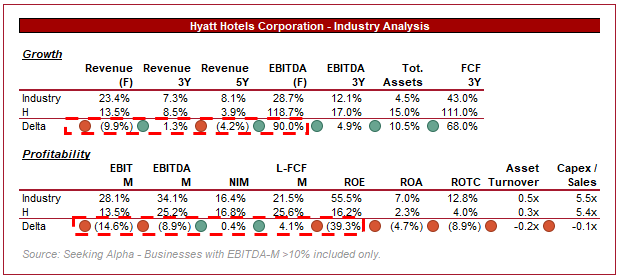 Presented above is a comparison of Hyatt's growth and profitability to the average of its industry, as defined by Seeking Alpha (18 companies).
Hyatt performs moderately well. Growth is comparable to its peers, which is a strong performance when reflecting the push toward moving properties off-balance sheet.
Profitability is currently lagging, although the business is already ahead in FCF and NIM. As the business continues its current strategy, we believe it will close the gap to the average.
Based on this, we believe the business should trade at a small discount to the peer group.
Valuation
Hyatt is currently trading at 18x LTM EBITDA and 13x NTM EBITDA. This is a premium to its historical average.
Our view is that a premium to its historical average is justified, primarily due to the successful transition to an asset-light business model, the continued market share growth in the luxury segment, the scope for improved growth (RevPAR and room expansion), and finally scope for margin improvement.
As previously discussed, a small discount to the industry average is reasonable in our view, which does not look to be the case (on a LTM or NTM basis), primarily due to the recent share price performance and softening EBITDA performance.
These two metrics suggest Hyatt is trading at its fair value. With the shares gaining over 30% in the last year, it is likely the stock will experience a period of consolidation as Management executes.
Final thoughts
Hyatt is a fantastic business. Management has leaned into its target market, further developing the brands association with luxury. Further, the business model will de-risk the business while improving cash flows for distributions.
Although we expect performance to continually improve, the share price looks to have run up to fair value, leaving little upside.
Editor's Note: This article discusses one or more securities that do not trade on a major U.S. exchange. Please be aware of the risks associated with these stocks.