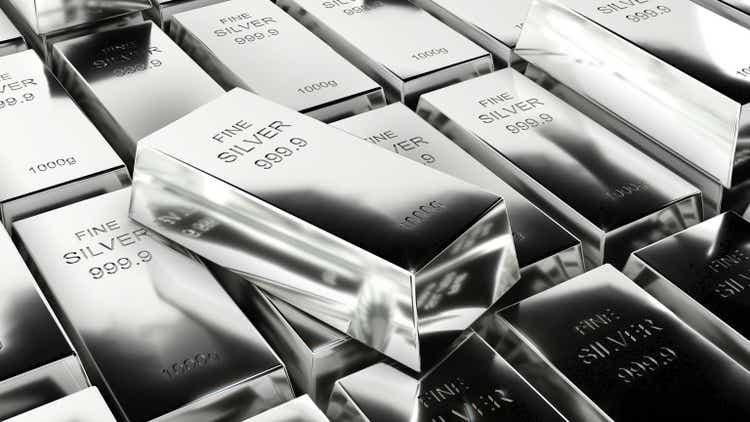 Silvercorp Metals (NYSE:SVM) is one of several Canadian mining companies and one that we highlighted as a buy in Feb 2023 that we thought had upside with silver. The stock rallied over 30% in two months, generating solid trading profits for those wise enough to take the. Here we are in mid-August 2023, and silver has pulled back about 15% while SVM stock has given up all its gains. There is risk here still, but at about $20 silver and below, we think shares can be bought for a trade once again.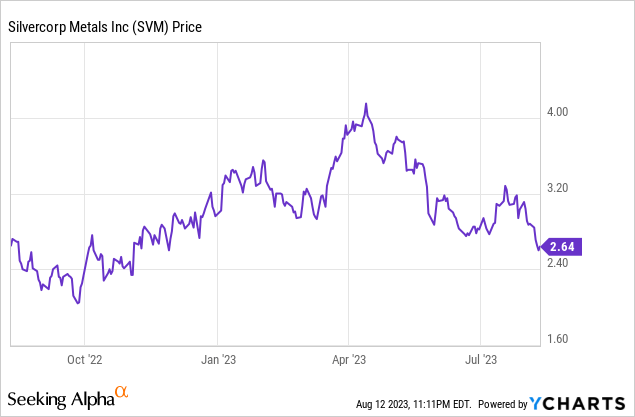 Here is how we suggest playing the stock, and this trade structure is how we present trades to our investing group.
The play
Target entry 1: $2.55-$2.65 (30% of position)
Target entry 2: $2.40-$2.45 (33% of position)
Target entry 3: $2.25-$2.30 (37% of position)
Stop loss: $1,95
Target exit: $3.00
Options consideration: Option suggestions are reserved for members of our investing group, however, there are call and put strategies that can be employed here to define entry and/or generate income.
Discussion
We are making this trade suggestion following just reported fiscal Q1 earnings which were mixed, but we think the leverage with silver pricing is the opportunity. A stronger dollar of late has weighed on the metal, but as rates stabilize, and the economy churns along, we see silver catching a bid at $20 and in the high teens. The miner of course by name prioritizes producing silver but also has a substantial production record of gold, as well as base metal byproducts like lead, and zinc. The company has long had a history of profitability and growth potential. We think once again, Silvercorp Metals has substantial upside from current levels. The company just reported earnings and we want to discuss the trends in production and costs. This was a decent quarter all things considered.
Production and sales
We look for rising production and sales when evaluating a precious metals miner. Production was also strong. In Q1 Silvercorp mined 303,220 tons of ore. We like to look at how this compares to last year and it was not much of an increase, rising about 1% compared to 300,104 tonnes a year ago. Milled ore was 295,095 tonnes, down about 1% compared to 298,176 tonnes in Q1 Fiscal 2023. Now production is a key metric, and it rose marginally overall. Silvercorp churned out 1.8 million ounces of silver, along with 1,552 ounces of gold. Along with the precious metals keep in mind that the byproducts also bring in sizable revenue. In Q1 they also pumped out 17.8 million pounds of lead, and 6.8 million pounds of zinc.
Overall, the company saw a 4% drop in silver production, with gold production rising a solid 41% from a year ago. As for the byproducts lead was down 7% but zinc production was down from 2% a year ago. The company once again sold almost all of what it produced, selling 1.8 million ounces of silver, the 1,495 ounces of gold, 17.3 million pounds of lead, and 6.9 million pounds of zinc.
Production costs
Costs of production matters as it will impact margins. We were pleased to see that total production costs were down. The consolidated production costs and all-in sustaining production costs per ton of ore processed were $78.63 and $134.08, down 5% and 9%, respectively, compared to $82.99 and $147.29 in the year ago quarter. While this was positive, the total all-in sustaining costs per ounce of silver (net of byproduct credits) were $9.46 compared to $9.25. This was a result of silver mining costs directly, and inflation in wages, as well as capex spending, however, the overall costs have held pretty steady in recent quarters, a positive.
Selling prices
The production numbers and costs were mixed, but overall favorable, all things considered. Where the company has little control is the market for pricing of the metal sales. This is also why the stock is correlated with metals prices to a large degree. The average selling price, net of tax and smelter charges, was largely strong as well. For silver it was actually up 8% from a year ago to $19.37 per ounce down from $17.99 a year ago. But gold was sold at a higher price of $1,682 per ounce, rising 6% from a year ago. Lead and zinc prices were down 6% and 33%, respectively. Putting together the sales volume and pricing we see that revenue was $60.0 million, down 6% compared to a year ago. While revenue was down, this was a beat against consensus estimates.
Putting the revenue together with production costs we see that operational income was $23.3 million, and this was down 6% compared to $24.9 million a year ago. Total EPS was $0.07 and was in line. We said it was mixed of course, despite higher selling costs for gold and silver. Cash flow provided was $28.9 million, down 28% from a year ago. Reduced cash flow was impacted by $2.2 million in dividends, 1.7 million on exploration drilling, $10.8 million on underground development, and $3.5 million on equipment and facilities. That all said, the company remains in very great shape cash wise with $200 million on the balance sheet, which was negatively impacted by currency rates.
Looking ahead
So there is of course risk with mining operations and jurisdictions in which they operate. But we are looking for a trade. All things considered the numbers were pretty strong, particularly with the production costs being well-managed. Silver and gold prices are the biggest drivers of the share prices, and silver in particular has been weak.
As we look ahead, the company is forecasting a large ramp in production. We are looking for a company to mine about 1,100,000 to 1,170,000 tonnes ore. We now see 4,500 to 5,500 ounces of gold to be produced along with 6.8 to 7.1 million ounces of silver. The company is also investing heavily in a number of its mines. With the large pressure on the stock and silver prices, we think you can start to scale in as the selloff looks to stabilize. We see another trade as likely to profit.