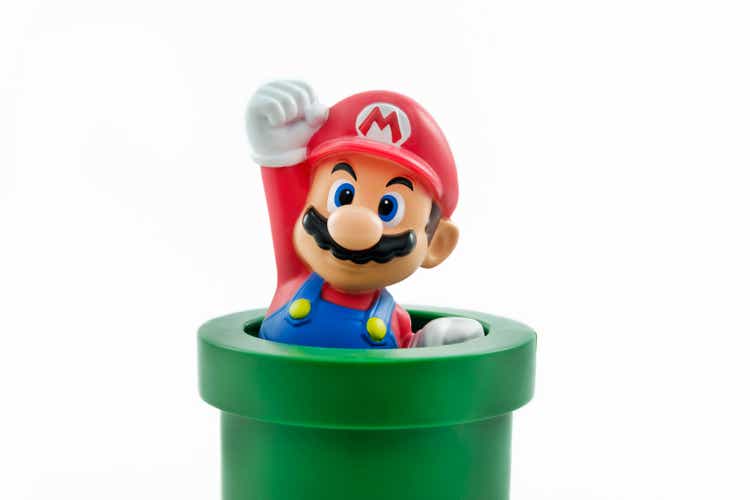 Introduction
Last quarter, we titled our Nintendo Co., Ltd. (OTCPK:NTDOY) earnings article for subscribers "The Calm Before The Storm." The rationale behind that title was that we had gotten great news regarding the launch of the new Zelda game and the Mario movie, but these were still to be reflected in earnings.
Nintendo's stock jumped after the earnings, up almost 6% pre-market and finishing the day around 2% up: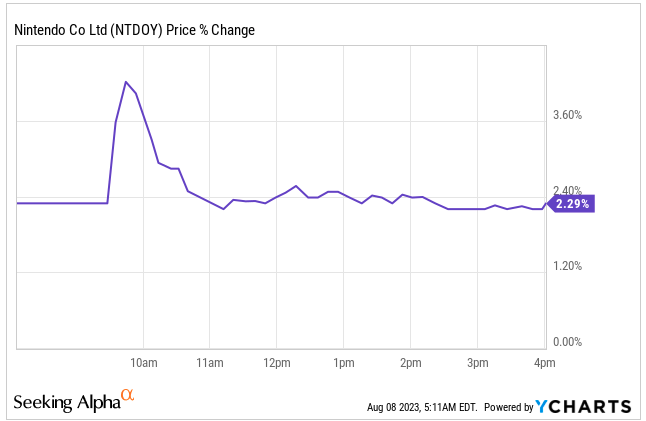 However, the following days have not been as good, and the stock is even in negative territory since reporting earnings:
We can tell you right away that we have no clue why the stock has performed as it has after earnings, but it might be related to the recent depreciation of the Japanese Yen. If we look at the stock price in the Tokyo Stock Exchange, we can see that it has been very resilient:
This differs materially from the performance of the U.S. ticker, which has been inversely correlated with the yen, as one should expect:
What's interesting is that Nintendo probably benefits from a weaker yen. A weaker yen means the company's non-yen revenues translate into more yens, which the company can later deploy into R&D (software and hardware development) activities that are mostly localized in Japan.
Anyways, this is not really relevant. The best we can do is look at the earnings and assess if the thesis is still intact or has been impacted somehow. This is the goal of this article.
Without further ado, let's get on with the numbers.
The numbers
The headline numbers
After some quarters of negative growth rates, Nintendo reported great headline numbers. Net sales were up 50% year-over-year, and operating profit was up a whopping 82.4% year-over-year: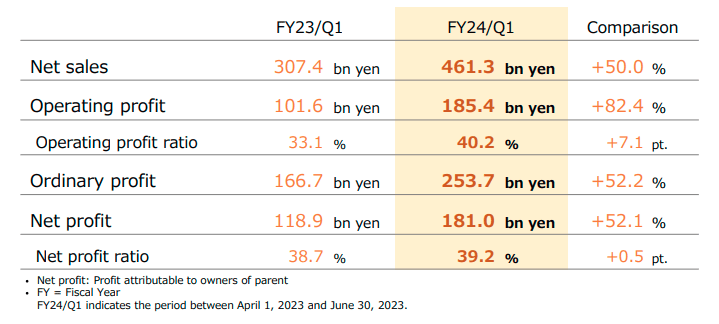 To see such a net sales and earnings surge should not really take us by surprise because we already knew Q1 included both the sales of the Zelda game and everything related to the Mario Movie.
Analysts, however, remained somewhat pessimistic coming into earnings, which allowed Nintendo to beat their estimates significantly. The company delivered 461 billion yen in revenue (around $3.22 billion) against an expected 395.4 billion yen ($2.76 billion). That's a 17% beat on the top line. The landscape was somewhat similar on the bottom line, where Nintendo reported 181.02 billion yen ($1.26 billion) in net profit, against estimates of 109.01 billion yen ($770 million). This is a whopping 66% beat.
Any other company would've been significantly up on these numbers, but we already knew the perception Japanese companies get. Over the last few months, we've come across many people saying the same things:
"Peak switch."

"Management doesn't care about shareholders."

"Capital allocation has been terrible."
If history is a guide, we can understand why some people claim this, but we think it's not black or white. There are nuances to all the criticisms above. For example, it's tough to claim capital allocation has been "terrible" when most of that has happened in S&M and R&D, and the Switch has been an extremely successful platform. Nintendo does hold a substantial cash position, but that can also be a consequence of the company being run for survival. We shouldn't forget that cyclicality has been at the core of the company's history, so management might be protecting the financials here. We do agree that the company is not run in the most capital-efficient manner, though.
Digging deeper into the top line
Nintendo reports in three operating segments: dedicated video game platform, mobile, IP-related income, and playing cards. All of them saw substantial increases this quarter:

The largest increase came in mobile, IP-related income, primarily due to revenue from the Mario movie. This said, we should be cautious in thinking that the Mario movie only impacted this operating segment. Thanks to the movie's popularity, it also drove sales of Switch hardware and software games of the Mario franchise. This self-reinforcing flywheel, by the way, is core to our investment thesis.
Nintendo's Self-Reinforcing Flywheel
We feel Nintendo has a superior business model because it can monetize its IP while at the same time benefiting through its hardware and software video game platform. This creates a self-reinforcing flywheel.
As expected, most of the dedicated video game platform sales came from the Switch. We previously saw some quarters of declining hardware sales, but these were up 14% in Q1, thanks primarily to both catalysts (Zelda and the Mario movie). Switch sales were skewed to the OLED model, as one would expect, considering it's the newest model. This model carries a lower profit margin than the standard Switch, so it hurts profitability. More on this later.
Software sales were also up as expected. The new Zelda game sold 18.5 million copies in the quarter. These sales were so significant that it helped Nintendo break a record: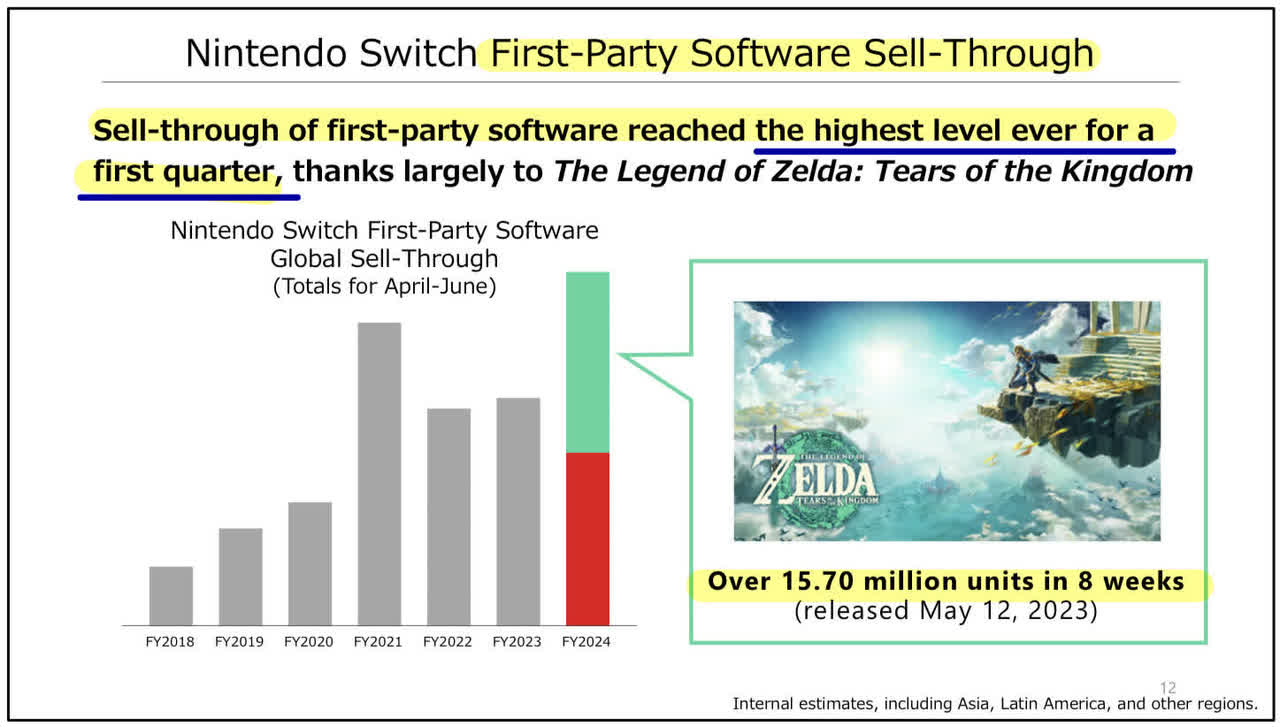 It also served Nintendo to acquire new consumers:
We have seen that a growing percentage of purchases are being made by consumers who have not yet played that title.
Nintendo's IP has a loyal fan base, but it's also recruiting customers, something that's great and necessary for future growth.
We also saw the positive effect of the Mario movie on Software sales. Mario Kart 8 Deluxe sold 1.67 million units in the quarter, which is pretty impressive considering that it sold 1.48 million units in the same quarter last year. That's a 13% year-over-year increase despite the game being one year older:

How Nintendo grew software and hardware sales while profiting through the monetization of the IP highlights one of the company's strengths. Not only should IP monetization bring more revenue, but it should also allow the company to leverage its S&M spend, something that was obvious this quarter.
The nature of this quarter's sales made the proportion of hardware decrease substantially, and the proportion of 1P titles increase significantly. This makes quite a bit of sense, considering that software sales were driven by Tears of the Kingdom and sales across the Mario franchise:

The drop in the proportion of digital sales was a bit surprising, but according to management, this was caused by more physical sales in Zelda and Mario games. We honestly believed we would see this percentage trickle up over the quarters, but there has not been much movement here. Switch users seem to prefer physical games, sometimes seen as a collector item.
FY 2024 is off to a great start in hardware sales. Sell-through relates to the number of Switches sold by distributors and was at the same levels as FY 22 (two years ago). Annual playing users were also notoriously up 10.4% to 116 million:
We should, however, be careful in extrapolating this quarter's trends to the rest of the year. As discussed, there were two important catalysts in Q1. We do expect these to continue weighing into FY 2024 results but to a lesser extent than this quarter.
If we compare Nintendo's Q1 against full-year guidance, we might conclude that earnings are easily beatable. With this quarter's operating guidance, Nintendo has already generated 41% of the total operating income guidance for the full year. In hardware, the percentage is not as high. Nintendo sold in Q1 around 26% of its expected FY 2024 hardware sales, in line with what one would expect. We must be aware, though, that hardware and software sales are typically skewed to Q4, the holiday season.
As for software, Nintendo sold in Q1 30% of the units it expects to sell in the entire year. Again, we should not multiply these numbers by 4 to get to the expected yearly number. Those calculations would indeed show that Nintendo will comfortably beat guidance across all metrics, but they would be misleading. It does seem quite feasible that the company beats its operating profit guidance, to be honest.
Don't get us wrong, Nintendo has announced several products for 2023, but it's tough to see how they will be as relevant as both catalysts in the fiscal Q1 that was just reported: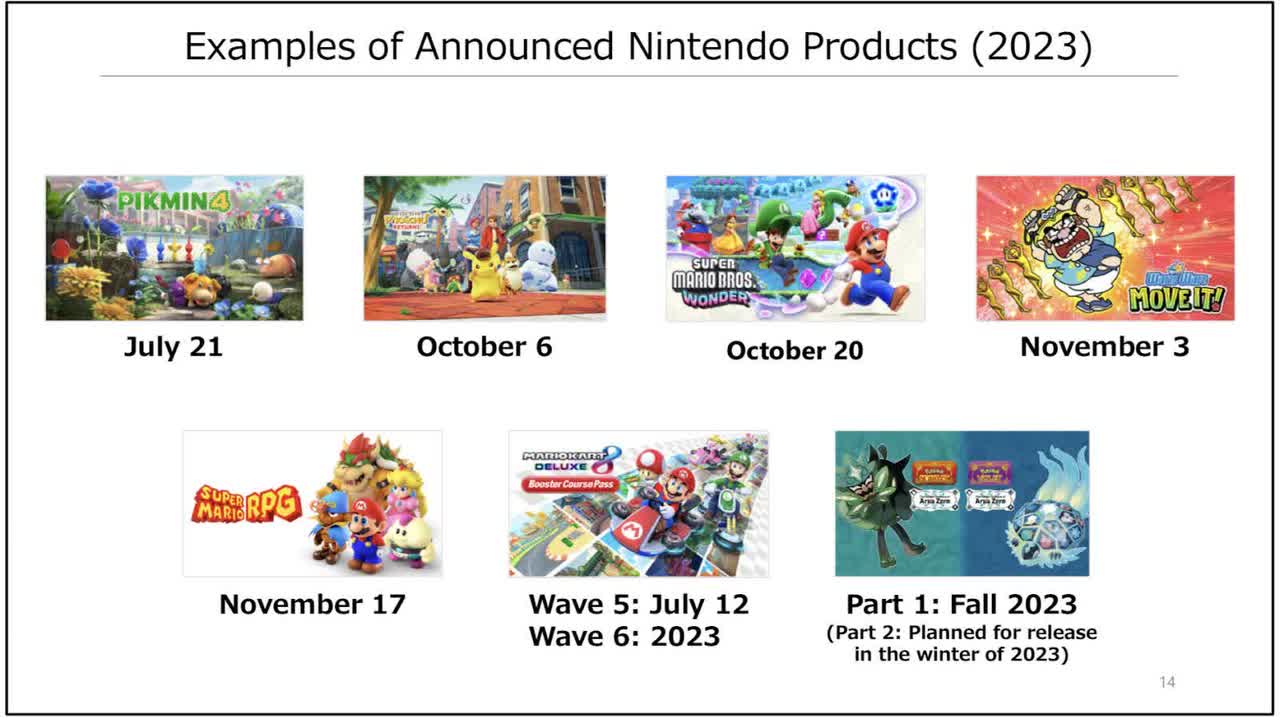 Profitability – The highlight
Nintendo's operating profit increased substantially faster than revenue, which should've been expected, knowing that there would be a significant component of software and IP-related revenue in the mix this quarter. The rationale makes sense, but the margin expansion did not come from an improved mix, as the gross margin remained pretty constant:

Of course, software sales and IP-related income carry a higher margin than hardware, but there were certain offsets in gross margin. The company sold more OLED models this quarter, which carry a lower margin than the standard Switch, and there was a higher proportion of physical sales in software, which carry a lower margin too.
So, where did the operating margin expansion come from? The answer is: SG&A leverage. SG&A expenses were up much less than revenue, helping the company spend only 20.7% of its sales here, compared to 27% in the comparable quarter.

The operating margin expanded by 710 basis points, 630 of which came from SG&A leverage and 90 of which came from gross margin expansion. They don't add up to 710 due to slight currency headwinds.
Note that there are several things included in SG&A, but we only get disclosure on S&M and R&D. R&D marched significantly higher than S&M, demonstrating that a good portion of the sales surge was achieved thanks to passive advertising from the movie and the release of the New Zelda game which of course doesn't need too much advertising due to its loyal fan base:

We have already mentioned it in this article, but we'll repeat it: Nintendo can not only drive revenue from its IP-related ventures, but it can also achieve S&M leverage.
The company's net profit margin increased substantially less than operating profit due to non-operating income growing significantly slower than sales: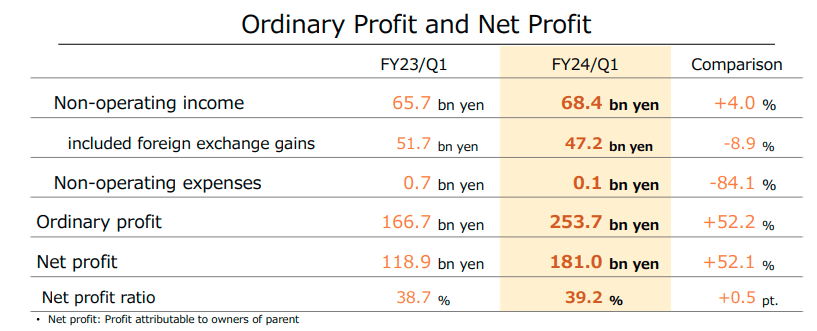 So, it was undoubtedly a great quarter from a profitability standpoint. The margin expansion came not from gross margin as one would expect but from SG&A leverage, which we anticipated would happen once the company started rolling out its IP-related ventures.
We were going to discuss cash flows and the balance sheet, but the company does not disclose the former quarterly, and there are no changes in the latter; Nintendo still has an immaculate financial position.
Qualitative highlights
Q1 confirms the thesis
Q1 was not only great due to the outstanding numbers the company posted but also because it somewhat confirmed part of the investment thesis. We now know that Nintendo's IP is in high demand and that it serves the company not only to make money directly but also to make money indirectly through its dedicated video game platform. What management presented in this slide is starting to become true: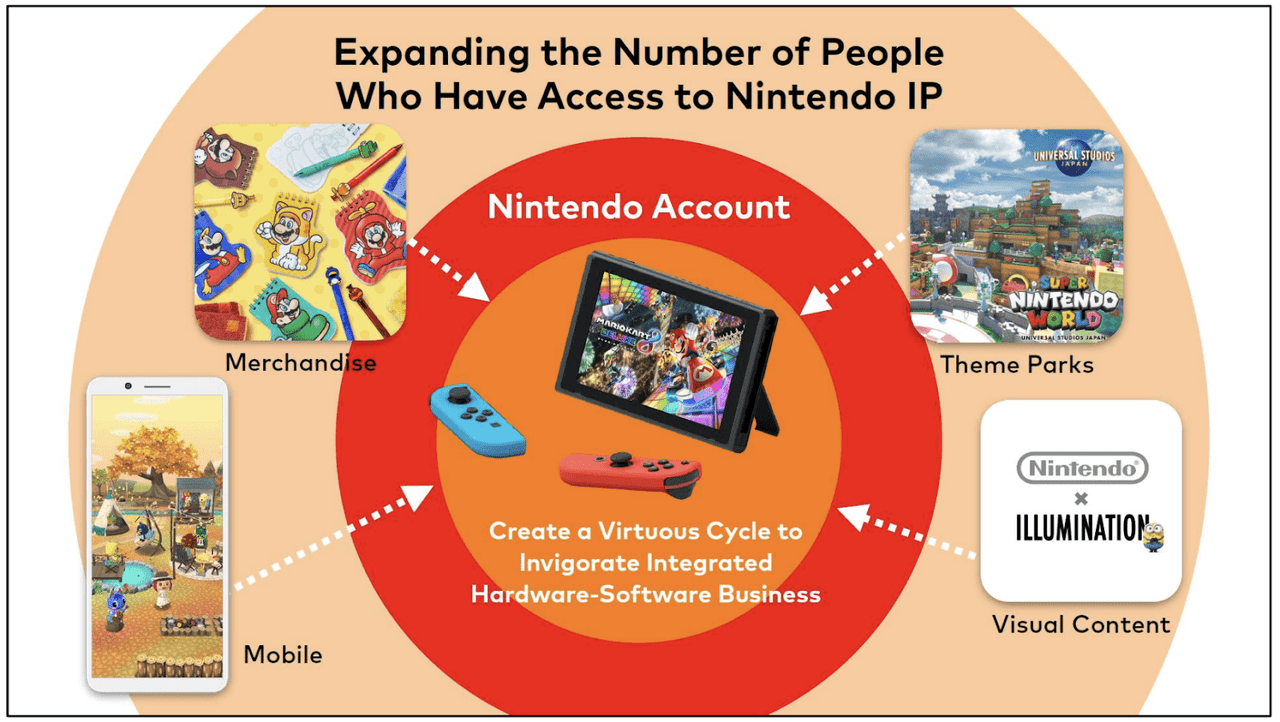 Of course, we still have to see if another part of the thesis comes to fruition. Will management iterate on the Switch and avoid starting the user base from scratch? It's still soon to know, but everything points to this being a reality.
What was the return on the Mario Movie?
In last quarter's article for subs, we tried to approximate how much money Nintendo had spent on the production of the Mario Movie, arriving at the following:
But there are other things in "other," too, so we must try to separate these. The movie was under production in 2020, but Nintendo already had 2 billion yen under intangibles in FY 2019, so subtracting the current 8.4 billion from the 2.1 billion the company used to have, we arrive at 6.3 billion yen in total production costs, or $46 million. Supposing this is a 50/50 effort between Illumination and Nintendo gets us to a total production cost of $92 million, which is consistent with Illumination's prior production budgets.
So, what has been the company's return to date? From the get-go, we'd say this is almost impossible to judge correctly with the information we have, but we'll try our best.
Let's assume that most of the increase in IP-related income this quarter came from the Mario movie and that this constitutes net revenue, so after deducting expenses from box offices etc. This revenue source increased by 20.9 billion yen in the quarter, or around $150 million. That's a 226% return in under one year for the Mario movie. Not bad if you ask us.
We know many of you would point out that this return does not include marketing, and while that's completely fair, we would say that the return also excludes indirect revenue that the movie helped Nintendo generate in its dedicated video game platform. No wonder that Nintendo's management is now more optimistic on this venture:
Based on the various effects that we have confirmed through the release of this movie, we will continue our efforts toward visual content-related initiatives.
We should also consider that the future return, or at least Nintendo's share of the profits, might be higher in future films. After initial success, Nintendo has more leverage because it understands what its IP is worth on the big screen. These are the words of Jeff Sneider, a film critic (emphasis added):
I don't think what I'm about to say is a huge surprise… I'm told that Universal is in fact closing a "big deal" with the Nintendo corporation for The Legend of Zelda. Zelda is looking like the next big Illumination x Nintendo franchise, which again I think we were all sort of expecting, but yeah, I'm told that is happening, and it's going to cost Universal a pretty penny because of the success of Super Mario, Nintendo kind of knows its worth at this point, but yeah, I'm told that is now going to be a reality.
Guidance
Nintendo did not make any changes to the yearly forecast announced three months ago: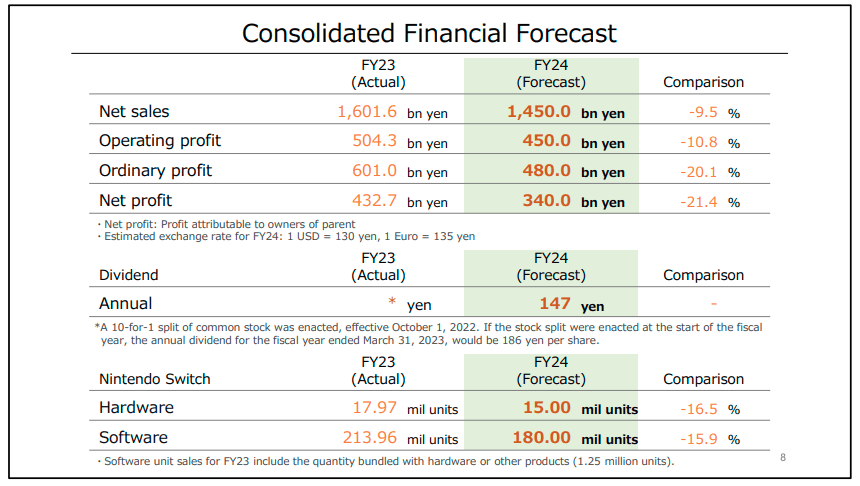 We still think some parts of this guidance are conservative, but there's basically no upside for Nintendo's management to update it and have more difficult objectives.
Conclusion
We hope this article helped you understand Nintendo's earnings. Q1 was not only good in numbers but also in that it let us see the thesis is intact. Nintendo has extremely valuable IP, and the company can monetize it both directly and indirectly.
In the meantime, keep growing!
Editor's Note: This article discusses one or more securities that do not trade on a major U.S. exchange. Please be aware of the risks associated with these stocks.