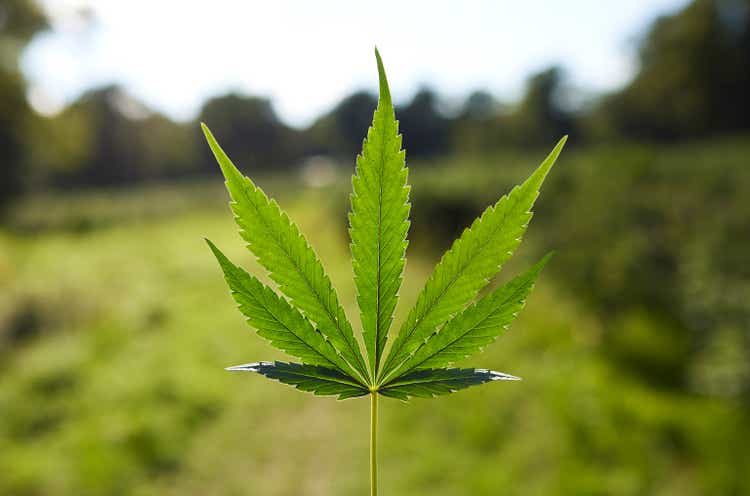 The whole cannabis space has been tough enough over the last year, but now Cresco Labs Inc. (OTCQX:CRLBF) has to start over following the termination of the agreement to buy Columbia Care (OTCQX:CCHWF). The multi-state operator ("MSO") has seen the stock get crushed to new lows despite results generally in line with the industry. My investment thesis remains ultra-Bullish on Cresco Labs, though the cannabis space remains very unloved with the stock hardly trading above $1.
Back To The Core
Cresco Labs reported Q2'23 revenues that grew 2% sequentially to reach $198 million. The company reported $40 million in adjusted EBITDA with a margin improvement of 540 basis points to 20%.
The company is the number 1 player in branded cannabis sales. While the retail sales grew 4% sequentially, the key wholesale sales were flat.
The Columbia Care merger was designed to shift Cresco Labs further into retail sales due to the current market shift towards large MSOs controlling the strong cannabis markets. The wholesale market is tough, with either states having overly competitive pricing or large MSOs controlling the majority of sales and not necessarily friendly to top MSO competitor-branded products.
The other major benefit was the addition of the New Jersey market from Columbia Care. Cresco Labs is now more focused on MSO access to New York and recreational cannabis expansion in key markets like Florida and Ohio.
Cresco Labs has cut facilities and fixed costs in California and Maryland, leading to lower costs. Even with these lower costs, gross margins are still down from 53.0% last year, with revenue below the $218 million level produced in Q2'22.
As with a lot of mergers, Cresco Labs didn't necessarily build a better core business during the period from when the merger was announced back on March 23, 2022. Curaleaf (OTCPK:CURLF) and Green Thumb Industries (OTCQX:GTBIF) have grown revenues at 8% and 5% clips, respectively, since Q1'22.
Cresco Labs has already made great progress in improving profitably of the business following cost measures undertaken starting in Q1 and through Q2. The Q2 SG&A costs were down nearly $7 million sequentially to $61 million while the MSO opened 5 new dispensaries with the associated costs. The company even forecasts cutting costs further in Q3 despite the new news stores leading to higher gross margins and specifically adjusted EBITDA margins.
Beaten To A Pulp
The market cap has dipped to slightly above $500 million based on 470 million shares outstanding. Cresco Labs just generated nearly $800 million worth of revenue on an annualized basis with some growth forecast going into 2024. In addition, adjusted EBITDA sits at a $160 million annualized basis before cost initiatives and a focus on the core was completely implemented.
The stock only trade at 3x annualized EBITDA levels. Cresco Labs ended Q2 with a net debt balance of $309 million based on $75 million in cash and $384 million in long-term debt.
The stock trades at an EV/EBITDA multiple closer to 5x. Cresco Labs ended the quarter with PP&E of $400 million to nearly offset all of the debt.
The MSO forecasts being free cash flow positive in the 2H despite a forecast for a $50 million income tax payment in October. Cresco Labs reported Q2 '23 operating cash flow at $32 million when excluding $14 million in one-time cash charges.
The big opportunity in the stock remains due to upside from federal approval and the up-listing of the cannabis stocks to a major U.S. stock exchange. Also, the access to cheaper capital will help Cresco Labs reduce interest expenses that are reaching nearly $80 million now.
Takeaway
The key investor takeaway is that a lot of MSOs have reached cash flow positive operations, yet the stocks are beaten down. Cresco Labs now leads the pack after the termination of the Columbia Care apparently led to a selloff. The Cresco Labs Inc. MSO is actually quickly improving operations, warranting a rally with the merger hangover done.
Editor's Note: This article discusses one or more securities that do not trade on a major U.S. exchange. Please be aware of the risks associated with these stocks.