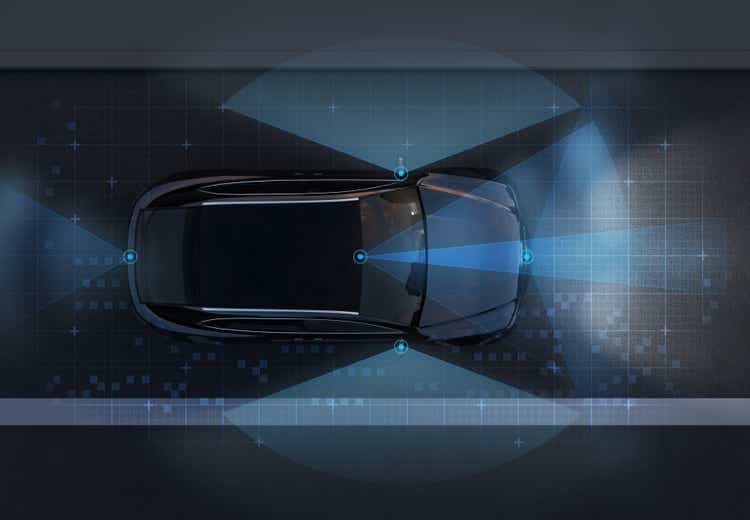 Elevator Pitch
My Hold investment rating for Hesai Group (NASDAQ:HSAI) stock stays unchanged. In my earlier initiation article for HSAI published on April 25, 2023, I wrote about Hesai Group's financial outlook and valuation metrics.
In this latest update, my attention turns to the review of HSAI's most recent quarterly financial results and its full-year guidance. Hesai Group's Q2 2023 financial performance beat expectations, but the company lowered its shipment volume guidance for the full year. Considering the above-expectations results and the disappointing guidance, I stick to a Hold rating for HSAI.
Analyst Expectations And Management Guidance For Q2 2023
Both the sell-side analysts and the company's management expected Hesai Group to perform reasonably well in the second quarter of 2023 prior to HSAI's actual Q2 results announcement on August 14.
With regard to revenue expansion, the market was anticipating that Hesai Group would register a topline of RMB420 million (source: S&P Capital IQ) for Q2 2023, which would have represented a +99% YoY growth and a -2% QoQ contraction. Similarly, the company had previously guided in May for its revenue to rise by +94%-104% YoY to between RMB410 million and RMB430 million in the most recent quarter.
At the company's Q1 2023 results call on May 23, HSAI also outlined its guidance of having its total LiDAR (Light Detection And Ranging) shipments grow by "ten-fold" YoY to approximately 50,000 units in Q2 2023.
On the flip side, the sell-side was predicting that HSAI's operating loss could potentially widen from -RMB128 million in Q1 2023 to -RMB210 million for Q2 2023 as per S&P Capital IQ's consensus data.
I will highlight how Hesai Group's actual Q2 2023 financial performance compared with the market's expectations and company guidance in the subsequent section.
HSAI's Second Quarter Results Were A Positive Surprise
HSAI released the company's Q2 2023 financial results on Monday, August 14 after trading hours, and Hesai Group's performance in the recent quarter turned out to be much better than what was expected.
Revenue for Hesai Group expanded by +109% YoY and +2% QoQ to RMB440 million in the second quarter of the current year, which translated into a +5% topline beat as compared to the consensus sales forecast of RMB420 million. HSAI's operating loss also narrowed from -RMB128 million for the first quarter of this year to -RMB114 million in Q2 2023, and this beat the consensus operating loss estimate of -RMB210 million. Moreover, Hesai Group's total Q2 2023 LiDAR shipments amounting to 52,106 units was +4% higher than the company's earlier second quarter guidance of 50,000 units.
Hesai Group mentioned at its Q2 2023 results briefing on August 14 that market share gains and good expense control were the major factors driving the company's above-expectations financial performance. HSAI noted at its most recent quarterly earnings call that its share of the global LiDAR market went up from 42% in 2021 to 47% last year, and its better-than-expected shipment numbers for Q2 2023 pointed to further share gains. Separately, Hesai Group also noted at its second quarter results call that there was a "continuous improvement in our manufacturing cost structure" which led to a narrowing of the company's operating loss.
It is worth noting that HSAI's share price rose by +6% on August 15, 2023, the day following the company's Q2 2023 results release. Hesai Group's post-results stock price outperformance sends a signal that the market was very pleased with its actual second quarter financial performance.
However, Hesai Group's outlook for the second half of the year isn't as good as what I would have hoped for, as detailed in the next section.
But Hesai Group's Updated Full-Year Guidance Was A Disappointment
Hesai Group lowered the company's full-year fiscal 2023 LiDAR shipment guidance by -12% from 250,000 units previously to 220,000 units now. HSAI attributed this downward revision in guidance to "delays from our OEM customers, particularly relating to new model releases" as per its management commentary at the recent Q2 earnings briefing. But it is natural to assume that poor economic conditions and lackluster demand might also have been key factors contributing to HSAI's weaker business outlook.
Based on the company's FY 2023 topline guidance of RMB1.8 billion (source: HSAI's Q2 2023 results call) and its updated LiDAR shipment guidance of 220,000 units, it is possible to infer that HSAI's ASP (Average Selling Price) is expected to fall significantly by -30% HoH (Half-on-Half) to around RMB7,000 for 2H 2023. At Hesai Group's second quarter results briefing, a sell-side analyst from Goldman Sachs (GS) highlighted the "pricing competition in the EV space" and the resulting "pricing pressure for LiDAR products", which are reflected in the implied 2H 2023 ASP guidance for HSAI.
In a nutshell, I am disappointed with Hesai Group's lower full-year FY 2023 shipment volume guidance and the implied ASP decline for the second half of this year.
Concluding Thoughts
On one hand, Hesai Group's actual Q2 2023 topline and operating loss were better than what the sell-side analysts had forecasted. On the other hand, HSAI's FY 2023 shipment volume guidance and the implied ASP expectations for 2H 2023 were disappointing in my view. As such, I choose to leave my existing Hold rating for Hesai Group unchanged.