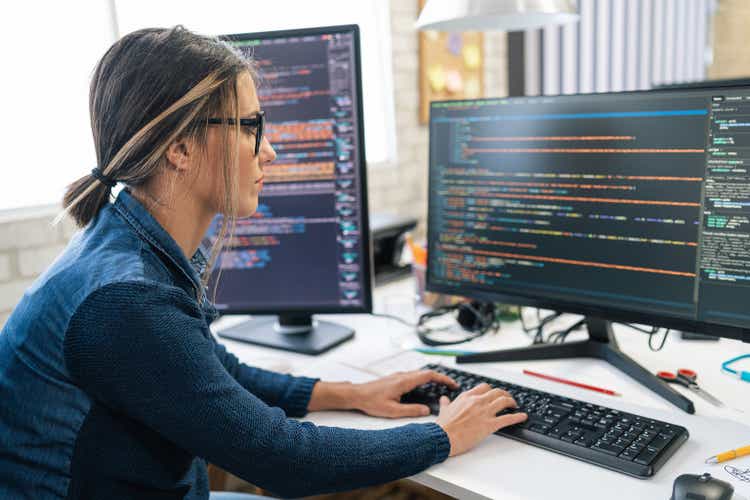 Overview
My recommendation for Sprout Social (NASDAQ:SPT) is a buy rating despite the weak share price action post-result. I think investors are focusing on the wrong headline metric (total customer count declining), as it is a matter of mix. As SPT continues to churn away non-core subs, I expect the financials and metrics to be cleaner, enabling the market to better assess the potential upside from SPT's success in penetrating the upmarket. Note that I previously gave a buy rating to SPT due to its high growth and, importantly, its ability to sustain that growth rate due to its strong market position and push towards the higher-end market.
Recent Q2 results & updates
Revenue from subscription solutions grew by 30%, contributing to the overall revenue increase of 29% to $79 million, despite a decline of 11% in revenue from professional services. Non-GAAP operating income was $2 million, up from -$2 million in the previous quarter. FCF also came in positive at $6 million. I believe the results were strong on an absolute basis, and the share price action post-earnings did not make sense.
I speculated that the 1.4% drop in total customers, amounting to a net loss of 702 customers, might be to blame for the lackluster stock price movement. This was also reflected in the number of customers with an ARR of less than $2,000, which fell by 50% year over year to 7,837. From my point of view, this is just SPT churning away non-core customers that they cannot target for upsell anyway. SPT's recent price increase and emphasis on ACV should be highlighted, as this was reflected in the company's larger customer metrics. Total customers in the >$10K ARR bracket increased by 27.4% Y/Y, thanks to 284 net new adds that brought the total to 7,391, and total customers in the >$50K ARR bracket increased by 48.2% Y/Y, thanks to 111 net new adds that brought the total to 1,119. These new additions contributed to a 29.1% year-over-year increase in aggregate ACV, bringing the total to $9,834. This is the largest yearly increase in aggregate ACV seen over the past 8 quarters. Additionally, Enterprise's net new ARR increased by almost 50% from Q1's stable level to account for 43% of total ARR. The strategy of upselling is proving successful, with attach rate to additional solutions such as premium modules showing improvement.
In addition, I believe that the acquisition of Tagger augurs well for future expansion. With the announced acquisition of Tagger Media, SPT is entering the influencer marketing space. Insights from influencer marketing can be more closely coupled with core social marketing strategies, which is something that Sprout's management is looking to do because influencer marketing now accounts for more than half of the company's enterprise RFPs. The truth is that CMOs are increasingly investing in influencer marketing, and I believe SPT would be wise to capitalize on this development. Since Tagger's average deal size is significantly higher than SPT's, I anticipate an increase in opportunities for cross-selling, a strengthening of new business win rates, and a driving of higher ACVs as a result of this acquisition.
industry analysts have estimated that nearly 50% of CMOs are growing their spending on influencer marketing in 2023, representing the third fastest area of budget growth. 2Q2023 earnings call
Overall, I don't see much reason for a sharp drop in share price, hence, I see this as a buying opportunity for investors to size up. As SPT continues to print 30% growth and the churning of non-core customers stops, SPT financials will become much cleaner to evaluate.
Valuation and risk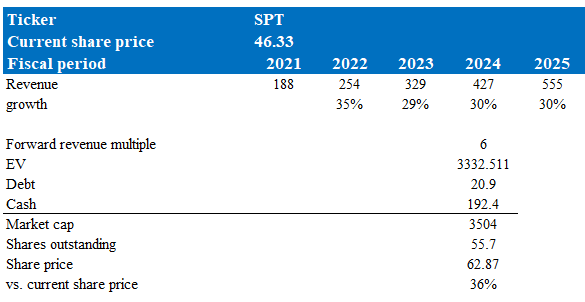 According to my model, SPT is valued $63 in FY24, representing a 36% increase. This target price is based on my growth forecast of 30% over the next two years. My growth assumption is anchored against management FY23 guided 29% growth at the mid-point and my positive outlook that growth can sustain at this level given the success in penetrating up market. As churn in non-core customers slowdown, growth might actually be higher than what I am expecting.
SPT is now trading at 6x forward revenue. I expect valuation to stay around this level until SPT closes the margin gap between itself and more profitable peers like Salesforce and Adobe.

Summary
SPT weakness in share price post the result represents a buying opportunity. The decline in total customer count is likely due to the strategic removal of non-core subscribers, which SPT is unlikely to find success in upselling anyway. Importantly, SPT's successful penetration of the upmarket is evident, with strong growth and an emphasis on higher-tier customers. In addition, the acquisition of Tagger Media aligns well with the influencer marketing trend, potentially driving cross-selling and higher ACVs.