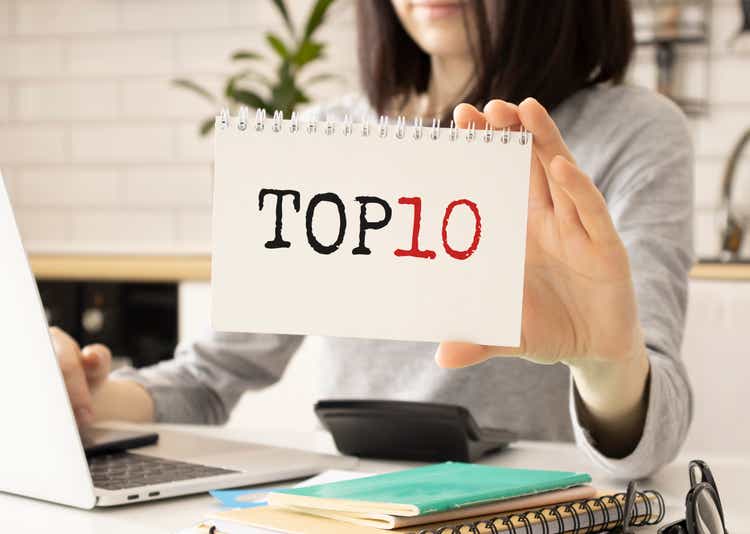 In my monthly series, 10 Dividend Growth Stocks, I rank a selection of Dividend Radar stocks and present the ten top-ranked stocks for further research and possible investment. Dividend Radar is a weekly automatically generated spreadsheet of dividend growth [DG] stocks with dividend increase streaks of five or more years.
To look for interesting candidates, I apply different screens every month to highlight different aspects of dividend growth investing. This month, however, I'm presenting the highest-quality Dividend Radar stocks without applying any other screens.
Ranking
The latest Dividend Radar (dated August 11, 2023) contains 726 stocks.
I determined quality scores for each Dividend Radar stock using six widely used quality indicators from independent sources, assigning 0-5 points to each quality indicator, for a maximum quality score of 30 points.
To rank candidates, I sorted them in descending order by quality scores, using the following tie-breaking metrics where necessary:
Simply Safe Dividends Dividend Safety Scores
S&P Global Credit Ratings

Forward Dividend Yield
Each stock's Rank is shown in the tables that follow.
Top 10 Dividend Growth Stocks for August
Here are this month's ten top-ranked DG stocks in rank order:
I own the eight highlighted stocks in my DivGro portfolio.The following company descriptions are my summary of company descriptions sourced from Finviz.
1. Johnson & Johnson (JNJ)
Founded in 1886 and based in New Brunswick, New Jersey, JNJ has grown into one of the largest companies in the world. The company is a leader in the pharmaceutical, medical device, and consumer products industries. JNJ distributes its products to the general public, retail outlets, and distributors, wholesalers, hospitals, and health care professionals.
2. Procter & Gamble (PG)
Founded by William Procter and James Gamble, PG is focused on providing branded consumer packaged goods in more than 180 countries. PG has five reportable segments: Beauty, Grooming, Health Care, Fabric & Home Care, and Baby, Feminine & Family Care. The company was incorporated in Ohio in 1905 and is headquartered in Cincinnati, Ohio.
3. Walmart (WMT)
WMT is the world's largest retailer and the biggest private employer in the world. Based in Bentonville, Arkansas, and founded in 1962, the company is a multinational retailer with more than 11,000 stores worldwide. Additionally, the company operates e-commerce websites in many countries. WMT operates through three segments: Walmart U.S., Walmart International, and Sam's Club.
4. Microsoft (MSFT)
Founded in 1975 and based in Redmond, Washington, MSFT is a technology company with worldwide operations. The company's products include operating systems, cross-device productivity applications, server applications, productivity and business solutions applications, software development tools, video games, and online advertising. MSFT also designs, manufactures, and sells several hardware devices.
5. Visa (V)
Headquartered in San Francisco, California, V operates as a payments technology company worldwide. The company facilitates commerce through the transfer of value and information among consumers, merchants, financial institutions, businesses, strategic partners, and government entities. V provides its services under the Visa, Visa Electron, Interlink, V PAY, and PLUS brands.
6. Costco Wholesale (COST)
Founded in 1976 and based in Issaquah, Washington, COST operates more than 700 membership warehouses in the United States and internationally. The company offers branded and private-label products in a range of merchandise categories. COST also operates gas stations, pharmacies, food courts, optical dispensing centers, photo processing centers, and hearing-aid centers; and engages in the travel business.
7. NIKE (NKE)
Founded in 1964 and headquartered in Beaverton, Oregon, NKE is engaged in the design, development, marketing, and selling of athletic footwear, apparel, equipment, and accessories. The company's portfolio brands include NIKE, Jordan, Hurley, and Converse. NKE sells its products to retail accounts, through NIKE-owned retail stores and websites and through independent distributors and licensees.
8. Automatic Data Processing (ADP)
ADP provides technology-enabled human capital management solutions and business process outsourcing solutions. These offerings include payroll services, benefits administration, talent management, HR management, time and attendance management, insurance services, retirement services, and tax and compliance services. ADP was founded in 1949 and is headquartered in Roseland, New Jersey.
9. Hershey (HSY)
Founded in 1894 and headquartered in Hershey, Pennsylvania, HSY is a provider of chocolate and sugar confectionery. HSY markets and sells its products to wholesale distributors, chain grocery stores, mass merchandisers, chain drug stores, vending companies, wholesale clubs, convenience stores, dollar stores, concessionaires, and department stores.
10. Cisco Systems (CSCO)
CSCO designs, manufactures, and sells Internet protocol-based products and services. The company also delivers integrated solutions to develop and connect networks around the world. CSCO serves businesses of various sizes, public institutions, governments, and communications service providers. The company was founded in 1984 and is headquartered in San Jose, California.
Please note that the top ten DG stocks are candidates for further analysis, not recommendations.
Key Metrics and Fair Value Estimates
Below, I present key metrics of interest to dividend growth investors, along with quality indicators and fair value estimates:
Yrs: years of consecutive dividend increases

Qual: Quality score out of 30

Fwd Yield: forward dividend yield for a recent share Price

5-Avg Yield: 5-year average dividend yield

5-DGR: 5-year compound annual growth rate of the dividend

5-EGR: 5-year compound annual growth rate of EPS

5-RGR: 5-year compound annual growth rate of revenue

5-YOC: the projected yield on cost after five years of investment

ACN: Adjusted Chowder Number

5-TTR: 5-year compound trailing total returns

VL PS: Value Line Price Stability

VL FS: Value Line Financial Strength ratings

MS EM: Morningstar Economic Moat

SP CR: S&P Global Credit Ratings

SS DS: Simply Safe Dividends Dividend Safety Scores

PI DG: Portfolio Insight Dividend Quality Grades

Buy Below: my risk-adjusted buy-below price

–Disc +Prem: discount or premium of the recent share Price to my Buy Below price

Price: recent share price
Color-coding
Ticker: highlighted for stocks I own in my DivGro portfolio

Qual: see this article for the color scheme

Fwd Yield: green if Fwd Yield ≥ 5-Avg Yield

5-YOC: green if 5-YOC ≥ 4.0%, yellow if 5-YOC ≥ 2.5% (but less than 4.0%), and red if 5-YOC < 2.5%

Price: green if Price ≤ Buy Below

Here are the Sector and Super Sector designations of each candidate:
| | | | |
| --- | --- | --- | --- |
| Rank | Company (Ticker) | Sector | Supersector |
| 1 | Johnson & Johnson (JNJ) | Health Care | Defensive |
| 2 | The Procter & Gamble Company (PG) | Consumer Staples | Defensive |
| 3 | Walmart Inc. (WMT) | Consumer Staples | Defensive |
| 4 | Microsoft Corporation (MSFT) | Information Technology | Sensitive |
| 5 | Visa Inc. (V) | Financials | Cyclical |
| 6 | Costco Wholesale Corporation (COST) | Consumer Staples | Defensive |
| 7 | NIKE, Inc. (NKE) | Consumer Discretionary | Cyclical |
| 8 | Automatic Data Processing, Inc. (ADP) | Industrials | Sensitive |
| 9 | The Hershey Company (HSY) | Consumer Staples | Defensive |
| 10 | Cisco Systems, Inc. (CSCO) | Information Technology | Sensitive |
I use a survey approach to estimate fair value [FV], collecting fair value estimates and price targets from several online sources such as Portfolio Insight, Morningstar, and Finbox. Additionally, I estimate fair value using each stock's five-year average dividend yield. With up to 11 estimates and targets available, I ignore the outliers (the lowest and highest values) and use the average of the median and mean of the remaining values as my FV estimate.
My risk-adjusted Buy Below prices allow premium valuations for the highest-quality stocks but require discounted valuations for lower-quality stocks:

My Buy Below prices recognize that the highest-quality stocks rarely trade at discounted valuations. As a dividend growth investor with a long-term investment horizon, I'm more interested in owning quality stocks than getting a bargain on lower-quality stocks.
Commentary
Here's a comparative analysis of an equal-weighted portfolio of this month's top ten DG stocks, courtesy of Finbox.com: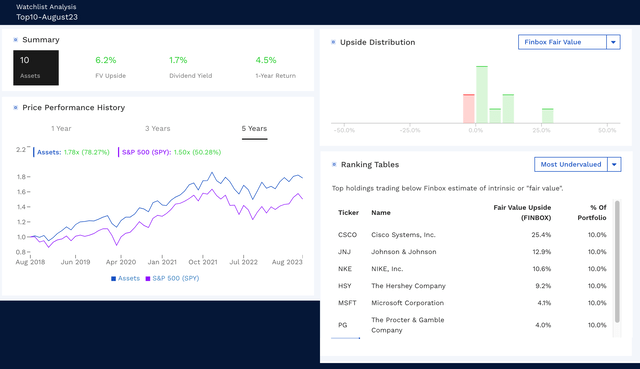 From a price-performance perspective, the portfolio would have outperformed the S&P 500 (as represented by the SPDR S&P 500 Trust ETF (SPY)) over the last five years, returning 78% versus SPY's 50%.
According to Finbox.com, eight of the stocks have fair value upsides, with Walmart (WMT) and Visa (V) being the exceptions.
CSCO (2.85%) and JNJ (2.74%) offer the highest forward yields and are the most appropriate candidates for income investors.
V (17.2%), ADP (13.7%), NKE (11.2%), and MSFT (10.0%) have double-digit percentage dividend growth rates and are strong candidates for growth-oriented investors.
MSFT (29.6%), HSY (24.4%), and COST (22.5%) have the highest 5-year TTRs.
All but three stocks (CSCO, NKE, and JNJ) outperformed SPY over the 5-year time frame: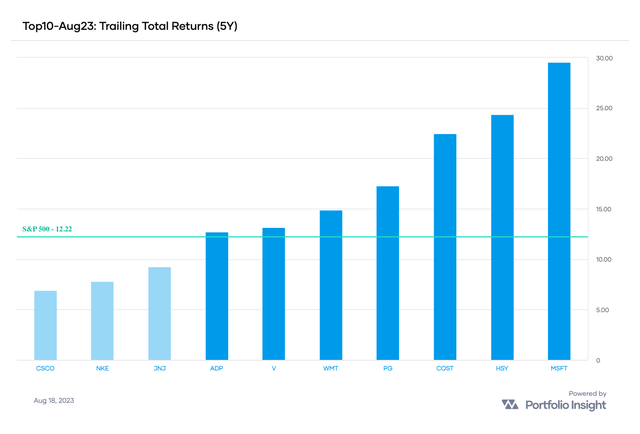 As for valuations, NKE (-18%) and V (-14%) are discounted most relative to my Buy Below prices, making them strong candidates for value investors.
Neither of the stocks I don't own in my DivGro portfolio passes all five of my stock selection criteria for adding new positions:
Stock Quality: Quality scores ≥ 21 (Exceptional, Excellent, or Fine ratings)
Stock Valuation: Price ≤ Buy Below price (trades below my risk-adjusted Buy Below price)
Growth Outlook: Qualifying ACNs (likely to deliver annualized returns of 8%)
Income Outlook: 5-year YoC ≥ 4.00% (likely to have high YoCs after 5 years of ownership)
Dividend Quality: A+ or A Dividend Quality Grades
I favor adding to underweight positions when stocks trade below my risk-adjusted Buy Below prices. Below is a chart showing DivGro's current weights (red) relative to my target weights (green):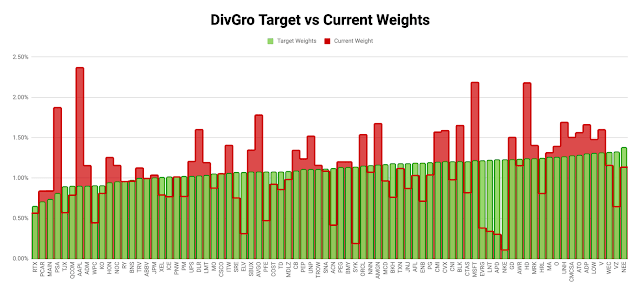 Of the stocks I own in this month's top ten list, NKE is my most underweight position. I would need to add 157 shares at NKE's current price to turn it into a full-sized position.
Concluding Remarks
In this article, I presented the ten highest-quality Dividend Radar stocks, based on my quality scoring system.
I own eight of these stocks in my DivGro portfolio, the exceptions being WMT and HSY. Neither WMT nor HSY passes all of my selection criteria for adding new positions to my DivGro portfolio.
Based on your investment style, you may want to target the following stocks:
For income investors: CSCO and JNJ
For value investors: NKE and V
For growth-oriented investors: V, ADP, NKE, and MSFT
As always, I encourage readers to do their due diligence before buying any stocks I cover
Thanks for reading, and take care, everybody!