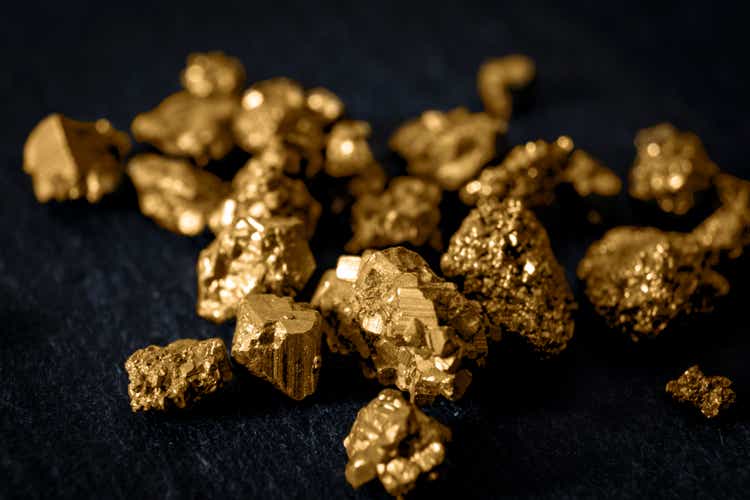 Part I – Introduction
Canada-based New Gold Inc. (NYSE:NGD)(TSX:NGD:CA) released its Second-quarter 2023 results on July 26, 2023.
Note: This article updates my May 1, 2023 article. I have followed NGD on Seeking Alpha since January 2019.
Also, on August 10, 2023, NGD announced that:
During regular inspections of the New Afton Tailings Storage Facility completed on August 9th, the Company observed geotechnical variances that require further review by the Engineer of Record ("EOR"). Out of an abundance of caution, the Company has elected to suspend underground mining activities allowing its EOR appropriate time to review the findings.
However, a day after, on August 11, 2023, NGD said:
confirms the structural integrity of the New Afton tailings storage facility and announces resumption of all underground mining activities at its New Afton Mine, located in Kamloops B.C.
This issue hurt the stock price, which tumbled nearly 12% on August 10.
Note: New Gold operates two mines, The Rainy River and the New Afton mines, with 2022 reserves of 3.3 Moz of gold, 607 Mlbs of Copper, and 8.2 Moz of silver. Reserves went down over 10% YoY.
1 – 2Q23 results highlights
Revenues for the second quarter of 2023 increased significantly from $115.7 million in 2Q22 to $184.4 million.
The company posted a net loss of $2.6 million compared to a loss of $37.9 million in 2Q22. Adjusted net income was $12.0 million or $0.02 per share.
Gold equivalent production for the quarter was 102,374 ounces (76,527 ounces of gold, 12.0 million pounds of Copper, and 150,576 ounces of silver).
All-in sustaining cost (AISC) was $1,657 per GEO in 2Q23.
CEO Patrick Godin said in the conference call:
We had an excellent quarter and continued to build on the momentum from the beginning of the year. I note on our first quarter call that Q2 will see planned major maintenance perform at Rainy River. I also note at that time that our team prepares for the worst, but we plan for the best. And I'm proud to say our team showed great resilience.

Because of the proactive measures taken at site, Rainy River not only complete the maintenance on schedule, but also delivered a strong production results by accomplishing our goals all without sacrificing safety.
2 – Investment thesis
The investment thesis is quite narrow with New Gold Inc. due to its limited producing assets and the risk of serious hiccups that could affect the stock price significantly.
Shareholders are very wary, as we have seen on August 10. At the first sight of trouble, a selloff follows. Thus, it is reasonable to expect sharp variations to occur frequently triggered by technical issues at Rainy River or New Afton.
On the other hand, NGD has been an excellent trading tool and is easy to trade LIFO. The gold price dropped below $1,900 per ounce yesterday and looks weak. The FED expects a few more rate hikes for the remainder of 2023, and the market is punishing gold.
Thus, I recommend trading the stock LIFO and keeping a reduced long-term position in NGD.
3 – Stock performance
NGD has significantly underperformed the VanEck Vectors Gold Miners ETF (GDX). NGD is now up 26% on a one-year basis. As shown below, NGD recovered substantially from its low in September 2022, but the recent scare and the weakness of gold have hurt NGD significantly since May 2023.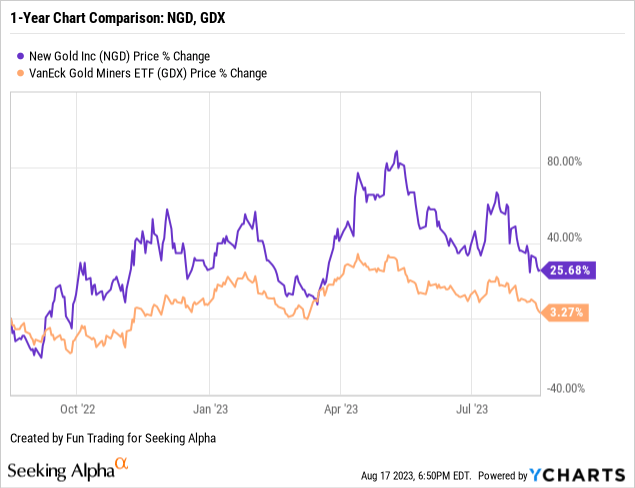 New Gold Inc. – Balance Sheet History Until 2Q23 – The Raw Numbers
| | | | | | |
| --- | --- | --- | --- | --- | --- |
| New Gold NGD | 2Q22 | 3Q22 | 4Q22 | 1Q23 | 2Q23 |
| Total Revenues in $ million | 115.7 | 151.2 | 162.8 | 201.6 | 184.4 |
| Net Income in $ million | -37.9 | -4.2 | -16.9 | -31.8 | -2.6 |
| EBITDA $ million | 7.9 | 43.1 | 49.7 | 26.3 | 54.2 |
| EPS diluted in $/share | -0.06 | -0.01 | -0.03 | -0.05 | 0.00 |
| Cash from Operating Activities in $ million | 37.4 | 53.7 | 31.8 | 60.6 | 56.4 |
| Capital Expenditure in $ million | 76.1 | 69.9 | 68.7 | 63.1 | 71.6 |
| Free Cash Flow in $ million | -38.7 | -16.2 | -36.9 | -2.5 | -15.2 |
| Total cash $ million | 324.9 | 279.9 | 236.4 | 208.5 | 182.9 |
| Total Long-Term Debt in $ million | 394.4 | 394.7 | 394.9 | 395.2 | 395.5 |
| Shares outstanding (diluted) In millions | 682.0 | 682.3 | 683.1 | 682.7 | 683.2 |
Data Sources: Company release.
Analysis: Balance Sheet Discussion
1 – Revenues of $184.4 million in 2Q23
The 2Q23 Revenue increased over the prior year due to higher gold prices and higher gold and copper sales volumes, partially offset by lower prices.
2 – Free cash flow was negative $2.5 million in 2Q23
The generic free cash flow for 2Q23 was negative $15.2 million, with a trailing 12-month negative free cash flow of $70.8 million.
3 – Net debt is $212.6 million as of June 30, 2023
New Gold's net debt was $212.6 million this quarter. As of June 30, 2023, the debt was $395.5 million, and the total cash was $182.9 million.
The total liquidity was $547 million at the end of June 2023. The company still owns Talisker Resources Ltd. and other marketable securities.
Note: After the quarter, on April 26, 2023, the Company amended its revolving credit facility, extending the maturity date to December 2026 from December 2025.
2Q23 Gold Production Analysis
1 – The raw numbers
NGD announced on July 28, 2023, that it produced 102,374 GEOs during the second quarter of 2023, up 45.2% compared to 2Q22 and down 2.4% sequentially. The production of gold equivalent ounces [GEO] includes gold, silver, and Copper.
Below are the details:
Gold production was 76,527 Au oz.
Silver production was 150,576 Ag oz.
Copper production was 12.0 M Pounds.
NGD sold 96,184 GEOs in 2Q23.
Note: The company's Gold realized in 2Q23 was $1,970 per ounce, and Copper was $3.82 per pound.
Below is shown the production for the last four quarters and per metal:
Gold production for the Rainy River mine was 59,882 Au ounces, and 16,645 Au ounces for the New Afton mine.
At New Afton, gold and copper production improved nicely over the same period last year, as the operation's focus remained on steady-state mining of B3 and C-Zone development, which remains on track for first ore production in 4Q23. Tonnes mined per day (ore and waste) was 10,165 TPD.
Gold production is back to a decent level, as shown in the graph below:
The gold grade per tonne is weakening at the Rainy River to 0.97 G/T, but it is still solid at New Afton.
The company indicated an AISC of $1,657 per ounce this quarter.
2 – The company reaffirms 2023 Guidance
Gold equivalent production is expected to be between 365K to 425K ounces, approximately 13% higher than 2022 production, with 55% of the annual output expected in the year's second half.
AISC is expected to be $1,505 to $1,605 per GEO, down from the prior year due to lower sustaining capital spend and higher sales volumes.
Technical Analysis And Commentary
NGD forms a descending wedge pattern with resistance at $1.00 and support at $0.90.
The falling wedge is a bullish chart pattern that signals a buying opportunity after a downward trend or mark correction. When the pattern occurs, it can be interpreted as a trend reversal or continuation pattern and can help traders find trading opportunities.
The overall strategy is to keep a core long-term position and use about 60-70% to trade LIFO while waiting for a higher price target for your core long-term position between $1.60 and $1.75.
I suggest selling about 50% of your position between $1.00 and $1.05, with possible higher resistance at $1.12, and accumulating between $0.95 and $0.89, with possible lower support at $0.84.
Watch gold and silver prices like a hawk.
Warning: The TA chart must be updated frequently to be relevant. It is what I am doing in my stock tracker. The chart above has a possible validity of about a week. Remember, the TA chart is a tool only to help you adopt the right strategy. It is not a way to foresee the future. No one and nothing can.
Editor's Note: This article covers one or more microcap stocks. Please be aware of the risks associated with these stocks.