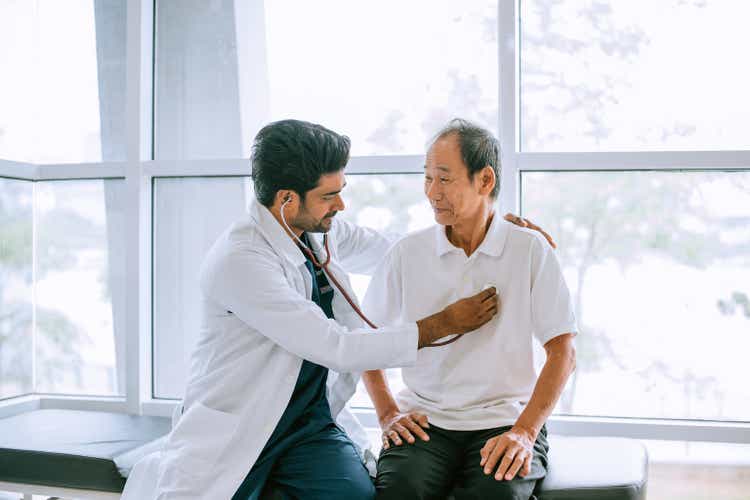 Q2 earnings summary – Maintaining a Buy Rating on NAMS
Although we had written an article recently before the earnings where we focused on the evolving landscape of LDL-c lowering therapies, we decided to write a follow-up article to discuss the new updates from the Q2 earnings as new details around the upcoming clinical readouts of phase 3 trials were discussed. We believe the two pivotal phase 3 data would be key for investors to follow as it will determine if Obi can get approved just based on a standalone LDL-c reduction or if CVOT data would be required.
Q2 2023 Earnings Update: In its 2Q23 financial report, NewAmsterdam Pharma (NASDAQ:NAMS) showcased a positive trajectory, echoing confidence in its next-gen oral CETPi obicetrapib. This potential treatment targets a significant unmet need in cardiovascular patients unable to achieve their desired LDL-C goals through a novel CETP inhibitor that can be taken orally.
A notable update that was shared by the management was around over-enrollment in obi's Ph.3 BROADWAY trial (>2500 against a target of 2400), hinting at a robust global demand for innovative oral statin adjunct therapies.
The company's lead asset Obicetrapib, currently in three Ph.3 trials, is set to present top-line data from its LDL-lowering studies in 2H24 (which the company needs for the full approval as we have seen with PCKS9is). We expect approval of the drug by 2025-2026 and we build conviction on the approvability if the drug's phase 2b ROSE trial's data holds. Even though we consider that the outcomes data is necessary for payer and commercial uptake (because guidelines would usually value CVOT outcomes over surrogate endpoints like LDL-c), we do not believe regulators would require that for approval provided that LDL-c is robust (>50% LDL-c reduction from baseline similar to the previous ROSE phase 2b trial.
Furthermore, we believe NAM's robust financial position is highly assuring, the company ended 2Q23 with approximately €384M, which should offer a cash runway up until 2026 after late stage clinical readout for its phase 3 programs has read out (and stock to substantially appreciate provided that the data is positive).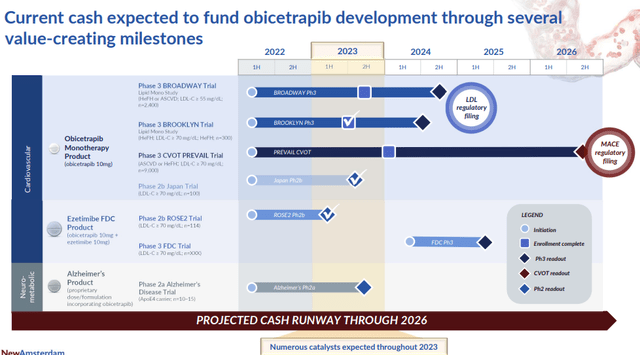 Key Catalysts & NAMS's pipeline
NAMS' pipeline, particularly obicetrapib, represents a groundbreaking approach to cholesterol management. Enrollment for its pivotal LDL-lowering Phase III trials has not only been completed timely but also over-enrolled, indicating strong interest and potential future uptake. The prospective LDL reduction rates, especially the anticipated ~60% for the combo, set obicetrapib on par with injectable PCSK9 but with the convenience of oral administration. Of note, we remind readers that the current PCSK9i's adoption was underwhelming mainly because of the market access (payer reimbursement, price, administrative burden coming from Medicare part B (for Leqvio's case)); as such, we believe the oral dosage form and novel mechanism action of Obi should allow the drug's sales to ramp up much faster.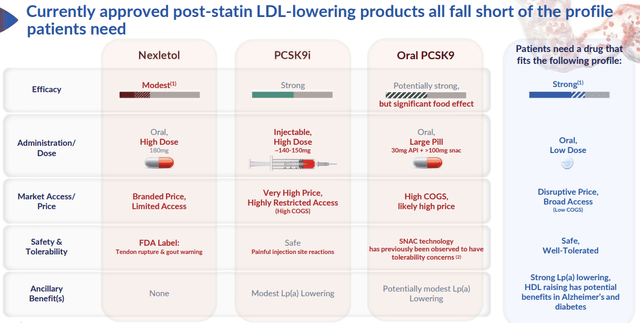 Current PCSK9i landscape summary

Project
Company
Description
Note
Phase 2
MK-0616
Merck & Co
Once-daily oral
Ph2 data at ACC 2023, ph3 planned in H2 2023
Phase 1
AZD0780
Astrazeneca
Oral
A Study to Assess the Safety, Tolerability, Pharmacokinetics, and Pharmacodynamics of AZD0780 in Healthy Subjects – Full Text View – ClinicalTrials.gov in healthy volunteers; data due H2 2023
VERVE-101
Verve Therapeutics
One-off in vivo gene editing
Heart-1 enrolling in New Zealand & UK, first data due H2 2023; US IND on clinical hold
Preclinical
VXX-401
Vaxxinity
"Long-acting" synthetic peptide vaccine; target 2-4 per year
Preclinical data at ACC 2023; ph1 slated for H1 2023
CTX330
Crispr Therapeutics
One-off in vivo gene editing
STP135G
Sirnaomics
SC RNAi
Fallen by the wayside
ION449 (AZD8233)
Astrazeneca/Ionis
Once-monthly SC antisense
Astra not taking into ph3 following ph2 Solano data
NN6435/ NNC0385-0434
Novo Nordisk
Oral
Company had ph2 data in Q3 2022; no longer in pipeline
PBGENE-PCSK9
Precision Biosciences/Iecure
One-off in vivo gene editing
Discontinued at preclinical stage

Source: evaluate pharma
In terms of valuation standpoint, at a $500M enterprise value, NAMS presents an attractive undervaluation, poised for correction as major Phase III updates approach. Furthermore, we like the fact that Obi's patent protection extends to 2038, effectively doubling the NPV for its US operations. This, alongside the blockbuster potential to generate $2B+ at peak sales and a long intellectual property lifecycle, cements NAMS as a captivating investment, especially for pharma with existing cardiovascular portfolios.
Risks
While obicetrapib's Phase IIA data for Alzheimer's might reveal positive biomarker data in H2:23, deriving conclusive outcomes solely from these results may be challenging for investors. A larger Phase IIB study, focusing on cognitive and functional endpoints in Alzheimer's patients, would provide more clarity. Moreover, NAMS' discussions on funding such an expansive study remain internal, leaving uncertainties in its capital allocation. There's also the anticipation of the initiation of the Phase III fixed-dose combo of obicetrapib and ezetimibe in Q1:24. Any potential delays or issues here, or with the impending update on its combo patent, could sway investor sentiment. Lastly, while the targeted baseline LDL levels for the Phase III CVOT (PREVAIL) study seem promising, it's crucial to monitor the magnitude of LDL reduction and its subsequent impact on MACE benefit.
Conclusion
After an exhaustive examination of NAMS' 2Q23 earnings and its promising pipeline, combined with the underpinned risks, we reiterate our buy rating on the stock. The company's innovative approach to cardiovascular treatment, its strategic asset value, and its financial readiness to navigate the challenges ahead underscore our confidence in NAMS. We believe the market has not fully priced in the multi-billion dollar opportunity of an oral LDL-c lowering therapy that can be the next generation "statin."