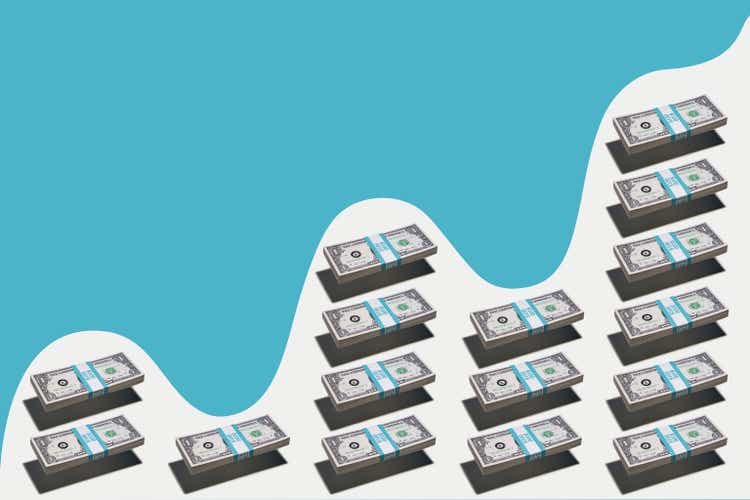 OppFi (NYSE:OPFI) has traded rangebound between $2.90 and $1.80 for the last 1 year, with the lending platform recently reporting fiscal 2023 second-quarter earnings that saw dual beats on revenue and earnings. OppFi reported revenue of $122.5 million set against a $276 million market cap that is a long way away from the $800 million go-public valuation it attained in the summer of 2021 when it consummated its merger with a blank check company. OppFi would form one of the many fintech firms that would embrace this go-public method but who have all since experienced steep losses on the back of the Fed embarking on its fastest pace of monetary tightening in decades with a Fed funds rate now currently sitting at 5.25% to 5.50%.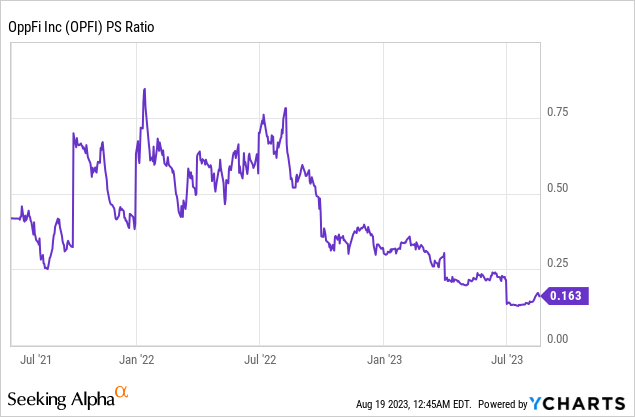 OppFi's sales multiple has collapsed, with the ticker currently swapping hands at a 0.16x price-to-sales ratio, even against 13.5% year-over-year revenue growth for its second quarter. Critically, this ratio encapsulates the current stock market zeitgeist, where surging yields have pushed risk-off sentiment on small-cap fintech companies like OppFi to historical record lows. To be clear, every $1 of revenue earned by OppFi in the summer of 2023 is being translated into roughly 16 cents of market cap, down from the summer of last year when every $1 of revenue was translated into 75 cents of market cap.
Dual Beats Imply Long Selloff Overdone
OppFi recorded a $5.44 million beat on consensus revenue estimates, with revenue for its second quarter coming in at $122.5 million. Net revenue came in at $74.58 million, up from $65.15 million in the year-ago period, as total expenses dipped by $2.5 million from its year-ago figure. OppFi was able to push through a reduction in direct marketing costs to counter broad cost rises from professional fees and interest expenses. Total expenses as a percentage of total revenue fell by 16% over its year-ago comp.
This meant net income came in at $18.08 million, up a huge 90% year-over-year with a non-GAAP adjusted EPS of $0.19 beating consensus estimates by $0.15 to drive one of OppFi's best quarters for profitability. The company was able to reduce marketing costs per funded loan by 23% against net originations during the quarter, which fell by 11% from its year-ago comp. What's the play here? OppFi's current valuation is not cognizant of growing revenues and positive EPS, and this could represent an opportunity to the belong side once market sentiment turns positive. However, the risk-off sentiment that has driven the company's valuation to record lows is set to remain sticky as long as inflation remains above the Fed's 2% target rate. The type of enthusiasm that underpinned the prior sales multiple would especially be difficult to replicate against the specter of a hard landing.
Balance Sheet Against Macroeconomic Headwinds
This risk of a recession is heightened against OppFi's focus on lower credit quality borrowers. OppFi's net charge-off rate as a percentage of total revenue did fall 17% from 43.5% in its year-ago comp to 36.2% in the recent second quarter. The company pivoted last year to tightening its lending model and reducing its lending parameters to shift its customer mix away from the lower end of credit quality. This improvement in credit performance saw end receivables remain steady at $398 million as of the end of the second quarter. Further, OppFi's total delinquency rate declined by 10% with its total first payment default rate falling 23%. Its average yield was boosted by 1000 basis points to 129% against this improvement in credit performance.
Recession forecasts are also being dialed back in response to strong employment figures and retail sales. J.P. Morgan is no longer forecasting a US recession in 2023 with Goldman Sachs cutting the probability of a recession next year to 20% from a prior 25% stance. OppFi is affirming guidance for full-year 2023 revenue to come in at $500 million to $520 million. This would represent growth of roughly 10% to 15% over 2023 and is set against the consensus of $507.90 million. Adjusted net income guidance was also raised to $29 million to $35 million, from a prior range of $24 million to $30 million.
The risk here remains a spike in net charge-offs against what remains broad macroeconomic uncertainty and volatility. Currently, strong economic indicators could turn with the student loan repayment restart in October, one of many possible headwinds to face the US economy. OppFi's balance sheet held cash and equivalents, including restricted cash, of $62.1 million with a total debt of $331.9 million as of the end of the second quarter. The company also has access to $537.1 million in total capacity to fund receivables, further boosted by a deal with Atalaya Capital to upsize its revolving credit facility to $250 million. This remains a hold, with a buy rating contingent on net charge-offs remaining low as we enter the possible end of the Fed's rate hike cycle next year.