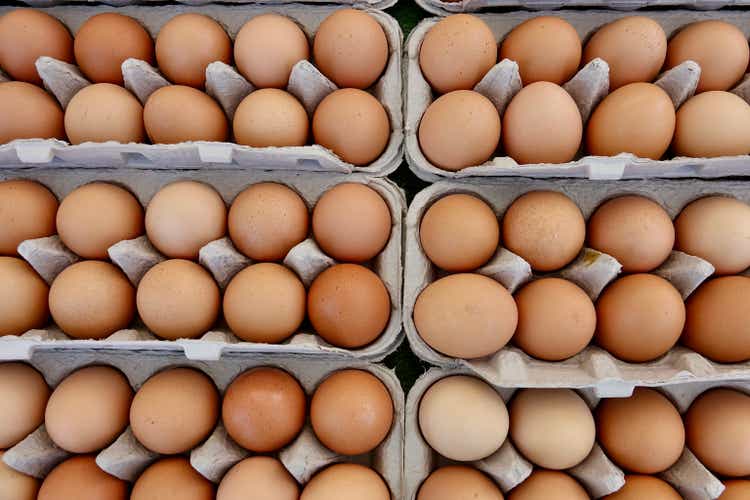 Eggs are an essential part of every economy. It's an essential part of people's diet, in both good times and bad. During good times, we think of cakes, croissants, and rich eggy foods. In times of hardship – boiled, scrambled, or an addition to instant noodles. The price of eggs has even been a bellwether for measuring Inflation, explained by eggs. Something as essential as eggs led me to explore and value the largest egg producer in the United States: Cal-Maine Foods (NASDAQ:CALM).
Cal-Maine Foods appears poised for continued growth and resilience in the egg industry. Its market dominance, vertical integration strategy, and alignment with consumer trends position it well for capturing opportunities in specialty and healthier food segments. Investors seeking a stable and defensive investment in the food sector may find Cal-Maine Foods an appealing addition to their portfolios.
With a price target of $48.55, CALM will be a steady anchor to a portfolio with almost an uncorrelated stock beta of -0.08 (5Y monthly) and a dividend policy that pays out 1/3 of net income.
Company Overview
Cal-Maine Foods, the leading producer and distributor of shell eggs in the United States. With a history dating back to 1969, the company has evolved from a family-owned egg farm to a vertically integrated industry player, offering a wide range of conventional, specialty, organic, and cage-free egg products.
Presently, Cal-Maine has achieved 20% of the retail egg market share and owns 14% of the US egg-layer flock, with a significant presence in the American sunbelt states.
Valuation Assumptions
Revenue
This egg-company's valuation rests on the growth of the US population. The price of eggs and feed is not expected to outpace inflation and the innovations in egg-farming techniques will be incremental for the next few decades, as to be expected for a practice over 3000 years old. The growth of CALM that I have projected is amplified by the patterns of migration in the US over the past few years: people moving to the sunbelt states that happen to be close to company operations.
According to the company, the Top 3 customers represent 42% of the revenue. It's no surprise that the #1 spot is the largest retailer nation-wide, and #2 and #3 are grocery chains in Texas and Florida, which lead the nation's population growth by net inflows. CALM's fortunes will likely follow with the sunbelt's.
From my estimates, Americans consume 27.4 dozen eggs and egg products per year, or slightly over 2 dozen per month on average based on the US egg production and population.
Examining these numbers globally, the USA is on par with other developed nations in egg consumption. I don't expect the per capita demand for eggs to rise, but as Mexico leads the world in egg production per capita, American dining habits may change as immigrants and new cuisines from other cultures are continually being introduced. With this in mind, I assumed that egg consumption per capita would stay the same, but population growth in the Sunbelt states is what would drive the demand for more eggs and revenue.
The price of eggs over the last few years has been an outlier, currently the CPI has the average price of eggs at $2.09 per dozen. This is the grocery store price of all eggs, both cage-free and conventional. Omitting the outlier of the last couple of years, the price of eggs over the last 30 years has risen 3.1% on average. Based on guidance from the 10-K, CALM is in the process of converting existing laying facilities to cage-free hen facilities. This ongoing strategy allowed the mix of specialty eggs to rise from 20% to 31% of shell-egg mix in 2022. Specialty eggs can sell for a premium and allows the company to build more of a competitive advantage as consumers become more conscious and educated of animal welfare and sustainability. There have been a few boom and bust cycles of prices, but for this valuation, the growth has been assumed steady along with operating margins.
Operating Margins
Operating profile of egg production largely depends on feed cost. Feed for hens is either corn meal or soybean and are subject to commodity pricing. At times of global phenomenon, producers are able to pass the prices on to consumers as the prices of eggs rise in tandem, but historically 50% of the costs are feed and the remaining costs of operating facilities and processing / packaging / warehousing make up the other half of costs. The 15-year average of CALM has operating ratios of 8.6% (omitting 2023 where margins were 30% due to a shortage), which I used as the long-term assumption. As grain prices and therefore COGS has been variable, there are periods where operating margins are near 0% and other years when business was good and margins were a healthy 10%.
Discount Rate
CALM has a 5Y market beta of -0.08 and zero long-term debt on its balance sheet. Using the CAPM formula, you would get a discount rate of less than the yield on a 10-year note, which does not make sense from a risk perspective. Instead, I started off with a cost of capital of the first quartile of farming / agriculture companies and tapering to the median of the industry. This is a conservative estimate, considering that the company carries no debt on the balance sheet to take advantage of interest tax shields. This decision in capital structure seems peculiar for an establish company in a mature industry, and could be an area to explore in order to optimize shareholder value.
Free cash flow to the firm after adding back depreciation, capex spending, and changes in working capital could also boil down to NOPAT minus reinvestment. The company reports depreciation between $58-$68M per year and invests in PPE. Forecasting the needs to grow their hen flock by 12% to supply eggs (48M by 2033) a company depreciation schedule of 15 to 25 years as reported in their 10K, the reinvestment rate should lead to a growth in the balance sheet assets approximately 30%. The change in NOPAT implies a marginal ROIC of approximately 15.5%, which is also in line with US industry averages.
Discounted Cash Flow Model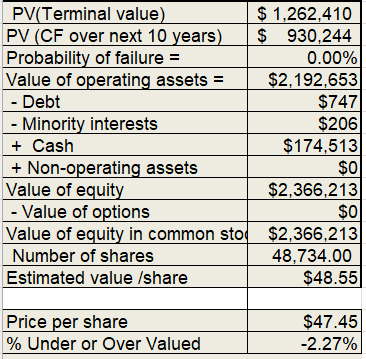 Risks
Two types of risks are inherent to this investment, as with all market investing: idiosyncratic and systematic. Idiosyncratic risks are those pertaining to the company, while systematic risks are market-wide (and there are limited shelters) from. One thing about a company that supplies 20% of the retail egg market is that the industry's problems are also somewhat the countries' national security and food problems. The risks outlined in the investor presentation are:
HAPI or highly pathogenic avian influenza which was first detected in the flock in February 2022
Boom and bust cycle of eggs. When egg prices are high, companies gear up to supply more eggs, leading to an oversupply and period of lower prices.
Protein consumption habits of consumers may change. Public sentiment regarding health effects of eggs (cholesterol concerns) could have some effect on consumption habits.
Feed costs range from 55%-62% of farm production costs over the last 5 years of the company. The chickens are fed on corn and soybean and while the feed is not imported, events such as the Russia-Ukraine conflict has sent waves through grain markets.
Bacteria contamination and pests affecting facilities and flocks. Outbreaks can happen and are tracked by the Food and Drug Administration (FDA). The companies regularly follow procedures and do their best, but such cases tend to spread and occasionally happen.
The main overarching idiosyncratic risk of the company not outlined in the report refers to corporate governance. CALM maintains a dual-class voting structure, where the voting power is centralized among the family of the late founder, Fred R. Adams, Jr., and Adolphus B. Baker, the Chief Executive. Since Fred passed way in 2020, the family consists of his widow, three daughters, and his son-in-law, Adolphus B. Baker. While this article will not be a manifesto about corporate governance, it is something to note that decisions for the company are made by the founding family – not the shareholders.
Conclusion
CALM is a leader in a relatively in-elastic product space whose main center of operations is in the Sunbelt States. The Sunbelt also happens to be the largest growth areas in the most prosperous countries on the planet. CALM will continue to sell shell eggs, both conventional and cage-free, to a growing population in both good economic times and gloomy. Based on my forecast of population growth and egg prices, I find the stock to be fairly priced at $48.55 per share. Given the limited upside potential driven by costs over revenue growth and a protected downside due to its product demand and geographic moat, I'll keep this stock as a hold or a soft buy for those looking to add a low-correlation egg stock to your basket of equities in an uncertain and nearing all-time high equity market.