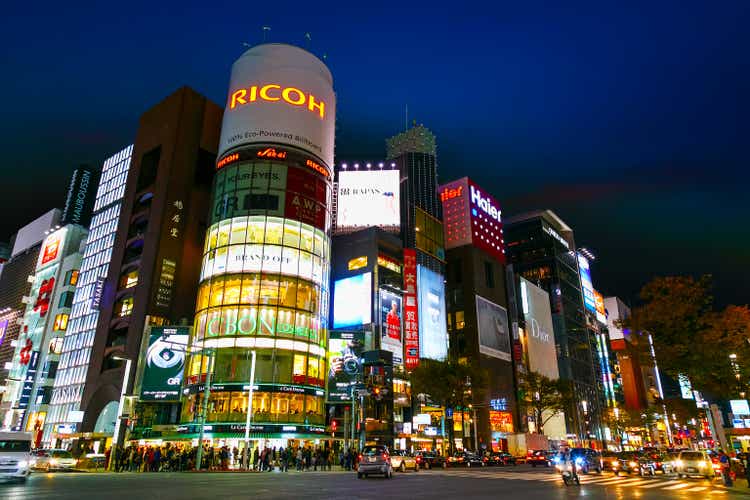 Investment thesis
We reiterate our neutral rating on Ricoh Company, Ltd.'s (OTCPK:RICOF, OTCPK:RICOY) shares. Management is navigating a steady course for the business as it continues to transform into a digital services business, but the low-return profile looks set to remain. Despite trading on PBR 0.7x, we believe the shares are fairly priced.
Quick primer
Established in 1936, Ricoh is an office printing and services business with a global footprint. In FY3/2022 40% of total sales were derived from Japan, followed by North America making up 25%. Its peers are Canon (OTCPK:CAJFF), Fujitsu (OTCPK:FJTSF, OTCPK:FJTSY), Toshiba (OTCPK:TOSBF, OTCPK:TOSYY), and Konica Minolta (OTCPK:KNCAF, OTCPK:KNCAY). Its customer base is focused on the small and medium-sized enterprise market.
Like all former office automation businesses, Ricoh aims to reinvent itself as an office digital services company providing software, networking, security, and digital transformation. Their expansive product portfolio includes automotive camera parts, factory automation, and the Pentax DLSR camera range.
Ricoh is unique, as it has been held by activist investor Effissimo Capital Management since 2015, with a top shareholding of 15.03% (page 89). The fund does not have a seat on the board of directors.
Key financials with consensus forecasts
Sales split by core business segments – Q1 FY3/2024
OP split by core business segments – Q1 FY3/2024
Updating our view
We updated our view on Ricoh following our initial assessment from October 2022, where we rated the shares as neutral. We want to see the progress being made by the company regarding business transformation, as well as any indication that valuations are truly in 'value' territory with PBR at 0.7x, or whether the shares are a value trap.
Q1 FY3/2024 results in line with expectations
Sales and earnings grew in line with company expectations for Q1 FY3/2024. Despite a robust sales growth profile of 16.4% YoY, under constant currency growth drops to 12.0% YoY, and performance did benefit from low hurdles YoY as supply chain problems persisted in the prior period stemming from the lockdown impact in China as well as a newly consolidated group company (called PFU which was added back in September 2022). Operating profit grew 5.7% YoY, with profitability falling YoY as the company spent on business growth investment costs, as well as experiencing general price inflation. The company has maintained guidance for FY3/2024 with targets of 5.4% sales growth YoY and a decline of 11.1% YoY for OP; although still early days, Q1 optics look relatively favorable, especially as FY assumptions for USD/JPY is 128.08 (currently at 145, 13% above current plan), and EUR/JPY is 138.63 (page 5) (currently at 158, 14% above current plan). Ricoh derived 64% of Q1 FY3/2024 sales overseas, with 29% from the Americas and 28% from Europe, the Middle East, and Africa – so a depreciating yen is a positive.
Looking at consensus forecasts (see Key financials table above), we note that the market is expecting only 4% of sales growth, but 22.7% operating profit growth. This would mean that expectations for double-digit earnings growth are already baked into the price. The demand for digital transformation technologies remains in place on a global basis, and Ricoh is meeting these with its paperless technology offerings such as DocuWare (a document management SaaS) as well as increasing its services activities – this does come at a slight cost as these endeavors are in part substituting its legacy multi-functional printer business.
Profitability remains a problem
Despite definitive progress as Ricoh shifts away from legacy printing operations, the business remains low-return, with operating margins below 5%. The direction of travel is positive, but unless OP growth in excess of 10% YoY can be achieved, we feel that this is indicative of a business with a limited runway for growth.
As the company transforms, there is a greater need for innovation, which drives demand for its products and services. This in turn should make Ricoh's brand more powerful and result in greater pricing power. One way to assess this is by looking at the return on invested capital (or ROIC), as this helps assess how management is allocating its capital both effectively and efficiently to drive returns. Here, Ricoh is problematic, as FY3/2023 was at 4.5% which is lower than the company's target of 6.5% (page 26) and arguably below the company's cost of capital which we estimate to be around at least 7%. What this means is that although the company is currently profitable and free cash flow generative, its future is less positive given its investment into underperforming operations and potential value destruction.
Valuation
A business model with limited potential to increase returns will have discounted valuations. Ricoh has a solid balance sheet and is free cash flow generative. However, where excess capital is being allocated does not appear to be solving the core issue of how to raise growth prospects for the longer term. The company has a 50% dividend payout ratio, but a prospective yield of 3.2% is not highly attractive. The shares are trading at 0.7x book value, but we feel this is fair value.
Risks
There are some upside risks to the shares. Major depreciation of the Japanese yen will be a tailwind for short-term earnings. This should lead to an upward revision to company guidance, which should be positive for the share price. Management could also start allocating more capital to shareholder returns, as it becomes more clear that the business in its current guise has limited opportunities to generate growth.
Downside risk stems from a sudden reversal as the Japanese yen starts to strengthen. There are also possibilities that management begins to take greater risks in order to generate growth, such as business diversification to new areas with low or limited experience, and participating in large-scale and expensive M&A activity.
Conclusion
The shares have remained relatively flat over the last 12 months. Whilst management is navigating a steady course for the business, we believe there is limited upside for the shares given the limitations the business model has over changing its low-return profile. We reiterate our neutral rating.
Editor's Note: This article discusses one or more securities that do not trade on a major U.S. exchange. Please be aware of the risks associated with these stocks.