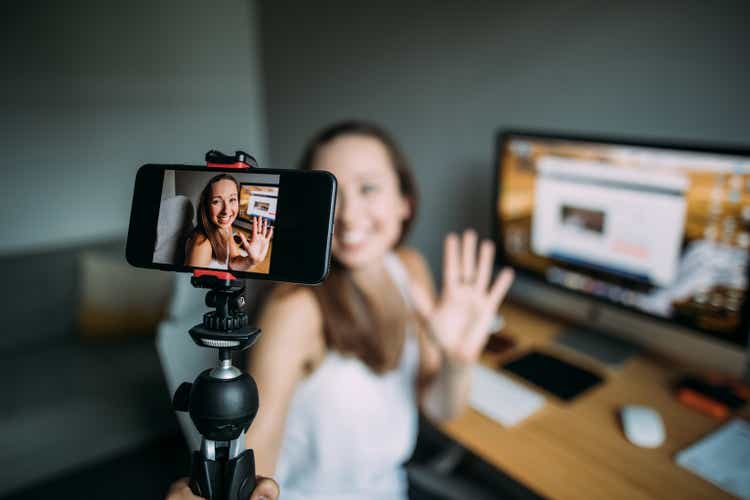 Brightcove Inc. (NASDAQ:BCOV), a leading provider of video and streaming solutions, finds itself at a critical juncture as the industry navigates the post-pandemic landscape. With major media giants commanding a significant share of the market, BCOV is carving a niche among second-tier companies seeking advanced, cost-effective, and reliable services. Here I will share my thoughts on why it can be a good business to own.
Business update
BCOV's Q2 2023 could be better. It reported a Q2 revenue of $51.0M, marking a 6% year-over-year decline, narrowly surpassing the consensus forecast of $50.6M. This decrease in revenue resulted from reduced subscription income and fewer overage charges. Subscription and support revenue amounted to $49.0M, a drop from $53.0M in Q2'22, and services revenue reached $2.0M, falling short of the expected $2.3M. Encouragingly, the gross margin improved to 65.5% from 60.4% in Q1'23, leading to an AEBITDA margin of 7.0%-an outperformance compared to the projected 5.1%-thanks to the better-than-anticipated gross margin.
BCOV is facing issues with renewals but only in the short term
The revenue decline for BCOV is a concerning signal, particularly as the company continues to heavily invest in R&D and sales, with growth being a major theme for investors. One crucial metric for BCOV is overages, which can directly contribute to add-ons and expansions upon renewal. BCOV faces headwinds in this aspect, as elucidated by management.
the slowing rate of usage growth in the streaming market and the increased capacity purchased by many customers during COVID, has led to lower overages and an increase in flat to down renewals and fewer add-on increases in entitlement spending. Since add-on bookings are historically a sizable majority of our bookings.
We can see BCOV is still grappling with the lingering effects of COVID, a situation that may persist for another two quarters. Short-term investors may shy away from this option, especially given the absence of immediate improvements. However, I think this should be a short-term issue given that the amount of video content of BCOV will only grow. More BCOV storage will be needed in the future.
Stability of enterprise subscriptions and the exemplary effect of Yahoo
Positive developments for BCOV include the confirmation of a significant win in Q1 with Yahoo, resulting in a multiyear eight-figure contract. As Yahoo is a reputable company known for its rapid media content production, this partnership stands as a strong endorsement of BCOV's capabilities in customizing workflows, reducing costs, and enhancing engagement. The addition of the NHL also presents a vast opportunity for BCOV to become a leader in the sports market and attract other leagues. Additional wins in the second quarter, including Yes TV, The Metropolitan Opera, HP, Macy's, Cricket Australia, and Palo Alto Networks, underscore BCOV's momentum.
Recognition from IDC and Aragon Research further bolsters BCOV's standing in the enterprise streaming market, and these accolades should aid in promoting its technology moving forward.
From a financial perspective, the company's total backlog has grown by 16% Y/Y to $176.7M, while ARPU, excluding overages, has increased to nearly $93,000, compared to approximately $91,000 in Q2 of 2022. These figures reflect the success of the management's strategy to prioritize large enterprise clients, demonstrating an optimistic outlook for the company's future.
Market space is limited, but BCOV is still in the early stage
While video and streaming solutions are well-established, with industry giants like YouTube, Netflix, Hulu, and Amazon dominating the market, there exists a significant opportunity for providers catering to second-tier companies. BCOV is well-positioned to integrate its solutions into the workflows of large enterprises, offering cost-saving measures and creating a highly sticky business model if executed effectively. According to CEO Debvoise, out of roughly 100 target customers globally, BCOV currently engages about 20. The addition of Yahoo to their client roster may herald further growth in their customer list. With the media industry becoming increasingly competitive, there is a growing trend among enterprises to outsource media solutions to specialized providers that offer advanced, economical, and reliable services, further underlining BCOV's potential in the market.
Insider Buying and Selling at Brightcove
Since the downturn in February 2021, BCOV has seen strong insider buying continuing to the present (no sellers). During this time, CEO Marc Debevoise acquired 70k shares at an average price of $3.5, costing $0.25M, while Edenbrook Capital, LLC (an activist investor), accounted for over 90% of insider purchases, totaling 1.76M shares at a cost of $10.9M, with an average purchase price of $6.24. Currently, insider and hedge fund managers own 40.5% of the total share count. While insider buying doesn't causally indicate future business performance, consistent long-term buying from those who know the business intimately adds credibility to the bullish case, or at the very least, underscores their confidence in the company's prospects.
Bottom Line
BCOV is navigating through short-term challenges, but it is positioned to benefit from clear long-term trends. Unlike media giants such as YouTube, Netflix, and Amazon, BCOV's unique strategies enable them to work with clients who are often in competition with these platforms. The absence of long-term debt enhances the company's resilience in downturns, although share dilution is a concern to monitor. Positive free cash flow, however, should allow for future buyback capabilities. Key risks include an uncontrolled churn rate, a potential failure in up-sell strategies, and possible setbacks in future machine learning and monetization functions. Furthermore, a decline in revenue per employee to its lowest level since 2014 indicates a need for management to boost labor productivity. This mixed outlook paints a nuanced picture, highlighting both the opportunities and challenges that lie ahead for BCOV.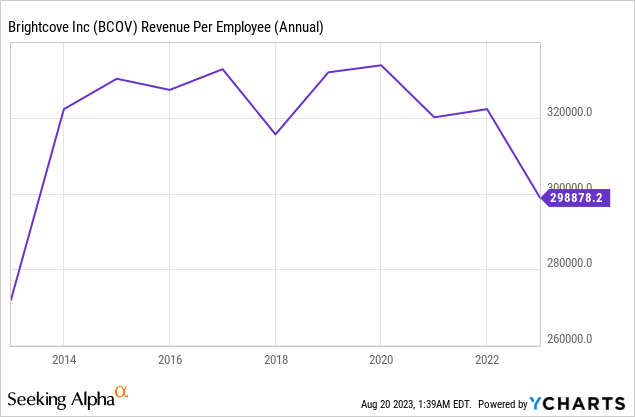 Looking ahead, BCOV's revenue guidance for 2023 stands at $201M-$203M, marking a 4% year-over-year decrease from the midpoint, and AEBITDA is expected to range between $11M-$13M. With a current enterprise value of $175M, BCOV's EV/Sales ratio is approximately 0.8x, and the price/cash flow multiple is at 11.91x. These valuations appear to be quite low, especially considering BCOV's role as a provider for many expanding media companies. This offers an intriguing perspective for potential investors, reflecting an opportunity that might be undervalued.