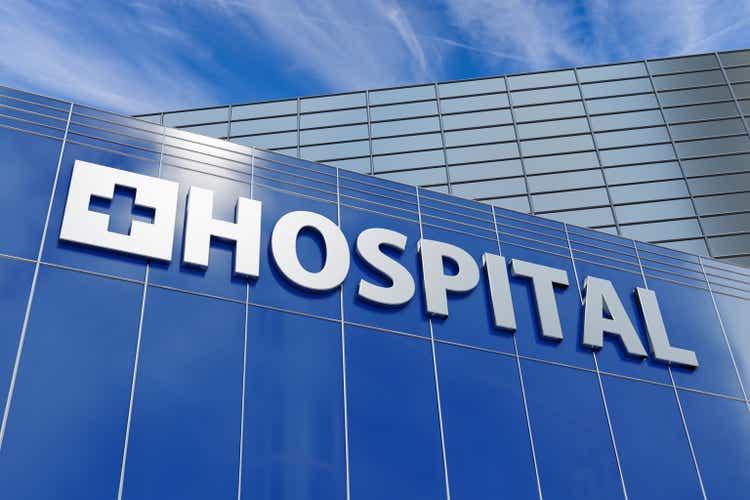 Shares of Medical Properties Trust (NYSE:MPW) slid more than 12% on Friday after it was reported that a deal between the health care REIT and one of its tenants, Prospect Medical, was held up by a California regulator. Medical Properties restructured its relationship with its tenant back in May when the REIT responded to payment challenges on the part of its tenant by offering a recapitalization package. The deal is subject to regulatory approval and the setback signaled to investors that the REIT might cut its dividend… which MPW just did. The resulting uncertainty has pushed Medical Properties' yield to almost 17% (9% post-dividend cut). Given the extremely low valuation of Medical Properties based off of normalized FFO, I believe that the market is overly pessimistic and that the dividend cut has already been fully priced into the REIT's valuation.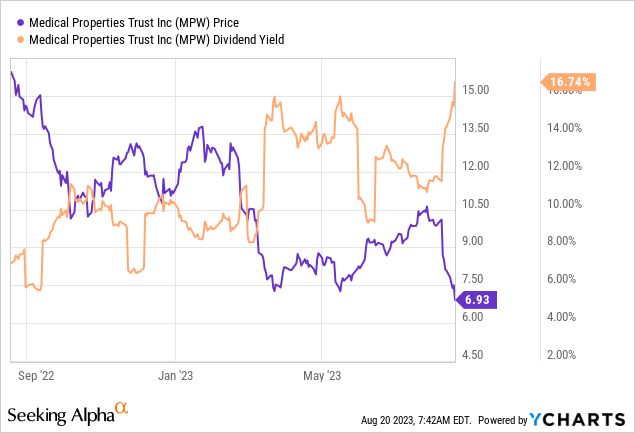 Recent market turmoil and restructuring related to Prospect Medical
Shares of Medical Properties crashed on Friday after a Wall Street Journal report said that the hospital REIT could run into trouble with its recapitalization deal it struck with one of its core tenants, Prospect Medical, in May that restructured the relationship between the tenant and the hospital landlord.
Given liquidity problems for Prospect Medical, Medical Properties agreed in May to take an equity position in its struggling tenant in exchange for deferred rents, allowing the health care REIT, potentially, to later sell its equity portion in the restructured managed care business. The purpose of the recapitalization deal was to bail out its struggling tenant, which accounts for a significant revenue share, and take pressure off of Prospect Medical's cash flow while also allowing Medical Properties an equity exit in the future.
Prospect Medical is an important tenant for MPW and it accounted for 20.3% of revenues in the second-quarter. What has driven concerns about the WSJ report was that Medical Properties didn't disclose this fact in its Q2 earnings sheet… which added to considerable selling pressure on Friday. However, the health care REIT made its own statement on its website in response to the WSJ report and stated that the "California Department of Managed Health Care's hold [on the transaction] is a non-controversial part of the approval process." Medical Properties also clarified that it expects to receive ultimately approval from the California state regulator.
The report from the Wall Street Journal strongly affected market sentiment and caused MPW to drop by more than 12% at some point, before shares recovering towards the end of the trading day. Nonetheless, investors went into a full-blown panic and drove Medical Properties' share price to a new 1-year low.
Current transaction troubles are to be seen in context of already existing dividend fears
Investors have been fearful of a dividend cut for a while, which has been expressed in the REIT's high dividend yield. The REIT just announced that it cut its dividend to $0.15 per-share quarterly, showing a 48% downside adjustment.
In the second-quarter earnings release, the health care REIT narrowed its guidance for its FY 2023 normalized funds from operations from $1.50-1.61 per-share (Q1 guidance) to $1.53-1.57 per-share (Q2 guidance). The outlook itself has not been affected by the recapitalization deal, and the REIT is set to easily cover its dividend with normalized funds from operations this year. The new dividend payout, annualized, is $0.60 per-share and MPW is going to use the cash it freed up to reduce its leverage. By redirecting cash flow to its balance sheet and to the repayment of debt, Medical Properties has the potential to recover some of the losses it sustained in the last year, in my opinion.
All the bad news is priced in, very attractive NFFO multiplier
I am not invested in Medical Properties for reasons of securing a dividend. The real upside here is in the REIT's operating portfolio… which investors can buy into at a ridiculously low NFFO multiplier factor at the moment.
Shares of MPW traded at $6.93 on Friday and assuming the mid-point of guidance for normalized funds from operations, $1.55 per-share, shares of the REIT are valued at a ridiculous 4.5X NFFO. So even in the case that the REIT were to lose its equity deal with Prospect Medical and was forced to work out another restructuring arrangement, MPW would still be an enormously cheap bargain on a cash flow basis.
Medical Properties earns a significant sum of cash flow/funds from operations each quarter and with more than $324M in cash as of June 30, 2023, I believe all the bad news that could come out of the current restructuring deal are already priced into MPW's shares.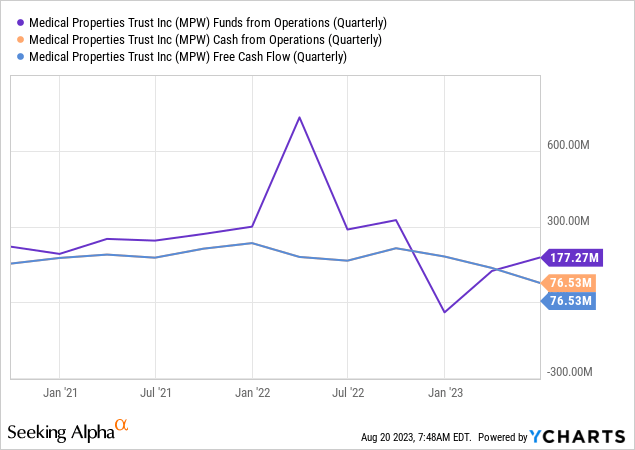 Risks with Medical Properties
It is self-explanatory that an investment in Medical Properties at this time of the restructuring has certain risks (the transaction with Prospect Medical may fall through, the dividend may get cut), but as I said previously, these concerns have already been fully priced into Medical Properties' valuation, in my opinion. As a hospital landlord, MPW operates in a recession-resistant part of the economy and has very little macro risks. The biggest risk, in the short term, was the dividend cut.
Closing thoughts
To me, Medical Properties looks like a very attractive speculative buy, since shares have slumped on Friday on overblown concerns about the deal with Prospect Medical being held up by a California regulator. The dividend is now cut in half, but the market already expected this.
While Medical Properties may be deeply out of favor with dividend investors, the health care REIT actually supports its new dividend with NFFO and the valuation is so cheap in terms of normalized funds from operations, that the worst news are likely already fully reflected into MPW's valuation. I believe investors are overreacting to the news, and I believe MPW has very attractive recovery potential over the next 12 months as the REIT works through its restructuring and uses excess cash flow to pay down its debt!