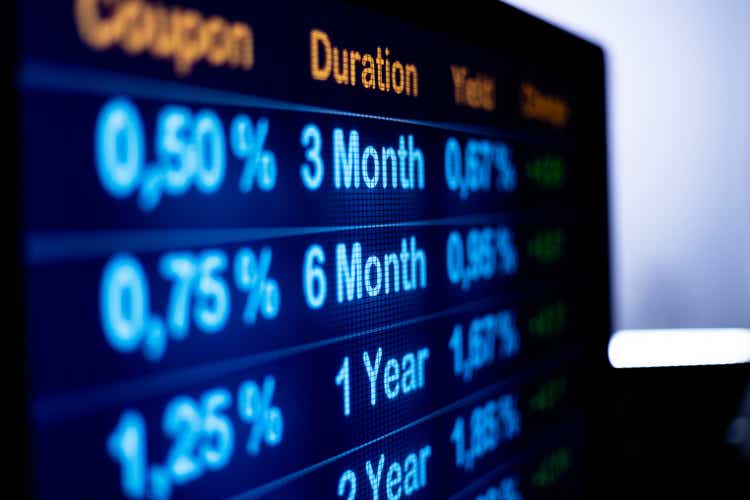 Investment Thesis
The SPDR Portfolio TIPS ETF (NYSEARCA:SPIP) has declined by over 20% since the start of the bond bear market in late 2021. As a result, SPIP now trades at 2010 levels after the rapid inflation resurgence in 2021-2022. Sentiment in the Treasury space remains pessimistic due to heavy losses since early 2022 for the bulls. The main question is the future inflation path, impacting TIPS values, and the broader bond market as a whole. Inflation swaps are pointing towards decreased near-term inflation expectations, while long-term expectations remain well anchored at 2.7%. While the recent CPI and PCE prints are confirming the noticeable slowdown experienced in the PPI data, there is still ground to cover, and I believe inflation will trend lower from current levels. Declining inflation and slower economic growth make SPIP an appealing buy at the moment.
About SPIP
SPIP is an exchange-traded fund that focuses on providing investors exposure to U.S. Treasury Inflation-Protected Securities [TIPS]. The fund's primary investment objective is to track the performance of the Bloomberg U.S. Government Inflation-Linked Bond Index.
The ETF holds a diversified portfolio of TIPS across various maturities. By investing in these inflation-protected securities, SPIP seeks to provide a real rate of return above inflation over time, making it an attractive option at the moment for those with a view that inflation is likely to slow down. Investors can also incorporate SPIP into their portfolio as a defensive allocation, particularly during periods of economic uncertainty.
Furthermore, SPIP can serve as a diversification tool, complementing other asset classes, such as equities and non-inflation-protected bonds. Its low correlation to traditional stocks and bonds may help reduce overall portfolio volatility and enhance risk-adjusted returns.
In my opinion, SPIP is a compelling option among the range of Treasury Inflation-Protected Securities ETFs with medium-term duration available in the market. With a low expense ratio, it minimizes the drag of fees on investor returns, making it an attractive choice for cost-conscious investors looking to optimize their investment expenses. SPIP charges a gross expense ratio of 0.12% versus 0.19% for the iShares TIPS Bond ETF (TIP). Additionally, SPIP provides some extra duration compared to some short-term TIPS ETFs like the Vanguard Short-Term Inflation-Protected Securities ETF (VTIP) which, although cheaper with an expense ratio of 0.04%, has a maximum duration of 3.
For further details on SPIP, read the fund's prospectus.
A Bullish Perspective On SPIP
With TIPS down as much as 20%, I think it's a favorable moment for investors to take a closer look at SPIP. This fund stands to benefit from cooling inflation and the onset of a more moderate economic growth period. Currently, SPIP is trading at levels similar to 2010, following a rapid inflation resurgence in 2021 and 2022. On top of that, sentiment in the Treasury space remains pessimistic as the bulls faced heavy losses since early 2022.
Given that SPIP is at its lowest level in the past decade, the primary question for investors is related to the future path of inflation, which will ultimately impact TIPS values. The swaps market, which serves as a reliable indicator of future inflation expectations, has shown a clear decrease in near-term inflation expectations, while longer-term expectations remain anchored at around 2.7%. Interestingly, 2023 marks the first year since the TIPS bear market's beginning when short-term inflation swaps have fallen below long-term swaps, reverting to the pre-2021 norm that lasted for over a decade.
Furthermore, I find the PPI (Producer Price Index) to be one of the best metrics for forecasting the future trajectory of the CPI (Consumer Price Index). Across various PPI metrics, there's a noticeable slowdown in inflation, which I believe will ultimately have a positive impact on TIPS once the PPI data reflects in both the CPI and PCE (Personal Consumption Expenditures). YoY PPI last reported 0.8%, typically leading the CPI by 3-9 months. Moreover, as we are closer to the end of the hiking cycle than the beginning, there's a possibility, though not a certainty, of a 25 basis points hike. As we are closely approaching or already are at the last cycle for this cycle, this should contribute to less volatile bond markets as inflation cools off simultaneously.
The only caveat to my thesis is the price of commodities, which has displayed strong momentum in recent weeks. The Bloomberg Commodity Index, primarily led by the performance of oil, has broken an important negative trend line. While I anticipate lower lows for commodities, especially gold, in the coming months, it's essential to note that volatility in this space persists, which may translate into inflation volatility going forward. Many factors such as a stronger-than-expected economy and geopolitical issues could be the perfect catalysts that could add fuel to the fire.
Overall, I believe that SPIP is an attractive buy at its current levels. The combination of declining inflation and slower economic growth will prove beneficial for TIPS in the future. Additionally, the prevailing negative sentiment in the Treasury space might be an indicator that we are approaching a capitulation point for the Bulls, making it an opportune time to add some TIPS exposure.
Key Takeaways
Since the onset of the bond bear market in late 2021, SPIP has suffered a considerable decline, resulting in its current trading levels comparable to 2010. A critical concern revolves around the future trajectory of inflation, impacting both TIPS values and the broader bond market. Inflation swaps indicate a decrease in near-term inflation expectations, while long-term expectations remain firmly anchored at 2.7%. Although recent PPI, CPI, and PCE data confirm a noticeable slowdown, I anticipate a further reduction in inflation from its current levels. Given this scenario of declining inflation and slower economic growth, SPIP emerges as an attractive investment choice.