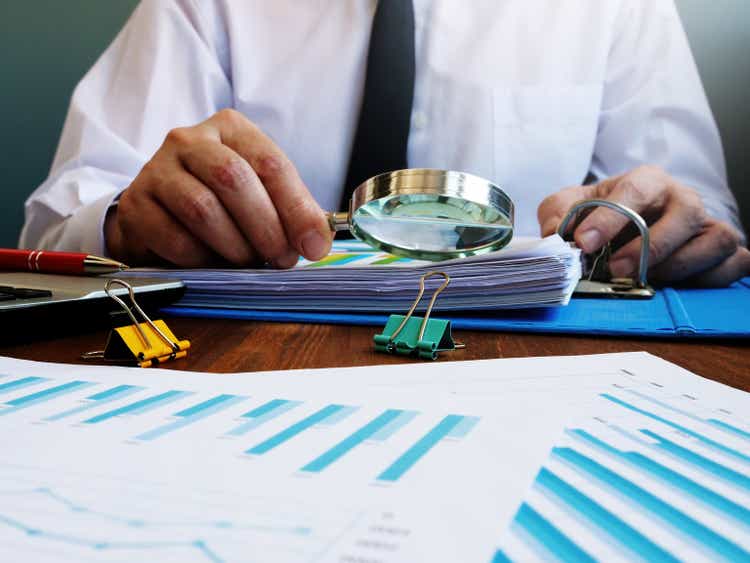 Despite the recent rally, WesBanco (NASDAQ:WSBC) remains an undervalued bank based on its equity. Suffice it to say that the Price/Book Value is only 0.67x, while the industry median is 1.04x.
Significant exposure to CRE loans certainly weighs on this divergence, but based on the latest quarterly report, I do not think there have been any troubling signs that would justify the current valuation.
NIM analysis
As we know, the core business of banks is to borrow money in order to invest it in profitable activities such as providing a mortgage. The optimal situation arises when borrowing costs are lower than the yield on invested capital, and consequently the NIM benefits. But this is not always possible, especially when the yield curve is inverted and money market rates are extremely interesting for depositors.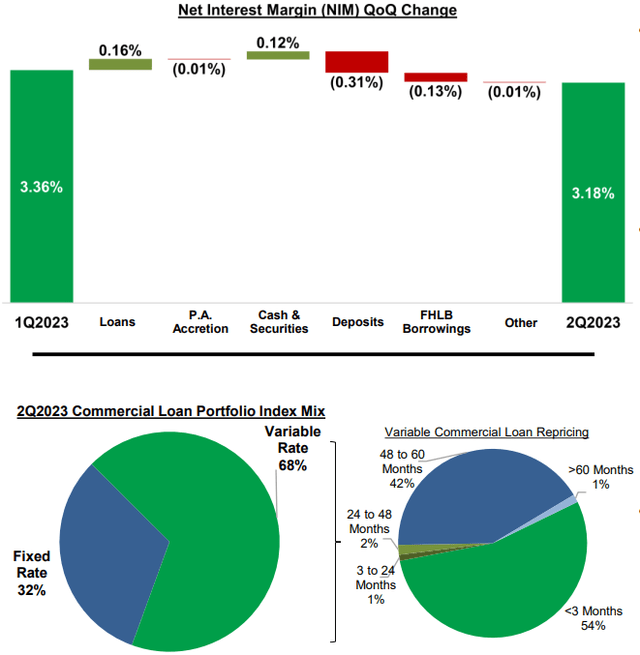 To date, in order to retain their customers, banks are forced to increase the yield on their deposits, and this negatively affects profitability. Certainly, the yield on loans provided also increases, but as we can see in this image, WesBanco has not been able with the latter to offset the increase in the cost of deposits.
Loans positively affected the NIM by 0.16 percent; but the rising cost of deposits negatively affected it by 0.31 percent. The overall result was NIM was down by 18 bps. But how long will this deterioration continue?
Predicting it with certainty is impossible since it depends mainly on the Fed's monetary policy decisions. It is clear that in the event of further increases, the pressure on the cost of deposits would not cease. In any case, based on market expectations, it is unlikely that the Fed Funds Rate will increase much more than where it is now. Inflation is falling and at least for the moment the greater concern is not figuring out what the peak in interest rates will be, but how long they will remain that high.
According to the words of COO Jeff Jackson, WesBanco has discounted two more interest rate hikes in its models, and in Q3 2023 a decline in NIM similar to that seen in this quarterly report is expected. From Q4 2023 the NIM is expected to flatten out and maintain some stability before gradually increasing.
So, if the estimates are correct, we could expect NIM at 3% in Q3 2023, no deterioration in Q4 2023, and a gradual increase around mid-2024.
Deposit analysis
WesBanco, as well as almost all banks, is struggling both to increase its deposits and to keep their cost low. Depositors are aware that current money market rates can provide a great return on their cash, so they have an incentive to invest some of it. Others, however, prefer to remain in the WesBanco ecosystem and simply transfer their cash into deposits that guarantee interest.

Since last year, deposits have decreased by $841 million and only 30 percent of them are uninsured. In addition, of this $841 million, much of it is represented by the non-interest-bearing deposits category, down $333 million. The cost of total interest-bearing liabilities now stands at 2.15% while last year it was only 0.26%; 189 bps higher.
In Q1 2023 the percentage of non-interest-bearing deposits to total deposits was 35%, in Q2 2023 it was 33%, and by the end of the year it may drop to 30%. WesBanco expects that the migration to higher-yielding deposits will continue, at least until the Fed reverses its monetary policy.
Finally, since deposits are struggling to grow, WesBanco will continue to rely on FHLB borrowings whenever it needs additional liquidity. Currently, the average rate on the latter is 5.20 percent, higher than the average yield on interest earning assets.
Loan growth
Since the cost of borrowing has risen sharply compared to last year, it is inevitable that both households and businesses are less likely to take on debt. As a result, loan growth is unlikely to match that in the past.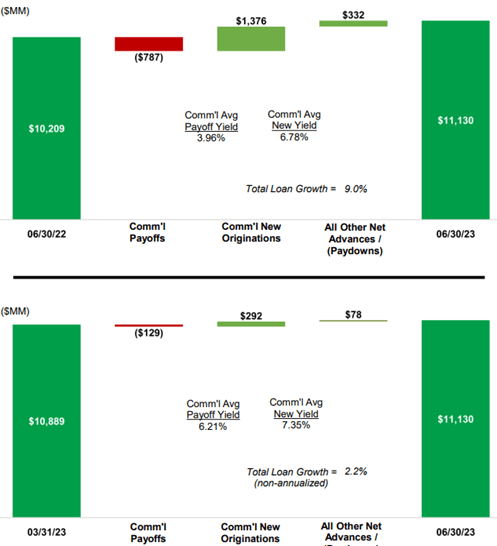 On a year-over-year basis there was growth of 9%; exposure to CRE loans remains high, about 56% of total loans. The latter are expected to grow, especially in Maryland and Ohio.
The current LTD ratio is about 85% but, according to Jeff Jackson's statements, it is likely that WesBanco could go further to just over 90% to fuel loan growth. An even higher level cannot be ruled out if the bank finds deals it deems agreeable.
In short, it appears that WesBanco still has room for growth in its lending, and much of it will be financed by cash flows from the investment portfolio.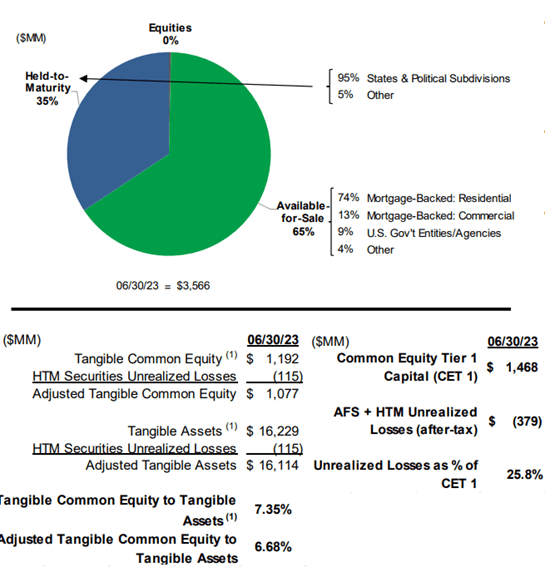 Each quarter this portfolio generates about $100 million in cash inflows and will finance new loans rather than purchase new securities. As of today, unrealized losses represent 25.80% of CET1, which is quite high but will probably tend to decrease over time. Retained earnings will increase CET1, while unrealized losses will gradually decrease as the securities in the portfolio mature. If the Fed reduced interest rates earlier than expected, this process would accelerate.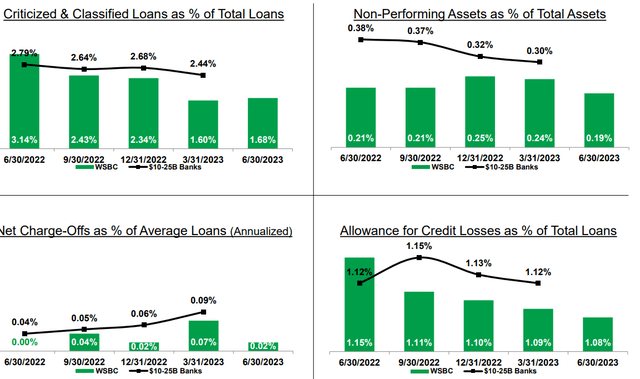 Finally, I have previously pointed out that more than half of the portfolio consists of CRE loans. The latter are seen as the most fragile in the event of a recession, but at the moment there are no signs of concern despite a complicated macroeconomic environment. On the contrary, the main indicators of financial strength signal an improvement over last quarter and significantly better results than peers.
Conclusion
WesBanco is a bank that is facing a challenging period derived from the NIM contraction. Deposits are getting more expensive, making bank funding significantly more complex than last year. In any case, these issues plague the entire banking industry.
The high exposure to CRE loans, in my view, justifies a Price/ Book Value below the median of peers, but perhaps not so low after all. At the moment WesBanco's loans show no signs of weakness and net interest margin is expected to be around 3% at worst; not such a bad outcome.
Obviously in the event of a recession the narrative would change dramatically, but this does not only affect WesBanco but the entire stock market. Under current market conditions and based on a Price/Book Value of only 0.67x, I believe this bank is trading at an excessively low level compared to peers, which is why my rating is a buy for the short to medium term.