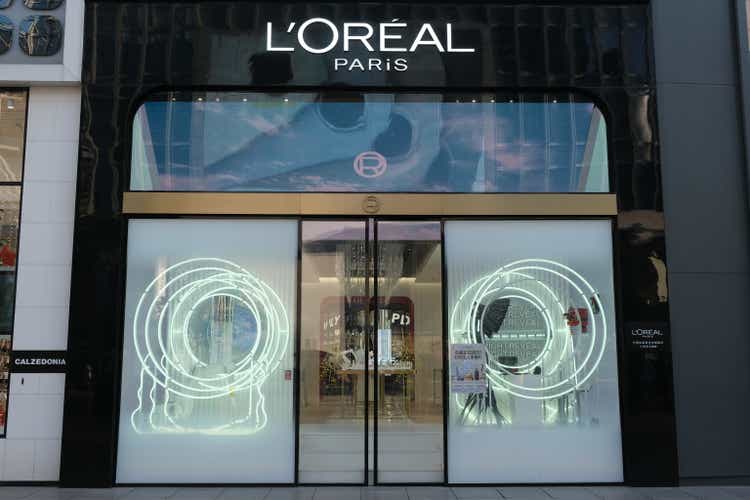 When I wrote about the French cosmetics giant L'Oreal (OTCPK:LRLCY) in October last year, it was clear that its price can rise further. And it hasn't disappointed. Since then, it's up by a massive 41%, prompting another look at it to asses if there's indeed steam left in the stock.
Looking back, to look forward
At the time there were three key reasons supporting LRLCY's performance:
The company's reported sales growth had been exceptional for the first nine months of 2022 (9M 2022) compared to historical standards, at 20.5% year-on-year (YoY). Its well-diversified geographical presence was a significant support to this end, which kept sales strong even as demand from China was weak on COVID-19 restrictions.
The operating margin, at 20.4% for the first half of 2022 (H1 2022) was strong and strengthening. This trend was particularly supported by its

big income-generating division, Luxe.

The company's price-to-earnings (P/E) ratio at 30.7x wasn't the lowest by any stretch, but it was still fairly competitive compared to peers and in relation to its own historical ratio.
Since then, L'Oreal has released its results for the full year 2022, which continued to show financial strength in itself. However, reported revenue growth slowed down a bit to 18.5% YoY, compared to 9M 2022, as did the margin to 19.5%, from H1 2022. EPS growth was notable at 27.6%, though in line with the other numbers, it to slowed down from 30.8% in H1 2022.
It's in the context of these past numbers that I now look at L'Oreal.
Sales growth softens on exchange rate effect
We now have numbers up to H1 2023, which show softening in reported sales growth to 12%. This is an 8.5 percentage point drop since the last I checked and 6.5 percentage points from the full year 2022. However, this obscures underlying demand trends because of the currency impact. In H1 2023, the company witnessed a negative exchange rate effect of 2.4%, compared to a positive currency impact of 8.1% for 9M 2022 and a 7.2% impact for 2022.
Also, consider like-for-like sales growth. Since this growth is based on comparables and estimated at constant exchange rates, it's a better indicator of demand. This number has actually picked up to 13.3% compared to 12% for 9M 2022 and 10.9% for 2022.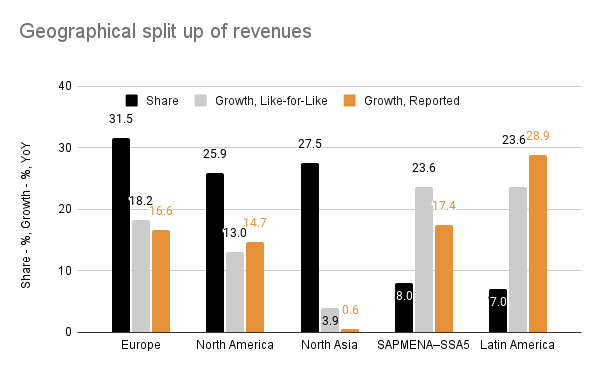 Its biggest market, Europe, supported overall sales growth, as did North American sales. Sales were also strong in its smaller markets of SAP MENA and Latin America.
But the real shocker here is North Asia. A revival of demand in China following the lifting of COVID-19 restrictions there has supported growth for companies from consumer staples to luxury goods. But not for L'Oreal, with growth for the region at just 3.9% in H1 2023. This is worth bearing in mind, as US demand could well slow down further into the next year. And if North Asia doesn't pick up, it could drag overall growth down for the company.
Margin expansion
The company's operating margin came in at 20.7%, up 30 basis points from 20.4% in H1 2022 and 19.5% for 2022, which is in line with a broader trend of expanding margins across companies, as producer price inflation comes off faster than consumer price inflation. In a continued encouraging sign, the margin was firm across product categories.
In particular, I like that Luxe, of brands like Lancome and Urban Decay, has reported a 23.2% margin. This is a slight decline from the 24% seen in H1 last year but it's still strong and is in fact the second-highest margin among all divisions. It's next only to Dermatological Beauty, which was earlier called Active Products, which has a 25.4% margin. Considering that Luxe has the biggest share in operating profit, a sustained margin from it is encouraging.
Outlook positive
The company doesn't provide any numerical guidance but is optimistic about its performance in 2023. It's worth noting though, that analysts put 2023 revenue growth at 9.6%, which means we can expect significantly lower growth in H2 2023 compared to H1 2023.
On the other hand, they are upbeat on EPS growth, which is expected to come in at 16.4%. This suggests that we can look forward to a significant increase in H2 2023 over the 11.2% rise seen in H1 2023.
P/E ratio is still competitive
Despite robust EPS estimates, the company's non-GAAP forward P/E ratio is at an elevated 30.8x. Its trailing twelve months [TTM] GAAP P/E too, is at 30.7x. But there are a few points worth noting. First, its TTM GAAP P/E remains unchanged from the last time I checked. Second, it's lower than its average P/E over the past five years of 40.6x. In fact, even its forward P/E is lower than 33.6x for the past five years.
Third, its TTM P/E is closer to the lowest value it has seen over the last five years, of 28.4x the average level. Finally, it compares positively to its peers, which includes the likes of Estee Lauder (EL) and Coty (COTY), with the lowest P/E of the lot.
What next?
Broadly, there's little that has changed in the L'Oreal story since last October. Its reported sales growth might have come off from last year, but its like-for-like sales numbers, which exclude the effect of currency fluctuations, are actually improved. The company's margins continue to expand, in line with trends seen across consumer goods companies recently too.
Its revenue growth is expected to slow down in 2023 anyway, but it will still be marginally higher than the past five years' average of 9.3%. Similarly, EPS growth is expected to come in way higher than the past average of 9.9%. L'Oreal's market valuations aren't low at all, but compared to both its own past levels and its peers, it looks like there is a continued case for a price rise here. I'm reiterating a Buy on it.
Editor's Note: This article discusses one or more securities that do not trade on a major U.S. exchange. Please be aware of the risks associated with these stocks.