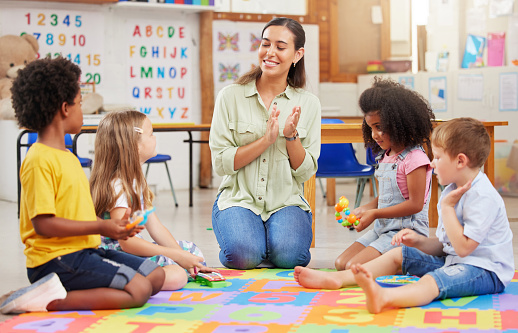 Investment Thesis
Bright Horizons Family Solutions (NYSE:BFAM) is one of the largest providers of day care services in the US with ~70% of revenues coming within the country. It had a strong track record of organic growth mixed with acquisitions with COVID significantly hampering its core full service day care service segment. We remain positive on the strides taken by the company within backup care (which has grown at low-20s) and education advisory segment. However, the near term fundamentals appear challenging and despite it trading lower than its long term average, we believe the discount is warranted given the near term headwinds to the overall demand environment within its full service segment. Initiate at Neutral.
Company Background
BFAM is a leading provider of early education and childcare services operating 1,000+ early education and child care centers spread across the US, the UK, Netherlands, Australia and India with capacity of serving 120,000 children and families. It also offers family care, workforce education, backup care and educational advisory serving over 1,400 employers across a wide range of industries.
Historical Track Record
BFAM has a strong track record of growth over the decade with revenue CAGR of 5% which had been skewed on the downside as a result of COVID led disruption as work from home did not necessitate parents to send their children to day care centers. However, excluding the COVID impact, the firm has shown resilient growth with revenues increasing by about 9% CAGR with operating margins in low teens during the pre-covid times. It focused on growing its backup care and education advisory services which has seen double digit revenue growth and higher margins, albeit with a smaller base. In addition, it has not been able to fully recover its full service segment as work from home and hybrid work continue to impact its legacy business as more parents or at least one parent is spending their time at home during the day.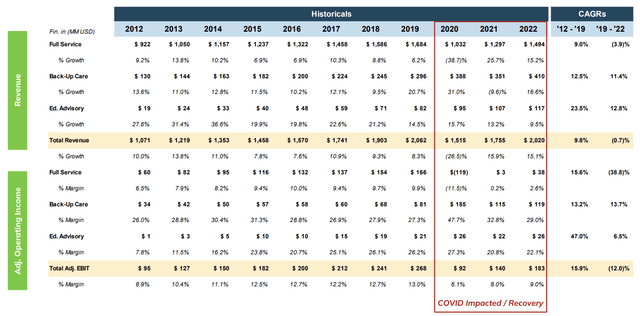 Strong Earnings But Cautious Outlook
BFAM reported strong Q2 results topping consensus expectations marginally with revenues increasing 23% YoY driven by strong growth in enrollment, particularly in the US (up 10%) leading to an increasing occupancy (overall occupancy for the quarter over 60% vs 55-60% previously) as well as pricing actions across the centers. In addition, the increase of day care centers (75) in Australia (Only About Children acquisition which was completed) contributed 8% to the total growth along with improvements in utilization of education advisory (up 4%) and backup care services (up 27%). Gross margins came in at 22.6%, down 360 bps YoY, as a result of input cost inflation not following with the tuition growth along with the end of ARPA benefits that was started during COVID-19. Adj. EBITDA margin came in at 13.6%, down 340 bps, as lower gross margins from day care centers were partially offset by improvements in utilization of education advisory and backup services. Adj. EPS came in at $0.64 beating analyst expectation at $0.61, down 10% YoY.
Balance sheet position remains strong having ended with $66 mn in cash along with an additional $386 mn available under its RCF facility. Debt outstanding stood at $970 mn improving marginally from December numbers with Debt to EBITDA easing to 3.9x.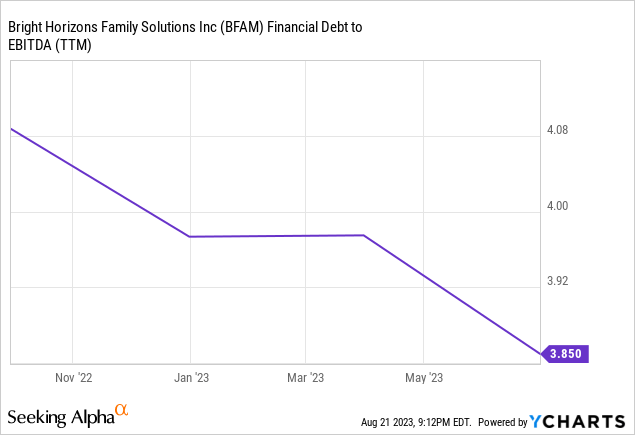 It guided Q3 revenue growth of 13 – 15% YoY driven by 14 – 16% increase in full service and backup care growth of 12 – 15% while education advisory expected to be in high single digits. It tightened its full year revenue guidance upwards at $2.35 – $2.4 bn (vs $2.3 – $2.4 bn initially) while trimmed its adj. EPS guidance to $2.7 – $2.8 (vs $2.8 – $3.0 previously) due to challenges in full service segment particularly in the UK.
Challenging Demand Trends
We believe the company is impacted by increasing number of parents adopting remote and hybrid work options post COVID which has led to pressure in their full service business. According to the Flex Report, 61% of offices offer their employees work location flexibility (up from 51% at the start of the year) with only 39% of them are fully in office.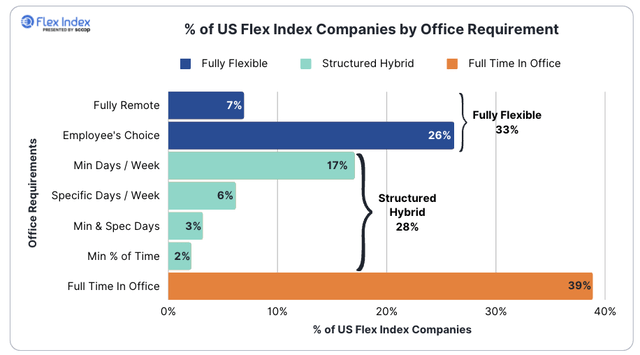 In addition, people spend an average 2.56 days in the office with most employers wanting their employees to spend 2 – 3 days in the office per week. As a result of this, with either of the parents being present during a given day, remote and hybrid models has been a headwind for the day care centers.
CPI inflation for child care and preschool has increased significantly since 2021 and while food inflation and others have moderated in past few months, child care and preschool CPI has remained stubborn and has been on an upwards trajectory, now surpassing the inflation for all other items.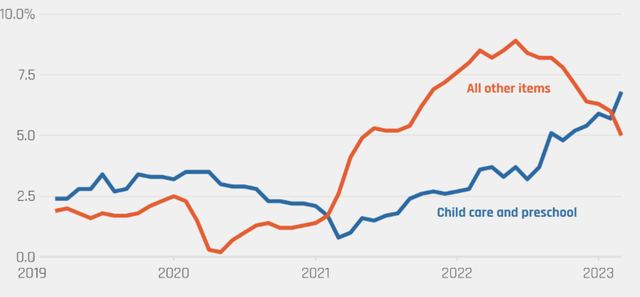 To top that, BFAM has been receiving subsidies under the American Rescue Plan Act (ARPA) which has helped them offset few of the operating costs. In 2022, the company recognized a net benefit of ~$55 mn and with ARPA funding set to expire in 2023, it expects net benefit of ~$30 mn for the year with no benefits for 2024. Higher inflation and challenging macro backdrop squeezing consumer wallets along with increasing costs of child care and remote/ hybrid models have put a significant challenge for BFAM.
Valuation
BFAM does not have a direct peer, however, we believe Cintas (CTAS) is a close peer given its focus on service business including corporates. BFAM trades at ~17.5x EV/ Fwd EBITDA compared to its peer Cintas Corp trading at 21.5x which has a similar business model. Historically, BFAM has traded at ~19x EV/ Forward EBITDA, however, we believe the current discount is warranted given increasingly challenged demand headwinds and its softer recovery from the pandemic. Initiate at Hold.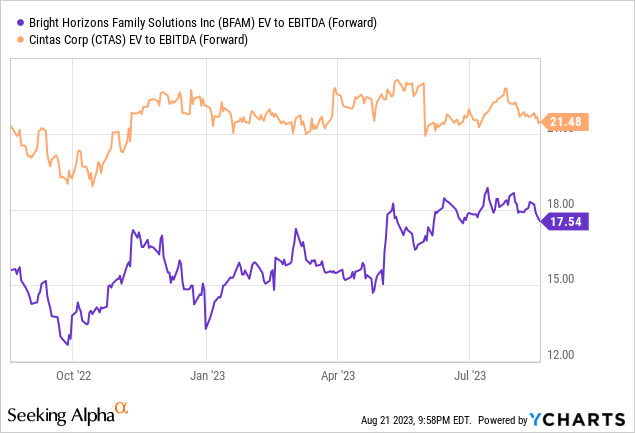 Risks to Rating
Risks to rating include
1) Shift in remote/ hybrid work arrangements that can further accelerate or decelerate demand
2) Any change in macroeconomic factors that can affect consumer discretionary income and consumer spends
3) Any government support to cut child care costs could propel the demand environment
Conclusion
BFAM has been on a sticky wicket since the advent of COVID pandemic with its mainstay full service business coming under threat. While the company has grown its backup care and education advisory services since pandemic, its contribution still remains relatively small. It has been facing multiple headwinds given continuing remote/ hybrid work arrangements, increasing day care costs as well as tough macro environment putting a squeeze on the people's wallets. Given the increasingly uncertain demand environment, we initiate at Neutral.