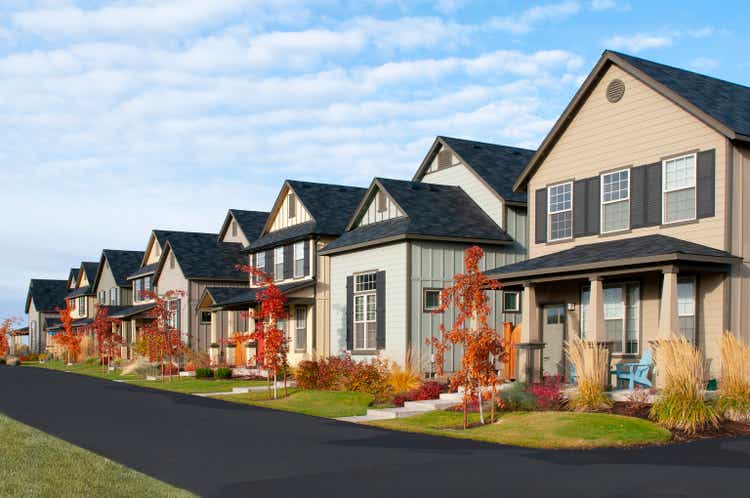 I most recently wrote on Dream Industrial REIT (TSX:DRR.U:CA) in June 2023 with the following conclusion:
DRR is arguably one of the most undervalued residential REITs with a strong outlook. It has tremendous flexibility to navigate this uncertain environment due to its conservative financing.

In January 2023, DRR began a stock repurchasing plan where the REIT has the ability to purchase for cancellation up to a maximum of 973,418 of Trust Units. The program will remain in effect until the earlier of January 5, 2024, or the date on which Dream Residential REIT has purchased the maximum number of Trust Units permitted under the program. Prior to March 31, 2023, the REIT purchased 31,422 units under for a total of $262 million (average $8.45/unit). Subsequent to quarter-end, the REIT purchased for cancellation an additional 42,096 units at a cost of $344 (average $8.19/unit). The REIT has authorization to repurchase 899,900 units over the next year and $83 million in available liquidity on hand which is 81% of its market capitalization.

I expect the REIT to purchase back its own cheap stock as the year progresses and continue to realize strong leasing spreads on its properties which will narrow the gap between its NAV and market price. In the meantime, investors can enjoy the 5% dividend yield.

Source: Dream Residential: Don't Dream It Is Over, Reiterate Buy
I am providing an update to my thesis based on Q2 2023 results to reiterate my buy thesis.
Q2 2023 Results
Recall that the portfolio consists of 16 garden-style multi-residential properties consisting of 3,432 units. The properties are mostly located in the greater Oklahoma City, Dallas Fort Worth, and Cincinnati regions. The portfolio has remained unchanged since I last wrote on DRR.
Since the IPO back in May 2022 management has been nearly spot on with their forecasts as the variance has been almost nil at least on FFO guidance which is most important. On a trailing FFO basis the stock currently trades at just 11X FFO. If that doesn't sound cheap enough we're just getting warmed up.


Blended lease trade outs for Q2 2023 averaged 7.2%, consisting of an average increase on new leases of ~5.4% and an average increase on renewals of ~8.8%. The retention rate for Q2 2023 was 52.7%. These are very high leasing spreads for residential properties as Canadian peers such Canadian Apartment REIT (CAR.UN:CA) and Boardwalk REIT (BEI.UN:CA) have hardly beat 5% on lease renewals this year. This is in part due to provincial restrictions on lease renewal rates in Canada.
Occupancy has been on the decline since its levels in 2022 from 96% to 94%. The decline has been attributable to the management of the value-add units program in the Greater Oklahoma City and Greater Dallas-Fort Worth regions where there is continued renovation to select units. The Greater Cincinnati region experienced a 140 basis points increase in occupancy due to regular leasing seasonality. During Q2 2023, DRR had completed a total of 109 unit renovations across the Greater Dallas-Fort Worth and Greater Oklahoma City regions under the value-add program, with an additional 43 units under renovation as at June 30, 2023. Renovated units averaged an increase in lease rates of $235/unit in Q2 2023, an astronomical 22.3% lease trade out. So we should see this momentum in leasing spreads continue in future quarters.

Many of DRR's peers have seen their rental lifts offset by interest rate increases. This has not been the case with DRR as they are among the most conservatively financed REIT you will find with a debt-to-total assets ratio of ~31%. They took on most of their current debt while rates were still low and their weighted average rate is only 4%. The REIT pays almost the 5-year Canada Bond Yield on its debt as the rate is 3.69% currently. The REIT also has a well laddered debt maturity as only 30% of its debt matures before 2028 meaning as debt matures its interest expense won't have a huge impact on profitability.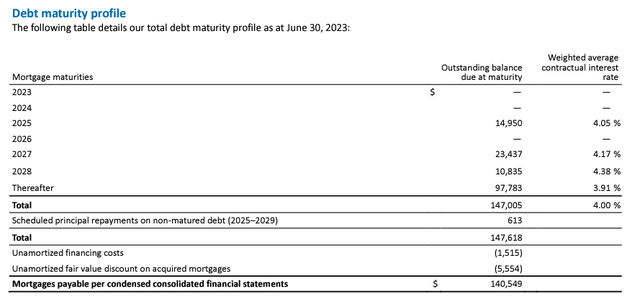 Valuation
DRR trades at ~10X its annualized EBITDA. As momentum continues on their leasing spreads throughout the year as their "value-add" program finalizes, I expect the forward multiple to be 8-9X. Either way this is a very cheap multiple compared to many of its peers where not a single one trades below 16X this year's expected EBITDA. I have continuously rejected the notion that the REIT should trade at a discount due to its size as this is a world-class management team which sold Dream Global REIT which was bought by the Blackstone Group in December 2019 in an all-cash transaction valued at $6.2 billion. See previous articles for more information.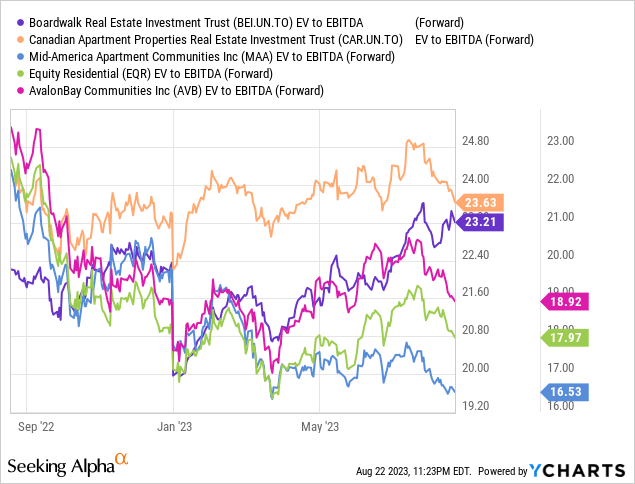 The market is now implying a ~10% capitalization rate using 6-month annualized NOI while its properties have been valued at 4.5% to 6.25%. I still believe the cap rates at anything less than 5.5% may be a little aggressive for Class B residential properties. I showed in my previous article that even a 6% cap rate would yield a NAV of $13.95/unit which is only 7% less than what management has estimated the NAV at ($14.85/share). This just goes to show that with a conservatively financed capital structure your inputs into the NAV calculation can allow for some margin for error. Either way it trades in the territory of a 40-50% discount to NAV. This is where far riskier REITs that I have discussed trade such as H&R REIT (HR.UN:CA), Allied Properties (AP.UN:CA), and Artis REIT (AX.UN:CA) which have more office exposure and higher debt levels that DRR.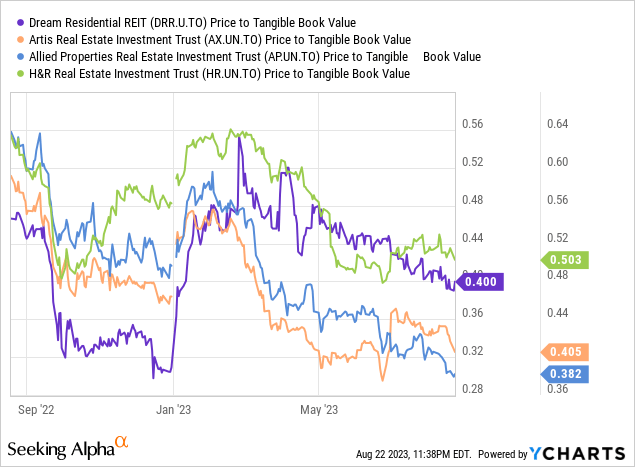 Conclusion
In January 2023, the Toronto Stock Exchange accepted the REIT's Notice of Intention to make a normal course issuer bid to repurchase a maximum of 973,418 units. The NCIB commenced on January 6, 2023, and will remain in effect until the earlier of January 5, 2024, or the date on which Dream Residential REIT has purchased the maximum number of Trust Units permitted under the NCIB. DRR purchased 112,204 Trust Units under its NCIB for a total cost of $0.9 Million. Subsequent to June 30, 2023, the REIT purchased an additional 7,132 units under its NCIB for a total cost of $0.1 Million. Prior to March 31, 2023, the REIT purchased 31,422 units under for a total of $262 Million. Liquidity on hand is $78 Million which is more than enough to fulfill their repurchase plan. As they have only repurchased 11% of their intended target I expect greater repurchasing activity which will narrow the discount to NAV.
In the meantime one can collect the 5% dividend yield which is still far and away the best you'll find in the residential space where yields at the moment are paltry.