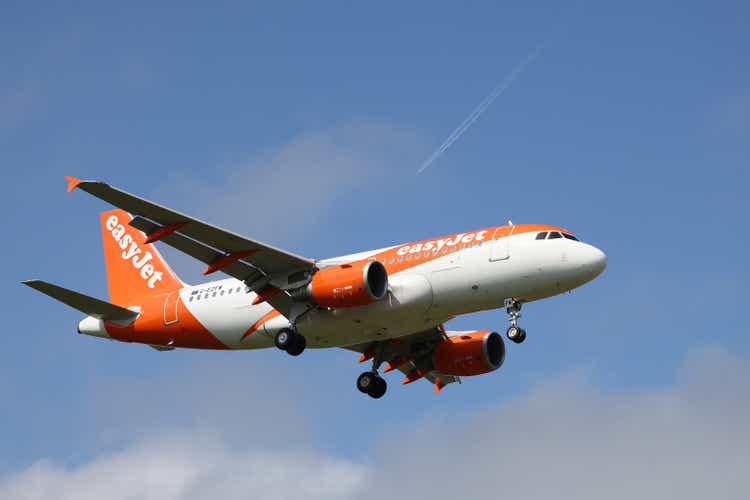 Investment thesis
Our current investment thesis is that easyJet (OTCQX:ESYJY) has been a consistent performer in the budget European segment, operating highly popular routes, a solid business model, and a respectable financial performance historical (which we assume the business will normalize toward following a period of disruption).
easyJet stacks up well relative to its peers with more room for financial improvement while its historical levels are directly comparable.
The industry is experiencing a noticeable upswing, with prices increasing rapid in excess of costs. We believe this will continue for the coming quarters, positioning easyJet as an attractive medium-term investment to partake in this.
Strikes and demand uncertainty remain a risk but at a NTM P/E multiple of 9x and a FCF yield of 3.7%, we believe easyJet is well positioned.
Company description
easyJet is a prominent low-cost airline based in the United Kingdom. Founded in 1995, the company has become one of Europe's leading budget carriers, operating a vast network of domestic and international routes.
Share price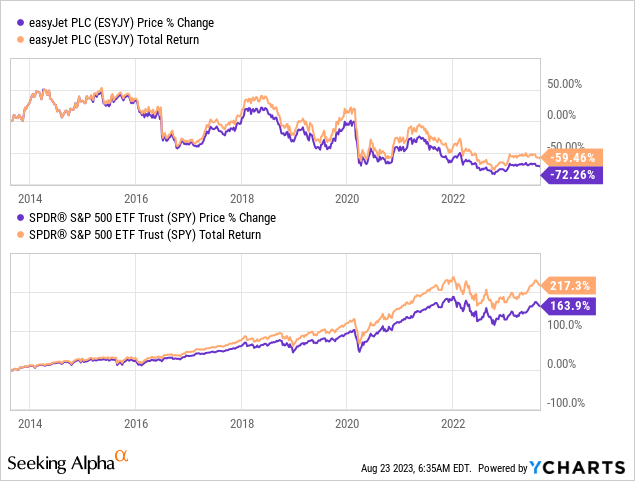 easyJet's share price performance has been dire in the last decade, losing over 70% of its value. Most of this decline occurred following the onset of the pandemic, with the share price trading flat prior to that.
Financial analysis
Presented above is easyJet's financial performance in the last decade.
Revenue & Commercial Factors
easyJet's revenue has grown at a CAGR of 5% during the last 10 years, with generally consistent growth in the lead up to the pandemic. The key issue, understandably, was the post-pandemic period. Importantly, easyJet is above its FY19 levels.
Business Model
easyJet operates as a low-cost carrier, offering no-frills flights at competitive prices. The airline focuses on cost-efficient operations to keep ticket prices affordable for passengers, while also upselling services that are(/were) standard for many of the more premium airliners, such as baggage.
easyJet follows a point-to-point network model, connecting passengers directly between popular destinations without the need for a hub-and-spoke system. This approach is preferred in the affordable segment, attracting customers looking for shorter holidays (<2 weeks) to popular locations.
To supplement its low fares, easyJet relies on ancillary revenues, such as charges for baggage, seat selection, in-flight meals, and other optional services. These additional revenue streams help offset operating costs and enhance profitability. The optionality of this allows the company to reduce costs and prices. Additionally, easyJet is expanding its "Holiday Revenue", offering customers packaged holidays at a discount to the sum of its parts. British Airways has had a stranglehold on this segment in the UK, with easyJet achieving outsized growth as this segment grows.
Competitive Positioning
We believe easyJet is well placed competitively in the European airline industry. The European airline market is highly competitive, with several low-cost carriers and legacy airlines vying for market share.
easyJet faced intense competition from other budget airlines, which put pressure on its pricing and profitability. Additionally, the pressures in the last decade have forced many of the traditional operates to move closer to the budget category, owing to the loss of market share.
easyJet competes with other low-cost airlines, such as Ryanair Holdings (RYAAY), Wizz Air Holdings (OTCPK:WZZAF), Eurowings (OTCQX:DLAKF), IAG (OTCPK:ICAGY), Jet2 (OTCPK:DRTGF), and TUI (OTCPK:TUIFF). The company performs well, owing to its strong cost controls allowing for competitive pricing, and its routes to desirable locations across Europe. It is incredibly difficult to develop a moat in this industry as consumers view these businesses, especially in the affordable segment, as uniform. They want a good price and a flight to a good location.
Current conditions
Current economic conditions are defined by high inflation and elevated interest rates. Europe in particular has been overly exposed to this due to its reliance on importing energy and food.
Our expectation is for conditions to remain difficult for the coming 12-18 months, as rates remain elevated (and rise) in order to combat stubborn inflation.
What is unusual about the current conditions is that we do not have a clearly defined downturn. Employment remains sticky alongside wage growth, and consumer demand is robust. Not only is this fueling inflation in itself but means easyJet is able to experience impressive growth.
For this reason, we are cautiously optimistic easyJet is positioned to navigate the current conditions without a material negative impact, as this current trajectory may slow coincidently when economic conditions improve.
Furthermore, many point to the rise in energy prices as the root cause of this, meaning an increase in fuel prices are significantly impacting airlines' operating costs. As fuel expenses represent a significant portion of easyJet's overall costs, fuel price volatility has posed challenges to its financial performance. easyJet is only sufficiently hedged into Q4-23, with 58% hedged for H1'24. We do not believe Jet Fuel will materially increase from its current levels due to the lower economic demand and so do not believe this to be a concern.
easyJet, like other airlines, has faced disruptions due to air traffic control strikes and airspace closures (+40% strike days relative to 2019 – Source: Management). There has been some strikes in the UK, major disruptions in France, as well as smaller cases across Europe and the impact of the Ukraine conflict. easyJet has already canceled 1,700 summer flights for this reason (majority rebooked). This will act as a drag on growth but easyJet is taking the correct steps to mitigate the impact.
The COVID-19 pandemic has been one of the most significant challenges faced by the aviation industry in recent history. It resulted in widespread travel restrictions and flight cancellations. We have seen this rapidly unwind, with a consistent increase in the demand for travel.
The following graph shows the number of daily flights in the UK from the start of 2019 to Jun-23. From the second half of this graph, occupancy levels began to increase, accelerating noticeably from the second half of 2023. Our expectation is for this trend to continue in the coming months given the sheer strength of the trajectory.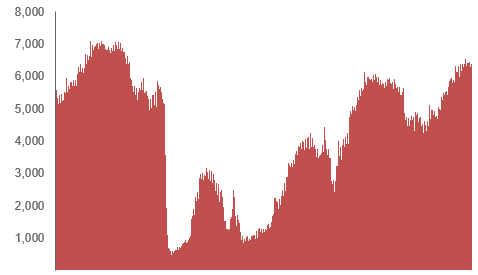 This reflects strongly in easyJet's financials, with consistently monthly gains in Passenger numbers.
Compounding this financially, and somewhat restricting growth in Passenger numbers is the increase in flight prices. Compared to 2019, easyJet's ticket yield has increased 22%, with Ancillary up an astronomical 87%. This is a widespread development, with a record rise in UK air fares.
This has been offset by costs, namely jet fuel which we discussed previously.
The net impact is vastly in favor of price hikes, however, allowing easyJet to improve its margins QoQ rapidly. The outlook is even more positive when considering that the strength in demand will allow prices to increase further while the price of jet fuel is normalizing.
We believe easyJet will be able to exceed its pre-pandemic margins, reaching c.15% based on its current trajectory. The key is whether Passenger numbers can remain robust, which based on monthly data is looking reasonable in the near term. At these levels, even once we return to "normal", easyJet will be able to maintain a 12-15% level, as its historical performance shows.
Balance sheet & Cash Flows
Although easyJet required debt, like many of its peers, to navigate the pandemic period, it remains conservatively financed. With a ND/EBITDA ratio of 0.3x, we do not consider there to be any solvency risk or restrictions with expanding capacity.
Outlook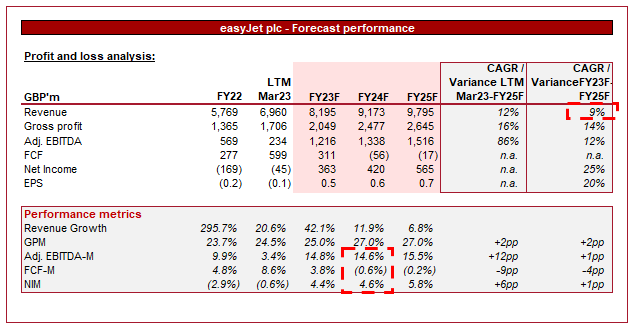 Presented above is Wall Street's consensus view on the coming 5 years.
Analysts are forecasting strong growth in the coming years, fueled by inflationary price increases and robust demand. Margins are expected to improve, exceeding its pre-FY19 levels.
Both forecasts looks reasonable in our view and align to the analysis within this paper.
Industry analysis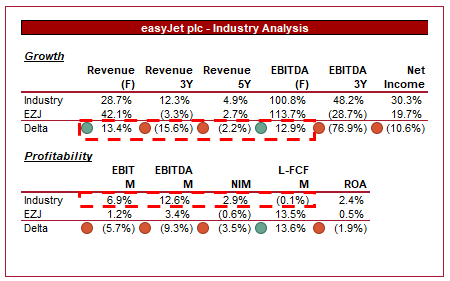 Presented above is a comparison of easyJet's growth and profitability to the average of its industry, as defined by Seeking Alpha (22 companies).
easyJet performs well relative to the group in our view. The company is comparable in growth, with the expectation of overachievement in the coming year. This is likely due to its budget nature supporting wallets at a time of need, even for the more wealthy.
Margins remain below the peer group average but we expect a rapid expansion as it delivers on flights at an ever increasing price. If easyJet is able to reach its forecast level of c.15% EBITDA-M, it would exceed the industry average. Based on a cursory review of the comps, we believe easyJet has more to gain in margins that its peers, likely leaving it at a small negative delta when all are normalized.
Valuation
easyJet is currently trading at 15x LTM EBITDA and 3x NTM EBITDA. This is a discount to its historical average.
Our view is that a discount to its historical average is warranted. This is because the recovery of the airline industry is not complete, particularly for easyJet. The business likely needs another 2-4 quarters to truly be "back". This will allow margin appreciation and a normalization of its financial performance. A discount will adequately reflect the achievability of this improvement.
We also believe a discount is justified relative to its peer group, mainly due to the risks associated with margin improvement, as well as the expectation that Europe remains less lucrative than other geographies (Peer group is heavily weighted toward the US).
Based on this, we believe easyJet is undervalued. The stock is trading at a NTM P/E discount of 93% to its peers, while at a 36% discount to its historical average. Further, easyJet has a NTM FCF yield of 3.7%, an attractive return.
Key risks with our thesis
The risks to our current thesis are:
Margin improvement. As discussed throughout this paper, the achievability of margin improvement remains a critical success factor. Current conditions of rapidly increasing prices and softening costs will not last forever. If the business does not exploit these conditions sufficiently, it faces normalizing at an unattractive level.
Resilience of demand. Although demand is strong, it is underpinned by a weakness in the economy. This creates the risk that demand could rapidly decline suddenly.
Final thoughts
easyJet and airliners in general have been pretty underwhelming investments. The industry has seen a race to the bottom for both prices and quality as air travel continues to be a tool rather than an experience. We do not think the fundamental unattractiveness has changed in any material way.
This said, we do see a medium-term opportunity here. The industry is on an upward swing and easyJet's share price response has not wholly reflected this. The company is trading at a NTM P/E of 9x while its peers are at 17x. Even factoring in a small margin deficit, risks around execution, and a business model weakness, we still see upside.
Editor's Note: This article discusses one or more securities that do not trade on a major U.S. exchange. Please be aware of the risks associated with these stocks.