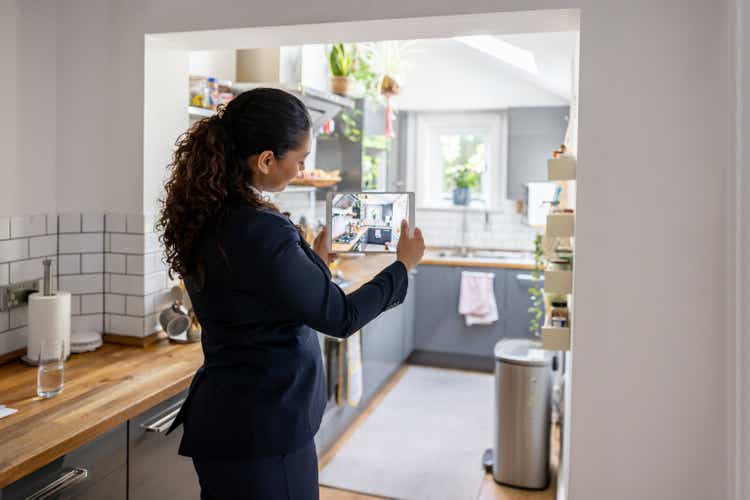 E-commerce trends have shifted the real estate industry in recent years with clients now more absorbed in online platforms. From the outlook, it is easier to get property, shop, and fashion store updates from these systems than in regular retail centers. One such company, eXp World Holdings, Inc. (NASDAQ:EXPI) has had great success over the years with its cloud-based brokerage portfolio eXp Realty having 88,000 agents in 24 countries. As of Q2 2023, eXp World's revenue of $1.23 billion beat estimates by $44.15 million while the EPS of $0.06 missed consensus by $0.04.
Thesis
eXp World's focus on agents and unit growth continues to push profitability while strengthening the overall value proposition. The company has also invested in technology and tools including AI-enabled generative platforms to provide agent support, facilitate payouts, and improve the eXp ecosystem. As will be seen in this article, EXPI is focused on production, technology, and growth both from the customer and agent standpoint.
Share price growth
eXp World's share price has grown 36.89% (YoY) despite revenues declining 13% (YoY). The second quarter saw eXp face major headwinds due to low real estate sales. This challenge did not stop it from realizing a net income of $9.4 million from $1.5 million in Q1 2023 and $9.3 million in Q2 2022. While it is yet to reach the net income levels of 2021 when it clocked $23.8 million, it managed to grow from a net loss of $7.2 million incurred in the quarter ending in December 2022.
Transaction sides in the quarter fell 9% in the quarter to 137,199 while sales volume was down 16% (YoY) at $48.6 million against the backdrop of a tough housing market. However, eXp World's executives seem confident of the solid financial shape of the company and of its subsidiaries: eXp Realty, Success Enterprise, Virbela, and others. On top of its $64.6 million in cash flow with zero debt, EXPI registered a robust cash position of $124.7 million even as it increased its dividend by 11% (QoQ) to $0.05.
Agent-focused business structure
eXp was launched in 2009 as a cloud-based national realtor with only 24 agents having given up its traditional brick-and-mortar business environment. The real estate brokerage firm immersed itself into a 3D virtual office environment from where it on-boarded agent training and other company logistics. As of Q2 2023, EXPI's agent count stands at 88,000 located in at least 24 countries giving it an international presence.
I believe the availability of property technology continues to be an attractive factor for agents to consider while signing up for a real estate brokerage firm. The online or cloud office continues to be very appealing, post-COVID-19, especially to agents constantly on the move. The ease of access to the virtual office and live training classes have made it easier for agents to hit business deals from anywhere in the world.
For example, eXp Realty released a new WebVR-powered social update dubbed Frame VR, which according to the company supports at least 1000 users in the same space. The embedded tools allow multiple real-time reflections as well as a drag-and-drop 3D environment. The company has been improving its back-end server architecture to attract its enterprise clients. Overall, eXp aims to upgrade its metaverse-as-a-service package and use it to market the company on a global front.
What's more, EXPI is looking to harness the power of machine-learning algorithms that will aid its agents in correctly predicting the values of properties and accurately matching them with buyers. Through Luna, eXp World's first AI-enabled tool, agents have the latitude of accessing constant support with real-time results. Apart from the US, the company revealed that Canadian agents are receiving quicker payouts as part of the new developments to boost performance.
At the end of June 2023, eXp World announced through its subsidiary eXp Realty that it had lowered its revenue-sharing criteria to advance agent rewards. The present "Frontline Qualifying Agent (FLQA) tier 7 threshold" is being reduced from 40 to 30 FLQA as part of improving the compensation model. Speaking during this announcement, eXp World's CEO Glenn Sanford stated,
"At a time when other companies are increasing their rev share thresholds or imposing new fees, eXp Realty is the only brokerage lowering revenue share criteria for agents, fueling exponential opportunities for them to build their legacies. Revenue share is an important income opportunity for agents, so this change is a testament to the singular agent-centric focus we were built on. We believe in our aligned compensation model, which was created to reward agents for both production and contributions to eXp Realty's growth."
Real estate companies such as Redfin Corporation (RDFN) which is also driven by technology, realized a lower market share in Q2 2023 due to agent layoffs and its closure of RedfinNow The number of average lead agents for the company declined 4.5% (QoQ) from 1,876 in Q1 2023 to 1,792 in Q2 2023. While most real estate companies will want to compensate their agents using profits, eXp World has edged higher by using revenue as a basis for compensation. Further, EXPI's agents also have commissions and stock rewards as additional income streams to complement the revenue share system. As of Q2 2023, EXPI's US agents had increased 4% (YoY) while the global agent count grew 7% (YoY) to 88,248.
Volume growth

and new launches

eXp World Holdings indicated in Q2 2023 that it was now licensed to operate in 42 states almost covering the entire US real estate environment. This increased registration serves to improve its revenue growth, seeing the total US home sales was already forecast to decline 17% (YoY) in the quarter.

To aid in spearheading sales into 2024, EXPI launched the Boost Program in Q2 2023. This program gave financial incentives to teams and brokerages that joined eXp Realty. The company announced that it was already looking at 1,500 additional agents and more than "$3 billion in potential production" under this Boost Program alone.

Unit growth especially in the US and Canada had a significant contribution to the company's revenue in the quarter. The North American Realty business conveyed $34 million of EBITDA in Q2 2023 and a total of $55 million in YTD metrics.

I believe the company's international revenue status will continue to grow into 2024 seeing the company reported an increase of more than 1000 real estate agents in South Africa. EXPI's International Realty business reported a 35% (YoY) revenue growth in Q2 2023 to $12 million while royalty in the same category was up 42% (YoY). CEO Glenn Sanford reiterated that the company's biggest investment at the moment was international business both at the broker-level and technological standpoint.
Valuation and Risks
EXPI's price against cash flow ('TTM') stood at 15.00 against the industry average of 12.19 indicating a difference of 23.10%. Price-to-sales ratio ('TTM') is at 0.70 against the industry average of 4.29 giving a difference of -83.72%. This low P/S ratio indicates that EXPI is undervalued and that we might be seeing a strong upside into 2024.
One main risk to the upside is that EXPI is silent on its progress in Greece, the Dominican Republic, and New Zealand after announcing expansion into these areas in 2022. Further, the slowdown in the housing market may also affect the company's recruitment of agents seeing they are an integral pillar in the company.
Bottom Line
For a cloud-based real estate company, EXPI has a strong financial background with no debt and a cash position of more than $124 million. The company's focus on agents has made it reduce its revenue share criterion to increase agent rewards and spur production. It now has more than 88,000 agents from an initial 24 agents at inception in 2009. We are looking at faster growth into 2024 as the company intensifies investment in growth opportunities, particularly in the international real estate market space. I believe that the stock is undervalued at the moment and I propose a buy rating for the stock.