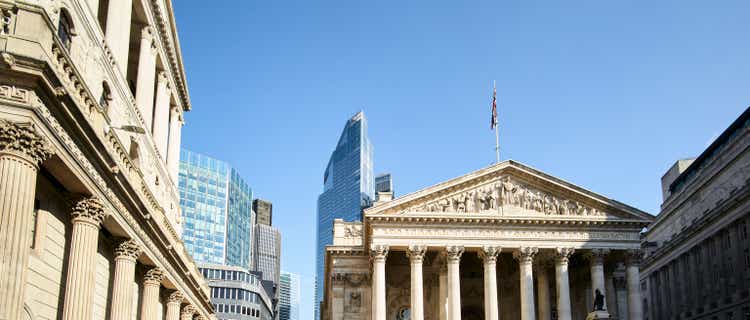 Introduction
For a financial company Nelnet Inc (NYSE:NNI) is trading quite high at a p/e of over 16 on a TTM basis, a big premium in comparison to the sector which is only at 8.7 right now. NNI engages in the consumer finance industry where it provides several financial products and services. Exposure to student debt seems risky as higher interest rates are causing more and more people to default on their debts. This brings into question the viability of NNI assets and how much they could leverage them for better earnings. The ROE is at 5.99% currently which is nearly 50% below the sector averages. Where NNI is presenting some value though is the historical buybacks they are making, but I don't find them sufficient enough to warrant a buy here. Because of this, I will be issuing a hold rating for NNI right now.
Company Structure
The company is mentioned as working in the consumer finance industry. It has since its start back in 1978 divided its operations into some distinct segments, those being: Loan Servicing and Systems, Education Technology, Services, and Payment Processing, and Asset Generation and Management.
The first segment primarily focuses on providing loan conversions and borrower updates but also student loan servicing software. With exposure to this market, the company opens itself up to some growth potential as student debt has been steadily increasing over the last several decades, but also some risk as defaults on debt are becoming more and more common, which puts pressure on interest earnings for the segment.
In the second segment, the focus lies instead on financial management services and website designs among other services. Lastly, though, the Asset Generation and Management segment primarily focuses instead on acquiring and managing loan assets and leveraging that into stronger earnings for the company.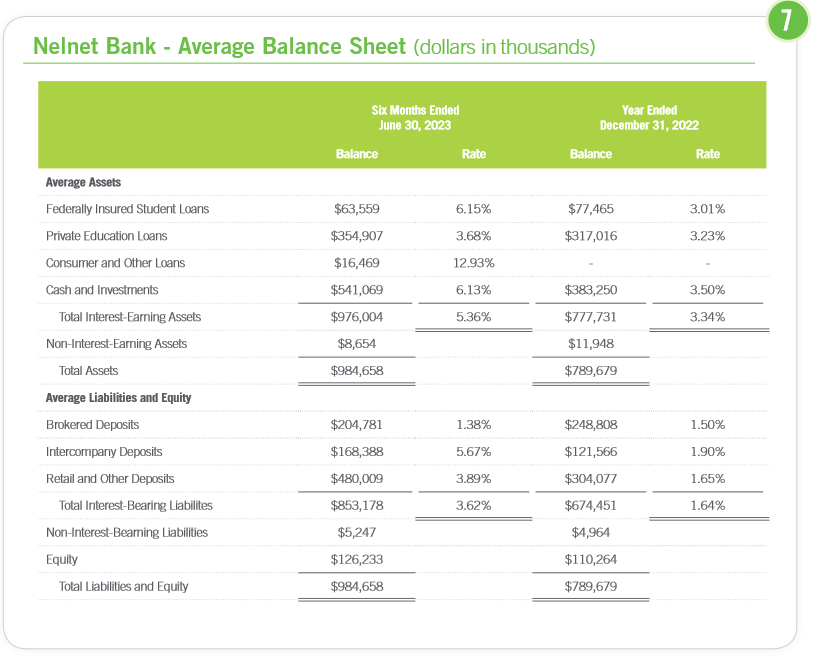 Looking at the balance sheet for the company a large part of the assets are made up of education and student loans. Over $400 million is held in these loans but the average asset base is $984 million. In total though the company has an average interest earnings asset base of $976 million with a rate of 5.36% giving them a sound ROE but not perhaps in the same league as other companies in the sector though, so once again, the valuation comes into question.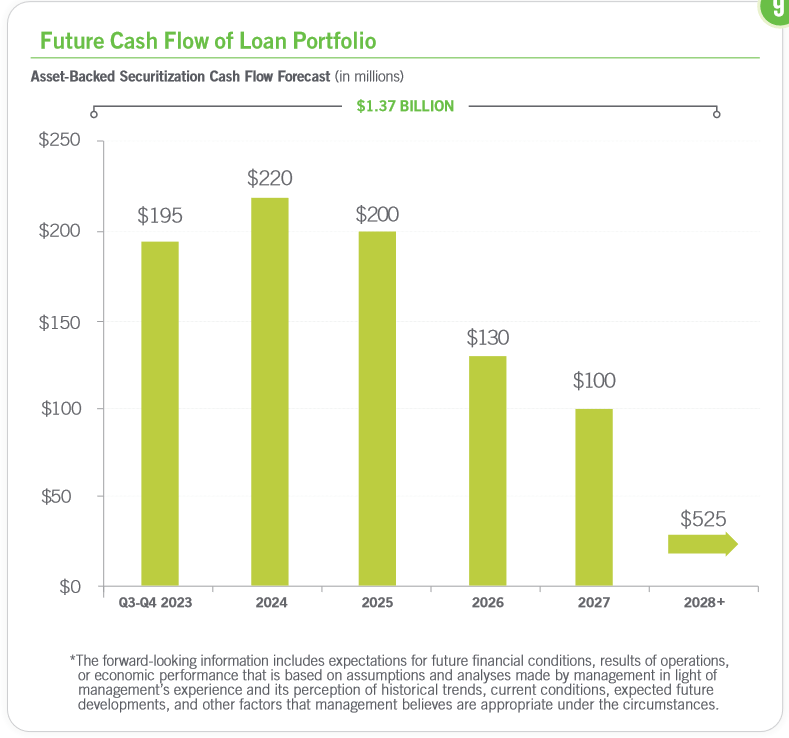 Looking at the forecasted cash flows for the portfolio though, we can see a clear drop-off after 2025, and the full expectations are $1.37 billion for the period showcased above here. That means NNI is trading nearly at 3x its future cash flows and that isn't necessarily a premium worth paying right now either. The share price needs to go down before a buy rating could be justified. However, the positive in this is that solid future FCF should help ensure the dividend continues at least and some sort of share buyback can be executed.
Earnings Transcript
From the last report, we got some comments from the management at least. As will be covered in the risk segment, the company isn't that good at providing a lot of commentary on their performance and future expectations, which is making it difficult to get an inside view and perspective from the management side. The CEO Jeff Noordhoek said the following:
"The beginning of the school year is an exciting time for Nelnet. We are fortunate to serve millions of students and their families and thousands of higher education and K-12 institutions with tuition payment plans, loan servicing, student loans, and numerous services and technology for administrations. This school year also brings with it the complexity and opportunity of assisting more than 15 million federal student loan borrowers return to making payments for the first time since March of 2020".
With more and more people returning to paying back debts the earnings for NNI should be going up, but to what degree is still uncertain. I think we will be seeing the results of that not until the Q3 results are released, unfortunately. In the meantime, the situation remains unclear and I think that further contributes to the hold rating.
Risk Associated
In my view, the primary concern revolves around the sometimes lack of growth initiatives from the company's side, heavy investments and moving into new markets are necessary to stimulate growth and expand margins. If NNI is going to trade at the multiples it does it needs to establish stronger growth in my opinion. A p/e of 16 is often only associated with high-growth stocks in the financial sector, often fintech companies whose margins are top lines are rapidly expanding. NNI on the other hand dropped the ball somewhat and had the bottom line decrease heavily in the last quarter.
The essence of this apprehension lies in the management's stance, which leans toward conservatism and occasionally exhibits a degree of opacity when communicating with shareholders regarding the precise valuation of their investments. Sometimes this is quite common practice and letting the numbers speak for themselves is not that bad.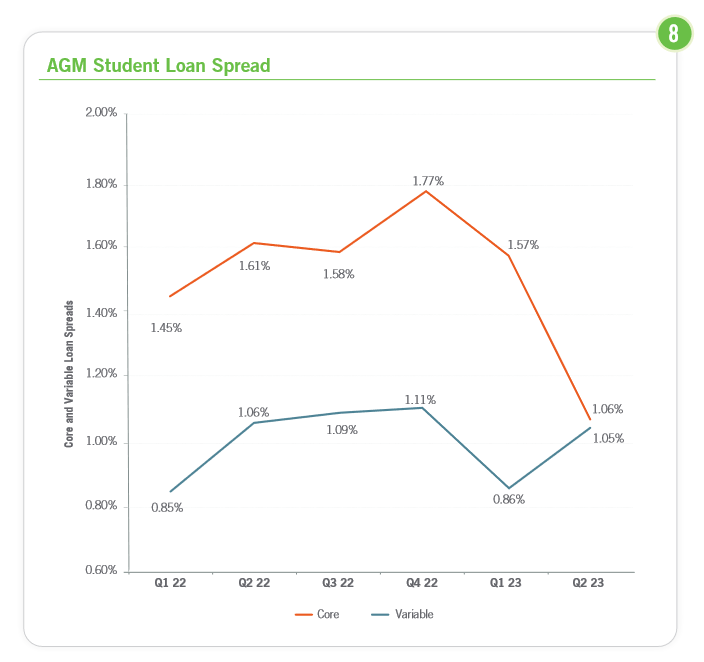 Besides this, the company is exposed to student loan debt as they help service and provide loans for it. If delinquencies start to increase then the net interest the company earnings make will begin to falter as fewer and fewer loans are being paid back. This could result in a valuation compression depending on the results of the delinquencies. It seems though that more and more borrowers are facing tough times and defaulting on loans seems likely to increase if the interest rates remain at these levels for a prolonged period unfortunately. That places further risk on investors when having a position in NNI.
Investor Takeaway
For NNI the focus right now is a lot around the potential for a lot of student loan debt repayments beginning this fall. I think that the situation remains largely unclear as higher delinquency rates are putting pressure on future earnings potential. There are some potential upside catalysts though that could send the stock higher, that being better than expected debt repayments as interest rates rise. If rates go up and borrowers remain resilient it should boost earnings to NNI. In comparison to SLM Corporation (SLM) for example, the earnings multiple is far lower at under 6 and a p/s of around 2 on a FWD basis. These are more favourable then what NNI has right now and on a quick look SLM I think offers better potential.
For me, this constitutes NNI being a hold rather than a buy. Based on TTM earnings as well, the company is trading at a pretty high premium too, one not worth paying right now quite frankly.