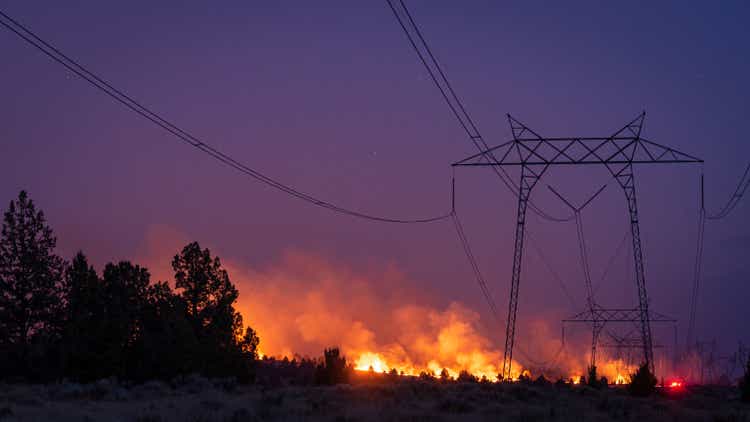 Listen below or on the go on Apple Podcasts and Spotify
New Maui County lawsuit alleges Hawaiian Electric's (HE) negligence caused wildfire. (00:34) DoJ sues SpaceX (SPACE) for hiring discrimination against asylum seekers, refugees. (01:49) Ukrainian pilots to start F-16 (LMT) training in U.S. soon. (03:00)
This is an abridged transcript of the podcast.
Maui County filed a lawsuit Thursday against Hawaiian Electric (NYSE:HE), alleging the utility's power lines caused the recent wildfires on the island, including the fire that destroyed the town of Lahaina.
The lawsuit seeks unspecified civil damages, alleging Hawaiian Electric (Hawaiian Electric Industries, Inc. (HE) Stock Price Today, Quote & News) failed to maintain the electrical system and power grid during a windstorm that helped cause three different fires that erupted on August 8.
The lawsuit claims the utility acted negligently by not preemptively cutting power despite a warning from the National Weather Service of high winds and temperatures with low humidity, and says the failure to maintain its system led to energized, downed power lines causing the fires.
The company also was hit with a securities fraud lawsuit that focuses on the impact to shareholders, claiming compromised safety protocols put the island at a heightened risk, which contributed to the "precipitous decline in the market value of the company's securities."
Hawaiian Electric (HE) also suspended its quarterly dividend;
HE ended Thursday's session at $11.86, the lowest close since 1985.
Share are down nearly 18 percent pre market.
The U.S. Department of Justice filed a lawsuit Thursday against Elon Musk's SpaceX (SPACE) for allegedly discriminating against asylum seekers and refugees in hiring.
The DoJ alleged that from at least September 2018 to May 2022, SpaceX (SPACE) "routinely discouraged asylees and refugees from applying and refused to hire or consider them, because of their citizenship status, in violation of the Immigration and Nationality Act," .
The agency said, in job postings and public statements over several years, the company wrongly claimed that federal export control laws meant it could hire only U.S. citizens and lawful permanent residents, or "green card holders."
The DoJ also pointed to online posts from Elon Musk as examples of "discriminatory public statements," including a June 2020 Twitter post that said, "U.S. law requires at least a green card to be hired at SpaceX, as rockets are advanced weapons technology."
But the DoJ said in its lawsuit that those rules do not limit whom the company can hire based on citizenship or immigration status.
The U.S. will soon start training Ukrainian pilots to fly and maintain F-16 fighter jets, manufactured by Lockheed Martin (NYSE:LMT).
They'll join other allies working to strengthen Ukraine's air defenses, in its efforts to push Russian troops from its territory.
Pentagon Spokesman Brigadier General Patrick Ryder said Thursday at a press briefing, After English language training next month in Texas, the pilots will start F-16 flying training in October in Tucson, Arizona.
This training will complement the F-16 pilot and maintenance training already underway in Europe, including efforts by Denmark and the Netherlands, both of which recently agreed to supply F-16s to Ukraine. Denmark has begun training eight Ukrainian pilots.
Depending on the pilots' experience, training will likely last between five and eight months, Ryder said. "Ukraine will determine the number of pilots that they require to go through the training."
Other headlines to look out for on Seeking Alpha:
Agape ATP upsizes proposed offering to $7m, seeks Nasdaq uplisting
Toronto-Dominion Bank under DOJ probe related to anti-money laundering practices
iRobot sets Oct. 12 for new holder vote on revised deal with Amazon
On our catalyst watch for the day,
Following AMC's 1-for-10 reverse split Thursday which took its share count from about 520M to 52M, today is the day for the conversion of all outstanding APE units into AMC common stock.
Today some 995M APEs will convert to somewhere around 100M common shares of AMC, and stop trading.
Wall Street's major averages on Thursday ended lower, while Treasury yields resumed their climb.
The Nasdaq (COMP.IND) slipped 1.87%. The S&P 500 (SP500) retreated 1.35%, while the Dow (DJI) lost ground by 1.08%.
All 11 S&P sectors ended in negative territory, with heavyweight names Tech, Communication Services and Consumer Discretionary topping the losers.
Turning to the fixed-income markets, Treasury yields were higher, a day after a substantial pullback triggered by weak PMI data. The 10-year yield (US10Y) was up 4 basis points to 4.24%, while the 2-year yield (US2Y) was up 6 basis points to 5.01%.
The Jackson Hole Symposium kicked off Thursday and the market is paying attention to any soundbites from Fed officials and policymakers. The main highlight is today's speech by central bank chief Powell. Kim Khan will have all the details about the speech later today on Wall Street Lunch.
Now let's take a look at the markets as of 6 am. Ahead of the opening bell today, Dow, S&P and Nasdaq futures are mixed. The Dow is up 0.2%, the S&P 500 is up 0.1% and the Nasdaq is down a fraction, 0.03%. Crude oil is up 1.1% at more than $79 a barrel. Bitcoin is down 1.5%.
In the world markets, the FTSE 100 is up 0.3% and the DAX is up 0.3%.
The biggest stock movers for the day premarket: First one of the biggest gainers, Affirm Holdings (NASDAQ:AFRM) Affirm is up nearly 10% after the company reported an upbeat Q4 quarter.
And one of the biggest losers, DOMO. Despite beating consensus in Q2, Domo (NASDAQ:DOMO) is down more than 25% on a weak forecast.
On today's economic calendar, at 10:05am Fed Chair Jerome Powell speaks at Jackson Hole.