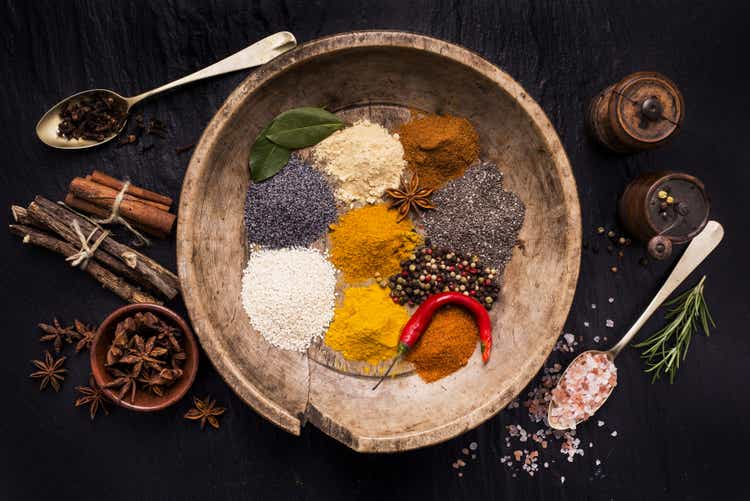 In March, I did not like the smell of shares of International Flavors & Fragrances (NYSE:IFF). This came after IFF has been struggling since it announced a substantial deal to acquire a big chunk of the DuPont business.
Growth has come to a complete standstill in the wake of the deal, while leverage was high and costs to serve the debt were rising rapidly. Better execution and greater discipline were badly needed, certainly as another disappointment arose, namely that of the 2023 guidance.
A small divestment at the time was not necessarily the solution, certainly not at a modest valuation multiple, as the situation has only gotten worse ever since.
A Recap
IFF finally closed a large and complicated deal with DuPont in 2021, creating a leverage overhang, with reported sales growth lacking, despite a generally believed to be sound long term positioning. With underperformance taking too long, some real (outside) involvement and discipline would be welcomed, to unleash the potential which was obviously here.
In 2019, IFF announced the $20 billion purchase of the Nutrition & Biosciences business, a huge deal as that valuation actually exceeded the valuation of IFF ahead of the deal. The deal was set to create an $11 billion business, at first expected to post EBITDA margins around 23%, with synergies having the potential to boost margins towards 26% of sales.
With investors having a poor experience on a $7 billion deal for Frutarom a few years before, shares fell from $134 to $120 overnight, upon the announcement of the deal. This came as earnings power would be trending close to $6 per share, all while a pro forma net debt load of $11 billion worked down to a 4 times leverage ratio.
Trying to tackle the leverage, the company sold the Microbial Control business in a $1.3 billion deal, as 2021 sales ended up coming in at $11.7 billion on which EBITDA of $2.4 billion was reported, with earnings per share reported at $5.63 per share. While the company guided for a recovery, calling for sales of $12.5 billion and EBITDA of $2.55 billion in 2022, the company missed on these estimates as margins came in lower than believed at the time of the merger.
In December 2022, the company reached a deal to sell the Savory Solutions in a $900 million deal, set to reduce leverage below the $10 billion mark, with pro forma net debt seen at $9.5 billion. Nonetheless, $475 million in sales would leave the door as well, as the resulting 2 times sales multiple marked a big discount versus its own valuation.
In the end, 2022 sales came in at $12.4 billion, as EBITDA came in at $2.5 billion and adjusted earnings fell to $5.42 per share, with all metrics missing the original targets for the year. The issue is that 2023 sales were seen at just $12.5 billion, up 6% in an inflationary environment, pro forma the Savory Divestment, with EBITDA seen down to $2.34 billion, still resulting in a 4 times leverage ratio.
To address the debt load, the company reached another $220 million deal to sell the Flavor Specialty Ingredients business, with another $100 million in sales leaving the door. Given the renewed weakness, I believed that earnings power would likely fall to $5 per share, with leverage still being very high, as I hoped that some activist involvement would arise after Dan Loeb´s Third Point initiated a stake, but so far it has been rather quiet on this front.
With shares trading at $90 in March, the far market multiple at 18 times anticipated earnings made me quite cautious.
Coming Down
Since March, shares of IFF have fallen further, now trading at $67 per share after a bombshell earnings report was released in August. Early in May the company posted a 6% fall in first quarter sales to $3.03 billion, as the company posted a GAAP loss of $9 million amidst restructuring charges and higher interest expenses. Adjusted earnings per share plunged from $1.69 per share to $0.87 per share, as the company cut the 2023 guidance.
Full year sales were now seen at $12.3 billion, a two hundred million reduction, as the $2.34 billion adjusted EBITDA guidance was kept unchanged. The deal to sell the Savory Solutions business to PAI closed by the end of May, followed by the closing of the Flavors Specialty Ingredients to Exponent early in August.
Later in August, IFF posted an 11% fall in second quarter sales to $2.93 billion, with the Savory Solutions business contributing two months to the reported results in the second quarter. While the company squeezed out a GAAP profit of $0.11 per share, it were adjusted earnings which fell from $0.99 to $0.34 per share, a dismal profitability metric.
Worrisome, net debt was reported at $9.95 billion, which is about half a billion dollar higher than the pro forma Savory Solutions deal, certainly worrying given the dismal operating performance. After all, full year sales are now seen at just $11.3-$11.6 billion, at the midpoint being lowered by a billion!
Worrying is that EBITDA is now seen at just $1.85-$2.00 billion, pushing up leverage to 5.0-5.4 times EBITDA, ahead of the minimal divestment to Exponent. This even raises the question on the certainty of the dividend, which now runs at $3.24 per share, as the 5% dividend yield is hard to maintain here.
Ironic enough the current market value has fallen to $17 billion here, and including the net debt load of $10 billion, the prevailing enterprise valuation of $27 billion is actually similar to the sum of the Frutarom deal and the purchase of the DuPont assets, which implies that the own business excluding these two deals has been worth nothing. This is a testament to the overpayment of these deals, as well as sluggish performance which has put the company into real jeopardy.
And Now?
The reality is that the lower the share price goes, the more interesting shares of IFF get, but this goes hand in hand with higher operating risks. Leverage is shooting up, and a great deal of operating credibility has been lost, as quite frankly I am surprised to see the dividend being maintained.
This is as debt is not really coming down, and the dividend is prohibitive from getting debt down further, as the debt load is huge in relation to the current earnings power.
Given this, I am extremely cautious here, and it simply feels as if execution and accountability is missing, and for that outside involvement would be welcomed. On the other hand, a turnaround might be possible. Remember that about a decade ago, operating margins at times reached 20%, resulting in potential operating profits of $2.5 billion. Factoring in half a billion interest expenses and a statutory tax rate, realistic earnings around $6 per share might be possible, or even higher, but that requires real execution.
Hence, I wonder if it is too early to go bottom fishing here as the situation is quite severe, making me interested but not willing to alter a modest long position, which has turned out to be a real detractor from portfolio performance.