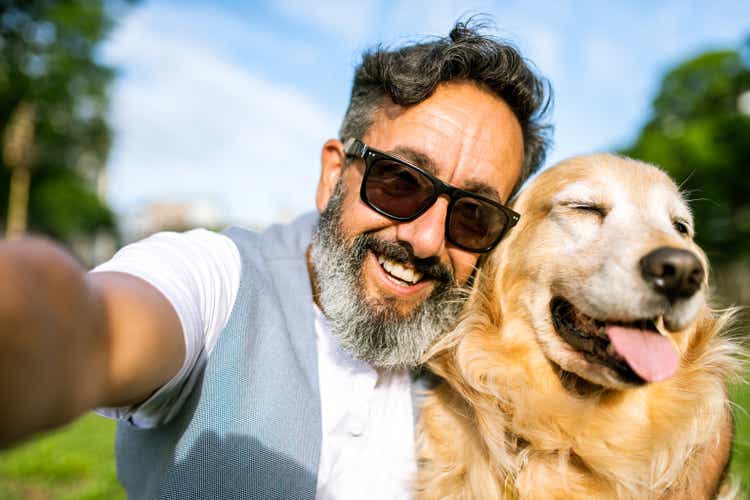 There are many great businesses consumers interact with often. Many consumers may interact with certain companies on a daily basis such as Apple (AAPL), Netflix (NFLX) or Duolingo (DUOL).
Today I'd like to discuss a company I've used several times throughout the course of the year that is in a growing niche market. The company's stock price has risen roughly 20% this month after an impressive Q2 report, and is up nearly 70% year-to-date. That company is Rover!
Let's dig into the financials and various aspects of the company to determine if this is a quality business for investors to consider.
The Company
Rover (NASDAQ:ROVR) helps "pet parents" connect with "pet lovers" looking to earn extra income. Essentially, this is Airbnb (ABNB) for your pet. Instead of trying to find a pet daycare or pay that irresponsible teenager next door, Rover connects pet owners with individuals in their area that can care for your pet at a cost.
Rover makes it easy for pet owners to find reliable, safe, care for their pet. Rover is the number one pet services app and from my experience using the app, it's very easy to use. You can quickly find an individual in your area, see the reviews for that person, and the services provided. The costs are upfront as well, so you won't be surprised when it comes time for your payment.
Additionally, it's very easy to connect with your pet care individual once you're away. I was able to easily connect with my individual and received updates and pictures of my dog.
I have used Rover for boarding overnight services however they have additional services such as in-home pet sitting, and daytime services, including doggy day care, dog walking, drop-in visits, and dog training. Rover mostly focuses on dogs, but offers services for cats as well.
According to the company's latest 10K statement as of the last fiscal year, Rover has over 4.1 million unique pet parents and over 870,000 pet care providers across North America, the United Kingdom, and Western Europe have booked or provided a service on Rover.
Rover is benefiting from their position as the leader in this niche industry, as 42% of new pet parents joined Rover from word of mouth. This helped increase new bookings in 2022 by 17% compared to 2021. Repeat bookings also increased in 2022 up 36% from 2021. Repeat bookings made up 83% of total bookings in 2022.
As the below graphic from the 10K illustrates, word of mouth and the growth of the brand has a powerful network effect and continuously improves the organization's proprietary algorithm:
As word continues to spread about Rover, the company's annual gross booking value continues to climb, as the graphic below illustrates: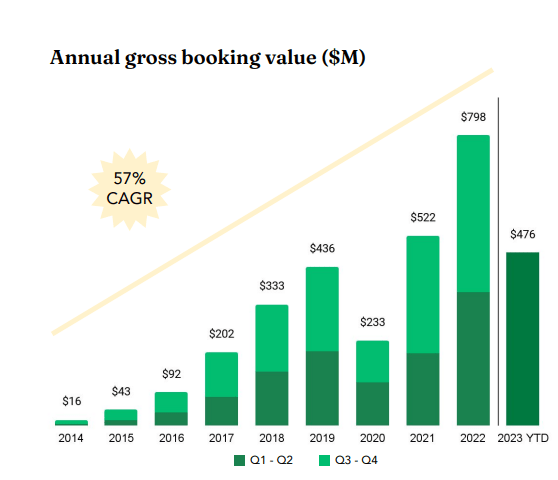 Also, as I noted in my review of Zoetis (ZTS), people love their pets and are spending more on them. As stated on Rover's investor presentation, 66% of U.S. households have pets and 96% of them view their pets as part of their family. This is becoming more of recession resilient industry, given pet owners view their pets as family members.
Moat and Opportunity
I do believe Rover does have somewhat of a moat as this market is so fragmented. As stated earlier, Rover is the number one pet services app. Rover competes with local independent owners, some commercial providers and those advertising pet care services online through other channels such as Craigslist or Nextdoor. In terms of other digital marketplaces, Wag is Rover's closest rival in the United States and Gudog in Europe and Pawshake in Europe and Canada also compete with Rover in those markets.
As illustrated below from Rover's recent investor presentation the company believes they have untapped services opportunities:
As stated by the company in their annual report, "From inception through December 31, 2022, over four million unique pet parents had booked a service on Rover, which represents approximately 3% of the estimated 137 million pet households in the United States, Canada, the United Kingdom, and Western Europe."
Rover also has the opportunity to expand further within their current markets, as the below illustrates:
Management
Aaron Easterly is the CEO and Co-founder of Rover. He's been the company's CEO since 2011.
Brent Turner is the company's president and COO. He's been with Rover since 2014.
Charlie Wickers is the company's CFO. Wickers has held this role since 2017.
As you can see from these Glassdoor ratings, Rover is viewed as an excellent place to work. Additionally, employees at the company clearly approve of Easterly.

I also like a management team with skin in the game and as you can read from Rover's latest proxy statement both Turner and especially Easterly have a considerable amount of stock in the company.
Financials
Revenue has risen nicely for Rover over the past several years, as you can see below:
That's a roughly 58% increase in revenue from 2021 to 2022 and an increase of roughly 123% from 2020 to 2021 (although 2020 was certainly impacted by the COVID-19 pandemic).
Despite this increase in revenue, Rover has continued to post net losses since inception as the company's operating expenses have continued to rise each year as well. The company stated much of the increased SG&A expense was due to hiring more employees due to the rising demand.
As you can see below, Rover has a rather clean balance sheet as well as the company has a cash balance of roughly $193 million and a total current assets balance which covers all of the organization's liabilities which are mostly compromised of pet parent deposits.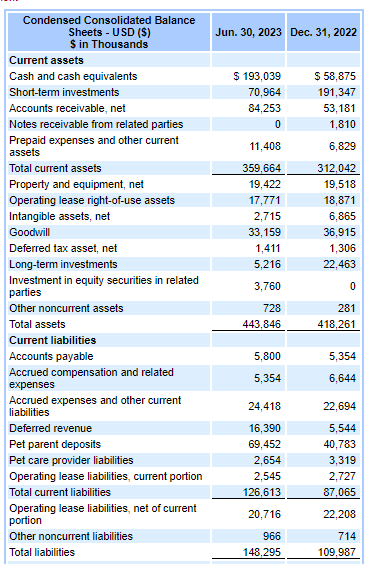 For the current quarter, revenue was roughly $59 million, which is a 35% increase compared to Q2 in the prior year. Guest book value (GBV) was $266 million, which is an increase of 25%. The management team noted the revenue increase was due to three factors, one of which was the growth in bookings. Total bookings for Q2 2023 increased 20% versus Q2 2022. Repeat bookings were 1.5 million, a 23% increase compared to prior year Q2. New bookings totaled 279,000, which was a 7% increase over the record second quarter in 2022.
The second reason for the revenue increase was the increase in average booking values (ABVs) which were up 4% year-over-year. The main driver of ABV growth was an increase in average price per unit of service.
The third reason for this revenue increase was due to a higher take rate. The Q2 2023, take rate was roughly 23.3%, up from 21.9% in the year prior.
Overall, these were great results to see as the company almost had a profitable quarter.
Risks
As the company has stated within the risk factors section of their 10K, there are numerous risks for this business. Here are the three biggest risks that I see currently for the business.
One risk which could certainly impact the business is consumer spending. Consumers are still spending more on services such as travel and leisure. This is likely good news for Rover, as consumer spending on traveling means pet owners will need to find someone to care for their pets. If consumption on services declines, it will likely adversely impact Rover.
Rover needs to continue enhancing the product to ensure pet owners and pet care providers both continue to use Rover. If providers decide to advertise through another channel such as Nextdoor or join a competitor, this could harm Rover's moat. Just like a dating app, consumers will go to the site with the most possibilities. If pet owners find fewer potential pet providers in their area on Rover, they might opt for alternatives.
Lastly, pet owners need to feel that there is pet is safe. Despite mostly positive reviews, I did locate some stories (such as this one) where a pet was seriously injured or even died while in the care of a Rover pet care individual. If these situations become more frequent or if a story about animal abuse or mistreatment goes viral on social media, it could seriously tarnish Rover's brand.
Valuation
Like many of the other companies I have reviewed, Rover is also not a cheap stock. As you can see from the below valuation metrics from Seeking Alpha, the overall value grade is a "F." Rover is higher than the sector median for many of these metrics, such as the price to sales ones I have shown below:

I don't believe the valuation to be a deal-breaking, especially when it comes to investing for the long-term. However, I would be a more willing buyer should the stock price drop. The stock is up nearly 70% YTD and has increased nearly 20% after the 2023 Q2 earnings beat. I'd much prefer to buy at the price levels experienced earlier this year.
Conclusion
As of user of Rover, I think it's a wonderful service, one I would gladly use again. It's the number one pet services app in a growing niche market.
The company has a nice balance sheet and has been steadily growing revenues since the pandemic. I'd like to see the company continue to have a few more solid quarters similar to their Q2 performance to see if this company can get closer to achieving profitability. Also, after such a surge within the last month, I wouldn't buy the stock at its current price.
However, I think this founder-led business has the potential to produce solid gains for long-term investors in the years to come, and I'll be looking to take a position should a market decline occur later this year.