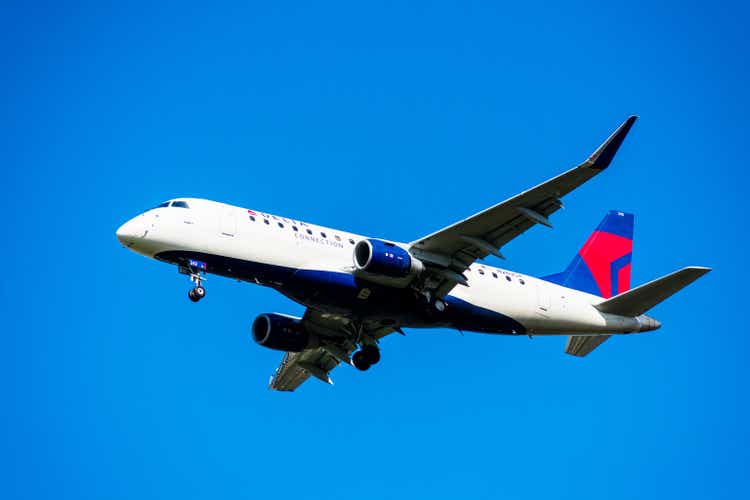 In 2022, I covered SkyWest, Inc. (NASDAQ:SKYW) and marked shares a Hold on a challenging operational environment amidst pilot shortages and higher labor costs. The stock performance, however, has been quite favorable, with a nearly 100% return, so you would have seen the value of your investment increase if you had held the stock, but perhaps a buy rating would have been more suitable. In this report, I will be revisiting SkyWest and assess whether a rating change is necessary.
SkyWest Q2 Financial Results: Not Necessarily Impressive
Revenues for the second quarter declined around 10% to $725.6 million on a 15.6% reduction in block hours. So, overall the revenue per block hour improved, but that is also because there is a pass-through component which features lower fuel pass-through revenues but higher pass-through revenues on salaries. Operating expenses decreased by 3%. So, overall, we are not seeing a favorable reduction in costs, as the top line decline was bigger than the cost decline and fell short of the decline in block hours.
I won't classify the results as bad, they just portray extremely well how challenging the cost environment is for regional airline operators with higher crew costs of which part can be passed through, pilot shortages, and inflation while not being able to utilize airplanes efficiently. So, we are looking at the impact of high costs and underutilization of airplanes due to pilot shortages.
Cash and CapEx Free Growth
While the second quarter results were not impressive to me. I think there are positives. The big positive is that operating cash flow increased from $215.3 million to $333 million and free cash flow ("FCF") was also positive at approximately $200 million compared to roughly $95 million burned in cash during the six months ended June last year. That is a big difference with Mesa Air Group (MESA), which is still burning cash. Furthermore, the company has over $850 million in cash and marketable securities. Combine that with positive cash flow and the company is in a relatively good position to increase its cash pile and reduce net debt as well as gross debt. The company is even repurchasing shares and has repurchased 17% of its shares year-to-date with $186 million available under the current program, which at current prices allows the company to buy back an additional 10% of its outstanding shares.
On the pilot attrition problem for regional carriers, there have been positives as well which feather into an improved outlook of total block hours being down 11% this year whereas a 14% reduction year-over-year was expected and sequentially a 2% increase in block hours is expected for the third quarter.
For the longer-term, what is seemingly attractive is that the company can execute a significantly higher block hour base that it is currently executing without any major CapEx. For the Embraer (ERJ) fleet this would be 20% and 35% for the CRJ fleet. Calculations show that this brings the number of block hours to over 350,000 per quarter, which would be 6% higher compared to 2022 and 26% higher than what the company executes now.
Is SKYW A Good Stock To Buy?
There are some things I do like about SkyWest. Possibly, the valuation is not one of them. SkyWest Airlines tends to trade at a premium compared to peers, and on any normal day that would make sense given that the company is shielded from fuel price fluctuations. However, with the pilot shortage in mind, I don't think assigning a premium compared to peers is appropriate. So, we look at the price target based on the industry median, which tells us that even with share repurchases fully executed this year the stock is overvalued by around 4% or in other words the stock is more or less fairly valued. The forecast for 2024 would give us around 66% upside compared to the stock price. I would assign a Hold rating based on the expected earnings this year, and one could consider a speculative buy position for 2024.
Conclusion: SkyWest Airlines, Fair Value After Stock Price Doubles
In a year, the stock price of SkyWest Airlines has doubled, with the help of share repurchases executed by management. Regional airlines are having a difficult time at the moment, but the fact that management is executing share repurchases and the company has a positive cash flow are indications that the airline is doing better than some of its peers. However, after the stock price has doubled over the course of a year, SkyWest, Inc. stock is more of a Hold than a Buy. Even more so, when we consider that the stock price did not take off until the SkyWest board approved a share repurchase program. For 2024, we see significant upside, so any buying in this name should be with future year earnings in mind and not so much with the current year earnings because the current year earnings provide no upside.
Editor's Note: This article covers one or more microcap stocks. Please be aware of the risks associated with these stocks.