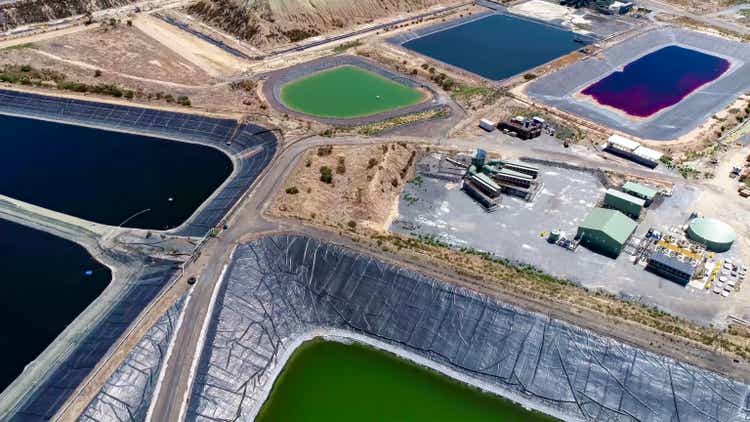 DRDGold Limited (NYSE:DRD) has presented its investors with total returns north of 60% since the turn of the year amid strengthening gold prices and idiosyncratic progression. Although many of DRD's investors might wonder whether it is time to cash out, we believe the asset presents a lucrative profile in today's economy, as it provides proven diversification benefits accompanied by robust fundamentals.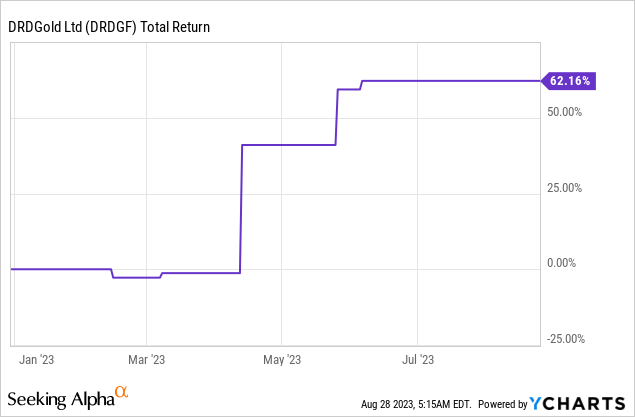 Let's add some color to DRDGold's latest events and place a consensus on its stock's return prospects.
Correlation Matrix
Before traversing into the main analysis, let's look at DRDGold's diversification benefits.
I ran a correlation matrix on the stock to see how its returns stack up against broad-based asset classes, particularly U.S. asset classes. Based on my analysis, DRDGold is nearly uncorrelated (or at least very slimly correlated) to U.S. large-cap stocks, U.S. REITs, and bonds.
In my view, the stock's low correlation coefficient stems from two variables. Firstly, it is a gold surface operator; therefore, the influence of gold prices (as a hedging asset) trims its correlation to other asset classes. Secondly, as DRDGold operates in South Africa, the stock is considered an emerging market asset, which is an additional diversification benefit.
Latest Earnings Release and Our Outlook
Release and Our Take
Although DRDGold's full-year production was approximately 8% lower year-on-year, a 16% increase in South African Rand gold prices offset lower volume sales, leading to year-on-year revenue growth of 7.4% to achieve R5.47 billion in total (approximately $292 million).
The company's all-in-sustaining cost margin of 21% is accompanied by an adjusted gross profit margin of 28.84%, which is slightly higher than its 5-year average of 24.18%, illustrating resilience during a period of heightened input costs within South Africa.
DRDGold's diluted full-year earnings-per-share settled at 79 cents, and the company remains free of any bank debt.
Although often correlated, mining assets aren't homogenous, as illustrated by DRDGold's two primary segments during its latest full year.
As shown in the diagram below, ERGO achieved very low volumes due to site delays and a difficult mining environment overall. However, much of the headwinds were supplemented by high-yielding "clean-ups" of previous stockpiles, which allowed the segment to achieve an 11% increase in year-over-year revenue.
Based on my calculations, ERGO is running at an operating profit margin of 27.44%, which is lucrative given the input cost environment in the past year. However, I would like to highlight that project replacement is likely en route for ERGO as many of its sites, such as Elsburg, are reaching depletion and will need to be replaced by sequencing and acquisitions. This might elevate the segment's interim CapEx spending in the next few years.
As with ERGO, DRDGold's Far West Gold Recoveries segment suffered from lower volumes; however, unlike ERGO, the segment FWGR did not capitalize on higher yields.
Much of the segment's low production and yield stemmed from disruptions by Eskom (the national electricity provider), general logistical issues, and pure misfortune regarding the quality of grades.
However, there was a non-core event involved.
FWGR's "dam 3" had commission delays; however, the asset is now online and ready to roll. "Dam 3," short for Driefontein 3, forms part of the Driefontein 2, 4 & 5 chain, allowing for cumulative storage and processing capacity above 1 million tpm. Driefontein 3's presence, accompanied by a reversion in grades, might lift Far West Gold Recoveries' top-line and operating margin in the coming financial year.
Gold Price Outlook
As previously mentioned, Gold prices have increased steadily year-on-year. Fortunately for gold investors, economic tail risk remains rife amid soft manufacturing numbers, "higher for longer" interest rates, an inverted U.S. yield curve, and what I believe is an overvalued U.S. Dollar. Although these factors alone do not guarantee further upside for Gold, they provide a solid foundation for a bullish argument.
As proven by its latest financial results, DRDGold usually benefits from Gold price tailwinds, allowing it the latitude to deal with core production challenges.
Renewable Energy Rollout
Eskom's load-shedding remains a problem for DRDGold, but its renewable energy rollout is progressing steadily. The firm recently brought an additional 20 megawatts of solar energy online and expects another 40 megawatts in a year's time. This adds up to 160 megawatts in storage capacity, which alters the firm's reliance on the grid.
Sure, a CapEx cycle of approximately R2 billion ($110 million) is in motion; however, the spending cycle might add significant cost synergies to the firm's business model and provide it with a competitive advantage (versus other miners that rely on the grid).
Valuation and Dividends
Relative Valuation
At face value, I would say that DRDGold's price-to-book value is slightly high. However, continuous support for gold prices, potential interest rate cuts in South Africa, and a lower cost base might adjust its net asset value upward in the coming financial year, concurrently leading to a higher book value.
Furthermore, the stock's price-to-earnings ratio seems well-placed as it is at an 11.54% discount to its sector peers.
| | |
| --- | --- |
| Metric | Value |
| Pirce-Earnings | 13.23 |
| Price-Book | 2.69 |
Source: Seeking Alpha
Dividends
DRDGold's dividend profile is reasonable, with splendid yield-on-cost figures. I believe its dividend prospects are stable for the time being, which I base on our fundamental analysis of the company. Nevertheless, a free cash flow to dividend yield ratio of 0.95% does present a slight risk that investors should be aware of.
Sidenote: I suggest interested investors consult their local tax advisors on the treatment of foreign dividends and capital gains. To my knowledge, foreign securities are best kept in tax-free or tax-deferred accounts; however, please do your necessary due diligence on this aspect.
Additional Risks To Consider
Rainfall
Rainfall season is approaching in South Africa and in the highveld in particular. Highveld rainfall can, at times, be quite unsettling, which often causes challenges in mining operations.
To our knowledge, DRDGold's surface recovery business is sensitive to heavy rainfall, meaning a rich rainfall season in Johannesburg and surrounding areas might affect its production.
DRDGOLD Stock's VaR
Another risk worth considering is DRDGold stock's elevated value at risk, which exceeds the SPDR S&P 500 ETF Trust's (NYSE:SPY) by some distance. A 27.21% Monthly VaR (5%) means DRD Gold's stock tends to lose at least 27.71% in 5% of its traded months. The VaR metric also fails to consider tail risk, meaning the stock's drawdowns might be far more significant.
DRD's VaR conveys that the stock often presents a tremendous risk, which is a factor investors should consider before adding the stock to their portfolios.
Final Word
Although it tends to suffer from abrupt drawdowns, DRDGold's diversification benefits are there for all to see.
Furthermore, our analysis shows that the company is supported by numerous tailwinds, including gold prices, successful project sequencing, and renewable energy prospects.
Lastly, DRDGold's stock provides a sound dividend. Even though DRDGold's price-to-book ratio is of concern, we think impairments have bottomed.
Consensus: Buy Rating assigned with a long-term hold in mind.
Editor's Note: This article discusses one or more securities that do not trade on a major U.S. exchange. Please be aware of the risks associated with these stocks.