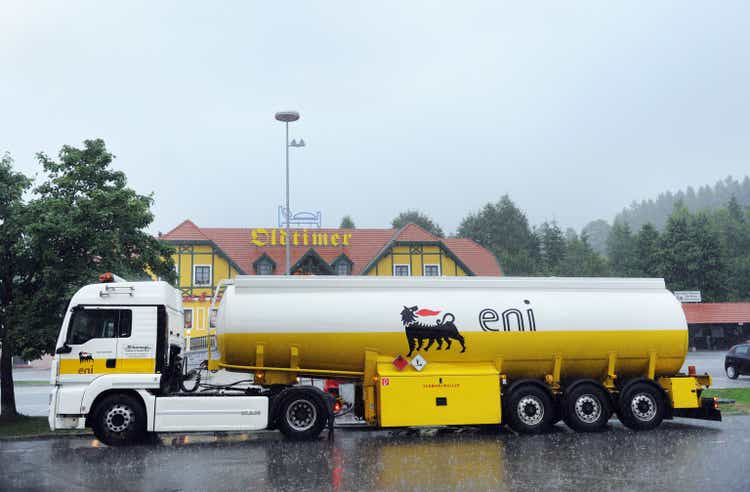 Since our latest release on the Q1 performance, there has been positive news concerning Eni's (NYSE:E) latest development. Here at the Lab, as a reminder, we initiated the company with a buy based on 1) a compelling valuation vs. its closest peers, 2) Plenitude upside coupled with Saipem turnaround story, 3) Gas Diversification optionality, and 4) Eni's capable exploration team. The company released the Q2 numbers a month ago, so today, we will recap the financial update and move on with our key takeaways.
In Q2, Eni closed with lower profits but above consensus estimates. In numbers, the group reported an adjusted operating profit of €4.2 billion (compared to €7 billion achieved in 2022 same quarter) and an adjusted net income of €1.94 billion, halved year-on-year by -49%). This is due to a weaker oil price; however, the consensus-estimated a core operating and net profit of €2.66 billion and €1.64 billion, respectively. Looking at the divisional level, Q2 E&P achieved an adjusted operating profit of €2.1 billion, and the outcome was predominantly lower due to price realization and the Angola activities deconsolidation. Despite that, Eni's cash flow from operating activities adjusted before working capital reached €4.2 billion. This supported organic investments (€2.6 billion) and dividend payments (€700 million). At the H1 level, operating cash flow reached €9.5 billion, generating an organic free cash flow of €3 billion.
Q2 upside to price in
Our analysis shows this was a solid quarter for the gas business. In particular, the Gas & Power segment, with an operating profit of €1.25 billion, was almost double consensus expectations. Eni grew its trading division and optimized its contract agreements related to this segment. Therefore, we now expect a divisional 2023 EBIT between €2.7 and €3 billion compared to the previous forecast of €2.2 billion;
On a negative note, a lower-than-expected performance in the Refining & Marketing segment partly offset these positive results. Eni's operating profit reached €87 million, signing a minus 92% compared to last year's results. We pointed out that R&M earnings were impacted by lower refining margin realization and a negative inverse trend in oil price development;
We should also report that Eni maintained its upstream volumes forecast with a 2023 guidance between 1.63 and 1.67 million barrels per day. Looking at the oil companies, this rarely happens. In our estimates, the company is on track to see a production trend of up to 1.7 million boe/d by 2023 end, which, together with Neptune's contribution, starting from Q1 2024, we should see volume production improvements;
Plenitude continues to perform well and exceeded consensus by 15%. In number, the core operating profit reached €165 million, supported by the retail division and an increase in installed renewable capacity (Fig 1). In H1, Plenitude adjusted EBITDA reached €470 million compared to the annual forecast of over €700 million;
The CAPEX investment reduction from €9.2 to €9 billion is vital to note (Fig 2). This is due to cost optimization and is a solid positive sign;
Given the FCF generation, Eni remains on track to complete its €2.2 billion share buyback program by April next year.
Source: Eni Q2 results presentation – Fig 1
Fig 2
Returning to our supportive buy rating, we must report the positive H1 for Saipem. The company is now back to profit and delivered a net income of €40 million compared to the loss of €130 million in H1 2022. Saipem acquired new orders for €6.7 billion during the period, with a plus 58% vs. last year. Over 80% of the acquisitions were made in the offshore businesses (E&C and Drilling). The order backlog increased by €1 billion compared to December-end, and the company's net financial position returned to a positive area with a plus €34 million. As a reminder, Eni owns a 31.19% equity stake in Saipem, and since our initiation of coverage, Saipem's stock price increased its valuation by almost 50%. In our sum-of-the-part valuation, this equity stake now has a value of €1 billion.
Latest positive news
In the meantime, Eni strengthened its Indonesia leadership with two deals. Eni was already present in the area and decided to acquire Chevron's assets. This inorganic acceleration marked an important step to speed up Eni gas diversification development in the Gendalo and Gandang region. In Indonesia, Eni has a solid track record of successful gas development. This operation aligns with the company's energy transition strategy, of which gas and liquefied natural gas represent fundamental pillars, to increase the share of natural gas production to 60% by 2030.
In addition, Eni and Vår Energi will jointly acquire Neptune Energy Group for $5 billion. The Italian oil player considers Neptune a strategic asset due to its cost competitiveness and low emissions level. It will acquire its entire portfolio, including the Global business with projects in North Africa, Indonesia, and Australia (Fig below). At 2022-end, Neptune reserves amounted to approximately 484 million boe, corresponding to a cost of acquisition of reserves equal to $10.1 per boe. According to our estimates, as emphasized in our supportive buy point 3), Eni and Vår oil volume contribution could increase by around 100,000 boe per day and over 130,000 in 2024-2026. This production will supply the OECD markets via pipeline or liquefied natural gas shipments. Eni also expects overhead and industrial cost synergies of over half a billion dollars and further savings in exploration and development activities, including CO2 capture, storage, and midstream activities.
Still related to earning diversification, less than two years after the discovery, Eni started production in the Ivory Coast. The oil giant started oil and gas production in the Baleine field (Ivory Coast deep waters). This development is the first zero-emission production project in Scope 1 and 2.
Source: ENI TO ACQUIRE NEPTUNE ENERGY
Conclusion and Valuation
In mid-September, Eni will pay its first quarterly dividend for a total amount of €0.24 per share. On a yearly estimate, this represents a 6.5% yield. Here at the Lab, we positively view the fact that Eni adopted the American model, choosing to pay the dividend in four quarterly installments (in March, May, September, and November). Buying a stock for its periodic dividend is an upside for current and future investors and shows earnings resiliency in the long term. Even if we increased our Gas & Power segment financials, including a €200 million lower CAPEX, we are already ahead of Wall Street analyst estimates. Therefore, we apply no changes to our target price. With an ongoing buyback, a solid leverage ratio of 15%, and a P/E of 4.5x excluding the Plenitude IPO or partial sale (we valued this entity €10 billion based on a 2024 12x EV/EBITDA), we (once again) confirm our buy rating with a target price of €16 per share and $34 in ADR.
Editor's Note: This article discusses one or more securities that do not trade on a major U.S. exchange. Please be aware of the risks associated with these stocks.