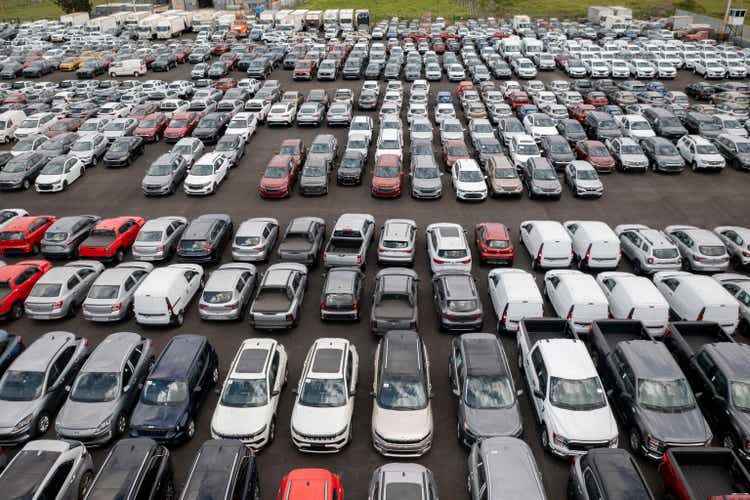 Impacted by the economic environment, the overall performance of the downstream consumer electronics market has been sluggish, and product sales prices are under pressure. One bright spot is the increasing sales volume of EVs in the first half of 2023, which was 4,274,051 units, a YoY increase of 35.8%, according to The Information Network's report entitled "Global and China EV Batteries and Materials: Technology, Trends and Market Forecasts".
The strong growth in EVs is increasing the demand for a particular type of chip called a microcontroller (MCU). In addition to EVs, MCUs are used in multiple applications, and are also found in robots, office machines, medical devices, mobile radio transceivers, vending machines and home appliances, among other devices They can cost as little as a few cents. Add a microcontroller to a toaster and one gets a "smart toaster."
Three of the top manufacturers of these chips hail from Europe. In their financial reports, one can see that automotive electronics has become the main driving force for growth in the first half of this year:
According to NXP Semiconductors' (NASDAQ:NXPI) Q2 2023 report, the automobile business is the main revenue of NXP. In the second quarter, the revenue of the automobile business reached 1.866 billion US dollars, a year-on-year increase of 9% and a month-on-month increase of 2%, accounting for about 56.5% of the total revenue.
Infineon (OTCQX:IFNNY) in its Q2 2023 call reported that after crossing the €2 billion quarterly turnover mark in the March quarter, Automotive could even further expand its revenues to another record high of €2,129 million and an increase of 2% compared to the previous quarter and, particularly, microcontrollers were contributing to this further increase.
STMicroelectronics (STM) reported in its Q2 2023 call that due to sales driven by demand in the automotive industry, ST's revenue in the second quarter increased to $4.33 billion, an increase of 12.7% year-on-year; net profit was $1 billion, up 15.5% year-on-year, of which the automobile and separate departments operated in the last quarter. The closing increased by 34% to $1.96 billion.
Importantly, the EU Chips Act, approved in July 2023, has clear-cut and ambitious goals for the next decade-to increase the EU's global market share in chip production from 10% to 20% from a 43-billion-euro ($47 billion) package of public and private investments.
Compared with the 3 to 5 year lifetime of consumer electronic products, the design life of the car is generally about 15 years or 200,000 kilometers and in a harsher environment. The working temperature range is between -40 and 150 degrees. In the process of working, the car will encounter more vibrations and shocks, as well as the environment. Humidity, dust, erosion, etc., so the requirements for stability and consistency of the vehicle-grade MCU are far greater than those of the consumer electronics-grade MCU.
At present, most domestic vehicle-grade MCUs are used in low-end control functions, such as wipers, air conditioning control, window lifting, dashboard display. In the power system, the mid-end control of the chassis system and the high-end control of intelligent driving are far from enough.
The number of MCUs per vehicle is based on its type. The demand for standard-grade MCUs of traditional cars is about 500, while in EVs, that demand increase to 1000-1500 for the various applications such as body control, motor control, BMS system, and thermal management system. If self-driving technology is mature, a car may even need up to 3,000 vehicle-grade MCUs.
Chart 1 shows revenues for Total MCUs and for Automotive MCUs. Historically Automotive was increasing share, reaching 40% of total MCUs on a revenue basis. In 2020, because of Covid, automobile shipments During the first peak of Covid-19 in the spring, sales of new vehicles collapsed as auto plants shuttered and showrooms were closed.
Auto sales quickly recovered, but chipmakers were slow to recover, resulting in a shortage of automotive MCUs. As a result of the U.S. administrations war of fossil fuels, EVs were given priority for MCUs, resulting in ICE (internal combustion engines) sitting at plants waiting for MCUs and other chips, while the market expanded.
I discussed my analysis and thesis in an September 22, 2022, Seeking Alpha article "Ford: One Excuse After Another As Changing Business Strategy Stymies Supply Chain."
Chart 1
Table 1 shows revenues of the top automotive semiconductor suppliers for 2021 and 2022 for 2021 and 2022 for Total automotive semiconductor revenues and Automotive MCUs.
NXP's Total Automotive revenues increased 25.2% YoY, ahead of Infineon, but well behind ST Micro's 77.0% growth in 2022. NXP had a 10.2% share of the Total automotive sector and a 25.4% share of the Automotive MCU sector.
Investor Takeaway
In the overall sluggish semiconductor environment, it seems that only automotive electronics can sweep away the decline and go against the trend. Throughout the first half of the semiconductor year, in the overall haze, automotive electronics still brought a glimmer of light.
While China is the largest market for EVs, the current domestic supply of automobile chips is less than 10%, and more than 90% of the chips of a car are imported or in the hands of foreign-funded local companies.
Automobile companies purchase chips from a variety of semiconductor companies. For example, the SAIC Group currently uses 1,600 automotive chips in 11 categories, of which more than 90% need to be imported.
NXP says it foresees being able to reach its 2024 guidance for $15 billion in revenue (which would be up roughly 14% from the $13.2 billion hauled in in 2022). Beyond that, growth will depend on expansion from new fabs. NXP, Taiwan Semiconductor Manufacturing (TSM), Robert Bosch GmbH, and Infineon Technologies are forming a joint venture to jointly invest in European Semiconductor Manufacturing Company, or ESMC, in Dresden, Germany to provide advanced semiconductor manufacturing services. The final investment decision will depend on confirmation of the level of public funding for the project, which is planned under the framework of the European Chips Act.
The $47B Chips Act received final European Union Chips Act gets final approval from European Council from the European Council in July and is aimed at doubling the continent's global market share in semiconductors to at least 20% by 2030, up from 10% presently.
Chart 2 shows 1-year share price performance for the three companies. NXP growth is just 18.12% for the year, significantly underperforming peers.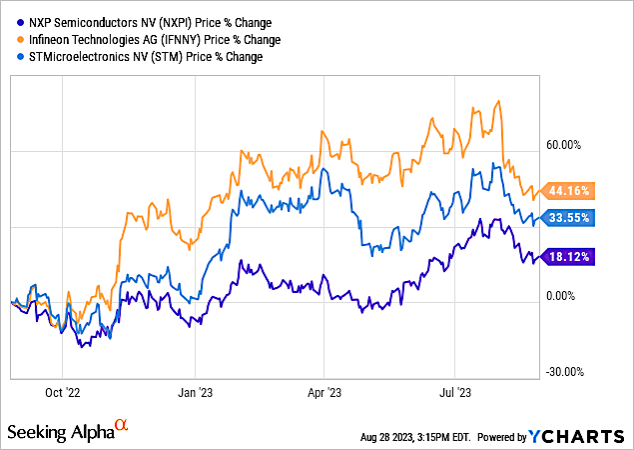 Chart 2
But on a 6-month period, share price change for NXP is +7% compared to -4.6% for STMicro and -6.3% for Infineon, as shown in Chart 3.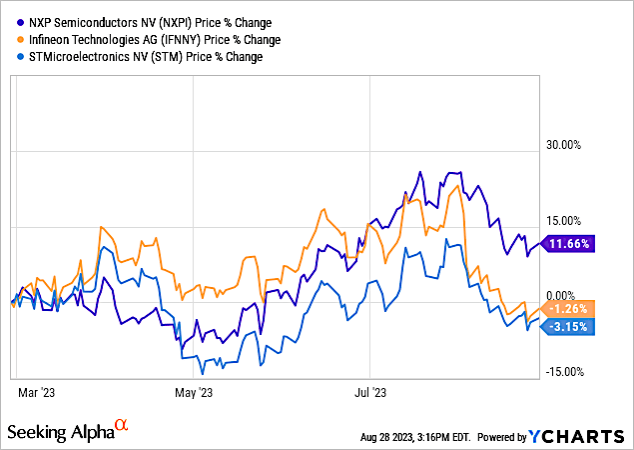 Chart 3
PE ratios of the three companies shown in Chart 4 are lower than the US Semiconductor industry average (25.1x).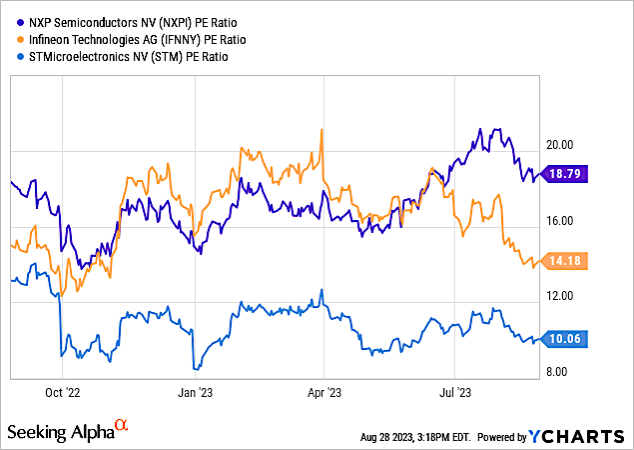 Chart 4
Also on the positive side, the company also announced that NIO (NIO), one of the leading players in the smart EV market, will make use of NXP's leading automotive radar technology in its vehicles, further strengthening its automotive business. The automotive business – which forms the bulk of the company's revenues – grew 9% to $1.9 billion.
However, a slowdown in revenues can be attributed to a 19% yearly drop in the Industrial & IoT segment to $578 million in the last quarter. Another negative for NXP is its debt. NXP reduced its long-term debt to $10.2 billion from $11.2 billion at the start of the year, while generating a free cash flow of $556 million (up from $551 million in the prior year) at the end of the second quarter.
Chart 5 shows NXP's Quant Rating of a Strong Buy, higher than a Buy at STM and a Hold at Infineon.
Chart 5
Of Quant Rankings, NXP has an industry rank of 4 out of 68 companies, higher than its two peers, as shown in Chart 6.
Chart 6
NXP is a strong competitor to Infineon and STM. But where NXP falls behind is its lack of SiC (silicon carbide) infrastructure. SiC-based power semiconductors for automobiles is the fastest growing automotive chip technology, replacing silicon-based chips, according to The Information Network's report entitled "Power Semiconductors: Markets, Materials and Technologies". ST Micro has a 37% share of the $1.6 billion market, followed by Infineon with a 13% share. For NXP to enter the SiC market, it will need to partner with and existing company. One possibility would be Coherent (COHR).
Editor's Note: This article discusses one or more securities that do not trade on a major U.S. exchange. Please be aware of the risks associated with these stocks.